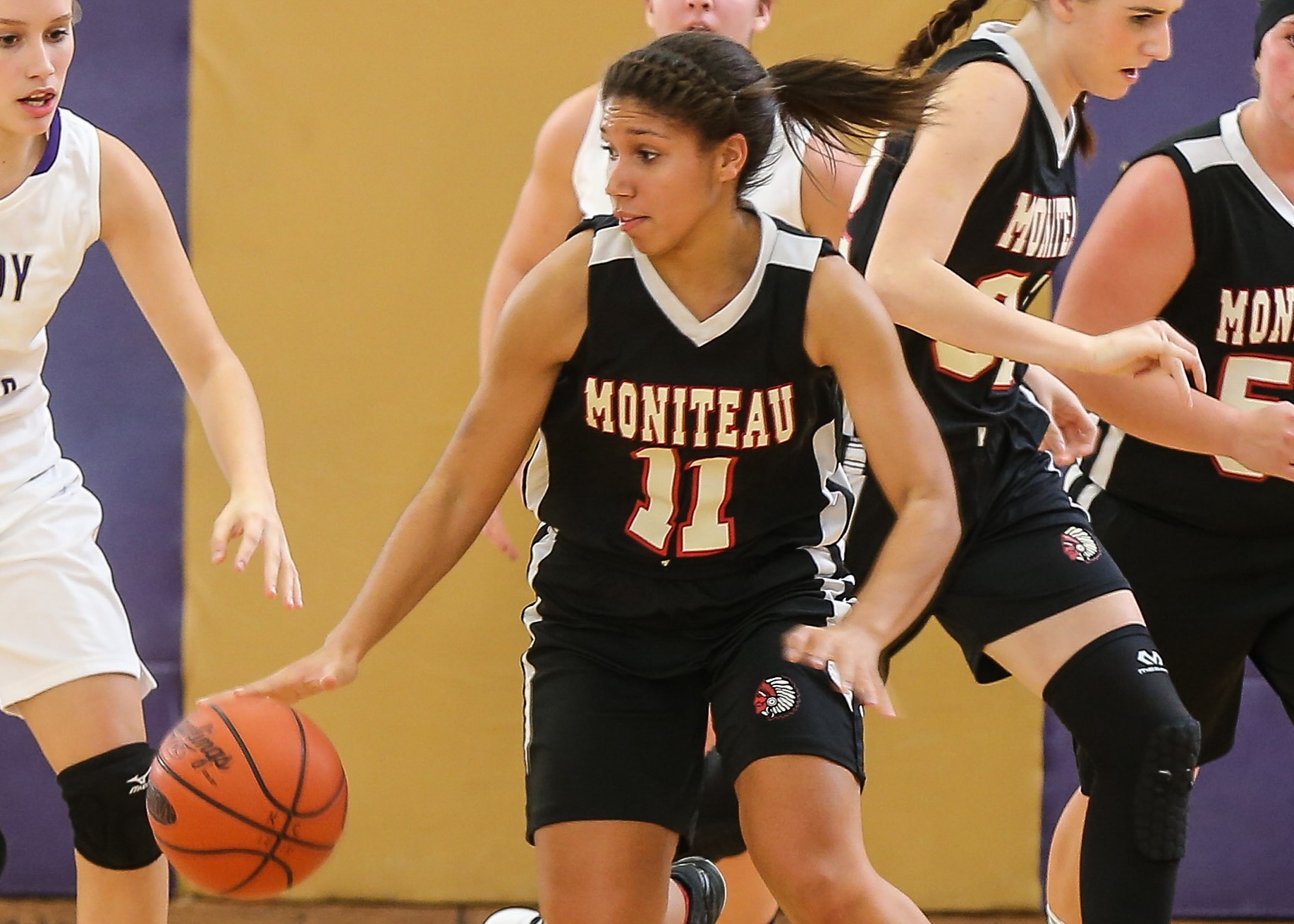 GIRLS
MONITEAU 47, GENERAL McLANE 30
EDINBORO, Pa. – Alazia Greaves scored 18 points and came away with seven steals to lead Moniteau to a 47-30 non-league road win at General McLane Saturday afternoon.
Sara Hull chipped in with 16 points and seven rebounds for the Lady Warriors, while Kristina DeMatteis added eight points and seven boards. Kelsey Ripley had four assists.
Sierra Seneta led General McLane with 11 tallies.
Moniteau led 23-17 at halftime and then outscored the home team 24-13 in the second half with Greaves scoring 13 of her points after the break.
EISENHOWER 31, RIDGWAY 27
RUSSELL, Pa. – Despite 14 points from Jessica Kifer, Ridgway dropped a 31-26 decision at Eisenhower Saturday afternoon.
Kirsten Boran and Mallory Trumbull led Eisenhower with nine points each.
Ridgway started strong and led 12-5 at the end of the first quarter thanks to eight points from Kifer but scored just 16 points the rest of the way and lost despite still leading 15-13 at the half.  
OSWAYO VALLEY 44, SHEFFIELD 22
DUKE CENTER, Pa. – Shayla Bickel and Kelise Pease each scored eight points to lead Oswayo Valley to a 44-22 win over Sheffield in the consolation game of the Randy Stebbins Memorial Tournament at Otto-Eldred Saturday.
Abby Matthews added 10 rebounds for the Green Wave.
Mya Grubbs led Sheffield with 10 points.
WARREN 50, ST. MARYS 37
WARREN, Pa. – DJ Hahn's 15 points led Warren to a 50-37 win over visiting St. Marys Saturday.
Michelle Bauer paced the Lady Dutch with 10 points with Caitlyn Bankovich and Rachel Bauer each scoring eight.
A slow first half did St. Marys in, as the Lady Dragons led 20-9 at the break.
OTTO-ELDRED 41, PORTVILLE (NY) 37
DUKE CENTER, Pa. – Camryn Thomas had 14 points and 10 rebounds to lead Otto-Eldred to a 41-37 win over Portville (N.Y.) in the title game of the 2015 Randy Stebbins Memorial Tournament at Otto-Eldred Saturday.
Thomas led a balanced fourth-quarter scoring attack for the Lady Terrors with four points, as Otto-Eldred outscored Portville 11-5 in the final eight minutes to erase a 32-30 deficit going to the final quarter.
Ali Cousins chipped in 13 points for the Lady Terrors, while Sydney Colligan led all scorers with 15 for Portville.
BISHOP MCCORT 42, PUNXSUTAWNEY 21
JOHNSTOWN, Pa. – Haley Thomas netted 20 points as homestanding Bishop McCort doubled up Punxsutawney Saturday.
Alli Lunger led Punxsy with nine points with Hope Bridge adding six for the Lady Chucks.
BOYS
COWANESQUE VALLEY 63, AUSTIN 22
AUSTIN, Pa. – Tyler Melko scored 16 points as visiting Cowanesque Valley dispatched Austin, 63-22, in non-conference action Saturday afternoon.
Mason Valenti scored six points on a pair of 3-pointers to pace Austin. Anderson Nicka, the Panthers leading scorer, was held to five points. Blake Burgett also had five tallies for the Panthers.
OSWAYO VALLEY 76, GALETON 30
DUKE CENTER, Pa. – Brandon Brabham hits seven 3-pointers on his way to a game-high 25 points to lead Oswayo Valley to a 76-30 win over Galeton in the consolation game of the Randy Stebbins Memorial Tournament at Otto-Eldred Saturday afternoon.
Brabham, who hit six first-half 3-pointers, scored 20 points in the opening half including 12 in the first quarter on four triples. He added seven rebounds, three steals, two assists and a blocked shot.
Ricardo Gross added 14 points, five steals, five assists and five rebounds for the Green Wave, while Theo Henry had nine points and four assists and Phil Freelove nine points.  
WILLIAMSON 64, NORTHERN POTTER 42
ULYSSES, Pa. – Colin Heilbrun and Jon Baker combined to score 34 points to lead Williamson to a 64-42 win at Northern Potter Saturday.
Frank Gardner led the Panthers with 15 points with Blake Jeffers adding 12.  
ELK COUNTY CATHOLIC 63, DUBOIS CENTRAL CATHOLIC 21
DUBOIS, Pa. – Elk County Catholic jumped out to a 12-point lead at the end of one quarter and cruised to a 63-21 AML win at DuBois Central Catholic Saturday night.
Ten different Crusaders scored led by 17 points from Benji Hoffman, whose eight first-half points helped stake ECC to a 32-11 halftime lead.
Nate DaCanal had 10 and Gabe Kraud and Jared Braun each added eight for the Crusaders, while Christian LaParne paced DCC with 10 points. Justin Miknis added eight for the Cardinals.
PORTVILLE (NY) 52, OTTO-ELDRED  41
DUKE CENTER, Pa. – Portville (N.Y.) outscored Otto-Eldred 20-8 in the fourth quarter to claim the 2015 Randy Stebbins Memorial Tournament at Otto-Eldred with a 52-41 Saturday night night.
The Terrors were up 33-32 going to the fourth quarter before Portville was able to pull away thanks in part to 12 points from Nick Stein in the quarter. Stein finished with 18 for the Panthers with Colin Kloe adding 15.
Otto-Eldred got nine points from Damen Palmer and eight from Heath Stewart.