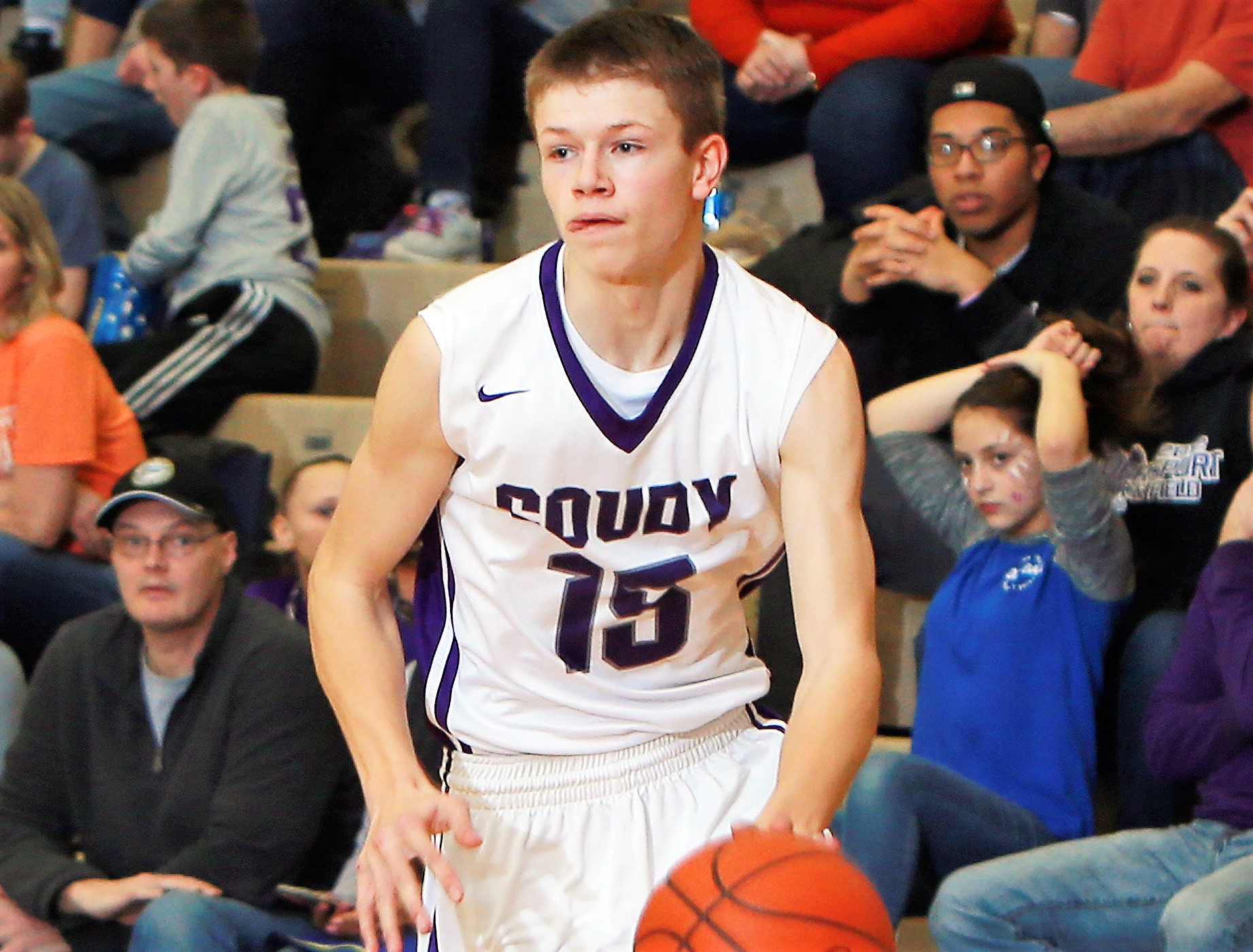 Dec. 19 recaps.
(Owen Chambers of Coudersport had 32 points in Tuesday's win over Port Allegany. Photo by Paul Burdick. Check out more of Burdick's work here)
COUDERSPORT 98, PORT ALLEGANY 38
PORT ALLEGANY, Pa. – Owen Chambers hit five 3-pointers and scored a game-high 32 points to help Coudersport quickly get over Monday's loss to Johnsonburg with a 98-38 win at Port Allegany in North Tier League action.
Chambers was one of four Falcons in double digits with Hunter Ricke adding 16 points, Jared Green 13 and Dillion Keglovits 10.
Howie Stuckey led Port Allegany with 15 points with David Talkington adding eight.
Behind 11 points from Green and 10 from Chambers Coudersport led 35-8 at the end of a quarter and built the lead to 64-16 at halftime.
KARNS CITY 80, UNION 37
KARNS CITY, Pa. – Chase Beighley had 21 points and seven assists to help Karns City romp past visiting Union, 80-37, in KSAC South play.
Jacob Friel added 16 points and eight rebounds for the Gremlins who also got 13 points and 10 boards from Nathan Waltman, 10 points from Nolan Riley and nine tallies from Austin Fahlor.
Karns City head coach Chris Bellis also lauded Riley for his defensive efforts on Union's 1,000-point scorer Lucas Bowser, who led the Golden Knights with nine points. Hunter Johnston chipped in seven points for Union.
HOMER-CENTER 68, PUNXSUTAWNEY 64
HOMER CITY, Pa. – Despite a double-double from Brandon Matthews visiting Punxsutawney dropped a 68-64 decision at Homer-Center.
Matthews had 20 points and 10 rebounds to lead the Chucks with Isaac Stouffer adding 14 points and Tyler Richardson 13.
AUSTIN 65, SHEFFIELD 54
SHEFFIELD, Pa. – Behind 20 points from Blake Burgett Austin moved to 5-0 on the season with a 65-54 win at Sheffield.
Garrett Rees added nine points for the Panthers with Mason Valenti and Jackson Glover each scoring seven.
Tyler Hepinger paced Sheffield with 12 points and eight rebounds with Matt Dunham adding 11 points, six assists and three steals.
GALETON 48, OTTO-ELDRED 46
GALETON, Pa. – Galeton held off a late Otto-Eldred charge to beat the visiting Terrors, 48-46, in North Tier League play.
The Tigers led 41-34 going to the fourth quarter but were outscored 12-7 in the frame. Otto-Eldred, however, was never able to get a late shot off to tie or win the game turning the ball over instead.
Isaiah Shuemaker led Galeton with 15 points with Evan Brooks adding 14.
Dylan Close had 10 to pace Otto-Eldred with Cameron Grigsby and Andrew Sheeler each chipping in with nine.
SMETHPORT 65, NORTHERN POTTER 26
ULYSSES, Pa. – Caleb Lutz and Eric Szarowicz each scored 15 points to lift visiting Smethport to a 65-26 win over Northern Potter in North Tier League action.
Noah Costa added 14 points for the Hubbers who also got 10 points from Conner Alfieri.
Holden Cowburn and Carter Anderson each had eight for Northern Potter.
BROOKVILLE 58, KANE 32
KANE, Pa. – Aaron Park, Bryan Dworek and Trenton Gilhousen made sure Brookville was a rude guest helping the Raiders to a 58-32 win at Kane.
Park and Dworek led a balanced Brookville attack with 12 points each with Gilhousen adding 10.
Chad Greville's eight points led Kane.
ELK COUNTY CATHOLIC 71, DUBOIS 38
ST. MARYS, Pa. – Led by 17 points from Ryan Newton 12 different Elk County Catholic players etched their names in the scorebook to help the Crusaders to a 71-38 D9 League win over visiting DuBois.
Alex Breindel chipped in 14 points for ECC with Logan Hoffman scoring 13.
Justin Manduley had 13 points for DuBois with Chase Husted adding 10 points.