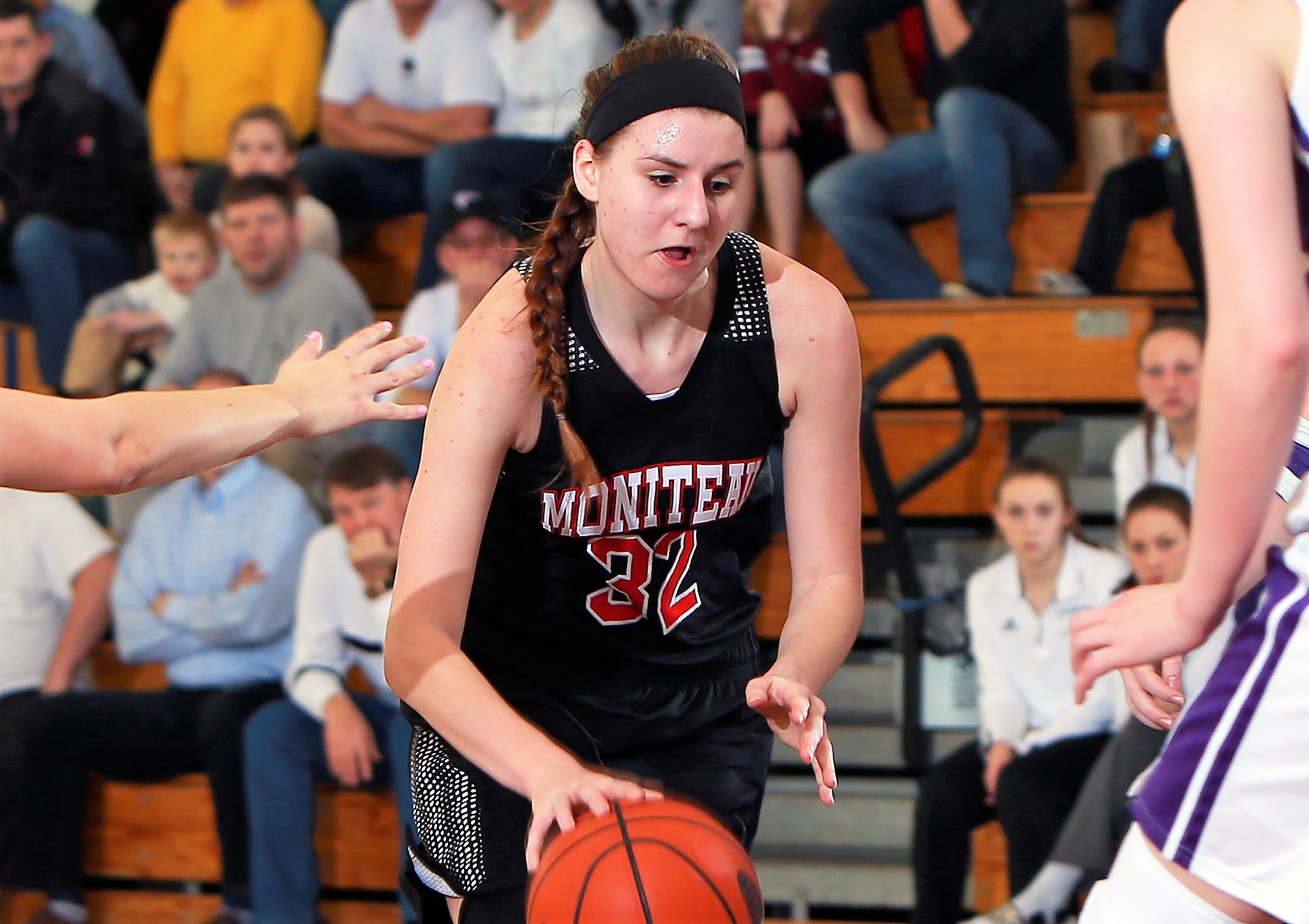 Dec. 19 recaps.
(Photo: Emma Bair, Moniteau. Photo by Paul Burdick. Check out more of Burdick's work here)
MONITEAU 51, KEYSTONE 44
KNOX, Pa. – Behind a strong second half from Emma Bair, Moniteau was able to hold off Keystone, 51-44, for its second KSAC South victory of the season.
Bair scored 15 of her team-high 20 points and grabbed nine of her 13 rebounds after halftime helping the Lady Warriors expand a two-point halftime lead, 19-17, into the seven-point win.
Bair shared her thoughts on the win.
Keystone, playing without leading scorer Taylor Geer (19.1 ppg), who was accounting for 48 percent of the team's offense, because of a concussion, got down by double digits twice in the fourth quarter including 44-34 with 4:37 to play before rallying within one, 45-44, on a 3-pointer by freshman Danae Hurrelbrink.
Izzy Bair, who scored 16 points, got a key steal and basket with 1:22 left to help preserve the lead for Moniteau.
Makenzie Byerley led Keystone with 21 points while hitting five 3-pointers. But the Lady Panthers were just 7 of 30 from 3-point range on the night. Freshman Emily Lauer chipped in with 10 tallies.
NORTH CLARION 67, CLARION-LIMESTONE 25
STRATTANVILLE, Pa. – Tori Obenrader had a triple-double with 27 points, 10 rebounds and 10 assists to help North Clarion cruise to a 67-25 KSAC North road win over Clarion-Limestone.
Abby Gatesman added 16 points for North Clarion with Gabby Carll chipping in with nine. Twenty of Obenrader's 27 points came in the first half helping the She-Wolves to a 41-16 halftime lead.
Maddy Craig paced C-L with 11 points.
MARION CENTER 50, DUBOIS CENTRAL CATHOLIC 17
DUBOIS, Pa. – Paige Repine netted 11 points and Ariah Alabran had 10 to help visiting Marion Center to a 50-17 win over DuBois Central Catholic.
Maia Cogley paced DCC with five points.
CRANBERRY 55, CLARION 31
SENECA, Pa. – Maliah Schreck exploded for a career-high 34 points to lead Cranberry to a 55-31 win over visiting Clarion in KSAC North action.
Ava Ferringer added eight points for the Berries with Erin Merryman chipping in with seven.
Kait Constantino and KK Girvan each scored 10 points for Clarion.
CURWENSVILLE 41, HARMONY 35
CURWENSVILLE, Pa. – Madi Weber scored 10 of her team-high 16 points in the first quarter to help Curwensville to a 41-35 win over visiting Harmony in Moshannon Valley League play.
Tarah Jacobson added 14 points for the Lady Tide.
Macy Fry had a game-high 17 points for Harmony.
KARNS CITY 60, UNION 21
RIMERSBURG, Pa. – Emily Hegedus had 21 points and 14 rebounds to help visiting Karns City roll to a 60-21 win over Union in KSAC South action.
Liv Andreassi added 16 points and eight boards for the Lady Gremlins with Sarah Knox chipping in eight points.
Frankee Remmick scored six points to lead Union.
CLEARFIELD 51, BELLEFONTE 42
HYDE, Pa. – Alayna Ryan, Nicollette Brossard and Megan Durandetta combined to score 41 points to help Clearfield to a 51-42 win over visiting Bellefonte in Mountain League play.
Ryan led the Lady Bison with 16 points, Brossard added 14 and Durandetta 11 while hitting three 3-pointers.
Maddie Steiner had 11 points and Mallorie Smith 10 for Bellefonte.
FOREST AREA 55, TIDIOUTE CHARTER 41
TIONESTA, Pa. – Jasmine Ginnery had 17 points and 10 rebounds to lead Forest Area to a 55-41 win over visiting Tidioute Charter at West Forest.
Rose Trivett added 10 points for the Fires with Lorraine Pedersen chipping in nine tallies, Bianca Hetrick six points and 19 rebounds and Glory Wagner six points.
Nakiesha Krause had a game-high 24 points for Tidioute Charter.