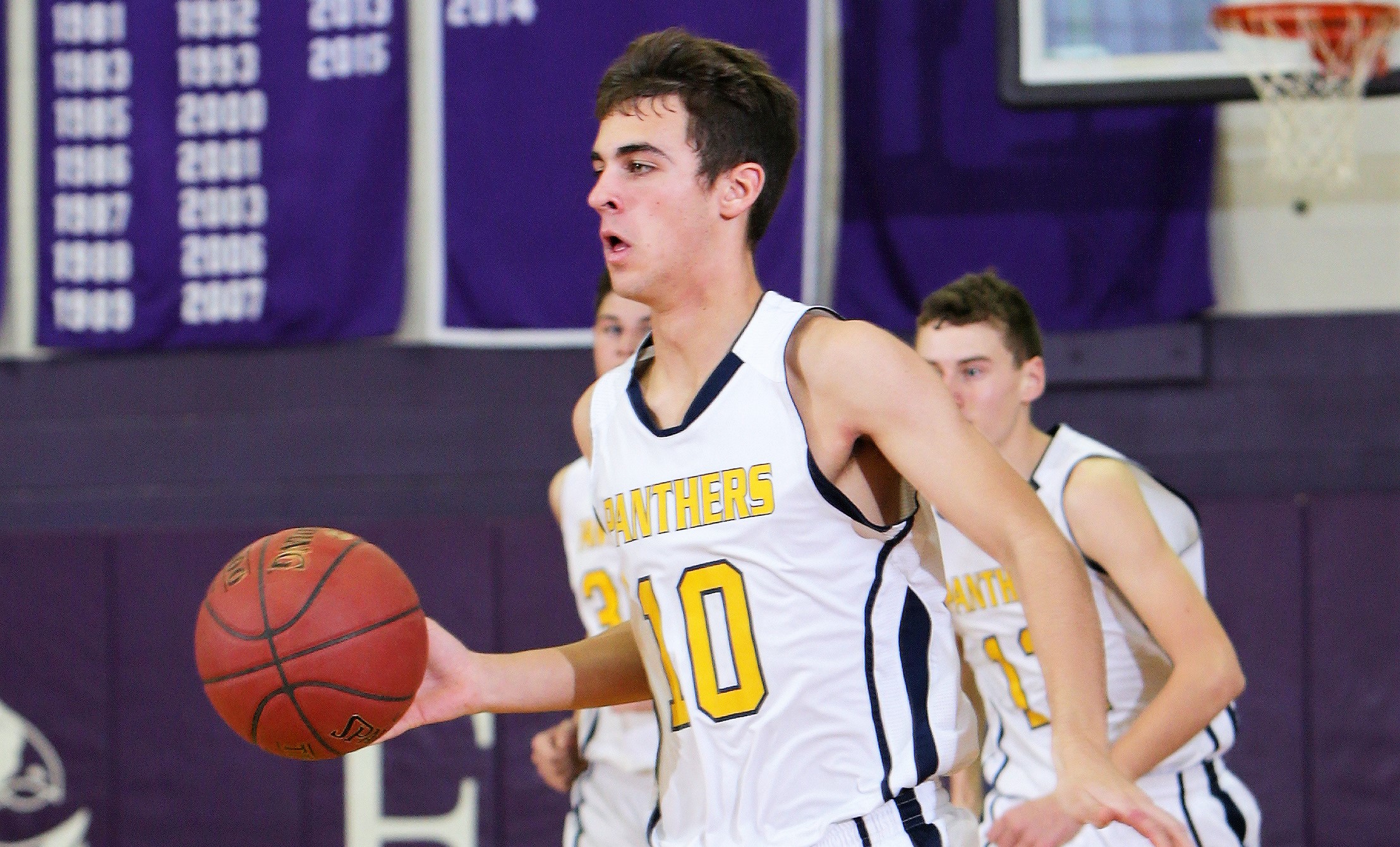 Dec. 19 boys' recaps.
(Foster Kosa scored 12 points to help Northern Potter to its first NTL road wins since January 2016. Photo by Paul Burdick. Check out more of Burdick's work here)
NORTHERN POTTER 55, OSWAYO VALLEY 44
SHINGLEHOUSE, Pa. – Foster Kosa led a balanced scoring effort with 12 points to help Northern Potter pick up its first NTL win since mid-January 2017 and its first road NTL win since mid-January 2016 with a 55-44 win at Oswayo Valley.
The Green Wave last won a road conference game Jan. 16, 2016, at Austin and had lost 20 straight conference away games until Wednesday night.
Tristan Byron added 11 points in the victory for the Panthers with Ezra Sprow chipping in nine points and 10 rebounds and AJ Lehman and Tre Slawson eight points each.
Carter Stedman paced Oswayo Valley with 14 points and Noah Wichert added 11.
OTTO-ELDRED 44, SMETHPORT 41
SMETHPORT, Pa. – Cole Sebastian scored nine of his game-high 20 points in the third quarter, as Otto-Eldred rallied from a four-point halftime deficit to pick up a 44-41 road NTL win over Smethport.
The Terrors trailed 23-19 at the break put behind Sebastian outscored the Hubbers 16-6 in the third quarter to take the lead.
Gavin Jimerson added nine points for Otto-Eldred with Cameron Grigsby chipping in eight points, nine rebounds and five steals and Andrew Sheeler five points and six assists.
Eric Szarowicz led Smethport with 13 points, Caleb Lutz scored 10 and Ian Woodruff eight.
COUDERSPORT 91, AUSTIN 55
COUDERSPORT, Pa. – The high-flying Coudersport offense hit 90 points for the second time in four games with a 91-55 victory over NTL foe Austin.
It was the third time in four contests the Falcons, who are averaging 87.8 points per game, scored at least 89.
Owen Chambers once again led the way with a game-high 38 points, all in the first three quarters with 30 of the tallies coming in the first half alone.
Hayden Keck added 19 points for Coudersport with Dillon Keglovits recording a double-double of 12 points and 10 rebounds.
Dempsey Glover paced Austin with 19 points. Mason Valenti added 13 points and Jackson Glover was an assist shy of a double-double finishing with 11 rebounds, nine assists and two points.
CAMERON COUNTY 52, GALETON 27
EMPORIUM, Pa. – Marcus Brown netted 19 points and Jake Walters had a double-double of 10 points and 10 rebounds to lift Cameron County to a 52-27 home NTL win over Galeton.
Caden Beldin also scored 16 points for the Red Raiders.
Evan Brooks paced Galeton with eight points.
RIDGWAY 54, BROOKVILLE 29
BROOKVILLE, Pa. – Holding Brookville to just six points in the first half, Ridgway ran away for a 54-29 win in a non-conference matchup.
Daunte Allegretto was one of three Elkers in double figures, finishing with 18 points which included an 11-of-14 effort from the foul line. Will Thompson scored 11 points and Zack Zameroski finished with 10 points.
Ridgway led 26-6 at halftime and owned a 28-23 second-half advantage.
Aaron Park led Brookville with eight points
GLENDALE 66, CURWENSVILLE 45
CURWENSVILLE, Pa. – Ryan Sinclair and Josh Potutschnig combined for 41 points to lift visiting Glendale to a 66-45 Mo Valley League win over Curwensville.
Sinclair led the Vikings with a game-high 22 points with Potutschnig adding 19 tallies.
Christian Bakaysa scored 20 points to lead Curwensville with Ty Terry adding 12 tallies and Avery Francisco seven.