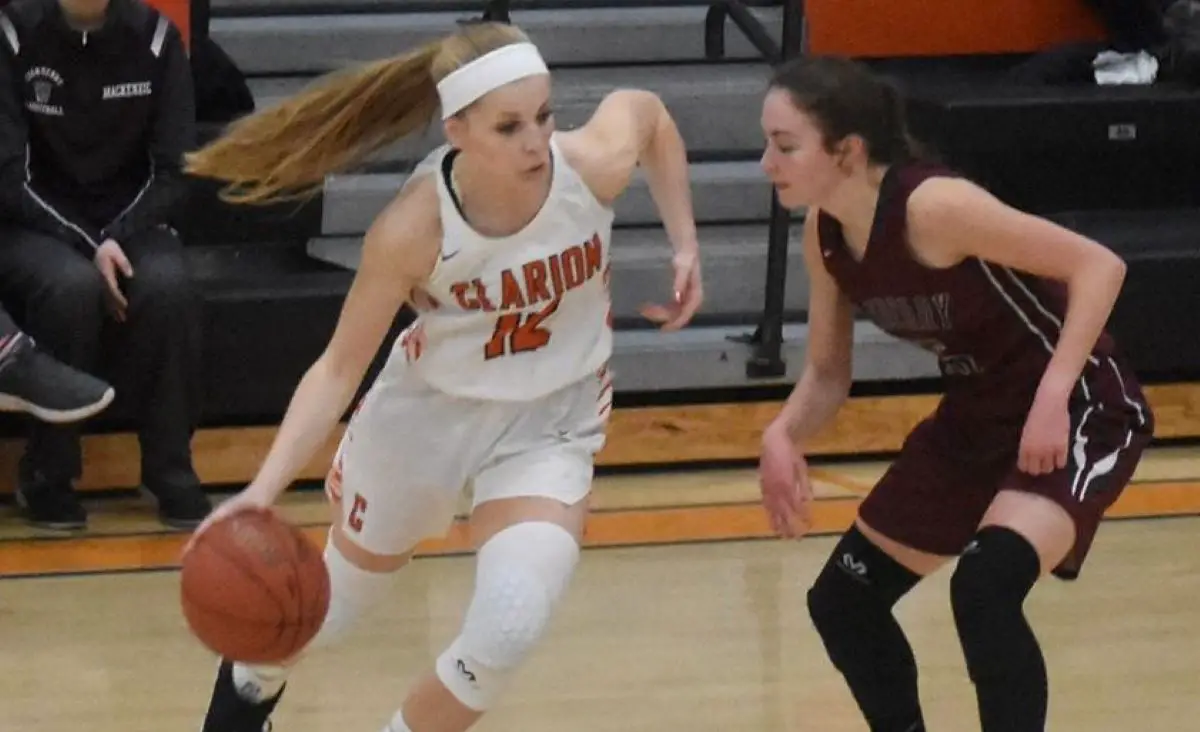 Dec. 19 girls' basketball recaps.
(Photo of Clarion's Kait Constantino, who was 21 of 23 from the free-throw line on her way to 32 points in Clarion's 49-43 win over Cranberry Thursday. Photo by Kim Constantino)
CLARION 49, CRANBERRY 43
CLARION, Pa. – Kait Constantino went 21 of 23 from the free-throw line on her way to a game-high 32 points as Clarion rallied from a slow start to beat visiting Cranberry, 49-43, in KSAC South action.
Relisten to the game:
The Lady Cats fell behind early, 13-2, before rallying within two, 21-19, by halftime.
Clarion then took a 30-29 lead going to the fourth quarter before the teams traded leads six times in the first 2:05 of the quarter.
The Lady Cats took the lead for good on a basket by Payton Simko at the 5:55 mark, 36-35, and Constantino scored the next 11 points – all from the line (11 of 13) – for Clariion, which ended the game on a 15-8 run.
Constantino talked about the win.
Jordan Best added seven points, 10 rebounds and three steals for Clarion with KK Girvin chipping in six points and six steals.
Kaia Dean led Cranberry with 11 points and four rebounds with Ava Ferringer adding 10 points. Kaylee Bruce chipped in seven points, six assists, five rebounds and two steals and Maddie Cornelius seven points.
Jess Quinn and Chris Rossetti breakdown the game in another episode of The Coach and The Scribe.
KANE 38, BRADFORD 35
KANE, Pa. – Down 12 at the break, Kane rallied to beat visiting Bradford, 38-35.
The Lady Wolves scored just 14 first-half points and trailed 26-14 at halftime before outscoring Bradford 24-9 in the second half including 13-4 in the third quarter.
Emily Bucheit hit a pair of third-quarter 3-pointers, and Ainsley Saf scored all 10 of her points after the break to help fuel the rally.
Sarri Swanson led Kane with 13 points with Bucheit adding nine.
Hannah Lary led Bradford with 17 points with Erica Marshall scoring 10. The duo was hot in the opening 16 minutes combining for 22 of the Lady Owl's 26 first-half points with Lary netting 12 of her 17 and Marshall all 10 of her points before the break.
KEYSTONE 54, REDBANK VALLEY 46
KNOX, Pa. – Strong play late from Natalie Bowser and Emily Lauer helped Keystone hold off visiting Redbank Valley and take sole possession of first place in the KSAC South with 54-46 win.
Both teams entered the night 3-0 in the KSAC South, and the game was close throughout with Keystone holding a 21-18 halftime lead and a 31-29 lead going to the fourth quarter.
But Redbank Valley rallied in the fourth quarter and took a 47-46 lead with about two minutes left.
Bowser, however, was fouled attempting a post move and hit both free throws to put the Lady Panthers back in front for good, 47-46, and Lauer came up with a key late steal to seal the victory.
Laurer had a game-high 23 points and scored nine points in the fourth quarter including going 3-for-3 from the line in the quarter. She was 7 of 7 from the charity stripe in the game.
Bowser added 11 points, including eight in the final frame, while Maddie Dunlap scored seven.
Emma Huffman paced Redbank Valley with 19 points, but Keystone held the Lady Bulldogs leading scorer, Tara Hinderliter, in check. Hinderliter came into the game averaging 23.2 points per game but was limited to one made field goal and a free throw for three points.
Alivia Huffman added 16 for Redbank Valley.
UNION 62, FOREST AREA 11
RIMERSBURG, Pa. – Hailey Kriebel had 10 points and 11 rebounds to help Union roll past visiting Forest Area, 62-11, in KSAC North play.
Dominika Logue paced the Golden Damsels with 15 points, Kennedy Vogle added 13 points, Keira Coyle had nine tallies and Maggie Minick chipped in with eight points.
Haleigh Tebay led Forest Area with five points.
NORTH CLARION 74, CLARION-LIMESTONE 29
STRATTANVILLE, Pa. – A night after starting slowly but finishing quickly in a win over A-C Valley, visiting North Clarion wasted little time in putting away Clarion-Limestone, 74-29.
The She-Wolves led 23-4 at the end of the first quarter and 49-7 at halftime.
Gwen Siegel had a career-high 15 points for North Clarion with Abby Gatesman also scoring 15 tallies. Gabby Schmader added 11 points with Haley Sherman scoring 10 an Amya Green seven. Mackenzie Bauer also chipped in with six points.
Frances Milliron paced C-L with seven points with Sydney Simpson scoring six on a pair of 3-pointers.