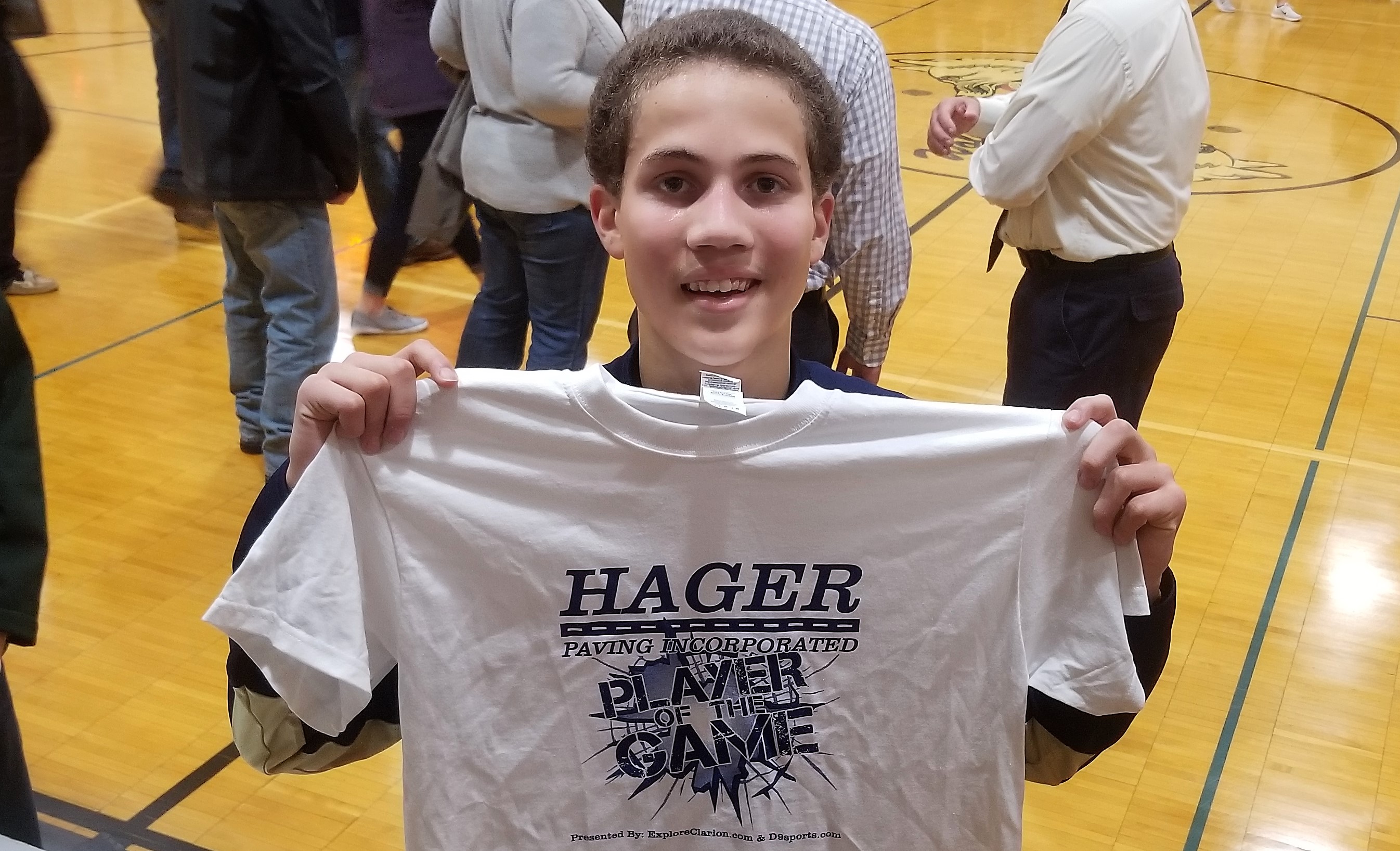 Dec. 20 recaps.
(Photo: Deion Deas, Clarion-Limestone)
CLARION-LIMESTONE 72, NORTH CLARION 59
FRILLS CORNERS, Pa. – Deion Deas netted a game-high 22 points, as Clarion-Limestone picked up a second straight key early-season KSAC North victory with a 72-59 win at North Clarion.
Listen to the game:
The Lions, who also beat Clarion on the road last week, used a 14-4 second-quarter run to grab a lead it never relinquished.
Deas talked about the win.
Ian Callen added 13 points, eight rebounds, eight steals and five assists for the Lions with freshman Hayden Callen chipping in 12 points and nine rebounds and Julian Laugand finishing with six points and six assists. Christian Smith also had three 3-pointers and 15 points for the Lions.
Nathan Banner paced North Clarion with 15 points and six rebounds. Jesse Schmader added 11 points, Kyle Mills nine tallies and Matson Higgins eight.
KEYSTONE 20, MONITEAU 15
WEST SUNBURY, Pa. – In a game that finished with a lower score than the football game between these same two teams earlier this year (26-17 Keystone), Keystone overcame Moniteau's attempt to slow the game to a snail's pace to pull out a 20-15 KSAC South road win.
Moniteau grabbed a 7-5 lead at the end of a quarter and tried to melt away the clock. The Warriors still led, 11-10, at halftime before Keystone "outscored" them 4-0 in the third quarter and 10-4 in the second half to get the win.
Corey Rapp actually hit double digits for Keystone with 10 points. Nate Wingard added five.
Jared Lominski had eight points and 11 rebounds for Moniteau.
Poll question – Does Pennsylvania High School Basketball Need a Shot Clock like New York?
A-C VALLEY 65, REDBANK VALLEY 54
NEW BETHLEHEM, Pa. – Dalton Callander netted 18 points to help visiting A-C Valley to a 65-54 win over Redbank Valley.
Eddie Stevanus added 15 points for the Falcons with Russ Carr chipping in nine.
Brock Barrett had a team-best 17 points for Redbank Valley with Logan Wadding adding 13 and Nick Smith 12.
CLARION 64, CRANBERRY 40
CLARION, Pa. – Cam Craig and Austin Hummell accounted for 38 points to lift Clarion to a 64-40 home win over Cranberry in KSAC North action.
Craig led the Bobcats with 22 points with Hummell chipping in with 16.
Dan McQuaide had 14 points for Cranberry.
VENANGO CATHOLIC 64, FOREST AREA 54
TIONESTA, Pa. – Behind the scoring of Josh Puelo, Andrew Burda and Ben Gillispie, Venango Catholic claimed a KSAC North road win with a 64-54 victory over Forest Area at West Forest.
Puleo led the Vikings with 19 points, Burda added 17 and Gillispie 15.
Seth Berlin led all scorers with 32 points for Forest Area while completing a double-double with 11 rebounds. Franklin Meals added 12 points and Dillion DiCorpo had three points and nine assists.
CURWENSVILLE 82, GLENDALE 47
CURWENSVILLE, Pa. – Christian Bakaysa, Devan Barrett and Josh Terry each scored 20 points to help Curwensville romp past visiting Glendale, 82-47, in Moshannon Valley League action.
Bakaysa led the Tide with 25 points, Terry chipped in 23 tallies and Barrett added 20.
Josh Potutschnig paced Glendale with 15 points with JJ Kitko adding 13.
CLEARFIELD 50, BELLEFONTE 41
BELLEFONTE, Pa. – Thanks to 15 points and seven rebounds from Reese Wilson Clearfield snagged a 50-41 Mountain League win at Bellefonte.
Ryan Chew added 13 points for the Bison, who led 26-18 at halftime.
Caleb Rockey paced Bellefonte with nine tallies.
RIDGWAY 55, EISENHOWER 38
RUSSELL, Pa. – Neil MacDonald netted 21 points to help visiting Ridgway to a 55-38 win over Eisenhower.
Andy Breier and Daunte Allegretto also reached double digits for the Elkers with Breier scoring 12 points and Allegretto 11.
Jaydon Hayes had a game-high 17 points for Eisenhower.
ST. MARYS 86, DUBOIS CENTRAL CATHOLIC 30
ST. MARYS, Pa. – St. Marys hit 12 3-pointers, scored 38 first-quarter points and 64 first-half points to roll to an 86-30 win over visiting DuBois Central Catholic.
The Dutch had 82 points after three quarters in a game they led 38-11 after a quarter and 64-24 at halftime.
Nathan Schneider led St. Marys with 24 points, while Luke Lasko hit five 3-pointers on his way to 17 points. Jared Groll chipped in with 13 tallies.
Justin Miknis scored 15 for DCC.