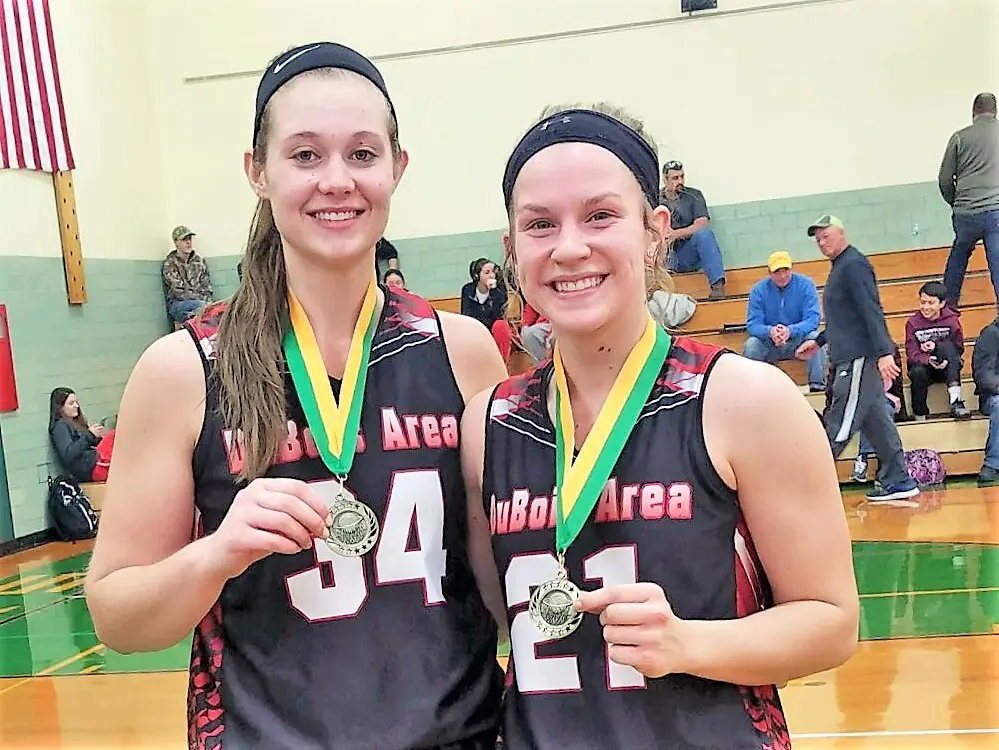 Dec. 20 recaps.
(Photo: Ashley Hallowell (left) and Chelsea DeSalve of DuBois. Photo courtesy of DuBois School District)
DUBOIS 36, ELK COUNTY CATHOLIC 29
DUBOIS, Pa. – Chelsea DeSalve scored 11 points and Ashley Hallowell added six points and 12 rebounds to help DuBois to a 36-29 win over visiting Elk County Catholic in D9 League play.
VanAlstine had eight points for ECC.
A-C VALLEY 55, REDBANK VALLEY 29
NEW BETHLEHEM, Pa. – Ellie Thompson led a trio of A-C Valley players in double figures with 17 points, as the visiting Lady Falcons rolled to a 55-29 win over Redbank Valley.
Kylee Eaton added 11 points for A-C Valley with Olivia Boocks chipping in with 10. Cami McNany also scored eight for the Lady Falcons.
Tara Hinderliter paced Redbank Valley with 14 points with Kelsie Elmer adding 13.
CAMERON COUNTY 43, PORT ALLEGANY 31
PORT ALLEGANY, Pa. – Laila Smith scored 15 points to help visiting Cameron County to a 43-31 North Tier League victory at Port Allegany.
Amily Schatz added nine points for the Lady Raiders with Hailey Hilfiger chipping in with eight.
Cailey Barnett's 13 points led Port Allegany.
OTTO-ELDRED 68, AUSTIN 12
AUSTIN, Pa. – Camryn Thomas had 16 points and four rebounds to help visiting Otto-Eldred to a 68-12 North Tier League win over Austin.
Ali Cousins added 11 points and seven steals for the Lady Terrors with Kayle Heller chipping in 10 points and seven rebounds. Also for O-E, Lauren Cousins had four points and six assists and Alyssa Sheelander five assists to go with a point.
Jordan Brewer and Cerissa Glover each scored four points for Austin.
RIDGWAY 65, JOHNSONBURG 51
RIDGWAY, Pa. – Emily Fullem netted a career-high 36 points to go with 17 rebounds, 10 blocked shots, two assists and a steal, as Ridgway beat visiting Johnsonburg, 65-51, in a non-conference affair.
Casey Woodford added 12 points, eight assists, three rebounds and three steals for the Lady Elkers with Alyssa Kasmierski chipping in eight points, five rebounds and four helpers.
Cassidy King netted 16 points for Johnsonburg, Maria Jones scored 14 and Rylee Casilio had 11.
KANE 50, BRADFORD 24
KANE, Pa. – Behind 13 points, nine rebounds and eight blocked shots from Ella Marconi, Kane dispatched visiting Bradford, 50-24.
Emily Bucheit chipped in 11 points for the Lady Wolves with Rachael Morgan scoring seven points and grabbing 10 rebounds, Trinity Clark netting six points, seven rebounds and four blocked shots and Hannah Buhl dishing out five assists to go with three points.
Erica Marshall paced Bradford with 10 points with Brinya Moffett adding eight.
SMETHPORT 48, SHEFFIELD 25
SMETHPORT, Pa. – Abbey Woodard scored 21 points to help Smethport to a 48-25 home win over visiting Sheffield.
Hailey Wright added 11 points for the Lady Hubbers.
Eliza Davidson led Sheffield with seven points.