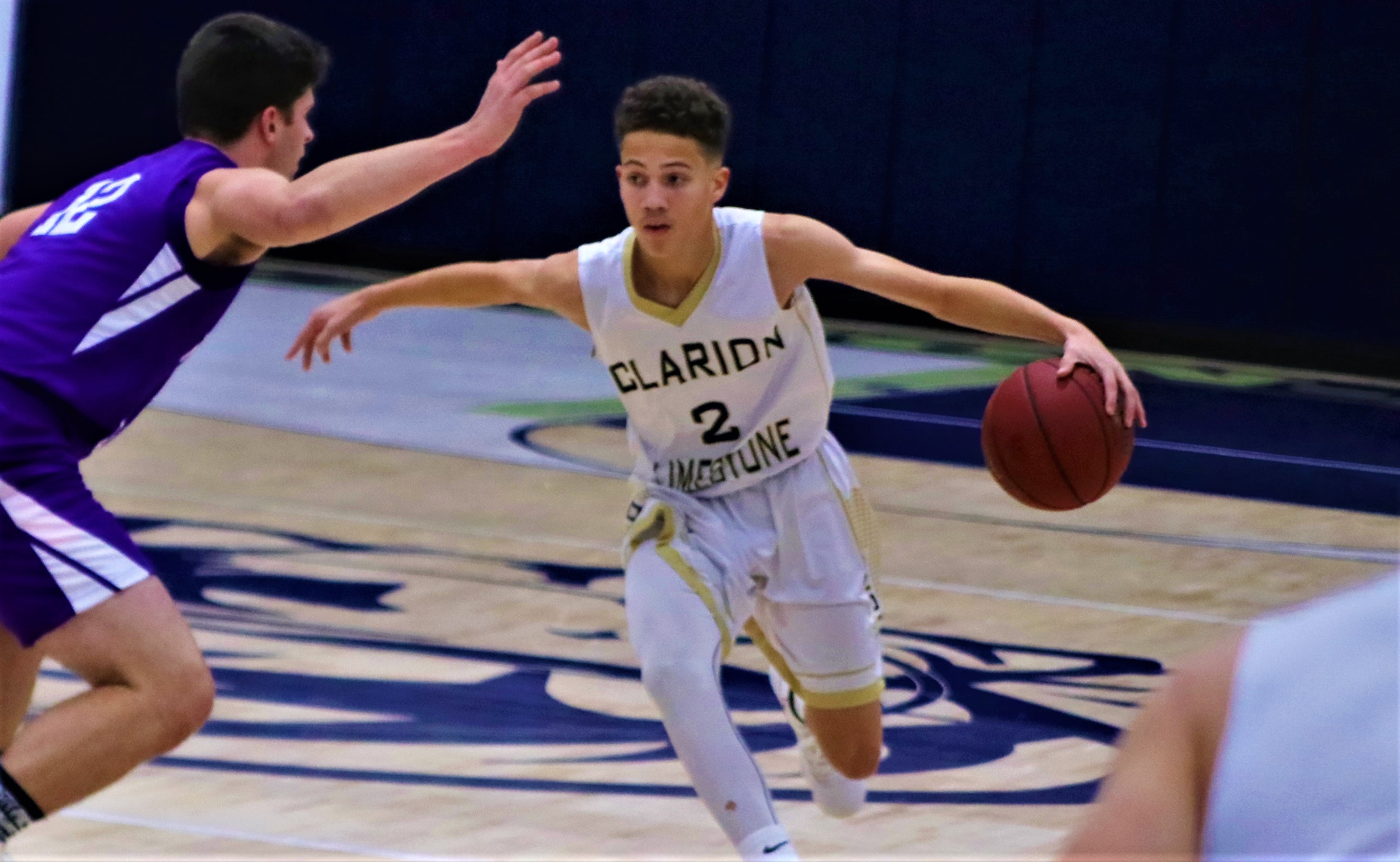 Dec. 20 boys' basketball recaps.
(Deion Deas of C-L exploded for a career-high 41 points, the third most in school history, in a win over Venango Catholic Thursday. It was the 200th win for C-L head coach Joe Ferguson. Photo by Jared Bakaysa of JB Graphics. See more of Bakaysa's work here)
CLARION-LIMESTONE 64, VENANGO CATHOLIC 50
STRATTANVILLE, Pa. – Deion Deas scored a career-high 41 points and shorthanded Clarion-Limestone gave head coach Joe Ferguson his 200th win with a 64-50 KSAC North victory over visiting Venango Catholic.
Deas' 41 tallies are tied for the third most in school history and the most since Bob Larson scored 41 in 1971. Don Rhoades also scored 41 points in 1961 while Gary Clark holds the school record at 48 points in 1968. Walt Neal had a 43-point game during the 1964-65 season.
The output from Deas, who hit 16 shots from the field, including six 3-pointers, was needed with the Lions playing without its other two big scorers – Hayden and Ian Callen. Ian Callen has yet to play this season because of an injury suffered during football season while Hayden Callen missed the game with an injury suffered late in the Lions loss to North Clarion Tuesday.
Drew Beichner stepped up in Hayden Callen's absence scoring seven points, all deemed crucial by Ferguson, who is 200-100 in his time at C-L, while Curvin Goheen added four points and 13 rebounds.
Ben Gillispie had a double-double for Venango Catholic with 13 points and 11 rebounds. Parker Slagle led the Vikings with 16 points and Andrew Burda added 15.
CRANBERRY 66, FOREST AREA 52
MARIENVILLE, Pa. – Matt McQuaide exploded for 33 points to lead Cranberry to a 66-52 road KSAC North win over Forest Area at East Forest.
JT Stahlman added 18 points in the victory for the Berries, who pulled away late after leading by just three with around five minutes to play.
Franklin Meals paced Forest Area with 15 points, Seth Seidle added 11 points and six blocked shots, Aiden Quinn had seven points and five steals and Noah Burke added three points and nine rebounds.
UNION 50, A-C VALLEY 46
RIMERSBURG, Pa. – Nolan Cumberland scored 18 points to lead Union to a 50-46 win over visiting A-C Valley in KSAC South action.
Quintin Weaver added 12 points for the Golden Knights, who led 28-19 at halftime, with Luke Bowser chipping in 10 points and Caden Rainey four points, seven rebounds and four assists.
Levi Orton had a game-high 20 points for A-C Valley with Eddie Stevanus adding 12 tallies.
KEYSTONE 57, REDBANK VALLEY 35
NEW BETHLEHEM, Pa. – Isaak Jones scored 19 points to help visiting Keystone to a 57-35 KSAC South win over Redbank Valley.
Troy Johnson added 12 points for the Panthers with Brooks LaVan chipping in 11.
Nick Smith scored 18 to lead Redbank Valley.
NORTH CLARION 72, CLARION 57
FRILLS CORNERS, Pa. – North Clarion overcame a slow start to beat visiting Clarion, 72-57, in KSAC North play.
The Wolves were down 13-2 early but finished the first quarter on a 19-6 run to take a 21-19 lead that grew to 35-28 by halftime.
Kyle Mills led the way for North Clarion with 23 points, 13 rebounds and three blocked shots. Tyler McCord-Wolbert added 14 points and six rebounds, Korey Mills had 11 points and four assists, Logan Minich chipped in six points, seven assists and five rebounds and Sam Minich had nine points and six rebounds.
Cal German paced Clarion with 17 points, Nick Frederick added 11 tallies and Archer Mills and Gavin Brinkley each had eight points.
MONITEAU 57, KARNS CITY 45
KARNS CITY, Pa. – Ethan McDeavitt scored 22 points and dished out five assists, as visiting Moniteau stunned defending division champion and 2018-19 favorite Karns City, 57-45, in KSAC South play.
Gage Neal added 12 points for the Warriors with Jared Lomenski adding 10 tallies and Noah McLean three points and eight rebounds.
Chase Beighley had 15 points for Karns City with Nathan Waltman adding 12.
JOHNSONBURG 54, BRADFORD 41
JOHNSONBURG, Pa. – Austin Green scored 16 points to help Johnsonburg to a 54-41 win over visiting Bradford.
Green netted nine first-half points to help the Rams to a 28-14 halftime lead.
Garret Gregori added nine points in the win.
Gavin Babcock led Bradford with 14 points with Tyler Gigliotti scoring 11.
BELLEFONTE 47, DUBOIS 46
BELLEFONTE, Pa. – Nate Tice scored seven of his game-high 17 points in the fourth quarter to help Bellefonte rally past visiting DuBois, 47-46.
The Red Raiders trailed by seven, 34-27, at the end of three quarters after leading 24-20 at halftime.
Jonathan Cruz and Justin Manduley each scored 15 points for DuBois with Chase Husted adding eight.