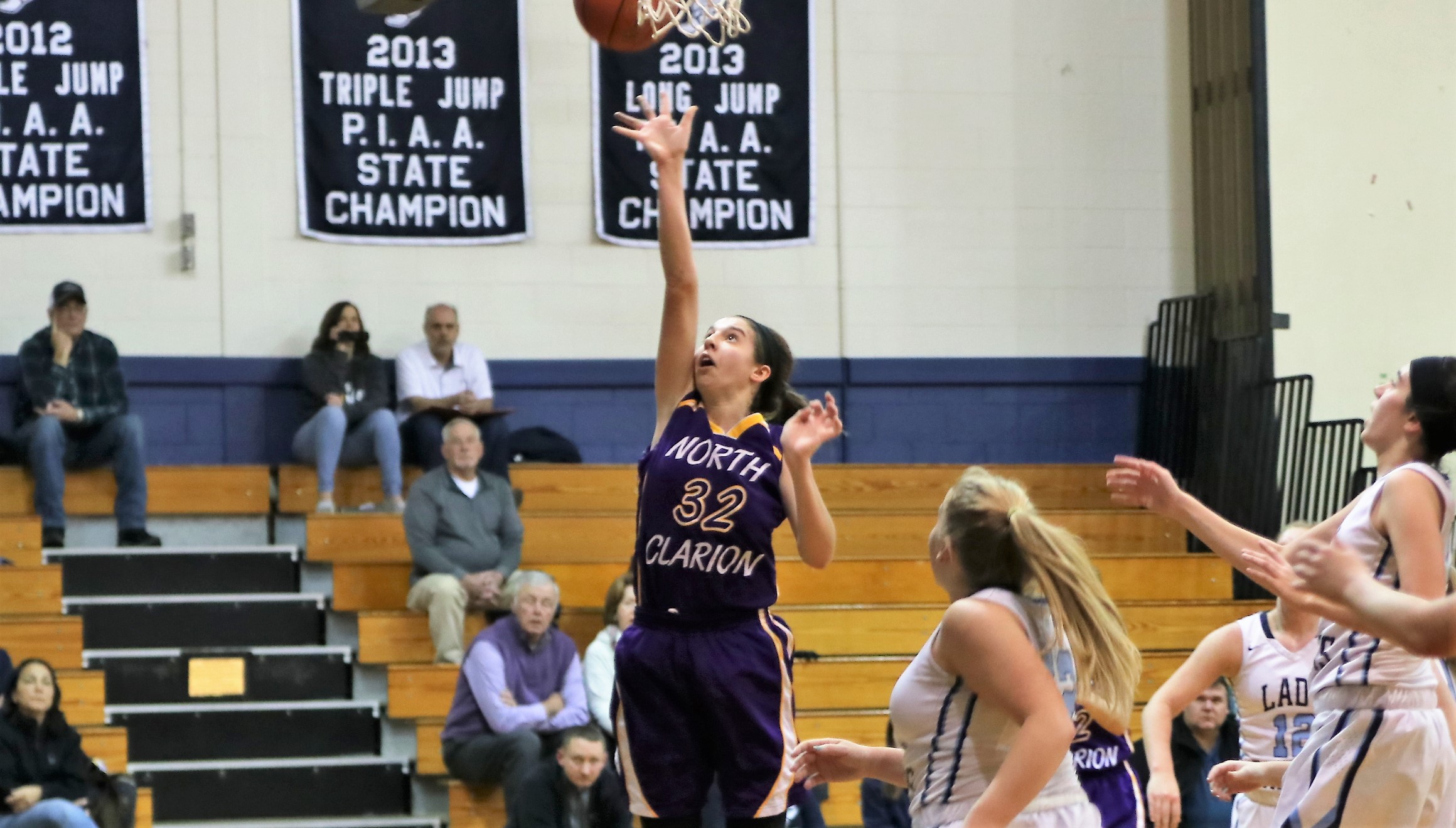 Dec. 20 girls' basketball recaps.
(Photo of Hayley Sherman of North Clarion who had 11 points and 16 rebounds in a win over Clarion Thursday. Photo by Jared Bakaysa of JB Graphics. See more of Bakaysa's work here)
NORTH CLARION 49, CLARION 45
CLARION, Pa. – Haley Sherman scored four key points down the stretch to help North Clarion rally past Clarion, 49-45, in a crucial KSAC North matchup at Clarion.
Sherman had back-to-back buckets off offensive rebounds after Abby Gatesman had tied the game at 41. All were part of a 10-4 closing run by the She-Wolves, who trailed 41-39 with 4:47 to play following a pair of Jordan Best free throws.
Sherman, who had a double-double with 11 points and 16 rebounds, talked about the win.
It was a back-and-forth game with Clarion leading 22-20 at halftime thanks to an 11-1 second-quarter run but North Clarion taking a 35-30 lead at the end of three quarters after outscoring the Lady Cats, 15-8, in the quarter.
Clarion retook the lead by starting the fourth quarter on an 11-4 run that featured seven points from Wendy Beveridge before North Clarion's late push.
With only four teams in the KSAC North, both teams are now halfway through divisional play with North Clarion leading the division with a perfect 3-0 mark and Clarion being at 2-1.
Abby Gatesman had a team-high 15 points for North Clarion despite not playing 8:25 in the first half, including the entire second quarter, before she had two fouls. Gatesman added five rebounds.
Also for North Clarion, Mackenzie Bauer chipped in 11 points.
Beveridge led all scorers with 19 points and added six rebounds for Clarion with Best contributing 10 points and six boards.
KEYSTONE 46, REDBANK VALLEY 41
KNOX, Pa. – Emily Lauer and Kenzie Hovis combined to score 35 points to lead Keystone past visiting Redbank Valley, 46-41, in KSAC South play.
Lauer netted a team-best 20 points for the Lady Panthers with Hovis chipping in 15.
Tara Hinderliter dropped in a career-high 29 points for Redbank Valley.
A-C VALLEY 68, UNION 23
FOXBURG, Pa. – Led by 15 points from Cami McNany, four A-C Valley players reached double digits in a 68-23 win over Union.
Olivia Boocks, Kylee Eaton and Andrea Meals each added 12 points for the Lady Falcons.
Dominika Logue paced Union with 10 points.
MONITEAU 58, KARNS CITY 12
WEST SUNBURY, Pa. – Behind 14 points, eight steals and four assists from Izzy Bair, Moniteau beat visiting Karns City, 58-12, in KSAC South action.
Kristin Auvil added 11 points and seven rebounds for the Lady Warriors with Andie Arblaster scoring 10 points and Haley Pry nine.
Emily Huff and Emma Johns each scored three points for Karns City.
OSWAYO VALLEY 28, GALETON 26
SHINGLEHOUSE, Pa. – Karina West scored 12 points as Oswayo Valley edged visiting Galeton, 28-26, in NTL action.
McKenzie Gross added seven points for the Green Wave.
Hayley Ludington paced Galeton with seven points.
PORT ALLEGANY 61, NORTHERN POTTER 44
PORT ALLEGANY, Pa. – Cailey Barnett netted a team-high 18 points to give Port Allegany a 61-44 home NTL win over Northern Potter.
Erin Stauffer added nine points for the Lady Gators.
Abbi Anderson had a game-high 19 points for Northern Potter with Mirissa Bliss chipping in 14 points.
COUDERSPORT 46, OTTO-ELDRED 39
COUDERSPORT, Pa. – Sarah Chambers had a game-high 17 points to help Coudersport to a 46-39 NTL win over visiting Otto-Eldred.
Roselyn Page added 13 points for the Lady Falcons.
Reilly Raught scored nine points for Otto-Eldred with Morgan Dalton adding eight and Jadelyn Spinney seven.
CAMERON COUNTY 48, AUSTIN 12
EMPORIUM, Pa. – Kamme Guisto had 21 points, three rebounds and two steals to lead Cameron County to a 48-12 win over visiting Austin in NTL play.
Hailey Hilfiger added six points, 10 rebounds, four assists and two blocks for the Lady Raiders with Alyvia McKimm scoring seven points.
Taylor Brewer, Kendra Valenti and Julia Latimore each had three points for Austin.
KANE 49, BRADFORD 43
BRADFORD, Pa. – Ella Marconi had 27 points and 18 rebounds to lead Kane to a 49-43 road win over Bradford.
Hannah Buhl added six points and six rebounds for the Lady Wolves with Emily Bucheit chipping in five points and nine rebounds and Audri Marconi five points and five boards.
Erica Marshall had 15 points for Bradford with Hannah Lary adding 13.
PORTVILLE (N.Y.) 77, SMETHPORT 10
PORTVILLE, N.Y. – Sydney Colligan had 16 points to lead Portville (N.Y.) to a 77-10 win over visiting Smethport.
MyKayla Deyarmin scored seven of Smethport's points.