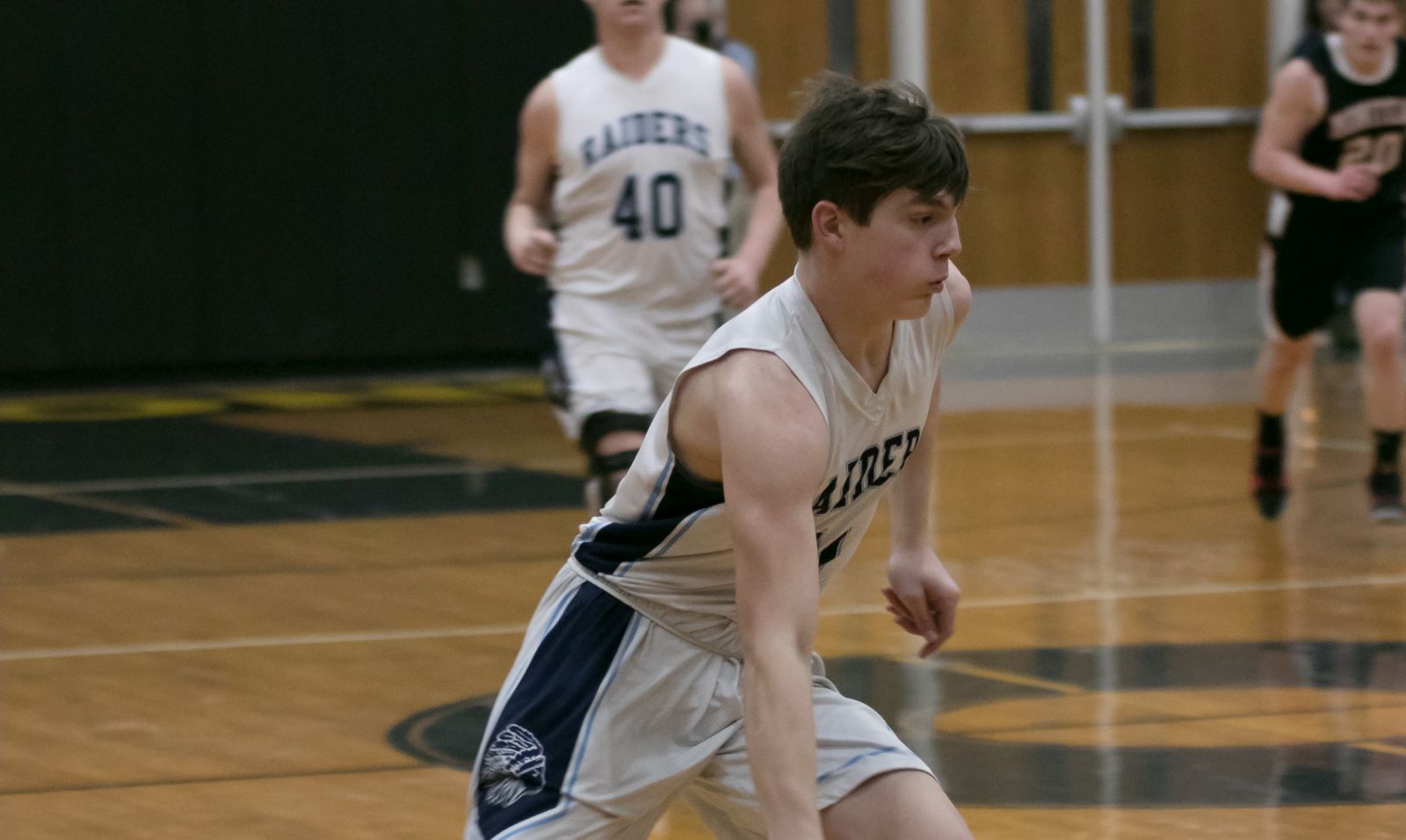 Dec. 20 boys' basketball recaps.
(Photo of Brookville's Robert Keth, whose 3-pointer at the buzzer lifted the Raiders past St. Marys Friday. Photo by Jared Bakaysa of JB Graphics. See more of Bakaysa's work here)
BROOKVILLE 59, ST. MARYS 56
ST. MARYS, Pa. – Robert Keth nailed a 25-foot defended buzzer-beating 3-pointer to lift visiting Brookville to a 59-56 win over St. Marys in D9 League action.
The Raiders trailed by four, 45-41, going to the fourth quarter but Keth hit a pair of 3-pointers, including the game-winner in the final eight minutes and Aaron Park added six of his team-high 17 points in the quarter to rally Brookville for the win.
Keth added 11 points in the victory, Logan Byerly chipped in 10 points and David Cable and Jace Miner each scored eight for Brookville, who was without Jake Krug (illness).
St. Marys, which trailed 36-34 at halftime before outscoring the Raiders 11-5 in the third quarter to take the lead, got a game-high 19 points from Cahil Parish, including 13 in the second half (seven in the third quarter). Nick Catalone added 14 points for the Dutch with Luke Lasko scoring eight and Mitchell Reiter seven.
AUSTIN 59, SHEFFIELD 58
SHEFFIELD, Pa. – Skylar Crawford hit the game-winning shot as time expired to lift visiting Austin to a 59-58 win over Sheffield.
Crawford's game-winning shot culminated a fourth-quarter comeback for the Panthers, who trailed by nine, 45-36, heading to the fourth quarter.
But Jackson Glover caught fire in the final eight minutes scoring 15 of his career-high 36 points in the frame to fuel the comeback. Jackson Glover also had nine rebounds, three assists, a steal and a block.
Joseph Glover Jr. added nine points and nine rebounds for Austin with Crawford scoring six points to go with seven rebounds, four steals and two helpers.
Tyler Hepinger had a big game for Sheffield with 26 points with Tony Richards adding 17 tallies.
CRANBERRY 56, COMMODORE PERRY 40
CRANBERRY, Pa. – JT Stahlman, Matt McQuaide and Cam Russell combined to score 50 of Cranberry's 56 points in a 56-40 win over visiting Commodore Perry/
Stahlman led the Berries with a game-high 19 points, McQuaide added 17 tallies and Russell scored 14 points.
Hunter Artman paced Commodore Perry with 18 points.
TYRONE 90, CLEARFIELD 60
TYRONE, Pa. – Scoring 31 fourth-quarter points Tyrone ran away from visiting Clearfield, 90-60, in Mountain League action.
The Bison were down 41-30 at halftime and 59-41 at the end of three before the Golden Eagles blitzed their way through the fourth quarter.
Damon Gripp paced Tyrone with 33 points, Laden Dehaas added 19 points, Blaine Hoover scored 10 points, Brandon Lucas chipped in nine tallies and Cortlynd Rhoades had eight points.
Cade Walker and Karson Rumsky each scored 18 for Clearfield with Matt Pallo chipping in with eight points.