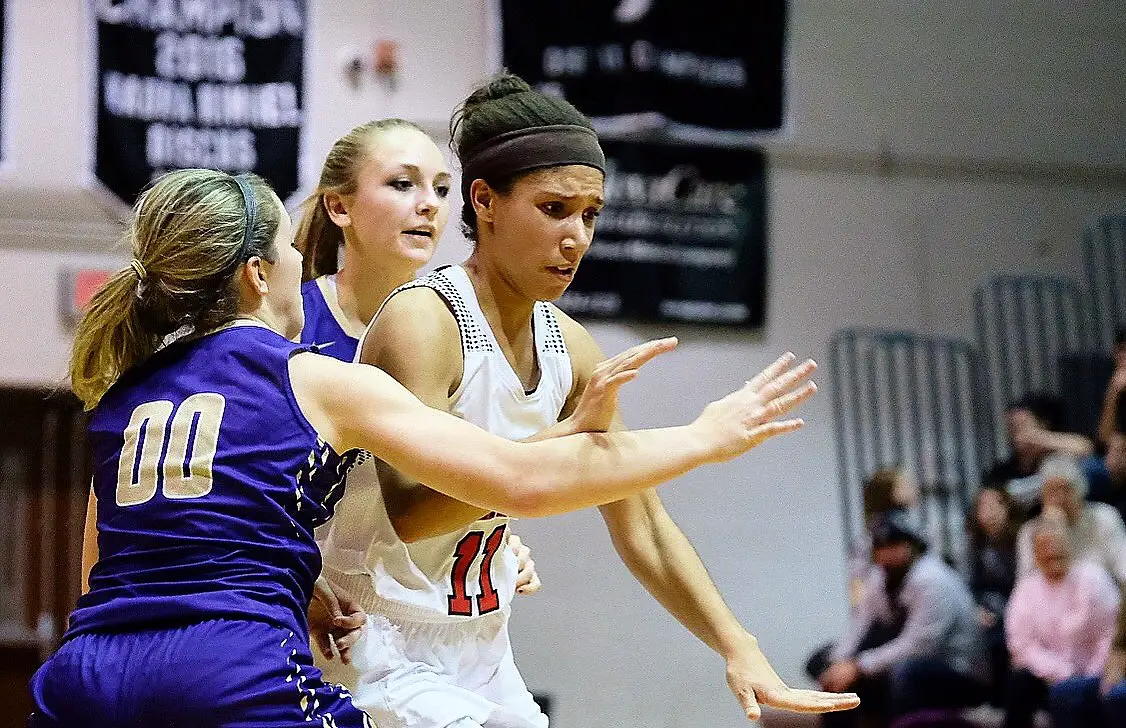 Dec. 20 girls' basketball recaps.
(Cover photo of Moniteau's Alazia Greaves, who had a game-high 23 points in Tuesday's win over Karns City. Photo by Mike Schnelle. Check out more of Schnelle's work here)
MONITEAU 52, KARNS CITY 46
WEST SUNBURY, Pa. – Moniteau rode strong first and third quarters to its first win over Karns City in nearly five years with a 52-46 victory over the visiting Lady Gremlins.
The Lady Warriors, who last beat Karns City Feb. 13, 2012, and had lost 10 straight to their rival, built a 17-8 lead at the end of the first quarter on the strength of 11 points from Alazia Greaves, who hit three 3-pointers in the quarter on her way to a game-high 23 points.
Then, after Karns City had clawed back to within six, 24-18, at halftime, Moniteau outscored the Lady Gremlins 16-10 in the third quarter behind six points apiece from Kristina DeMatteis and Emma Bair, who each finished with 12 tallies in the game, to go up 12, 40-28, by the end of the quarter.
Bair added six blocked shots and six rebounds, while DeMatteis completed a double-double with 11 rebounds.
Karns City, which saw a 29-game win streak vs. KSAC teams – North and South including KSAC Title Games, come to an end got 19 points from Mackenzie Craig, including eight in the first quarter, 10 from Emily Hegedus and nine from Alyssa Gibson.
The loss was the Lady Gremlins first vs. a KSAC opponent since Keystone won at Karns City, 61-47, Jan. 21, 2015, and the first on the road to a KSAC foe since falling to Redbank Valley, 49-41, Jan. 20, 2014. It was also Moniteau's first win over Karns City since beating the Lady Gremlins, 46-29, in 2012.
NORTH CLARION 58, CLARION 26
CLARION, Pa. – Visiting North Clarion overcame a slow start to roll past shorthanded Clarion, 58-26.
The She-Wolves trailed the Lady Cats, who were without their lone senior Gloria Kroh (foot injury), 9-7, at the end of the first quarter but outscored Clarion 24-5 in the second quarter while hitting 9 of 11 second-quarter shots led by seven points from Tori Obenrader.
Obenrader finished with a game-high 21 points to go with eight rebounds. She talked about the win after the game.
Lindsay Zacherl added nine points, Abby Gatesman and Ally Carll seven each and Cassie Wagner six points and 11 rebounds for North Clarion, who also got seven assists from Michaela Higgins.
Alexis Constantino paced Clarion with 12 points.
KEYSTONE 55, REDBANK VALLEY 33
KNOX, Pa. – Taylor Geer had 25 points and 14 rebounds to lead Keystone to its first win of the season with a 55-33 win over visiting Redbank Valley.
The Lady Panthers grabbed a 14-5 lead after one quarter and led 34-19 at halftime.
Makenzie Byerley also had a double-double for Keystone with 10 points and 11 rebounds, while Alyssa Beichner chipped in with 10 points.
Kera Fink led Redbank Valley with 10 points, while Macy King added eight.
OTTO-ELDRED 49, GALETON 39
GALETON, Pa. – Thanks to 14 points and 15 rebounds from Camryn Thomas, visiting Otto-Eldred beat Galeton, 49-39.
Alyssa Shelander added 10 points, six rebounds and three assists for the Lady Terrors, who also got nine points from Ali Cousins.
Cortney Parsell paced Galeton with 12 points with Makaya Shadle adding 11.
NORTHERN POTTER 41, SMETHPORT 35
SMETHPORT, Pa. – Kalie Cowburn scored six of her game-high 12 points in a decisive fourth quarter, as Northern Potter went on the road and picked on an NTL win with a 41-35 victory at Smethport.
The teams were tied at 28 going to the final eight minutes before the Lady Panthers outscored the Lady Hubbers, 13-7, in the fourth.
Gracie Hamilton had a double-double for Northern Potter with 11 points and 10 rebounds, while Tory McCutcheon just missed a double-double finishing with nine points and eight steals.
Abbey Woodard paced Smethport with 16 points with Emily Treat adding 10.
COUDERSPORT 58, PORT ALLEGANY 26
COUDERSPORT, Pa. – Ally Easton had an all-around solid game with 10 points, nine rebounds and three blocked shots to help Coudersport cruise to a 58-26 win over visiting Port Allegany.
Haley Keck scored a game-high 12 points for the Lady Falcons, who also got nine tallies from Macy Gleason and eight points, seven rebounds and two steals from Alyssa Wood.
Cailey Barnett led Port Allegany with 11 points, while Coudersport held Autumn Buchsenschutz to six.