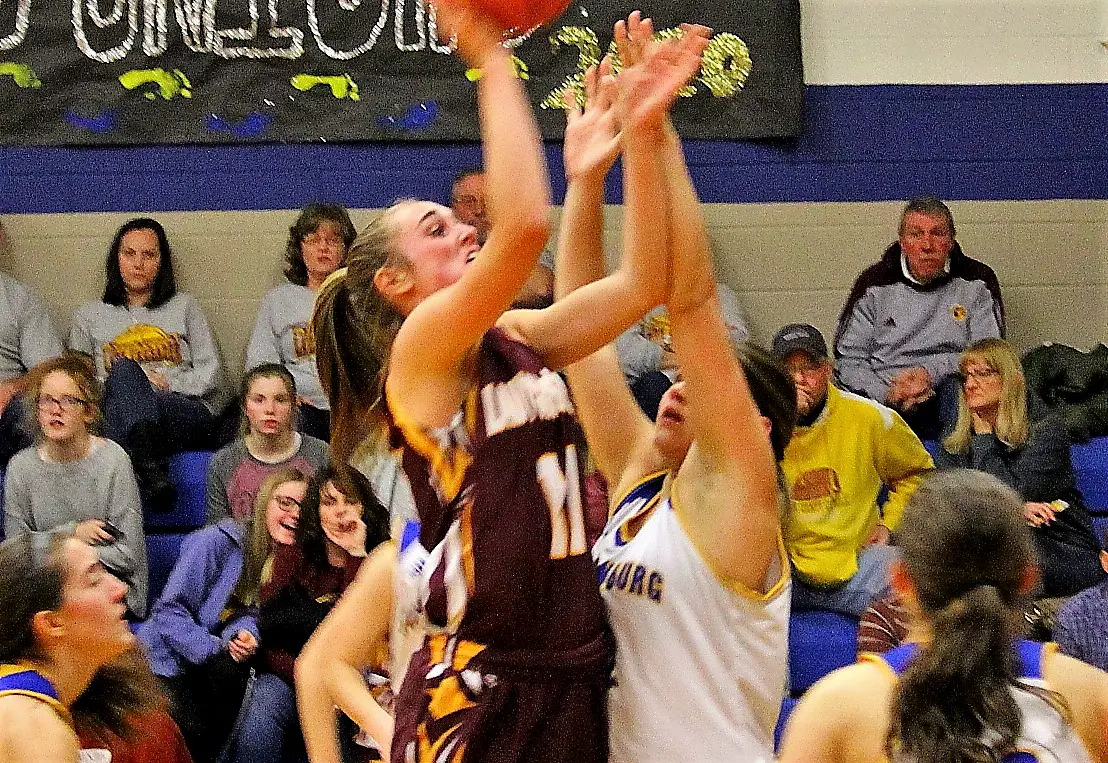 Dec. 21 girls' basketball recaps.
(Photo of Elk County Catholic's Taylor Newton. Photo by Rich Quiggle)
ELK COUNTY CATHOLIC 42, BROCKWAY 34
BROCKWAY, Pa. – Thanks to 16 points and 15 rebounds from Taylor Newton, Elk County Catholic picked up a 42-34 AML road win over Brockway.
Sady VanAlstine added 13 points for the Lady Crusaders.
Morgan Lindemuth and Danielle Wood each scored 10 points for Brockway with Maggie Schmader adding eight tallies.
Lindemuth added nine rebounds for the Lady Rovers with Selena Buttery collecting a team-best 12 boards to go with six points.
DUBOIS 46, CRANBERRY 32
SENECA, Pa. – Visiting DuBois used a balanced-scoring effort to beat Cranberry, 46-32.
Olivia Johnson led the Lady Beavers with 12 points with Maddie Smith and Abby Guiher each scoring 10 points and Chelsea DeSalve eight points.
Malliah Schreck's 19 points and 12 rebounds led Cranberry.
TYRONE 73, CLEARFIELD 17
TYRONE, Pa. – Behind 18 points from Stephanie Ramsey and 16 from Sydney Shaw, Tyrone rolled past visiting Clearfield, 73-17, in Mountain League play.
Jaida Parker added 12 points for the Lady Eagles.
Alayna Ryan scored seven points to pace Clearfield with Megan Durandetta adding six.
RIDGWAY 43, CAMERON COUNTY 36
RIDGWAY, Pa. – Alyssa Kasmerski scored 14 points, hauled down three rebounds and handed out three assists to lead Ridgway to a 43-36 win over visiting Cameron County.
Christina Fullem added seven points, six rebounds, four blocked shots and two steals for the Lady Elkers with Eve Colbaugh and Gaby Rohr each scoring six points. Casey Woodford had four points and 10 rebounds.
Alyvia McKimm led Cameron County with 14 points. Hailey Hilfiger chipped in five points, 13 rebounds and two steals.
PUNXSUTAWNEY 55, INDIANA 18
INDIANA, Pa. – Katelyn Griebel hit three 3-pointers and scored a game-high 13 points, as visiting Punxsutawney to a 55-18 win over Indiana.
Sarah Weaver added 11 points for the Lady Chucks with Kate Horner chipping in 10 points and Abby Gigliotti seven points, 10 rebounds and three steals.
Laken Dills paced Indiana with seven points, all from the free-throw line.
KANE 58, SMETHPORT 12
SMETHPORT, Pa. – Ainsley Saf netted a game-best 20 points and added 11 steals to lead visiting Kane to a 58-12 win over Smethport.
Hannah Buhl and Ella Marconi each added 12 points for the Lady Wolves.
Erin Herzog scored six points for Smethport.
ST. MARYS 53, BROOKVILLE 39
ST. MARYS, Pa. – Behind 15 points from Kyla Johnson, St. Marys toppled visiting Brookville, 53-39, in D9 League play.
Samantha Hayes added 11 points for the Lady Dutch with Kaylee Muccio adding 10 points.
Marcy Schindler led Brookville with 11 points with Morgan Johnson scoring eight.