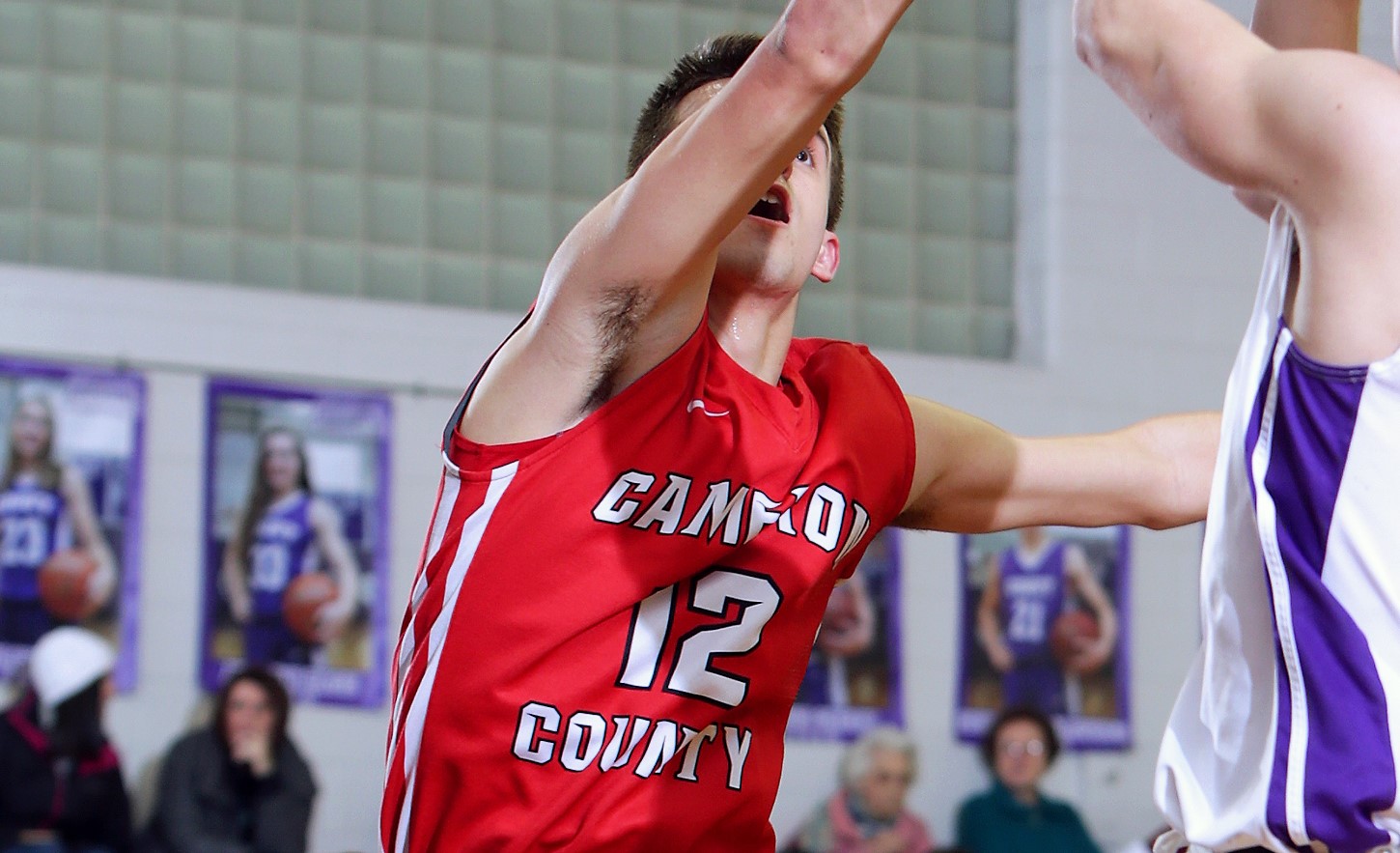 Dec. 21 boys' basketball recaps.
(Photo of Cameron County's Caden Beldin. Photo by Paul Burdick. Check out more of Burdick's work here)
CAMERON COUNTY 61, AUSTIN 46
AUSTIN, Pa. – Jake Walters netted a game-high 21 points to lead Cameron County to a 61-46 NTL road win over Austin.
Caden Beldin added 16 points for the Red Raiders.
Jackson Glover paced Austin with 15 points, 12 rebounds and seven assists with Blake Burgett adding 12.
COUDERSPORT 70, OTTO-ELDRED 49
DUKE CENTER, Pa. – Owen Chambers exploded for 37 points to lift Coudersport to a 70-49 win at Otto-Eldred in NTL action.
Chambers hit 15 shots from the field, including seven 3-pointers.
Hayden Keck added 13 points for the Falcons with Kolby VanWhy chipping in 11.
Cameron Grigsby had a team-high 23 points for Otto-Eldred and Cole Sebastian added nine.
PORT ALLEGANY 59, NORTHERN POTTER 50
ULYSSES, Pa. – Jordan Card scored 18 points to lift visiting Port Allegany to a 59-50 win over Northern Potter in NTL play.
A.J. Edgell added 10 points for the Gators with Howie Stuckey scoring nine on three first-half 3-pointers.
Holden Cowburn scored a game-high 24 points for Northern Potter. Tre Slawson added eight points and Ezra Sprow six points and 12 rebounds.
GALETON 75, OSWAYO VALLEY 36
GALETON, Pa. – Led by 22 points from Isaiah Shuemaker, Galeton placed four players in double digits in a 75-36 home NTL win over Oswayo Valley.
Joel Griffen and Evan Brooks each added 16 points for the Tigers with Ty Stover chipping in 10.
Camden Graves, Noah Wichert and Honor Gross each scored eight to lead Oswayo Valley.
TYRONE 50, CLEARFIELD 42
HYDE, Pa. – Tyrone rode a hot start to a 50-42 road win over Clearfield in Mountain League lay.
The Eagles led 16-4 at the end of the first quarter and 29-11 at halftime before holding off the Bison in the second half.
Damon Gripp led Tyrone with 16 points with Brandon Lucas adding 14 points and Andrew Ferguson 12.
Cade Walker had a game-high 21 points for Clearfield. Matt Pallo added eight points for the Bison with Karson Rumsky chipping in seven.
BROOKVILLE 48, ST. MARYS 26
BROOKVILLE, Pa. – Holding St. Marys to sub-20 percent shooting, Brookville notched a 48-26 D9 League win.
The Raiders, who led 17-14 at halftime, outscored the Dutch 16-1 in the third quarter to break the game open. Bryan Dworek and Logan Byerly each scored eight points. Aaron Park scored seven points and grabbed seven rebounds.
St. Marys, 8-for-45 from the field, got nine points from Lucas Lasko.
LEECHBURG 83, CURWENSVILLE 45
LEECHBURG, Pa. – Dylan Cooks scored 28 points and Jake Blumer added 22 points to lead Leechburg to an 83-45 win over visiting Curwensville.
Christian Bakaysa scored 15 points for Curwensville with Avery Francisco adding nine points.
RIDGWAY 49, CLARION-LIMESTONE 24
STRATTANVILLE, Pa. – Ridgway used a balanced offensive effort to pick up a 49-24 road win over Clarion-Limestone.
Zack Zameroski paced the Elkers with 13 points with Jake Reynolds adding 12 and Daunte Allegretto and Will Thompson 10 each.
Deion Deas and Curven Goheen each scored eight points for C-L.
ELK COUNTY CATHOLIC 77, PUNXSUTAWNEY 33
PUNXSUTAWNEY, Pa. – Led by 17 points from Alec Wehler, Elk County Catholic had 12 different guys score in a 77-33 D9 League road win over Punxsutawney.
Bryce O'Leary added 11 points for the Crusaders with Will Uberti chipping in nine points and Brady Schneider adding eight points.
Carter Newcome had a team-best nine points for Punxsutawney.