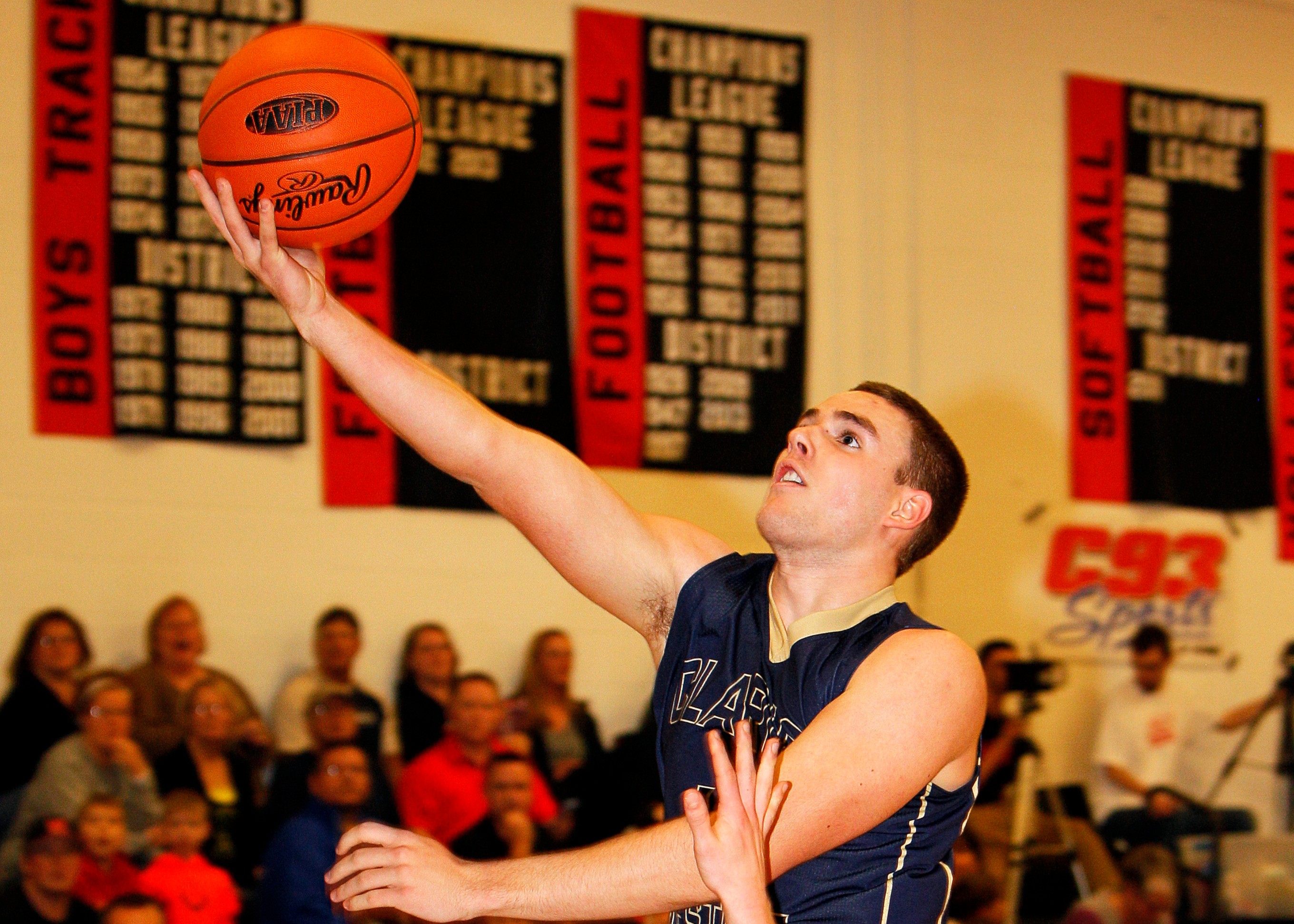 CLARION-LIMESTONE 72, CLARION 69
CLARION, Pa. – Freshman Julian Laugand broke a tie game with a free throw with 12.4 seconds left, and shorthanded Clarion-Limestone grabbed a 72-69 win over Clarion in a KSAC North matchup Tuesday night at Clarion High School.
In a game that featured 12 lead changes and 12 ties, previously unbeaten Clarion, which led 66-61 with 2:49 to play, trailed unbeaten C-L, who was playing without leading scorer and three-year starter Dan Callen (concussion), 69-66 with 38.2 seconds left after Noah Rankin hit three of four free throws in a 35-second span.
Reed Anthony, though, tied the game at 69 with a dagger of a 3-pointer with 26.9 seconds left.
But the junior Anthony then made a mistake fouling Laugand on purpose even though the game was tied with 12.4 left, and the freshman hit the first charity shot to make it 70-69.
The second shot rolled off the rim, and Clarion's Jonathan Smith, who had a game-high 27 points, grabbed the rebound, his 10th of the game. He was off balance, however, and couldn't get rid of the ball before traveling, although the call was close.
Forced to foul, the Bobcats fouled Rankin, who calmly hit both free throws with 8.2 seconds left to put the Lions up three.
Cam Craig then tried a fadeaway 3-pointer that was off the mark, but the rebound came right to Ryan Anthony, whose triple with 0.2 left bounced off the rim setting off a court-charging celebration by the C-L students.
Rankin finished with a career-high 24 points including 13 in the fourth quarter. Taylor Smith, who was Clarion's leading scorer last year under his dad, Todd, before transferring to C-L this year after his dad was let go as coach, added 20 points, and his younger brother, Christian, had 18 points.
Bo Miller added 12 points and nine rebounds for Clarion with Craig added 10 points.    
OTTO-ELDRED 61, PORT ALLEGANY 53
DUKE CENTER, Pa. – Four different Otto-Eldred players scored in double figures to help the Terrors hold off visiting Port Allegany, 61-53, Tuesday night in North Tier League action.
Dylan Close led Otto with 13 points, Heath Stewart had a double-double with 12 points and 10 rebounds, Sawyer Drummond added 11 points and Jordan Sherwood 10.
Sherwood scored eight points and Close six in the first quarter to help the Terrors take a 19-14 lead at the end of one. Stewart then scored seven of his tallies in the second quarter to push the lead to 33-22 at the half.
But Port Allegany came roaring back in the third quarter and closed to within four, 39-35, by the end of the quarter thanks to seven points from Tre Garzel, who finished with 20 points and 17 rebounds.
Drummond, though, wouldn't allow Otto to lose scoring nine fourth-quarter points helping the Terrors outscore the Gators 22-18 in the final eight minutes despite 13 fourth-quarter points from Dylan Kio, who finished with a game-high 23 points while hitting six 3-pointers.  
Brandon McCaslin added 10 points for Port, which only had three guys score.
UNION 67, MONITEAU 61
WEST SUNBURY, Pa. – Hank Murphy had 15 points and 15 rebounds to help Union escape Moniteau with a 67-61 win Tuesday night.
Cole Morris scored a team-high 21 points for the Golden Knights, while adding eight rebounds and seven assists, and Lucas Bowser had 15 points and eight boards.
JJ Waid had a monster night for Moniteau with 25 points, while Aaron Marterella added 14.
BROCKWAY 58, CAMERON COUNTY 28
BROCKWAY, Pa. – Quade Lundberg, Jake Wineberg and Corey Carr all reached double digits to lead Brockway to a 58-28 win over visiting Cameron County Tuesday night.
Lundberg netted a game-high 13 points, including seven first-quarter tallies helping the Rovers to a 13-10 lead at the end of one quarter.
Wineberg then scored nine of Brockway's 13 second-quarter point to help the Rovers expand the lead to 26-15 at the break, and Carr netted eight of his points in the third quarter.
Derek Rieder led Cameron County with 10 points.
GALETON 52, AUSTIN 49
AUSTIN, Pa. – Mitchell Smith scored 15 points to lead Galeton to a 52-49 win at Austin in North Tier League action Tuesday night.
Evan Brooks added 12 points and McKinley Ward 11 for the visiting Panthers, who trailed 22-16 at the end of the first quarter and 36-34 at halftime before taking a 43-42 lead after three.
Anderson Nicka had a huge game for Austin scoring 25 points to go with 19 rebounds. Brian Shupe added 14 points.  
ELK COUNTY CATHOLIC 59, BROOKVILLE 38
MARYS, Pa. – Kyle Huff scored 20 points to lead Elk County Catholic to a 59-38 win over visiting Brookville in D9 League action Tuesday night.
Nate DaCanal also reached double figures for the Crusaders, who led 33-15 at halftime, with 11 points.
Jordan Tosh had 11 points with Bryan Dworek had eight for Brookville.
KEYSTONE 54, A-C VALLEY 25
KNOX, Pa. – Austin Ion led a balanced Keystone attack with 11 points to lead Keystone to a 54-25 win win over visiting A-C Valley Tuesday night.
Mason Rearick added nine points, Corey Rapp eight and Nate Wingard seven for the for the Panthers.
Austin Heeter and Joe Manculich paced A-C Valley with eight points each and Kody Wolfe had seven.    
REDBANK VALLEY 48, KARNS CITY 38
KARNS CITY, Pa. – Dalton Dougherty scored 18 points and had five blocks to lead Redbank Valley to a 48-38 win at Karns City in KSAC South action.
Sam Heeter added 15 points and six assists for the Bulldogs.
Redbank jumped to a 16-10 lead at the end of the first quarter thanks to eight points from Dougherty and held on from there.
Chandler Turner led Karns City with 12 points.
MERCYHURST PREP 37, BRADFORD 36
ERIE, Pa. – Despite 17 points from John Eakin Bradford dropped  37-36 road decision at Mercyhurst Prep Tuesday night.
MARYS 62, DUBOIS CENTRAL CATHOLIC 44

MARYS, Pa. – Parker Housler scored 23 points to lead St. Marys to a 62-44 win over visiting DuBois Central Catholic Tuesday night.
Jeff Wehler added 13 points for the Dutch.
Joey Varischetti led DCC with 12 points and Christian LaParne added 11 points.  
CRANBERRY 56, VENANGO CATHOLIC 53
SENECA, Pa. – Evan Lutz scored 18 points and Austin Rex added 14 to help Cranberry hold back visiting Venango Catholic, 56-53, Tuesday night at the Berry Dome.
The Berries owned the first and third quarters outscoring Venango Catholic 37-25 in those quarter including 17-11 in the third quarter. But the Vikings outscored Cranberry 28-21 in the second and fourth quarters including 18-13 in the fourth to make the game close.
Brady Kingston led VC with 23 points, Hunter Lancaster added 16 and Noah Puleo 10.
COUDERSPORT 72, OSWAYO VALLEY 48
SHINGLEHOUSE, Pa. – Darren Keglovits poured in 24 points as visiting Coudersport rushed past Oswayo Valley, 72-48, Tuesday night.
Jared Green added 18 points for the Falcons, while Owen Chambers had 12.
Brandon Brabham had 20 points to lead Oswayo Valley.  
NORTH CLARION 70, FOREST AREA 28
FRILLS CORNERS, Pa. – Thirteen different North Clarion players scored in a 70-28 win over visiting Forest Area Tuesday night.
Zayn Hargenrader led the Wolves with a game-high 18 points.
Andrew Schwab had eight points for Forest Area.
BOYS
KSAC
Clarion-Limestone 72, Clarion 69