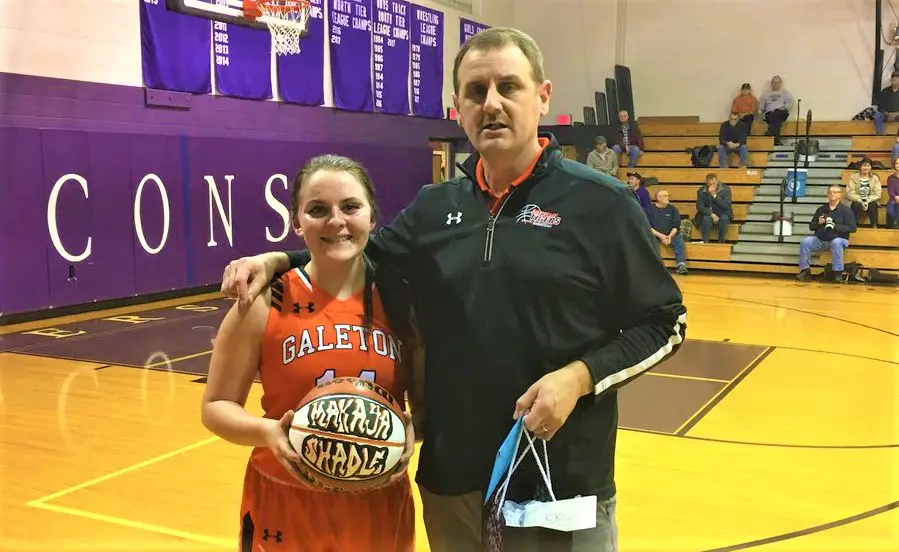 Dec. 22 recaps.
(Photo: Galeton's Makaya Shadle with head coach Andy Macensky. Shadle scored her 1,000th career point Friday night in a loss at Coudersport)
COUDERSPORT 78, GALETON 35
COUDERSPORT, Pa. – Makaya Shadle scored 14 points and hit the 1,000-point mark for Galeton in a 78-35 road loss to Coudersport.
Shadle needed 11 points coming into the night and reached the milestone on a two-point shot in the fourth quarter.
Shadle's efforts weren't enough to knock off a strong Coudersport team that saw Haley Keck and EmmaRae Easton team up for 35 points with Keck leading all scorers with 18 and Easton chipping in with 17 points. Shaelyn Black also scored 14 points for Coudersport.
Haylee Ludington chipped in 10 points for Galeton.
KEYSTONE 48, REDBANK VALLEY 46
NEW BETHLEHEM, Pa. – Freshman Emily Lauer hit a 10-footer with about two seconds to play to lift visiting Keystone to its first win of the year, 48-46 over Redbank Valley.
The game-winning shot capped a strong night for Lauer, who had a team-high 15 points to go with six rebounds.
Makenzie Byerley added 14 points for the Lady Panthers who also got nine tallies from another freshman, Danae Hurrelbrink, six rebounds and two points from McKenzie Hovis and two blocked shots and two points from Alyssa Dunlap.
Tara Hinderliter had a game-high 22 points for Redbank Valley.
RIDGWAY 53, SHEFFIELD 10
RIDGWAY, Pa. – Emily Fullem netted 18 points, grabbed seven rebounds, swatted four shots, came up with three steals and handed out an assist to lead Ridgway to a 53-10 win over visiting Sheffield.
Alyssa Kasmierski added eight points, six assists and five rebounds for the Lady Elkers with Josie Benniger chipping in seven points, three steals, three assists and two rebounds and Christina Fullem adding seven points, four rebounds, a block and a steal.
Eliza Davidson had five points to lead Sheffield.
JOHNSONBURG 48, DUBOIS CENTRAL CATHOLIC 23
JOHNSONBURG, Pa. – Thanks in part to 12 points and 15 rebounds from Lindsey Kocjancic Johnsonburg held home court with a 48-23 win over DuBois Central Catholic.
Cassidy King had 19 points for the Ramettes with Rylie Casilio adding 12 points
Alyssa Bittner paced DCC with six points.
DUBOIS 41, CLEARFIELD 36
DUBOIS, Pa. – Ashley Hallowell and Chelsea DeSalve combined to score 36 points and 24 rebounds to lead DuBois to a 41-36 win over visiting Clearfield.
Hallowell led the Lady Beavers with 19 points and 15 rebounds with DeSalve adding 17 tallies and nine rebounds. Morgan Henry chipped in with six points and 10 rebounds.
NORTHERN POTTER 45, CAMERON COUNTY 30
EMPORIUM, Pa. – Kalie Cowburn scored 16 points to lift visiting Northern Potter to a 45-30 won over Cameron County.
Abbi Anderson added 12 points for the Lady Panthers with Becca Morgan chipping in eight rebounds, seven assists and six points.
Alyvia McKimm and Kaelee Bresslin each had eight points for Cameron County.
BROOKVILLE 48, ST. MARYS 33
BROOKVILLE, Pa. – Lexis Hatzinikolas, Madison McAnich and Marcy Schindler combined to score 29 points to help Brookville to a 48-33 win over visiting St. Marys in D9 League action.
Hatzinikolas led the Lady Raiders with 11 points, McAnich added 10 points and Schindler eight.
Kaylee Muccio, Megan Quesenberry and Samantha Hayes each had seven tallies for St. Marys.
NORTH CLARION 74, CLARION 44
FRILLS CORNERS, Pa. – Tori Obenrader had 33 points, 16 rebounds and seven assists to help North Clarion roll to a 74-44 win over visiting Clarion.
Abby Gatesman added a career-high 24 points for the She-Wolves with Cierah Manross adding eight.
KK Girvin paced Clarion with 12 tallies, Wendy Beveridge added 11 and Ali Troese 10 points and nine rebounds.
MONITEAU 38, KARNS CITY 32
KARNS CITY, Pa. – Emma Bair's double-double of 12 points and 18 rebounds led visiting Moniteau to a 38-32 win over rival Karns City.
Izzy Bair also scored 12 points for the Lady Warriors with Andie Arblaster chipping in 10 rebounds and seven points.
Emily Hegedus scored 28 of Karns City's 32 points.
ELK COUNTY CATHOLIC 47, BROCKWAY 44
ST. MARYS, Pa. – Josie Smith netted a game-high 20 points to help Elk County Catholic hold off visiting Brockway, 47-44, in AML action.
Taylor Newton added 16 points for the Lady Crusaders.
Kaitlyn Morelli had a double-double for Brockway with 12 points and 10 rebounds, Morgan Lindemuth had a team-high 16 points.