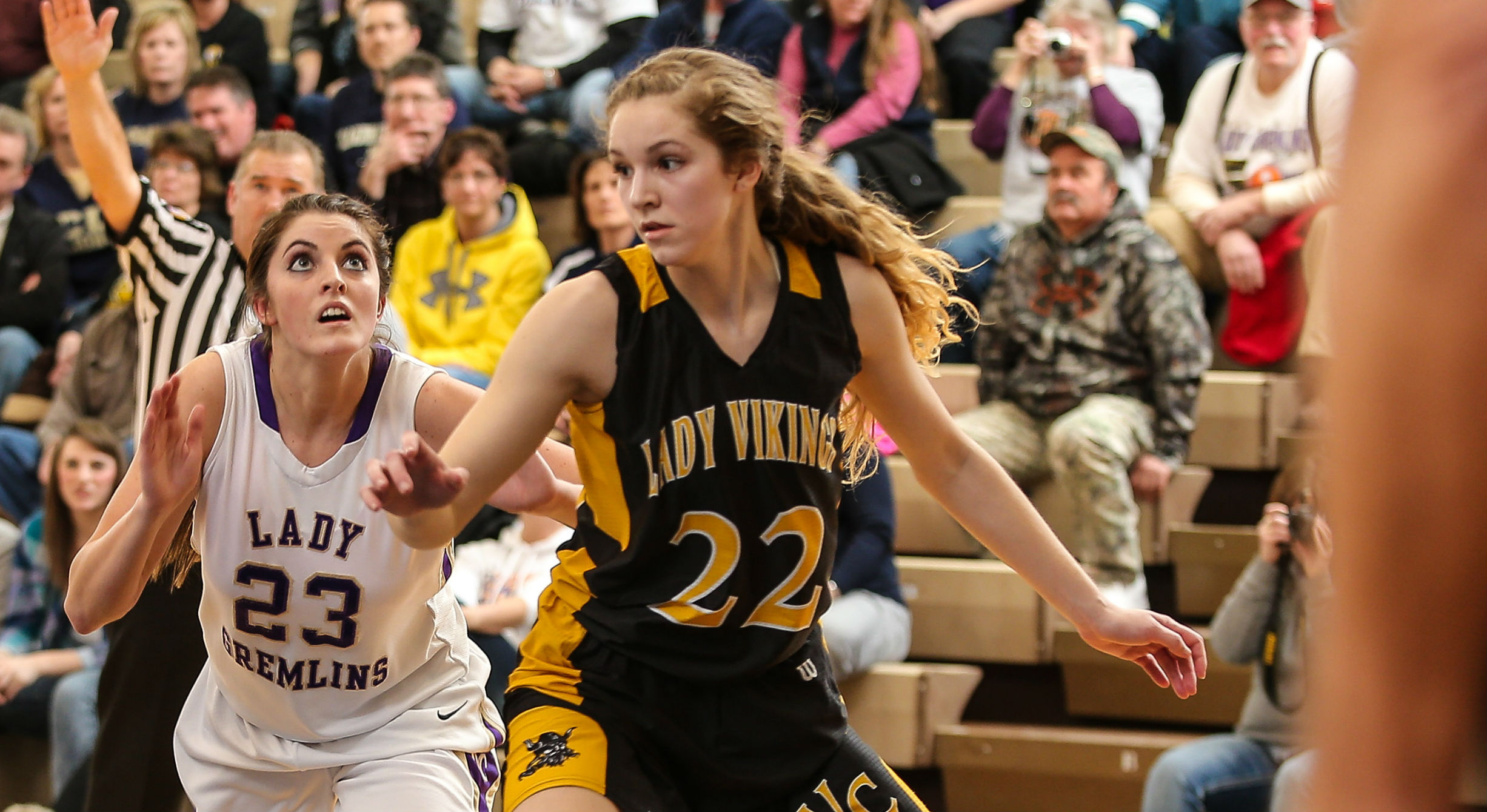 VENANGO CATHOLIC 41, CRANBERRY 34
OIL CITY, Pa. – Ava Homan nearly single-handedly carried Venango Catholic past visiting Cranberry Tuesday night, scoring 30 points and hauling in 20 rebounds in a 41-34 Lady Vikings victory.  
Ashley Finish added six points for VC, which outscored Cranberry 14-6 in the third quarter to expand a two-point halftime lead, 12-10, into a double-digit advantage, 26-16, going to the fourth quarter.
Erin Merryman led Cranberry with 10 points with Mallih Schreck adding eight.
GALETON 43, AUSTIN 11
GALETON, Pa. – Cortney Parsell and Olivia Pagano each scored 10 points to lead Galeton to a 43-11 win over visiting Austin Tuesday night.
Makaya Shadle added nine points and Laura Parsell had eight points for the Panthers.
Jordan Brewer and Madison Hooftallen each had four points for Austin.
NORTH CLARION 62, FOREST AREA 18
MARIENVILLE, Pa. – Behind double-doubles from Abbie Schmader and Tori Obenrader, North Clarion rolled past Forest Area 62-18 Tuesday night at East Forest
Schmader had 16 points and 10 rebounds with Obenrader adding 12 points, 11 rebounds and five assists. Sarah Schettler and Ally Carll each chipped in eight points for the She-Wolves.
Morgan Silvis' eight points led the Forest Lady Fires.  
MONITEAU 53, UNION 41
RIMERSBURG, Pa. – Kristina DeMatteis scored 22 points, grabbed 11 rebounds and came away with five steals to pace visiting Moniteau to a 53-41 win at Union Tuesday.
A 17-1 second-quarter advantage was the difference for the Lady Warriors, who trailed 11-10 at the end of the first quarter but led 27-12 at halftime.
Kara Mental chipped in 10 points for Moniteau.
Shaley Shick led Union with 17 points and nine rebounds. Lexey Shick added 12 points, four assists and three steals and Kali Flick had six points, eight boards and three steals.
OTTO-ELDRED 52, PORT ALLEGANY 38
PORT ALLEGANY, Pa. – Tiffany Barr led a trio of Otto-Eldred players in double figures with 16 points to help the visiting Lady Terrors beat Port Allegany, 52-38, in North Tier League action Tuesday night.
Barr scored eight of her points in the first quarter helping Otto-Eldred to a 14-8 lead at the end of the quarter. The Lady Terrors extended the lead to 30-13 by halftime.
Ali Cussins added 15 points and Camryn Thomas 11 for Otto.
Autumn Buchsenschutz continued her solid play for Port Allegany with 18 points, four assists and three steals.
KARNS CITY 62, REDBANK VALLEY 51
NEW BETHLEHEM, Pa. – With her team trailing Redbank Valley by two at halftime, Karns City's LeeAnn Gibson took over in the third quarter, scoring 15 of her game-high 25 points in the quarter to help the Lady Gremlins come from behind to beat the Lady Bulldogs 62-51 Tuesday night at Redbank Valley.
Redbank led 24-22 at the break before Gibson took over in the third quarter six baskets, including a 3-pointer, and hitting two free throws to help Karns City outscore the Lady Bulldogs 21-6 in the quarter.
Alyssa Gibson added 14 points and Emily Hegedus and Mackenzie Craig nine each.
Brooke Hinderliter and Becca Dougherty each scored 21 points for Redbank Valley with Hinderliter netting 14 of her points in the fourth quarter.
COUDERSPORT 61, OSWAYO VALLEY 28
COUDERSPORT, Pa. – Kiara Perkins scored 13 points to pace Coudersport to a 61-28 win over visiting Oswayo Valley in North Tier League play Tuesday night.
Perkins scored nine of her points in a third quarter that saw the Lady Falcons take a 13-point halftime lead, 26-13, and blow the game open with a 47-17 lead by the end of the quarter.
Ally Easton added 10 points and seven rebounds for Coudersport with Mary Kate Elenchin coming off the bench to score all 10 of her tallies in the fourth quarter. Emily Morey set up the offense with six assists.
Brianna Siebert led Oswayo Valley with 12 points.
KEYSTONE 58, A-C VALLEY 56
FOXBURG, Pa. – Keystone overcame a dreadful second quarter to hold off A-C Valley, 58-56, in KSAC South action Tuesday night at A-C Valley.
The Lady Panthers led 24-15 at the end of the first quarter thanks to 10 points from Amber Hess, but A-C Valley outscored Keystone 8-1 in the second quarter to get back within two, 25-23, at halftime.
Hess finished with a game-high 23 points for Keystone – the normally dead on 3-point shooter on hit one triple in the game but connected on seven twos and was 6 of 7 from the lone. She added four rebounds, three assists and three steals. Taylor Geer had a double-double for the Lady Panthers with 13 points and 11 rebounds to go with four assists and four blocks with Alyssa Beichner chipping in six points, 10 rebounds four helpers and three blocks.
Ellie Thompson led A-C Valley with 14 points, Cami McNany added 11, Olivia Boocks 10 points and four assists, Morgan Cratty nine points and six rebounds and Lauren McNany eight points.  
CLARION 54, CLARION-LIMESTONE 40
STRATTANVILLE, Pa. – Anna Reed netted a game-best 20 points, including 11 in the fourth quarter, while adding six steals to lead visiting Clarion to a 54-40 win at Clarion-Limestone Tuesday.
Alexis Constantino added 12 points for the Lady Cats, who led 22-15 at halftime and 37-26 going to the fourth quarter, while Kelly Beveridge had 10 points and seven steals and Gloria Kroh five points, five steals and 11 rebounds.
Morgan Clark led C-L with 10 points with Paige and Karleigh Aaron each scoring nine for the Lady Lions.
ST. MARYS 48, BALD EAGLE AREA 18
WINGATE, Pa. – Michelle Bauer led a balanced scoring attack for St. Marys with 12 points to lead the Lady Dutch to a 48-18 road win at Bald Eagle Area Tuesday.
Rachel Bauer chipped in with 10 points for St. Marys, and Kaitlyn Barackman had nine. In all, seven Lady Dutch players scored.