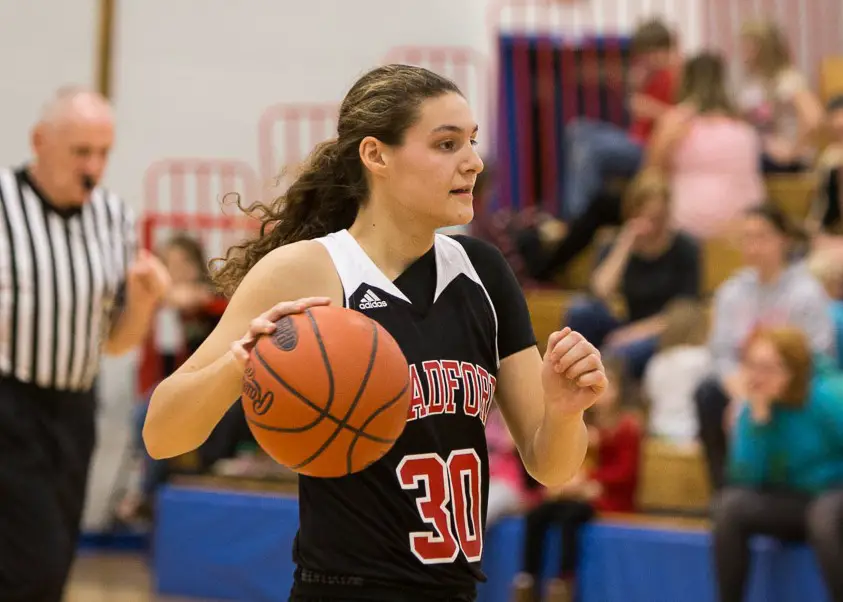 GIRLS
BRADFORD 43, KANE 35
KANE, Pa. – Bri Wells scored 20 points while adding four assists, four rebounds, four blocked shots and two steals in a 43-35 Bradford win over Kane Wednesday night in Kane.
Kam Piscitelli and Morgan Roggenbaum each added eight points for the victors.
Trinity Clark led Kane with 20 points and six rebounds. Camryn Cummings had seven points and five assists and Ella Marconi six points and 12 rebounds.
JOHNSONBURG 60, SHEFFIELD 13
JOHNSONBURG, Pa. – Nicole Myers and Cassidy King combined to score 34 points to lead Johnsonburg to a 60-13 win over visiting Sheffield Wednesday night.
Myers scored a game-high 18 points, while King added 16.
Emily Knowles and Sierra Grubbs each had four points for Sheffield.
PUNXSUTAWNEY 44, WEST SHAMOKIN 42
PUNXSUTAWNEY, Pa. – Behind 11 points each from Hope Bridge and Leah Miller, Punxsutawney overcame a slow start to knock off visiting West Shamokin, 44-42, Wednesday.
The Lady Chucks trailed 13-4 at the end of the first quarter but started to find their stride in the second quarter when they outscored the Lady Wolves 13-7 behind five points from Kate Horner, who finished with nine, and four from Miller.
Punxsutawney then tied the game a 33 by the end of the third quarter before outscoring West Shamokin 11-9 in the final eight minutes.
WILLIAMSON 44, NORTHERN POTTER 41
ULYSSES, Pa. – Despite 16 points from Gracie Hamilton, Northern Potter dropped a 44-41 decision to visiting Williamson Wednesday night.
The Lady Panthers led by eight, 39-31, going to the fourth quarter but were outscored 13-2 in the quarter.
Kalie Cowburn added 15 points for NoPo, while Brittany Boyce paced Williamson with 19 points and Lily Fitzmartin added 10.
RIDGWAY 47, VENANGO CATHOLIC 25
RIDGWAY, Pa. – Emily Fullem had 18 points, nine rebounds and five steals, as Ridgway topped visiting Venango Catholic, 47-25, in non-conference action Wednesday night.
Jessica Kifer added 16 points, six rebounds and a steal for the Lady Elkers.
Ava Homan's nine points led Venango Catholic.
SMETHPORT 44, CAMERON COUNTY 35
SMETHPORT, Pa. – Abbey Woodard netted 16 points to lead Smethport to a 44-35 win over visiting Cameron County in North Tier League play Wednesday night.
Madison Harrier had 12 points to lead Cameron County with Madi Gusito adding 11.
BOYS
CLEARFIELD 56, BELLEFONTE 39
BELLEFONTE, Pa. – A 13-point third-quarter edge helped Clearfield get back on the winning track with a 56-39 win at Bellefonte in Mountain League play Wednesday night.
The teams were tied at 22 at halftime but Clearfield outscored Bellefonte 21-8 in the third quarter behind 14 points from Evan Brown who netted a career-high 27 points.
Will Myers added 10 points and nine rebounds despite playing most of the game in foul trouble.
The Bison were without 6-foot-7 forward Cody Spaid for a second straight game because of a coach's decision.
CAMERON COUNTY 60, SMETHPORT 34
EMPORIUM, Pa. – Trae Smith led a trio of Cameron County players in double figures with 15 points, as the Red Raiders dispatched of visiting Smethport, 60-34, in North Tier League action Wednesday night.
Adam Shaffer added 13 points for Cameron, including seven in a first quarter that saw the Red Raiders outscore the Hubbers 21-7, and Derek Rieder chipped in with 10 tallies.  
Bryce Nelson led Smethport with nine points, and Caleb O'Neal added seven.  
COUDERSPORT 54, KANE 45
COUDERSPORT, Pa. – Coudersport built a 13-point halftime lead and then held off a second-half charge by Kane to defeat the visiting Wolves, 54-45, in non-conference action Wednesday night.
The Falcons led 27-14 at halftime but saw Kane close within five, 42-37, by the end of the third quarter. But good free-throw shooting from Owen Chambers in the fourth quarter, he was 6-for-6 from the line in the quarter, helped Coudersport hold off the Wolves.
Jared Green had a monster game for Coudy with 16 points and 17 rebounds. Darren Keglovits added 16 points and Zach Layag nine.
Frank Truden paced Kane with 16 points with Andrew Bucheit adding 10.
OTTO-ELDRED 55, SHEFFIELD 28
SHEFFIELD, Pa. – Eight different Otto-Eldred players scored to lead the Terrors to a 55-28 win at Sheffield Wednesday night.
Dylan Close and Trey Dalton led the visitors with 12 points apiece, while Heath Stewart added eight points, seven rebounds and four steals. Damen Palmer chipped in with seven points and seven rebounds, and Jordan Sherwood had five points and eight boards.
A 17-0 second-quarter advantage for Otto-Eldred was the difference in the ball game.
Logan Connolly led Sheffield with seven points.