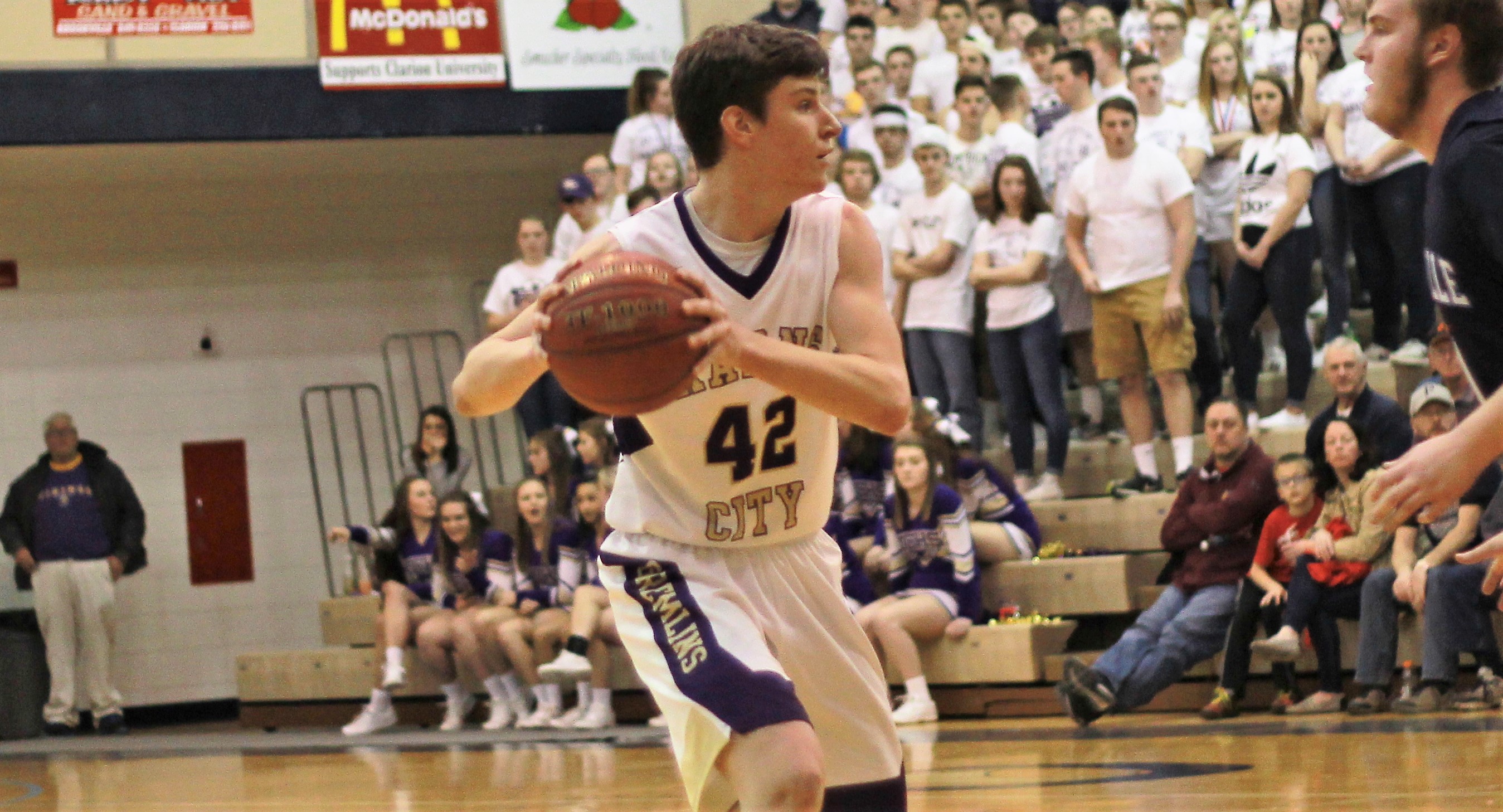 Dec. 27 boys' basketball recaps.
(Photo of Karns City's Nathan Waltman. Photo by Jared Bakaysa of JB Graphics. See more of Bakaysa's work here)
KARNS CITY 55, WEST SHAMOKIN 53
RURAL VALLEY, Pa. – In a close game throughout, Karns City overcame a five-point halftime deficit to knock off West Shamokin, 55-53, in the opening round of the West Shamokin Holiday Tournament.
The Gremlins, who led 8-6 after a quarter, trailed 20-15 at halftime but outscored the Wolves, 25-18 in the third quarter to take a two-point lead, 40-38.
Then in the fourth quarter, Austin Fahlor hit two free throws with 16 seconds left to put Karns City up four, 55-51, before West Shamokin hit a late shot to make it a two-point game. But the Gremlins were able to run out the clock to secure the win.
Nathan Waltman's double-double of 15 points and 10 rebounds led the Gremlins with Chase Beighley scoring a team-high 16 points. Fahlor added nine tallies.
Carson DeWitt had a game-high 27 points for West Shamokin with Justin Smulik chipping in 10 points.
CLARION-LIMESTONE 57, PROPEL CHARTER 43
RURAL VALLEY, Pa.- Hayden Callen and Deion Deas combined for 43 points in Clarion-Limestone's 57-43 win over Propel Charter in the West Shamokin Holiday Tournament.
Callen led C-L with 23 points and Deas chipped in 20 points.
For Propel Charter, C.J. Despert-Johnson led with 17 points and Dayvon Knight added 10 points.
NORTH CLARION 71, REDBANK VALLEY 58
TIONESTA, Pa. – North Clarion used a strong second half to defeat Redbank Valley, 71-58, on the opening day of the Forest Area Holiday Classic at West Forest.
The Wolves led by just five, 35-30, at halftime but outscored the Bulldogs 36-28 in the second half including 17-5 in the third quarter.
Kyle Mills led the way with 24 points, including 10 in the fourth quarter and eight in the second quarter, and added eight rebounds while Korey Mills had 16 points while hitting a pair of 3-pointers.
Korey Mills talked about the victory.
Also for North Clarion, Sam Minich and Tyler McCord-Wolbert contributed 10 points apiece and Logan Minich scored eight. McCord-Wolbert finished off a double-double with 10 rebounds.
Freshman Chris Marshall led Redbank Valley with 15 points while going 9 of 10 from the free-throw line. Keaton Kahle chipped in 12 points, Declan Fricko added 10 points and Nick Smith eight. Logan Wadding had a game-high 15 rebounds to go with five points. Ten of Wadding's rebounds were offensive.
A-C VALLEY 80, FOREST AREA 41
TIONESTA, Pa. – Levi Orton exploded for a career-high 36 points while adding 12 rebounds and five steals, as A-C Valley rolled past host Forest Area, 80-41, on the opening day of the Forest Area Holiday Classic.
Eddie Stevanus added 14 points and 10 rebounds for the Falcons.
Aiden Quinn and Noah Burke each scored 10 points for Forest Area with Jonah Spunk adding nine tallies.
JASPER-TROUPSBURG (N.Y.) 52, NORTHERN POTTER 42
JASPER, N.Y. – Brayden Hill and Weston Hayes combined for 29 points to lead host Jasper-Troupsburg (N.Y.) to a 52-42 win over Northern Potter in the opening round of the Jasper-Troupsburg Christmas Tournament.
Hill had 15 points with Hayes adding 14.
Holden Cowburn scored a game-high 23 points for Northern Potter.
KEYSTONE 74, CRANBERRY 33
SENECA, Pa. – Troy Johnson and Isaak Jones combined for 27 points to lift Keystone to a 74-33 road non-conference win over Cranberry.
Johnson led the Panthers with 14 points and four assists with Jones adding 13 points.
Also for Keystone, Dawson Steele chipped in eight points, six assists and four steals.
JT Stahlman paced Cranberry with 11 points with Matt McQuade adding nine and Brandon Forrest seven.
REYNOLDS 92, VENANGO CATHOLIC 58
RIMERSBURG, Pa. – Tayarry Sims exploded for 39 points to lead Reynolds to a 92-58 win over Venango Catholic in the opening round of the Union Christmas Tournament.
Aidan Mull, Chance Westover and Josh Szymczak each added 12 points for the Raiders.
Andrew Burda and Ben Gillispie combined for 41 of Venango Catholic's 58 points. Burda led the way with 21 points with Gillispie adding 20. Brady Cicatella chipped in 11 for the Vikings.
UNION 61, SAEGERTOWN 55
RIMERSBURG, Pa.- Caden Rainey, Nolan Cumberland and Karter Vogle combined for 44 points as Union defeated Saegertown, 61-55, in the Union Christmas Tournament.
Rainey led Union with 18 points with Cumberland chipping in 15 points and Vogle adding 11 points.
Saegertown's Max Fuller led his team with a game-high 21 points and Eli Drag added 10 points.
ELLWOOD CITY 58, MONITEAU 46
MERCER, Pa- Steve Antvones finished with 22 points to help Ellwood City to a 58-46 win over Moniteau in the Mercer Shootout.
Moniteau's Ethan Mcdeavitt was the Warriors leading scorer with 15 points while Jared Lowinski added 10 points.
CLARION 62, BALD EAGLE AREA 59
PUNXSUTAWNEY, Pa. – Trailing by 14 at halftime, Clarion exploded for 30 third-quarter points and rallied past Bald Eagle Area, 62-59, in the opening round of the Carl Truance Holiday Tournament at Punxsutawney.
The Bobcats were down 33-19 at the break but outscored the Bald Eagles, 30-15 in the third quarter to take a 49-48 lead and then put the game away in the final eight minutes.
Cal German, who scored a game-high 18 points for Clarion, had nine third-quarter tallies while hitting a pair of 3-pointers in the frame, while Gavin Brinkley added six points in the quarter, the only six he scored.
Also for Clarion Archer Mills netted 10 points, all after halftime, with Nick Frederick chipping in eight tallies.
Nathan Hoover paced Bald Eagle Area with 17 points with Nick Maynard and Blake Roberts each adding nine points.
PUNXSUTAWNEY 71, MARION CENTER 49
PUNXSUTAWNEY, Pa. – Using a balanced effort Punxsutawney snagged a 71-49 win over Marion Center in the opening round of the Carl Truance Holiday Tournament at Punxsutawney.
Nick Humble paced the Chucks with 12 points with Ethan Presloid and Ethan Blose both scoring 10 tallies. Andrew Wehrle and Carter Newcome each chipped in eight points for Punxsy, who saw 12 different players score.
Justin Peterson scored 16 points to lead Marion Center.
LIGONIER VALLEY 80, CLEARFIELD 78
COMMODORE, Pa. – Marrek Paola scored with six seconds to play to lift Ligonier Valley to an 80-78 shootout win over Clearfield in the opening round of the Purchase Line Christmas Tournament.
Clearfield had to play catch up from the start after falling behind 26-19 after one quarter. The Bison closed the gap to three, 39-36, at halftime, before the Rams extended it back to four, 58=54, after three quarters.
Michael Marinchak led all scorers with 28 points for LV with Paola adding 22 tallies and Matthew Marinchak 11.
Karson Rumsky paced Clearfield with 23 points with Cade Walker adding 16 tallies, Andrew Lopez 13 and Keagan Hess 12.
KANE 73, SHEFFIELD 51
SHEFFIELD, Pa. – Alex Rezzelle netted 16 points to lead Kane past Sheffield, 73-51, in the opening round of the Sheffield Sports Boosters Christmas Tournament.
Chad Greville added 12 points for the Wolves with Zuke Smith chipping in 10 and Austin Pierson eight.
Tyler Hepinger had a game-high 21 points for Sheffield.