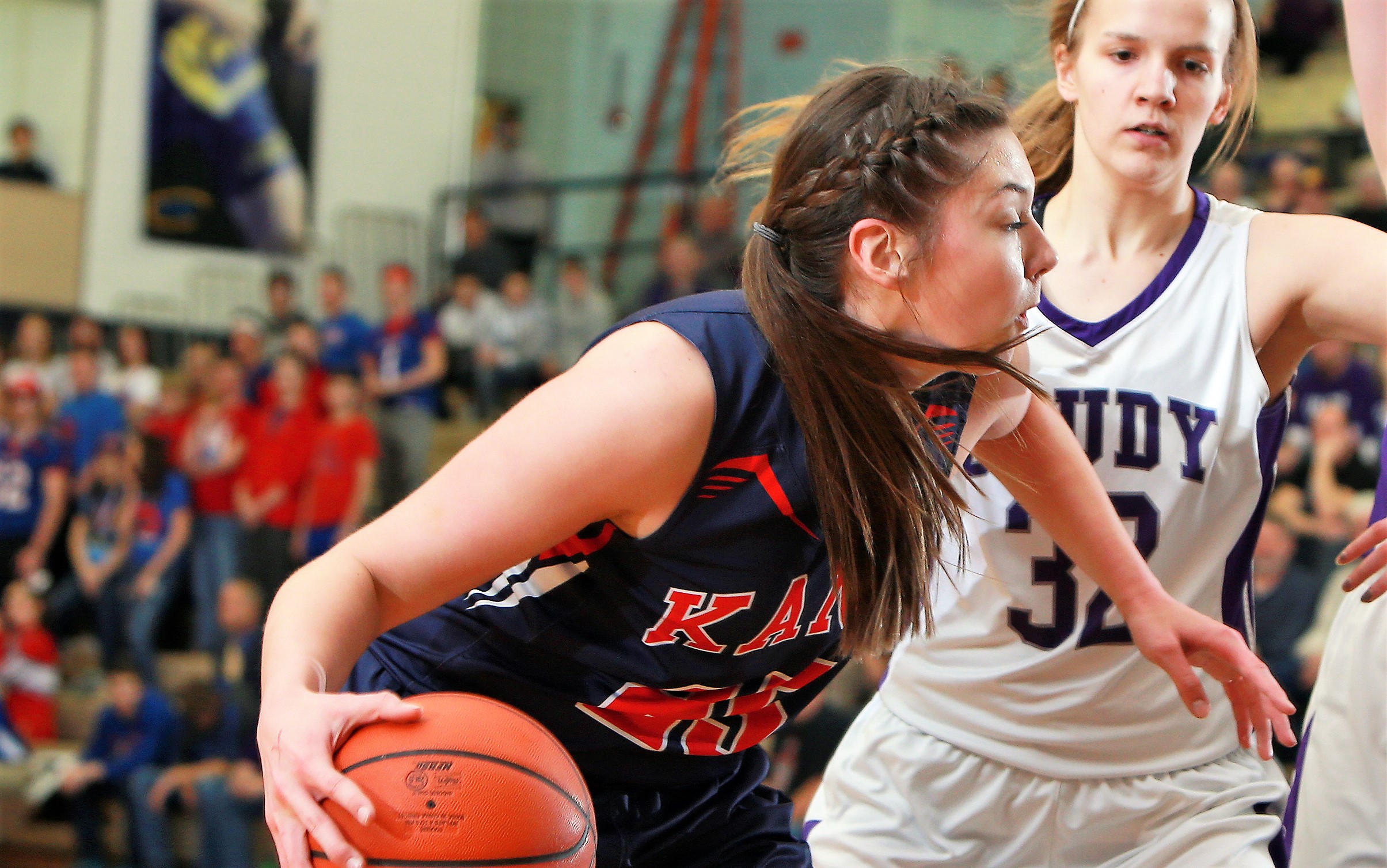 Dec. 27 girls' basketball recaps.
(Photo of Kane's Ella Marconi who became the school's all-time leading scorer Thursday night. Photo by Paul Burdick. Check out more of Burdick's work here)
KANE 51, CLARION 42
KANE, Pa. – Nearly posting a triple-double with 25 points, 16 rebounds and nine blocked shots, Ella Marconi became the all-time leading scorer in Kane girls' basketball history during a 51-42 Lady Wolves win over Clarion in the opening round of the Kane Christmas Tournament.
Marconi needed seven points coming into the night to tie former teammate Trinity Clark for the school record with 1,209 points and more than got enough finishing the night with 1,227 career tallies.
Kane, playing without senior point guard Hannah Buhl who was out with the flu, also got 16 points from Emily Bucheit.
KK Girvin paced Clarion with 18 points with Kait Constantino adding 12.
NORTH CLARION 58, EISENHOWER 37
KANE, Pa. – Mackenzie Bauer scored a game-high 16 points while adding six steals and five assists to lead North Clarion past Eisenhower, 58-37, in the opening round of the Kane Christmas Tournament.
Abby Gatesman chipped in a double-double for the She-Wolves with 12 points and 10 rebounds while Gabby Schmader and Haley Sherman each scored nine points.
CAMERON COUNTY 63, CLARION-LIMESTONE 44
RIMERSBURG, Pa. – Behind 16 Alyvia McKimm points, Cameron County beat Clarion-Limestone, 63-44, in the opening round of the Union Christmas Tournament.
Kaelee Bresslin added 13 points for the Lady Raiders with Hailey Hilfiger chipping in 10 and Mallory McKimm nine.
Mady Craig tied Alyvia McKimm for game-high honors by scoring 16 for C-L. Francis Milliron added eight points and Anna Burns seven for the Lady Lions.
UNION 55, SHEFFIELD 13
RIMERSBURG, Pa.- Dominika Logue scored a game-high 14 points to lead Union to a 55-13 win over Sheffield in the opening round of the Union Christmas Tournament.
Marli Hawk added 10 points for the Golden Damsels with Bryn Davis adding nine points and Hailey Kriebel and Maggie Minick eight each.
Sheffield's Lily Lauffenburger led her team with six points and Mareena Bailey also added five points.
DUBOIS CENTRAL CATHOLIC 45, BROCKWAY 28
BROOKVILLE, Pa. – Ashley Wruble scored a game-high 11 points to lead DuBois Central Catholic to a 45-28 win over Brockway in the opening round of the Brookville Christmas Tournament.
Abbey Pettenati added six points for a very-balanced Lady Cardinals squad that had nine players score including five with at least five points.
Morgan Lindemuth paced Brockway with eight points with Selena Buttery chipping in seven.
BROOKVILLE 63, DUBOIS 47
BROOKVILLE, Pa. – Behind Morgan Johnson and Marcy Schindler Brookville beat DuBois, 63-47, in the opening round of the Brookville Christmas Tournament.
Johnson had a game-high 22 points for the Lady Raiders with Schindler adding a double-double of 15 points and 12 rebounds.
Chelsea DeSalve paced DuBois with 16 points with Taylor Smith adding 12 points and eight rebounds.
HARBOR CREEK 63, KEYSTONE 26
SENECA, Pa. – Behind 24 points from Alison Benim, Harbor Creek rolled past Keystone, 63-26, in the opening round of the Don Hall Memorial Tournament at Cranberry.
Jenna Babay added 15 points for the Lady Huskies, who led 21-4 at the end of a quarter, with Latisha Baker chipping in 12 points.
Jozee Weaver paced Keystone with eight points and McKenzie Hovis added seven.
GROVE CITY 47, A-C VALLEY 37
MERCER, Pa. – Clara Hannon and Becca Santom combined for 26 points to guide Grove City to a 47-37 win over A-C Valley in the opening round of the Mercer Christmas Tournament.
Hannon led Grove City with 14 points and Santom chipped in 12 points.
For A-C Valley, Cami McNany had a game-high 21 points and Olivia Boocks added 10 points.
GENERAL MCLANE 59, KARNS CITY 9
OIL CITY, Pa. – Sierra Seneka and Kendyl McKissock combined for 28 points to help General McLane grab a 59-9 victory over Karns City in the opening round of the Oil City Christmas Classic.
Seneka had a game-high 18 points with McKissock chipping 10 points.
For Karns City, Peyton Turner led with four points.
PUNXSUTAWNEY 35, MONITEAU 34
PUNXSUTAWNEY, Pa. – Riley Presloid's layup with 30 seconds left helped Punxsutawney claim a 35-34 win over Moniteau in the opening round of the Carl Truance Tournament at Punxsutawney.
It was Presloid's lone basket of the game.
Kate Horner led the Lady Chucks with 14 points with Sarah Weaver chipping in six. Abby Gigliotti had a game-high 11 rebounds to go with three points and three steals. Weaver added five rebounds, four assists and four steals with Horner chipping in four steals and three boards.
Kristin Auvil paced Moniteau with 14 points with Andie Arblaster adding eight tallies and Izzy Bair four points and seven rebounds.
REDBANK VALLEY 33, WEST SHAMOKIN 27
RURAL VALLEY, Pa. – Behind 16 Tara Hinderliter points, Redbank Valley beat West Shamokin, 33-27, in the opening round of the West Shamokin Christmas Tournament.
Lauren Smith chipped in nine points for the Lady Bulldogs.
Sophie Fusaro led West Shamokin with 13 points and Lexie Young added 10.
CLEARFIELD 60, CURWENSVILLE 36
HYDE, Pa. – Alayna Ryan had 25 points, nine rebounds, eight assists and six steals to lead Clearfield to a 60-36 win over visiting Curwensville in non-conference play.
Tesa Miller chipped in 10 points, 11 rebounds and two blocked shots for the Lady Bison with Faith Ogden contributing 13 points.
Madi Weber had 20 points to lead Curwensville.
CANTON 50, GALETON 27
CANTON, Pa. – Tamera Hess netted a game-best 21 points to lead Canton to a 50-27 home win over Galeton in the opening round of the Canton Tournament.
Elle Binford chipped in 13 points for the Lady Warriors.
Makenna Shuemaker paced Galeton with seven points.
CRANBERRY 42, FRANKLIN 20
SENECA, Pa. – Malliah Schreck netted 16 points to lead Cranberry to a 42-20 win over visiting Franklin in the opening round of the Don Hall Memorial Tournament.
Schreck was the lone player to reach double figures in the game.
Zelika Hartle paced Franklin with eight points.