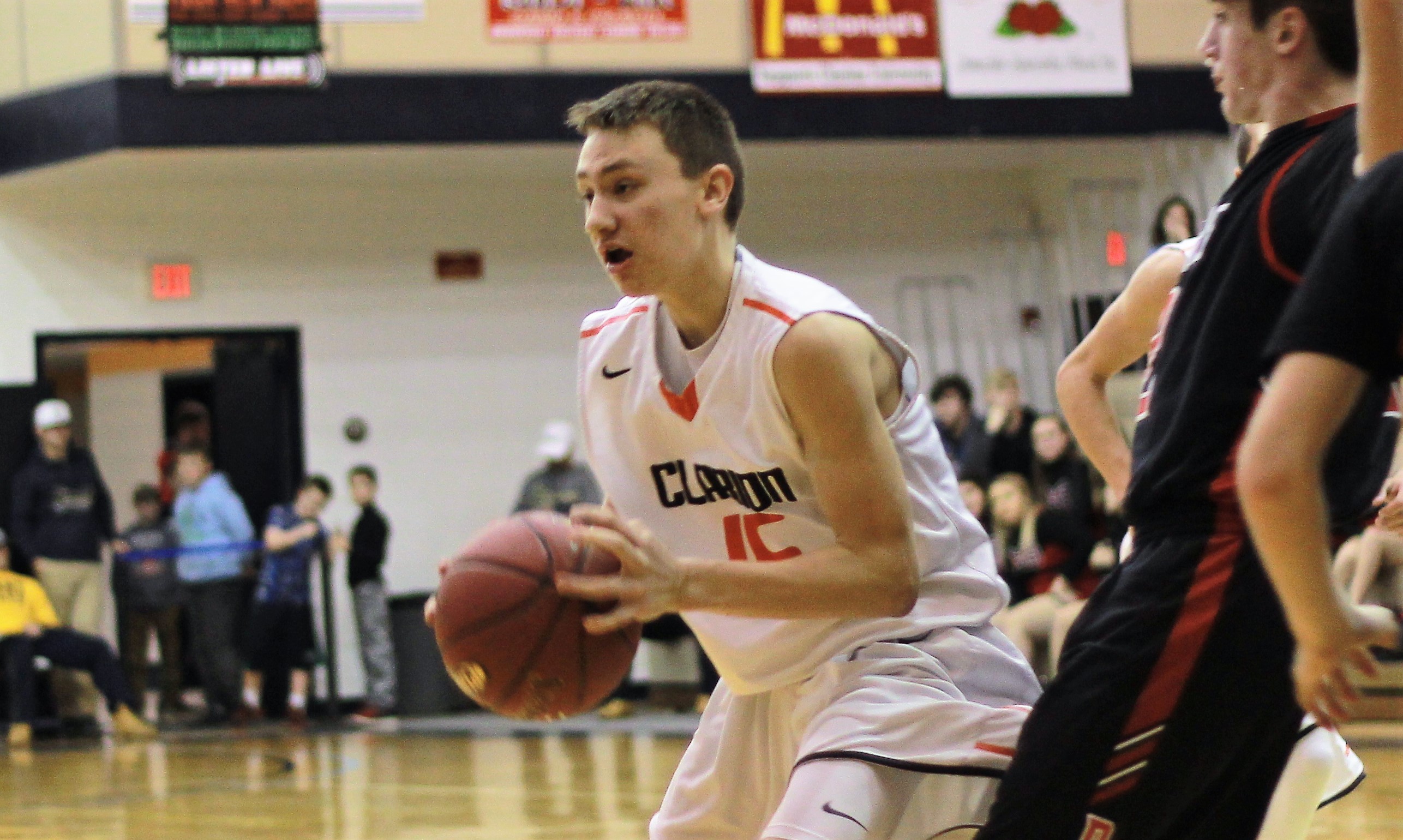 Dec. 27 boys' basketball recaps.
(Photo of Clarion's Cal German, who had 26 points and five assists in the Bobcats win over Bald Eagle Area in Punxsutawney Friday. Photo by Jared Bakaysa of JB Graphics. See more of Bakaysa's work here)
CLARION 52, BALD EAGLE AREA 49
PUNXSUTAWNEY, Pa. – Cal German exploded for 26 points and handed out five assists to lead Clarion to a 52-49 come-from-behind win over Bald Eagle Area in the opening round of the Carl Truance Holiday Tournament.
After leading 36-34 at halftime, the Bobcats were down 47-40 going to the fourth quarter but held the Eagles to two fourth-quarter points while scoring 12 of their own led by four from German and two each from Hunter Craddock, Josh Craig, Skylar Rhoades and Nick Frederick.
Frederick added 10 points in the victory with Craddock chipping in four points and nine rebounds, Rhoades six points and Craig four points and five steals.
German was 2-for-3 from the foul line in the final minute to help seal the win with Rhoades snagging an offensive rebound off a miss by German with 4.1 seconds left to secure the victory.
Jaden Jones paced Bald Eagle with 16 points, Nick Maynard added 12 points, Luke Wilson 10 points and Nate Hoover nine points.
PUNXSUTAWNEY 52, MARION CENTER 44
PUNXSUTAWNEY, Pa. – Ethan Presloid led a trio of double-digit scorers as Punxsutawney beat Marion Center, 52-44, in the opening round of the Carl Truance Holiday Tournament at Punxsutawney.
Presloid led the Chucks with 13 points while Daren Byers and Nick Humble each added 11. Andrew Young chipped in nine tallies.
Justin Peterson paced the Stingers with 13 points and Conner Fairman netted 12.
BROOKVILLE 57, BROCKWAY 39
DUBOIS, Pa. – In the first-round matchup at the DuBois Holiday Tournament, Brookville advanced to Saturday's final against the hosts with a 57-39 win over Brockway.
The Raiders, who led 30-18 at halftime and 44-30 after three quarters, put three players into double-figure scoring, led by Jace Miner's 16 points. Robert Keth scored 12 points while Griffin Ruhlman finished with 11 points. Aaron Park chipped in eight points and 16 rebounds.
Jon Wood and Marcus Copelli scored 16 and 10 points respectively to lead Brockway.
DUBOIS 56, DUBOIS CENTRAL CATHOLIC 38
DUBOIS, Pa. – Chase Husted netted a game-high 23 points to help DuBois knock off DuBois Central Catholic, 56-38, in the opening round of the DuBois Holiday Tournament at DuBois High School.
Nick Farrell added 13 points for the Beavers, who led 33-16 at halftime.
Ethan Kness paced DCC with 11 points.
RIDGWAY 34, JOHNSONBURG 27
ST. MARYS, Pa. – Zack Zameroski hit four of Ridgway's six 3-pointers, as the Elkers used the long ball to beat Johnsonburg, 34-27, in the opening round of the Elk County Tournament at St. Marys.
Zameroski finished with a game-high 20 points for Ridgway, while Dominic Allegretto chipped in with eight points, including a pair of 3-pointers.
Gabe Watts led Johnsonburg with 17 points with Austin Green adding eight.
ELK COUNTY CATHOLIC 46, ST. MARYS 41
ST. MARYS, Pa. – Elk County Catholic used a strong second-half defensive effort to erase a one-point halftime deficit and pick up a 46-41 win over St. Marys in the opening round of the Elk County Tournament at St. Marys High School.
The Crusaders trailed 30-29 at the break after St. Marys outscored ECC 18-12 in the second quarter, but allowed only 11 second-half points, three in the third quarter.
It was a 9-3 third-quarter advantage with four different ECC players scoring that proved to be the difference.
Regis Wortman scored two of his game-high 20 points in the third quarter for the Crusaders. He also tallied eight first-quarter points helping ECC take a 17-12 lead after one.
Carter Lindemuth also scored a third-quarter basket and finished with nine tallies for ECC in the win.
Mitchell Reiter paced St. Marys with 16 points, including nine in the second quarter and 14 in the first half. Cahil Parrish added 12 points.
NORTHERN POTTER 52, JASPER-TROUPSBURG (N.Y.) 36
JASPER, N.Y. – Carter Anderson and Ezra Sprow each recorded a double-double as Northern Potter topped Jasper-Troupsburg (N.Y.), 52-36, in the opening round of the Jasper-Troupsburg Christmas Tournament.
Anderson led the Panthers offense with a game-high 18 points and 10 rebounds while Sprow grabbed 10 boards and netted 10 points. Tanyon Brown and Ryan Langworthy each chipped in seven points.
Tyler Flint and Reese Draper each scored 10 points to pace the Wildcats.
MERCER 51, MONITEAU 45
MERCER, Pa. – A strong third quarter helped Mercer knock off Moniteau, 51-45, in the opening round of the Mercer Shootout.
The Mustangs led 25-23 at halftime but outscored the Warriors 13-7 in the third quarter behind seven points from Woody Nickel and six from Cole Doolin to take a 38-30 lead into the final eight minutes.
Nickel and Doolin tied for the team lead with 13 points each for Mercer with Logan Turton adding 12 tallies.
Gage Neal and Quinton Scriven each scored a game-high 15 points for Moniteau with Ethan McDeavitt adding nine.
CLEARFIELD 63, PURCHASE LINE 54
COMMODORE, Pa. – Behind 23 points and eight rebounds from Karson Rumsky, Clearfield topped Purchase Line, 63-54, in the first round of the Purchase Line Christmas Tournament.
Cade Walker added 17 tallies and grabbed eight boards for the Bison. Luke Winters chipped in eight points with Matt Pallo adding seven. Andrew Lopez had seven assists.
The Red Dragons were paced by Jacob Barnett's 18 points.
A-C VALLEY 56, NORTH CLARION 54
NEW BETHLEHEM, Pa. – Levi Orton scored 10 of his game-high 24 points in the fourth quarter to help A-C Valley rally past North Clarion, 56-54, on the opening day of the Redbank Valley Holiday Classic.
The Falcons, who lost to North Clarion, 52-45, Dec. 17 when they gave up a lead going to the fourth quarter, returned the favor Friday by outscoring the Wolves 21-16 in the fourth quarter after entering the quarter trailing 38-35.
North Clarion had taken the three-point lead after three thanks to an 18-12 advantage in the third quarter following A-C Valley being out in front 23-20 at halftime.
Orton completed a double-double with 10 rebounds, and Eddie Stevanus also had a double-double for the Falcons with 10 points and 11 boards. Eli Penny chipped in 11 points as well with Tanner Merwin scoring seven points and securing the win with a steal with 26 seconds to play.
Drew Gatesman paced North Clarion with 14 points, Jacob Bauer added 11 tallies, Collin Schmader had eight points and Matson Higgins scored seven.
REDBANK VALLEY 62, FOREST AREA 44
NEW BETHLEHEM, Pa. – Redbank Valley slowly pulled away from visiting Forest Area for a 62-44 win on the opening day of the Redbank Valley Holiday Tournament.
Bryson Bain hit six 3-pointers and scored a game-high 22 points for the Bulldogs, including 13 in the second half, while Chris Marshall added 16 points and Declan Fricko 11 points, 11 rebounds and five assists.
Franklin Meals knocked down five 3-pointers on his way to a team-high 19 points for Forest Area while adding four steals. Noah Burke had a solid all-around game for the Fires with 10 points, six rebounds and four steals, and Jullian Gillenwater added four points and five assists.
Redbank Valley led 15-12 at the end of the first quarter, 31-25 at halftime and 46-37 going to the fourth quarter.
KANE 40, SMETHPORT 35
SHEFFIELD, Pa. – Mason Zuzek scored 18 points as Kane outlasted Smethport, 40-35, in the opening round of the Sheffield Sports Boosters Christmas Tournament.
Chad Greville added eight points for the Wolves while Zuke Smith chipped in five.
Richie McDowell paced the Hubbers with nine points. Noah Lent had eight tallies with Layne Shall netting seven.
YOUNGSVILLE 53, SHEFFIELD 33
SHEFFIELD, Pa. – Gage Henderson scored a game-high 14 points as Youngsville defeated Sheffield, 53-33, in the opening round of the Sheffield Sports Boosters Christmas Tournament.
Brady Olwine had 12 points for the Eagles with Timber Bower adding 10.
Tyler Hepinger netted 11 points to pace the Wolverines in the loss. Jake Vinapal scored six of his 10 points in the fourth quarter.
SAEGERTOWN 53, VENANGO CATHOLIC 34
RIMERSBURG, Pa. – Despite 14 points from Andrew Burda, Venango Catholic fell to Saegertown, 53-34, in the opening round of the Union Christmas Tournament.
Chase Anderson added nine points in the loss for the Vikings with Reza Reese chipping in eight tallies.
Brady Grecco led all scorers with 23 points for Saegertown.
REYNOLDS 60, UNION 55
RIMERSBURG, Pa. – Despite 20 points with six 3-pointers from Karter Vogel, Union came up short and fell to Reynolds, 60-55, in the Union Christmas Tournament.
Caiden Rainey added 19 points and four assists in the loss for the Knights.
Aiden Mull had a game-high 21 points for the Raiders with Riley Walker netting 16 with three 3-pointers.
CLARION-LIMESTONE 84, KARNS CITY 65
RURAL VALLEY, Pa. – Deion Deas and Hayden Callen combined for 57 points, as Clarion-Limestone used a big first half to roll past Karns city, 84-65, in the first round of the West Shamokin Holiday Tournament.
Deas netted a game-high 29 points while also dishing out four assists and coming away with two steals for the Lions, while Callen had a double-double of 28 points and 10 rebounds while also blocking four shots.
Jordan Hesdon added a career-best 18 points in the win while also coming away with three steals and dishing out three assists, and Curvin Goheen snarred 10 rebounds to go with six points.
Chase Beighley and Ethan McElroy paced Karns City with 21 points each while Luke Garing and Micah Rupp each scored eight points. McElroy hit six 3-pointers on his way to his 21 tallies, while Beighley chipped in eight assists and Garing had 12 rebounds.
PHILIPSBURG-OSCEOLA 76, CURWENSVILLE 34
PHILIPSBURG, Pa. – Ryan Whitehead netted a game-high 25 points as Philipsburg-Osceola earned a 76-34 victory over visiting Curwensville.
Parker Matson added 11 tallies for the Mounties with Kyle Haten netting 10.
Ty Terry hit seven 3-pointers on his way to a team-high 23 points.