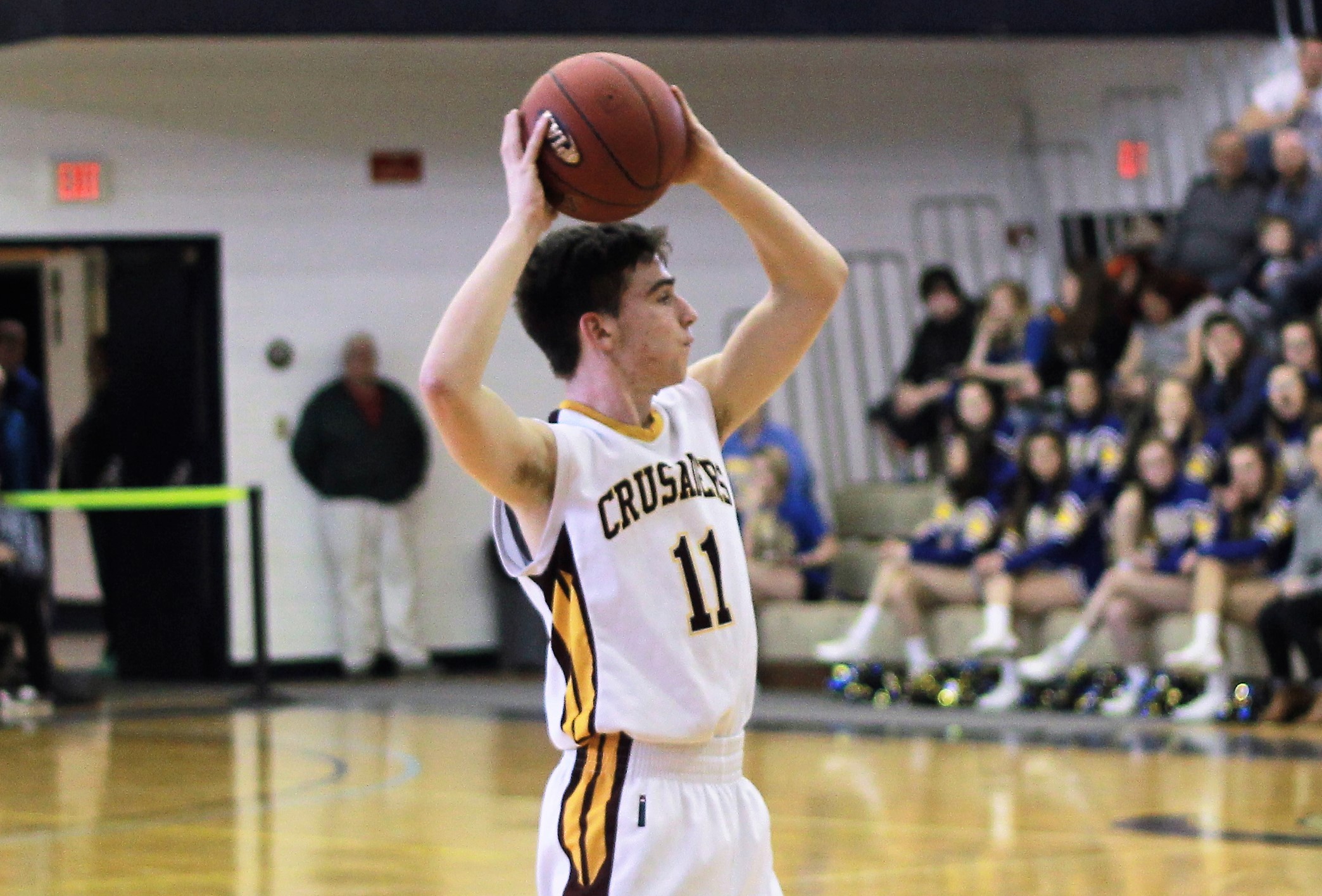 Dec. 29 boys' and girls' basketball recaps.
(Photo of ECC's Alec Wehler, whose strong third quarter helped ECC beat Ridgway in the title game of the Elk County Tournament. Photo by Jared Bakaysa of JB Graphics. See more of Bakaysa's work here)
BOYS
ELK COUNTY CATHOLIC 43, RIDGWAY 40
ST. MARYS, Pa. – In a battle of two of the top teams in District 9, unbeaten Elk County Catholic used a three-point edge in the third quarter to top previously unbeaten Ridgway, 43-40, in the championship game of the Elk County Tournament.
The game was exactly even in three of the four quarters with each team scoring 12 first-quarter points, 11 second-quarter pointers and 11 fourth-quarter points. But ECC outscored the Elkers, 9-6, out of halftime, an edge that proved to be the difference.
Alec Wehler had a strong third quarter netting six of his 11 points in the quarter with an old-school 3-point play and a new-school 3-pointer.
Regis Wortman led the Crusaders with 12 points, including seven in the first quarter, and Carter Lindemuth scored nine points, all in the first half.
Will Thompson paced Ridgway with 11 points with Zach Zameroski adding 10 points and Jake Reynolds nine.
ECC is 6-0 and Ridgway is 7-1. The two meet again Jan. 18 in Ridgway.
DUBOIS 59, BROCKWAY 44
DUBOIS, Pa. – Chase Husted, Justin Manduley and Jonathan Cruz combined for 46 points to lead DuBois to a 59-44 win over Brockway in the title game of the DuBois Holiday Tournament.
Husted led the Beavers with 17 points, Cruz added 16 points and Manduley added 13 points.
Alec Freemer led Brockway with 17 points with Jon Wood adding 13 points.
BROOKVILLE 53, DUBOIS CENTRAL CATHOLIC 52
DUBOIS, Pa. – Aaron Park scored 16 points, including 15 in the first half, as Brookville held off DuBois Central Catholic, 53-52, in the consolation game of the DuBois Holiday Tournament.
Jack Krug added seven points for the Raiders with Trenton Gilhousen and Bryce Baughman each scoring six.
Brookville led 35-24 at halftime and expanded the lead to 45-33 after three quarters before DCC had a furious fourth-quarter rally that saw it outscore the Raiders, 19-8, come up just short.
Justin Miknis took over the game in the fourth quarter for the Cardinals scoring 14 of his game-high 27 points including hitting a pair of 3-pointers.
Peter Downer chipped in six points for DCC.
JOHNSONBURG 40, ST. MARYS 34
ST. MARYS, Pa. – After a tough first three quarters of offense, Johnsonburg exploded for 24 fourth-quarter points on its way to a 40-34 win over St. Marys in the consolation game of the Elk County Tournament at St. Marys High School.
The Rams and the Dutch suffered through a frigid first half with the team combining to score 14 points with St. Marys leading 8-6 at the break.
Things started to get a bit better in the third quarter with St. Marys outscoring Johnsonburg 12-10 to take a 20-16 lead into the fourth quarter.
But in the final eight minutes, the Rams got hot with Austin Green scoring 15 of his game-high 22 points in the frame to help Johnsonburg pull out the victory.
Issac Schloder added 11 points for Johnsonburg.
Cahil Parrish led St. Marys with 16 points, all in the second half, while hitting four 3-pointers.
Luke Laco hit three 3-pointer of his own on his way to 11 points for the Dutch.
KEYSTONE 57, SLIPPERY ROCK 31
KNOX, Pa. – Troy Johnson led a balanced effort from Keystone with 14 points in a 57-31 win over visiting Slippery Rock.
Luke Hurrelbrink had a strong game as well with 13 points, five assists and four steals with Isaak Jones adding 11 points. Andrew Lauer chipped in eight points and eight rebounds.
Judah Roth's 11 points paced Slippery Rock.
OLEAN (N.Y.) 71, BRADFORD 39
ST. BONAVENTURE, N.Y. – Matt Droney knocked down 20 points, as Olean (N.Y.) rolled past Bradford, 71-39, in the opening round of the IAABO Tournament Large School Division at St. Bonaventure University.
Josh Bihler added 14 points for the Huskies, who got scoring from 12 different players.
Tyler Gigliotti paced Bradford with 10 points. Gavin Babcock added eight points and Steven Knowlton seven for the Owls. Knowlton also had three steals.
GALETON 42, WILLIAMSON 35
LIBERTY, Pa. – Isaiah Shuemaker and Evan Brooks each scored 12 points to lead Galeton to a 42-35 win over Williamson in the consolation game of the North Penn-Liberty Christmas Tournament.
Joel Griffen chipped in nine points for the Tigers with Ty Stover adding seven points.
Carter Strange had 13 points for Williamson with Tanner Adrince adding 10.
GIRLS
ST. MARYS 41, JOHNSONBURG 31
ST. MARYS, Pa. – Behind 22 points from Kaylee Muccio St. Marys claimed the title of the Elk County Tournament at St. Marys High School with a 41-31 win over Johnsonburg.
Muccio hit six 3-pointers, including four in the second half, for the Lady Dutch. Allison Schlimm chipped in 11 points for St. Marys.
Maria Jones had 10 points to lead Johnsonburg with Cassidy King chipping in nine points.
ELK COUNTY CATHOLIC 44, RIDGWAY 35
ST. MARYS, Pa. – Behind Taylor Newton and Sady VanAlstine Elk County Catholic won the consolation game of the Elk County Tournament at St. Marys High School, 44-35, over Ridgway.
Newton netted a team-high 13 points with VanAlstine adding 10 tallies.
Alyssa Kasmerski had a game-high 16 points for Ridgway while adding seven rebounds. Christina Fullem had a double-double with 10 rebounds and 10 blocked shots while adding six points and four steals.