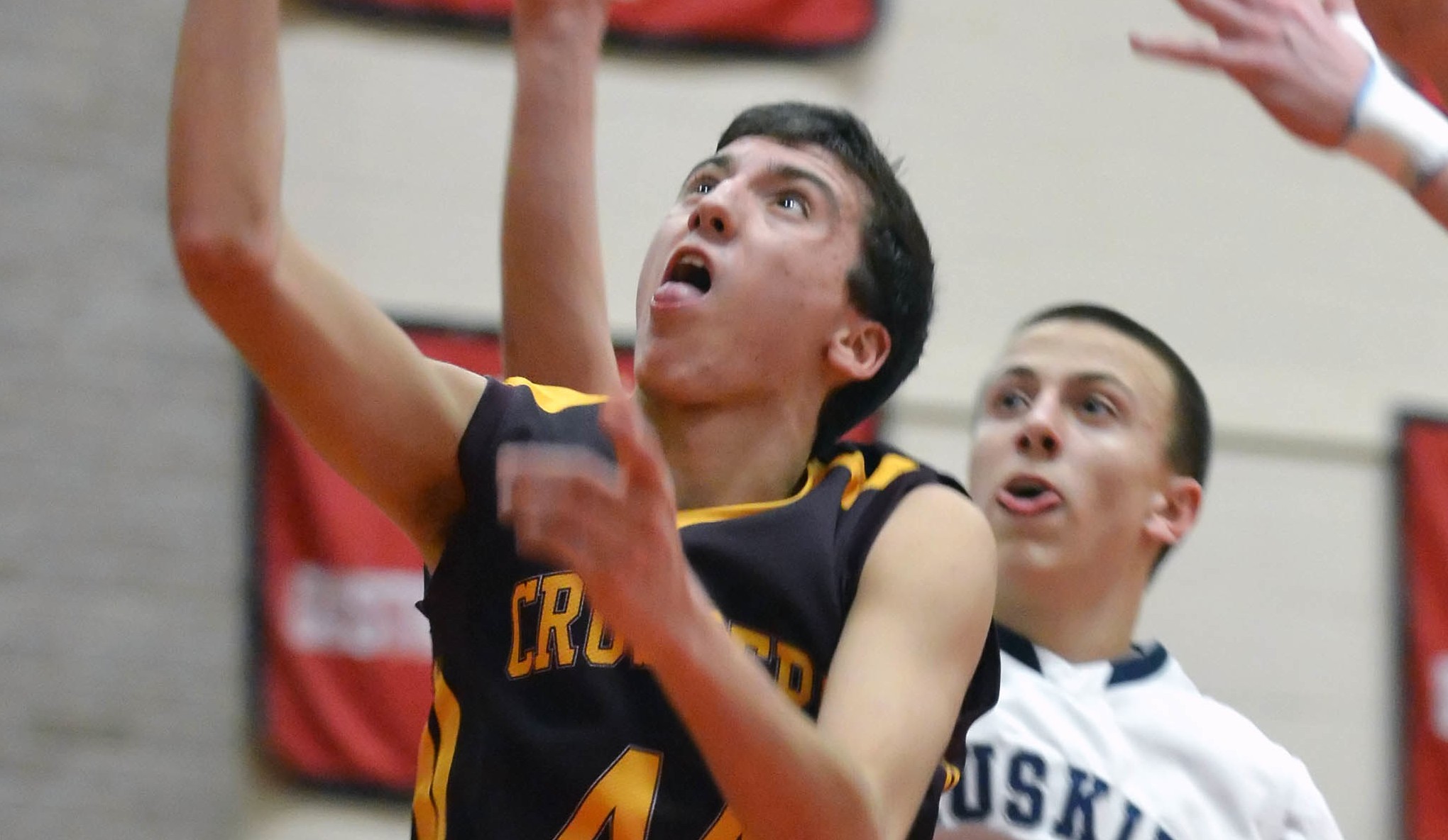 ELK COUNTY CATHOLIC 50, RIDGWAY 45
ST. MARYS, Pa. – Kyle Huff scored four of his 15 points in overtime to help Elk County Catholic hold off a determined Ridgway squad playing for its coach who was ejected early in the game, 50-45, in the championship game of the Elk County Tournament Wednesday at St. Marys High School.
ECC led by as many as 17, 34-17, with around 13 minutes to play following double-technical fouls assessed to Ridgway coach Tony Allegretto, which led to his dismissal from the contest (by PIAA rules he will also have to sit out Ridgway's next game) only to watch Ridgway come charging back to tie the game at 42 at the end of regulation on a pair of Jeremy Breier free throws with 34.9 seconds left.
The Crusaders then held slim leads throughout overtime before scoring the final four points of the extra session to seal the victory.
ECC led by eight, 25-17, at halftime and started the second half on a nice run run that was aided in part by the technical fouls on Allegretto with 5:03 left in the third quarter.
But Ridgway used the technicals as inspiration and slowly started to cut into the Crusader lead getting within 13, 34-21, with just under four minutes to play in the quarter.
The Elkers then ended the quarter on a 13-2 run to get within two, 36-34, going to the final quarter of regulation.
ECC appeared like it would hold off the comeback attempt when it went up six, 42-36, midway through the fourth, but Ridgway was able to continue the rally scoring the final six points of regulation to force overtime.
Nate DaCanal led ECC with 17 points with Gabe Kraus adding nine.
Jeremy Breier had 17 for Ridgway with Justin Kasmierski adding 14 and Andy Breier nine.
COUDERSPORT 76, ARCHBISHOP WALSH (NY) 71
COUDERSPORT, Pa. – Owen Chambers' 19 points led a five-some of Coudersport players in double digits, as the Falcons won the Maple Leaf Tournament with a 76-71 victory over Archbishop Walsh out of Olean, N.Y. Wednesday night at Coudersport High School.
Jared Green added a double-double with 16 points and 11 rebounds for Coudy, while Aaron Wolfinger and Zach Layag each scored 13 points and Darren Keglovits 10 tallies. Layag contributed six assists, and Darren Keglovits eight rebounds.
That helped offset an unbelievable game from Walsh's Tavien Kemp who threw in 43 points while hitting 12 baskets, five 3-pointers, and going 14 of 16 from the free-throw line.
Adam Moore added 14 points and Christian Churakos chipped in 12 for Walsh.
KANE 51, UNION 44
SHEFFIELD, Pa. – Andrew Bucheit scored 21 points and added 13 rebounds to lead Kane to a 51-44 win over Union in the title game of the Sheffield Sports Boosters Christmas Tournament Wednesday night.
Frank Truden added 13 points and Andy Bundy had 11 for the Wolves, who led 25-23 at halftime before outscoring Union 15-10 in the third quarter to gain a bit of separation.
Cole Morris led the Golden Knights with 19 points with Lucas Bowser adding 12 and Hank Murphy nine.
PUNXSUTAWNEY 55, CLARION 46
PUNXSUTAWNEY, Pa. – Dylan Huey had 25 points and 20 rebounds to lead Punxsutawney past Clarion, 55-46, in the title game of the Carl Truance Holiday Tournament at Chuck Daly Gym at Punxsutawney High School Wednesday night.
Devin Kelly added 11 points for the Chucks, who outscored Clarion 26-18 in the second half after holding a one-point, 29-28, halftime lead.
Jonathan Smith led Clarion with 15 points, while Ceventh Lynch-Skunda scored 13 and Cam Craig 11.
NORTH CLARION 52, NORTHERN POTTER 40
COUDERSPORT, Pa. – Behind 10 second-half points from Zayn Hargenrader, North Clarion rallied from a seven-point halftime deficit to beat Northern Potter, 52-40, in the consolation game of the Maple Leaf Tournament at Coudersport High School Wednesday afternoon.
The Wolves trailed 30-23 at the break after being outscored 17-7 in the second quarter but behind five points from Hargenrader and Nathan Banner and four from Joe Mays North Clarion went on a 16-8 third-quarter run to take a 39-38 lead going to the final eight minutes.
Hargenrader, who finished with 17 points, then scored five of North Clarion's 13 fourth-quarter points helping the Wolves outscored the Panthers 13-2 in the quarter.
Banner added 14 points for North Clarion with Mays finishing with six.
Frank Gardner led Northern Potter with 17 points, including 15 in the first half, while Tucker Kosa added 12 tallies.
CRANBERRY 35, KEYSTONE 25
Read full story on ExploreClarion.com
KNOX, Pa. – Shorthanded Cranberry overcame 26 turnovers to beat Keystone, 35-25, in non-conference action Wednesday night at Keystone.
The Berries, playing without leading scorer Brendan Zerbe (15.1 ppg), found a way to win thanks to the play of Dechlyn Sheffer, who had a game-high 13 points on 5 of 8 shootings to go with eight rebounds, and Evan Lutz, who finished with 10 points, nine rebounds and four assists.
The two hooked up for a pair of key baskets early in the fourth quarter that expanded a six-point Berries lead, 26-20, into a 12-point cushion, 32-20.
On the first play, Lutz grabbed an offensive rebound and fed Sheffer for an old-school 3-pointer, and less than a minute later Lutz was part of a two-offensive-rebound sequence for Cranberry that resulted in Lutz feeding Sheffer for a new-school three that proved to be the dagger.
Keystone, which also turned the ball over 16 times while shooting 11 of 43 from the floor and 0 of 14 from beyond the arc, got 11 points, four rebounds and four assists from Tanner Wilson.  
ST. MARYS 65, JOHNSONBURG 44
ST. MARYS, Pa. – Parker Housler and Jordan Romain each had 15 points to lead St. Marys past Johnsonburg, 65-44, in the consolation game of the Elk County Tournament Wednesday at St. Marys High School.
Brady Bauer added 12 points for the Dutch, while Kevin Benson led Johnsonburg with 15 points.  
A-C VALLEY 69, JAMESTOWN 48
HADLEY, Pa. – Austin Heeter had 25 points and 13 rebounds to lead A-C Valley to 69-48 win over Jamestown in the consolation game of the Commodore Perry Tournament Wednesday.
Heeter had 15 points in the fourth quarter alone for the Falcons, while Joe Manculich added 11 points and nine rebounds, John Anderson contributed 12 points, seven steals, six rebounds and six assists and Zach Muhl 12 points and five helpers.  
CLEARFIELD 63, PURCHASE LINE 24
COMMODORE, Pa. – Tommy Hazel and Will Myers combined to score 25 points to lead Clearfield to an easy 63-24 win over Purchase Line in the championship game of the Purchase Line Lions Club Christmas Tournament Wedensday.
Hazel had 15 points to lead the Bison with Myers adding 10. David McKenzie added nine points and Evan Brown eight.
LAKEVIEW 52, REDBANK VALLEY 41
FRANKLIN, Pa. – Matt Partidge had 16 points to lead Lakeview to a 52-41 win over Redbank Valley in the consolation game of the Franklin Holiday Tournament Wednesday.
Sam Heeter had 26 of the Bulldogs 41 points scoring 13 points in each half.

Redbank trailed 22-18 at halftime before being outscored in the second half by three.
DEER LAKES 64, MONITEAU 37
CHESWICK, Pa. – Zach Butler scored 15 points to lead Deer Lakes to a 64-37 win over Moniteau in the consolation game of the Deer Lakes Christmas Tournament.
Alex Nichols added 14 points for the Lancers.
Jake Jewart led Moniteau with 10 points with JJ Waid added eight points and Aaron Marterella seven.
YOUNGSVILLE 44, SHEFFIELD 36
SHEFFIELD, Pa. – Wyatt Rugar netted a game-high 16 points to lead Youngsville past Sheffield, 44-36, in the consolation game of the Sheffield Sports Boosters Christmas Tournament Wednesday.
Joey Chuzie added 10 points for the Eagles.
Roger Dunham paced Sheffield, which actually led 19-18 at the half, with 10 points. Logan Connolly added nine points for the Wolverines, who were outscored 16-10 in the third quarter.