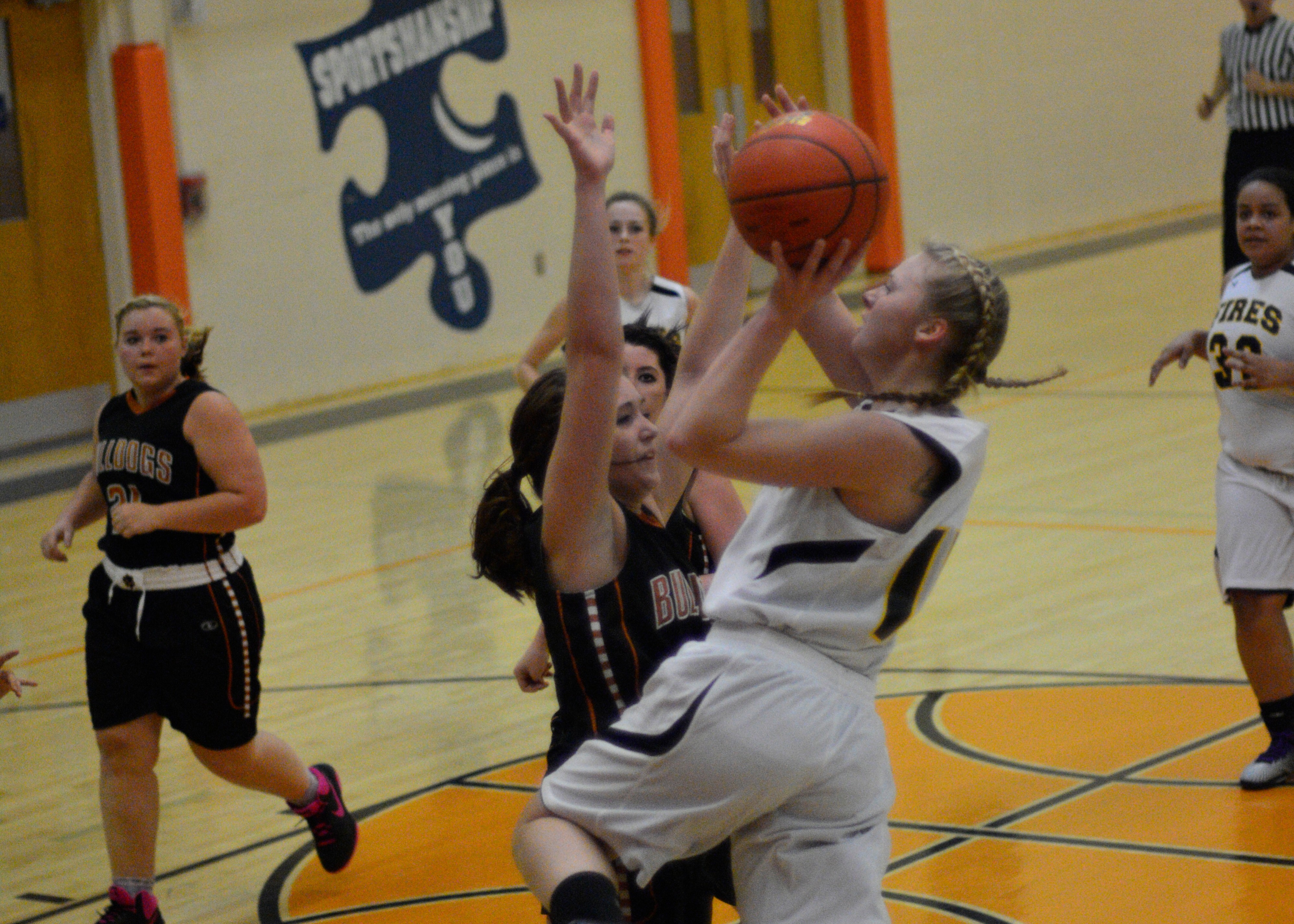 E-mail sports@d9sports.com for more information on how to submit your game information
NORTH CLARION 50, CLEARFIELD 45
See complete game story on ExploreClarion.com
BROOKVILLE, Pa. – Abbie Schmader and Tori Obenrader combined for 45 points and 37 rebounds to lead North Clarion to the 50-45 victory over Clearfield in the opening round of the Brookville Tip-off Tournament Friday night.
Schmader had a game-high 24 points to go with 15 rebounds, while Obenrader added 21 points and 22 boards for the She-Wolves.
"They both played super great," North Clarion head coach Terry Dreihaup said. "Having them opens up the outside."
Rachel Glenny led Clearfield with 15 points and seven rebounds.
"She stretches the floor for us," Castagnolo said about Glenny. "She is the first girl down on our fast break offense. She was getting open. She is an athlete."
Margo Castagnolo added 13 points and Emily Ryan 11 for the Bison.
BROOKVILLE 59, CLARION-LIMESTONE 8
BROOKVILLE, Pa. – Elaina Powell had 12 points and 11 rebounds to lead the Lady Raiders to the season-opening 59-8 win in the Brookville Tip-off Tournament.
KEYSTONE 57, CALIFORNIA 35
SLIPPERY ROCK, Pa. – Taylor Geer had 18 points, nine rebounds and four blocked shots to lead Keystone to a 57-35 win over California in the opening round of the Slippery Rock Tournament Friday night.
Josselin Geer added 12 points, eight steals, seven rebounds and four helpers for the Lady Panthers, while Makenzie Byerly also scored 12 points on four 3-pointers.
Keystone will play Mars in Saturday's title game.
UNION 55, WARREN COUNTY CHRISTIAN 1
MARIENVILLE, Pa. – Union got 17 points and 10 steals from Lexey Shick while holding Warren County Christian scoreless through three quarters to get a 55-1 win at the Forest Area Tournament at East Forest Friday.
Kali Flick added nine points and Shaley Shick eight for the Golden Damsels.
FOREST AREA 43, TIDIOUTE CHARTER 26
MARIENVILLE, Pa. – Morgan Silvis had 13 points and six rebounds as Forest Area overcame a slow start to beat Tidioute Charter 43-26 in the opening round of the Forest Area Tournament at East Forest Friday night.
The Lady Fires trailed 12-7 at the end of the first quarter but took a 23-17 halftime lead and a 29-22 lead at the end of three quarters before pulling away in the fourth.   
Desiree Miller added nine points, and Taylor Johnson six points and six steals for Forest Area, which also got seven boards from Chloe Saxton.
OSWAYO VALLEY 50, OLEAN-WALSH (NY) 21
SHINGLEHOUSE, Pa. – Kelsie Pease had 11 points and seven rebounds, and Hope Howard added 10 tallies while hitting two 3-pointers to go with seven boards to help Oswayo Valley to a season-opening 50-21 win over visiting Olean-Walsh (NY) Friday night.
Brianna Seibert added eight points and six steals, and Jillian Wichert had six takeaways for the Green Wave.
GALETON 53, BUCKTAIL 21
TIOGA, Pa. – Makaya Shadle had 22 points and Cortney Parsell 19 to lead Galeton to a 53-21 win over Bucktail in the opening round of the Williamson Tournament Friday.
WILLIAMSON 38, AUSTIN 9
TIOGA, Pa. – Jordan Brewer scored four points and Madison Hooftallen three as Austin fell to host Williamson 38-9 in the opening round of the Williamson Tourney Friday.  
NORTHERN POTTER 41, COWANESQUE VALLEY 14
WESTFIELD, Pa. – Sophomore Kalie Cowburn had 17 points and 10 rebounds to lead Northern Potter to a 41-14 win over host Cowanesque Valley in the opening round of the Cowanesque Valley Tournament Friday.
Gracie Hamilton added 11 points and eight rebounds for the Lady Panthers.  
KANE 51, JOHNSONBURG 39
KANE, Pa. – A 15-point advantage in the middle two quarters helped Kane topple Johnsonburg 51-39 in the opening round of the Kane Tip-off Tournament Friday night.
The Lady Wolves outscored the Ramettes 29-14 in the second and third quarters on their way to victory.  
Ella Marconi led Kane with 12 points and 12 rebounds, while Camryn Cummings added two points, seven steals and five assists. Trinity Clark also reached double figures with 10 points.
Freshman Skylar Sherry paced Johnsonburg with seven points.
REDBANK VALLEY 46, BROCKWAY 28
BROCKWAY, Pa. – Brooke Hinderliter had 24 points and Becca Dougherty nine to lead Redbank Valley to a 46-28 win at Brockway in the opening round of the Brockway Tip-off Tournament Friday night.
Leah Lindemuth led Brockway with 14 points.
DUBOIS CENTRAL CATHOLIC 49, CLARION 34
BROCKWAY, Pa. – Jordy Frank led a balanced attack with 12 points, as DuBois Central Catholic beat Clarion 49-34 in the opening round of the Brockway Tip-off Tournament Friday.
Nine girls in all scored for the Lady Cardinals, who forced 31 first-half turnovers.
WEST SHAMOKIN 36, PUNXSUTAWNEY 17
MARION CENTER, Pa. – Leah Miller, Kylee Lingenfelter and Hope Bridge each scored four points as Punxsutawney lost its season opener 36-17 to West Shamokin in the Marion Center Tournament Friday night.
PENNS MANOR 40, DUBOIS 32
CLYMER, Pa. – Despite a combined 17 points from Dayna and Chelsea DeSalve, DuBois fell 40-32 to Penns Manor in the opening round of the Penns Manor Tournament Friday night.
Dayna had a team-high nine points, while Chelsea added eight. Courtney Chandler chipped in seven for the Lady Beavers.
MONITEAU 62, JEANNETTE 35
NEW CASTLE, Pa. – Kristina DeMatteis scored 24 points and and Sara Hull 20 to lead Moniteau to a 62-35 win over Jeannette at the Shenango Shootout Friday night.
Emma Bair added 10 rebounds and Alazia Greaves 14 points for the Lady Warriors who won in the second debut of former and now current head coach Dee Arblaster.
WEST MIDDLESEX 69, A-C VALLEY 35
WEST MIDDLESEX, Pa. – Despite 11 points from Ellie Thompson, A-C Valley dropped a 69-35 decision at the hands of West Middlesex on the opening night of the West Middlesex Shootout Friday.
MAPLEWOOD 31, VENANGO CATHOLIC 30
FRANKLIN, Pa. – Ava Homan netted 18 points and collected 21 rebounds in a losing effort, as Venango Catholic fell 31-30 to Maplewood at Roy Sanner Tip-Off Tournament at Rocky Grove High School Friday night.
YOUNGSVILLE 49, PORT ALLEGANY 34
SHEFFIELD, Pa. – Autumn Buchsenschutz poured in 20 points but Youngsville topped Port Allegany 49-34 at the Sheffield Sports Boosters Tip-off Classic Friday.
HOLLIDAYSBURG 34, BRADFORD 24
HOLLIDAYSBURG, Pa. – Bri Wells had 15 points in a losing cause for Bradford, which fell to host Hollidaysburg 34-24 at the Hollidaysburg Tourney Friday.
The Lady Owls will play Bellwood-Antis in the consolation game Saturday.
GLENDALE 54, CURWENSVILLE 20
FLINTON, Pa. – Hannah Dixon's nine points weren't enough, as Glendale beat Curwensville 54-20 in the Moshannon Valley League opener for both teams Friday night.
Christine Limbert chipped in five for the Lady Tide.
ELK COUNTY CATHOLIC 48, RIDGWAY 31
RIDGWAY, Pa. – Mackenzie Cashmer and Reilly Herzing combined for 31 of Elk County Catholic's 48 points in a 48-31 AML win at Ridgway Friday night.
Jessica Kifer paced Ridgway with 15 points and 13 rebounds, while Emily Fullem added 10 tallies and 16 caroms.
EISENHOWER 46, SHEFFIELD 4
SHEFFIELD, Pa. – Kristen Baran had a game-high 14 points and added five rebounds as Eisenhower knocked off Sheffield 46-4 Friday night.
Mallory Trumbull chipped in with 10 points for the Lady Knights.