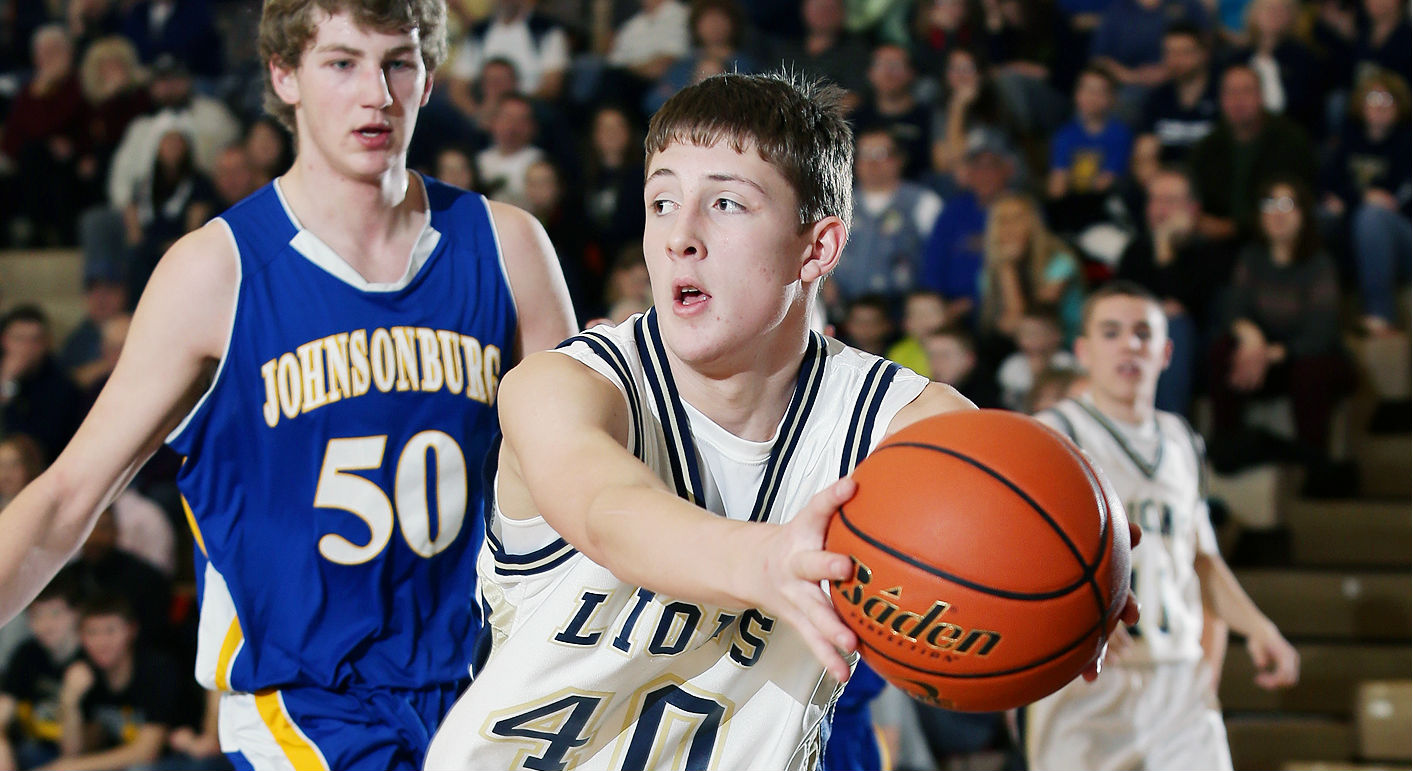 All Dec. 5 scores
CLARION-LIMESTONE 58, UNION 54
BROOKVILLE, Pa. – Christian Smith hit a pair of free throws with 8.4 seconds left to break a tie game and lift Clarion-Limestone to the title of the Brookville Tip-off Tournament with  58-54 win over Union Saturday.
The Lions and Golden Knights were tied at 54 when Smith was fouled, and he calmly sank both charity shots to give C-L the lead before the Lions added a late basket to seal the victory.
C-L trailed by seven, 41-34, going to the fourth quarter and by four, 49-45, with 3:22 to play before Taylor Smith hit a 3-pointer to give the Lions the lead, 54-52, with just over a minute to play.
Dan Callen led the Lions with 15 points and 12 rebounds, while Taylor Smith had 15 points.
Lucas Bowser paced Union with 19 points and 14 rebounds but was held without a point in the fourth quarter.
BROOKVILLE 55, BROCKWAY 51, OT
BROOKVILLE, Pa. – Brookville outscored Brockway 11-7 in overtime to get a 55-51 win in the consolation game of the Brookville Tip-off Tournament Saturday.
The Raiders led 23-12 at halftime only to watch the Rovers roar back in the second half and force overtime with a 44-all tie.
Ben Reitz and Kurt Schindler each scored 16 points to lead Brookville with Schindler adding eight rebounds.
Jake Wineberg led all scorers with 21 points for Brockway while picking up eight rebounds as well.
DUBOIS 38, ST. MARYS 34
KNOX, Pa. – Dante Dawson netted six points and six rebounds in the fourth quarter alone, as DuBois squeezed past St. Marys, 38-34, to win the Keystone Tip-off Tournament Saturday night in Knox.
Dawson finished with 13 points and 14 rebounds, and it was his offensive rebound and putback with 2:44 to play that broke a 34-all tie.
"He definitely deserved the MVP this weekend based on just his performance on the boards," DuBois head coach Scott Creighton said. "He had a double-double both nights. Any key rebound, offensively and defensively, he seemed to come down with it. I can't say enough about his performance."
Zach Sloan added 14 points and four rebounds for DuBois, while Jeff Wehler and Jordan Romain each had nine points for St. Marys.
The Dutch trailed 32-27 going to the fourth quarter but scored the first seven points of the quarter to go ahead 34-32 before Sloan tied the game at 34 with 3:16 to play.
VENANGO CATHOLIC 50, KEYSTONE 39
KNOX, Pa. – Brady Kingston went off for 29 points and 17 rebounds to lead Venango Catholic to a 50-39 win over Keystone in the consolation game of the Keystone Tip-off Tournament Friday night.
"That's the type of performance right there that I wouldn't be surprised if you see quite a few like that this year," Venango Catholic head coach Scott Walters, who picked up his first win at the school, said.  
Nineteen of Kingston's points came in the middle two quarters, as Venango Catholic outscored Keystone 35-8 in the second and third quarters including 17-0 in the second quarter.
"We need to learn to attack the zone better," Keystone head coach Greg Heath said. "We need to learn how to shoot the ball better too. We didn't handle the ball well. We didn't shoot the ball well. We didn't move to the open spots. There is a lot of work to do."
Despite trailing by 18, 41-23, going to the fourth quarter, Keystone didn't quit and went on a 16-2 run behind eight Tanner Wilson points to close within four, 43-39, with 1:28 to play.
VC, though, scored the game's final seven points.
Wilson and Austin Ion led Keystone with eight points each with Mason Rearick adding seven points and 11 rebounds.
PUNXSUTAWNEY 55, JOHNSONBURG 50
DUBOIS, Pa. – Dylan Huey scored 14 points and had two slam dunks while earning tournament MVP, as Punxsutawney beat Johnsonburg, 55-50, at the DuBois Central Catholic Tip-off Tournament.
Ethan Riley added 15 points for the Chucks.
Ryan Kilhoffer led Johnsonburg with 17 points, and Kevin Benson added 15.
DUBOIS CENTRAL CATHOLIC 60, WEST SHAMOKIN 47
DuBois, Pa. – Christian LaParne netted 19 points and hit 9 of 11 free throws to lead DuBois Central Catholic to a 60-47 win over West Shamokin Saturday in the consolation game of the DCC Tip-off Tournament.
Noah Pettenati and Thomas Grecco each added 10 points, while freshman Justin Miknis and Joey Varischetti both scored nine. Minis hit three for 3-pointers giving him nine in two games.
REYNOLDS 63, MONITEAU 30
MERCER, Pa. – Ross Tenney scored nine points and JJ Waid eight, but Moniteau fell 63-30 to Reynolds in the Mercer Shootout Saturday.
BOLIVAR-RICHBURG (NY) 59, PORT ALLEGANY 44
PORTVILLE, N.Y. – Tre Garzel had an outstanding game in a losing effort for Port Allegany Saturday, as the Gators lost the consolation game of the Portville (N.Y.) Tournament, 59-44, to Bolivar-Richburg (N.Y.).
Garzel had 25 points and 18 rebounds, while Brandon McCaslin added 14 points and nine rebounds.
A-C VALLEY 46, FOREST AREA 30
MARIENVILLE, Pa. – Austin Heeter and Joe Manculich each recorded double-doubles to lift A-C Valley to the championship of the Forest Area Tip-off Tournament thanks to a 46-30 win over Forest Area Saturday night.
Heeter netted 17 points and had 15 rebounds, while Manculich chipped in 13 points and 10 boards.
Also for the Falcons, Zach Muhl scored seven points, had five steals and dished out five assists.
Cody Slater led Forest Area with 13 points.
COWANESQUE VALLEY 50, OSWAYO VALLEY 43
WESTFIELD, Pa. – Brandon Brabham had a game-high 20 points, but Oswayo Valley lost 50-43 to Cowanesque Valley in the title game of the Cowanesque Valley Tip-off Tournament Saturday night.
Brabham hit four 3-pointers and was 6-for-6 from the free-throw line in a losing effort.
Ricardo Gross added 12 points for the Green Wave.
ROCKY GROVE 57, CRANBERRY 34
FRANKLIN, Pa. – Rocky Grove won its own tournament with a 57-34 win over Cranberry Saturday night.
Evan Lutz netted 14 for the Berries in the loss.
REDBANK VALLEY 40, NORTH CLARION 37
MEADVILLE, Pa. – Sam Heeter scored a game-high 23 points to lead Redbank Valley to a 40-37 win over over North Clarion in the consolation game of the Meadville Tip-off Tournament Saturday.
Heeter hit eight shots from the field including three triples in the victory.
Zayn Hargenrader led North Clarion with 21 points.
A 16-6 first-quarter advantage helped the Bulldogs take a 23-13 halftime lead, and they still led by nine, 30-21, at the end of three quarters. But poor free-throw shooting – Redbank was 6 of 18 from the line in the fourth quarter – allowed North Clarion to get back into the game.  
YOUNGSVILLE 73, AUSTIN 29
SHEFFIELD, Pa. – Anderson Nicka scored 20 of Austin's 29 points as the Panthers dropped a 73-29 decision to Youngsville at the Sheffield Sports Boosters Tip-off Classic Saturday.