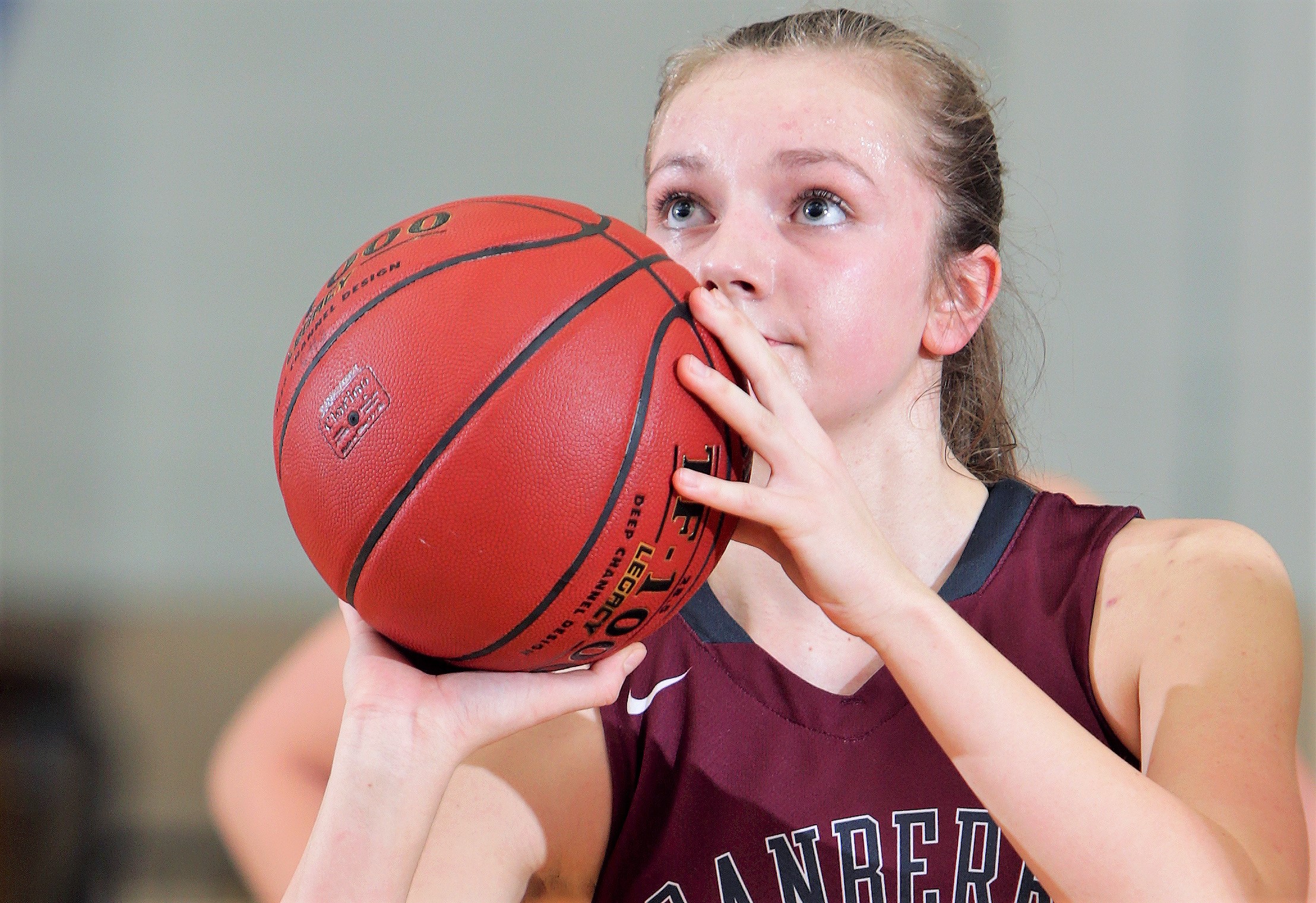 Dec. 6 girls' recaps.
(Photo of Cranberry's Ava Ferringer, whose offensive putback sent the Berries game with Fort LeBouef into overtime where Cranberry won, 56-52. Photo by Paul Burdick. Check out more of Burdick's work here)
CRANBERRY 56, FORT LEBOUEF 52, OVERTIME
SUGARCREEK BOROUGH, Pa. – Ava Ferringer forced overtime with an offensive putback of her own missed shot, and Maddie Cornelius hit three of four free throws in the extra session to give Cranberry a 56-52 win over Fort LeBoeuf in the opening round of the Roy Sanner Memorial Tournament at Rocky Grove.
Down 51-49 in the final seconds of regulation, Ferringer drove the baseline, missed the shot but got her own rebound and then scored with nine seconds left to tie the game.
The Berries then held Fort LeBoeuf to one overtime field goal thanks in part to four defensive rebounds in the extra session by Megan Hadden.
Ferringer scored a game-high 21 points with all of them coming in regulation. Kaia Dean added 17 points for Cranberry with Cornelius scoring 14.
Emily Kucenski led Fort LeBouef with 11 points.
Megan Hadden also grabbed four defensive boards in the overtime for the Berries.
BROCKWAY 44, CLARION 42
BROCKWAY, Pa. – Behind 19 points and six steals from Danielle Wood Brockway stunned visiting Clarion, 44-42, in the opening round of the Brockway Tip-off Tournament.
Wood scored 10 of her 19 in the third quarter scoring all 10 of Brockway's third-quarter points.
Morgan Lindemuth added 10 points and six assists and hit two free throws with 8.5 seconds left to give the Lady Rovers, who won just three games last season, a 44-40 lead over the Lady Cats, who went the PIAA Class 2A playoffs.
Selena Buttery chipped in seven points and 13 rebounds for Brockway with Macie Smith adding nine rebounds.
Kait Constantino led all scorers with 23 points for Clarion, which trailed 22-14 at halftime before climbing within a point, 32-31, going to the fourth quarter.
DUBOIS 41, MONITEAU 27
BROCKWAY, Pa. – Abby Guiher and Olivia Johnson combined for 21 points to help DuBois to a 41-27 win over Moniteau in the opening round of the Brockway Tip-off Tournament.
Guiher led the Lady Beavers with 11 points with Johnson adding 10. Sarah Henniger chipped in six points.
Aslyn Pry had nine points and 11 rebounds for Moniteau. Katie Chesonis added six tallies for the Lady Warriors.
PUNXSUTAWNEY 65, LATROBE 54
INDIANA, Pa. – Riley Presloid exploded for 25 points, including 11 in the fourth quarter, as Punxsutawney rallied past Latrobe, 65-54, in the opening round of the Indiana Tournament.
The Lady Chucks, who led 22-19 at halftime, trailed 42-37 going to the fourth quarter before Riley Presloid hit three 3-pointers and a pair of free throws in the final eight minutes and Chloe Presloid added seven of her nine points to turn the score around.
Abby Gigliotti and Sarah Weaver each added 11 points for Punxsutawney. Gigliotti completed a double-double with 11 rebounds and added three steals, while Weaver had four assists and six rebounds
Rachel Ridilla led Latrobe with 14 points with Emma Blair adding 12.
NORTH CLARION 48, CLEARFIELD 8
BROOKVILLE, Pa. – Using a relentless pressure defense and balanced scoring, North Clarion opened the season with a 48-8 win over Clearfield in the opening round of the Brookville Tip-off Tournament.
Relisten to the game:
The She-Wolves, who pressed until halftime, forced 27 Lady Bison turnovers including 23 in the first half while limiting Clearfield to two made field goals for the game, none in the opening 16 minutes.
North Clarion led 31-2 at halftime and had the PIAA Mercy Rule going by late in the third quarter.
Offensively, the She-Wolves got 13 points from Mackenzie Bauer, 10 from Gabby Schmader, nine from Abby Gatesman and eight from Haley Sherman, while Trinity Thompson collected a team-best eight rebounds to go with two points.
Bauer, who was named the Hager Paving Player of the Game, talked about the win.
Megan Durandetta paced Clearfield with three points on a 3-pointer, while Kirstie VanTassel had two points. Tesa Miller gabbed a game-high nine boards for the Lady Bison.
BROOKVILLE 80, CLARION-LIMESTONE 40
BROOKVILLE, Pa. – Four players found double figures in scoring as Brookville turned in an 80-40 rout of Clarion-Limestone, getting into the PIAA's Mercy Rule running clock margin in the final seconds of the game, in the opening round of the Brookville Tip-off Tournament.
Morgan Johnson and Marcy Schindler each scored 16 points while Elizabeth Wonderling scored 14 points and Alayna Haight came off the bench to pour in 12 points for the Lady Raiders. Lauren Hergert scored eight points and grabbed eight rebounds.
The Lady Raiders forced 39 C-L turnovers. Janelle Pezzuti scored 14 points to lead the Lady Lions.
SMETHPORT 45, TIDIOUTE CHARTER 36
MARIENVILLE, Pa. – Erin Herzog scored a game-high 21 points and added 17 rebounds to lead Smethport to a 45-36 win over Tidioute Charter in the opening round of the Forest Area Tip-off Tournament at East Forest.
Sabrina Tanner chipped in 10 points and seven boards for the Lady Hubbers, who held Tidioute Charter to 10 second-half points, while MyKayla Deyarmin had nine points and five assists. Danielle Nelson chipped in nine boards in the win.
Nakisha Krouse scored 18 points to lead Tidioute Charter.
COWANESQUE VALLEY 37, NORTHERN POTTER 25
COWANESQUE, Pa. – Kaitlyn Sheeter's 12 points led a balanced team attack to lift Cowanesque Valley over Northern Potter, 37-25, in the first round of the Jack Bush Tournament at Cowanesque Valley.
Mak Vongeson added nine points while going 3-for-4 at the line for Cowanesque Valley while Abby Ackley chipped in eight.
Courtney Martin paced the Lady Panthers with eight points. Madison Hoopes added five while Aubree Anderson chipped in four.
COUDERSPORT 52, JOHNSONBURG 27
KANE, Pa. – Coudersport used a balanced team effort to top Johnsonburg, 52-27, in the opening round of the Kane Tip-Off Tournament.
Rosalyne Page led the Lady Falcons with 15 points followed by 14 from Lauren Stimaker. Sarah Chambers tallied 12 points with Eliza Brame netting eight.
Tess Kojancic paced the Ramettes with 10 points. Julia Jones chipped in eight points.
ST. MARYS 52, KANE 27
KANE, Pa. – Led by 12 points from Megan Quesenberry, St. Marys had nine different players score in a 52-27 win over Kane in the opening round of the Kane Tip-off Tournament.
Samantha Hayes added nine points for the Lady Dutch with Lauren Eckert scoring seven.
Emily Bucheit paced Kane with nine points.
PORT ALLEGANY 74, SHEFFIELD 17
SHEFFIELD, Pa. – Cailey Barnett exploded for 33 points to help Port Allegany top Sheffield, 74-17, in the first round of the Sheffield Sports Boosters Tip-Off Classic.
Shannon Curfman had 16 points for the Lady Gators with Gracie Archer and Bree Garzel each adding seven.
For Sheffield, Alyssa Dunham had four points. Allison Schmader and Marissa Grubbs each netted three points.
UNION 49, COMMODORE PERRY 46
RIMERSBURG, Pa. – Dominika Logue tallied 19 points as Union held on to defeat Commodore Perry, 49-46, on the first day of the Union Tip-Off Classic.
Logue was also 4-for-5 from the line for the Damsels. Keira Croyle added 12 points while Maggie Minick netted nine.
Kaitlyn Hildebran paced Commodore Perry with 15 points with Brooke Shrock chipping in 11.
RIDGWAY 29, REYNOLDS 25
RIMERSBURG, Pa. – Gabby Rohr scored 12 points and Ridgway held off Reynolds for a 29-25 win on the first day of the Union Tip-off Classic.
Christina Fullem chipped in eight points in the win for the Lady Elkers.
REDBANK VALLEY 62, FRANKLIN 31
FRANKLIN, Pa. – Thanks to 26 points from Tara Hinderliter, Redbank Valley rolled to a 62-31 win over Franklin in the opening round of the Franklin Elks Tip-off Tournament.
Lauren Smith added 14 points for the Lady Bulldogs with Alivia Huffman chipping in nine tallies.
Carly Calderone paced Franklin with eight points.
BUCKTAIL 41, AUSTIN 11
GALETON, Pa. – Behind 13 points from Julie Green Bucktail topped Austin, 41-11, in the opening round of the Galeton Tip-off Tournament.
Taylor Brewer had five points for Austin.
GALETON 45, WILLIAMSON 16
GALETON, Pa. – Cara Parsell's 12 points led a balanced Galeton attack in a 45-16 win over Williamson in the opening round of the Galeton Tip-off Tournament.
Jessie Evans added 10 points for the Lady Tigers with Lauren Sauley scoring nine, Ali Macensy eight and Sandy Bliss six.
Lateisha Peterson and Lena Lewis each scored seven points for Williamson.
HOLLIDAYSBURG 59, BRADFORD 30
HOLLIDAYSBURG, Pa. – Led by 11 points from Alyssa Bell, Hollidaysburg topped Bradford, 59-30, in the opening round for the Hollidaysburg Tip-off Tournament.
Ashten Stitt added 10 points for the Lady Tigers.
Erica Marshall and Hannah Lary combined to score all 30 points for Bradford with each player tallying a game-high 15 points.
SLIPPERY ROCK 58, KEYSTONE 41
SLIPPERY ROCK, Pa. – Hallie Raabe and Ella McDermott combined to score 33 points to lead Slippery Rock to a 58-41 win over Keystone in the opening round of the Slippery Rock Tip-off Tournament.
Raabe led the Lady Rockets with 17 points with McDermott chipping in 16. Gianna Bedel added eight points in the win.
Emily Lauer tallied a team-best 15 points for Keystone with Natalie Bowser added 12 points and six rebounds. Danae Hurrelbrink had a team-best seven board for the Lady Panthers while also contributing five points, and Jozee Weaver had five points and six rebounds.
OTTO-ELDRED 53, EISENHOWER 44
EISENHOWER, Pa. – Behind 38 combined points from Jadelyn Spinney and Kayley Heller, Otto-Eldred defeated Eisenhower, 53-44.
Spinney had a team-high 20 points and four assists for the Lady Terrors with Heller adding a double-double of 18 points and 16 rebounds. Katie Sheeler had six points and three assists while Haley Cousins chipped in six points.
Lilie Renninger paced Eisenhower with 14 points with Bella Marino adding 11.
KARNS CITY 47, WILMINGTON 43
WILMINGTON, Pa. – Emma Johns and Brooke Manuel combined for 25 points and 16 rebounds to help Karns City to a season-opening 47-43 win at Wilmington.
Johnson had a team-high 15 points to go with seven rebounds, while Manuel added 10 points and a team-best nine rebounds in the victory.
Alyson Fennell chipped in six points and six assists for the Lady Gremlins.