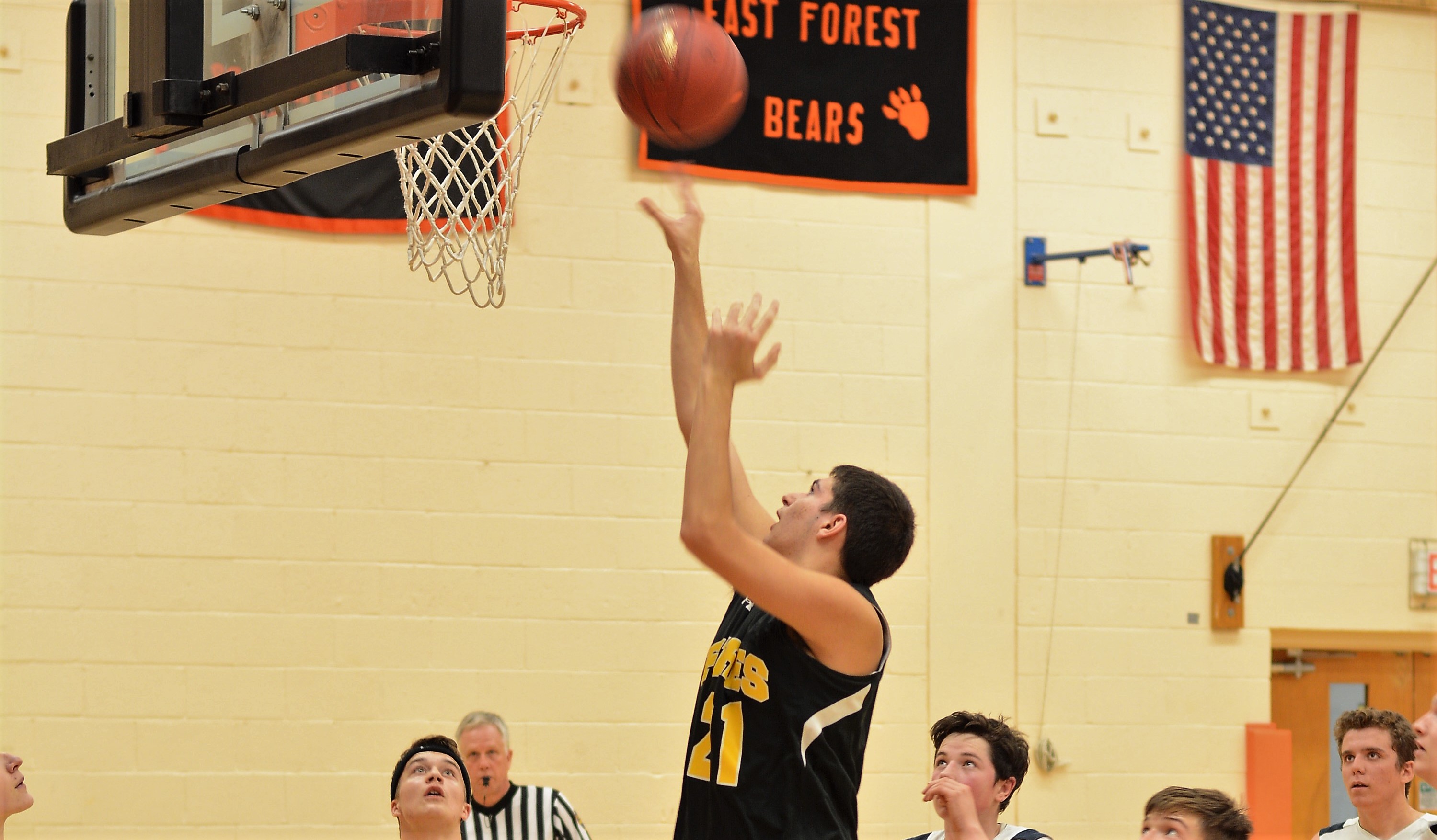 Dec. 7 basketball recaps.
(Photo of Forest Area's Seth Seidle, who had a double-double for the Fires Friday night in a win. Photo by Deb Arner)
Dec. 7 boys' basketball recaps.
DUBOIS 69, CLARION 47
KNOX, Pa. – DuBois used runs of 14-0 and 13-0 to erase a 13-point second-quarter deficit and pick up a 69-47 win over Clarion in the opening round of the Keystone Tip-off Tournament.
The Beavers trailed 20-7 a minute into the second quarter but used the 14-0 sput to take a 21-20 lead and they led 29-25 at halftime.
Clarion got within three, 44-41, late in the third quarter before DuBois scored the final bucket of the quarter and then scored the first 11 points of the fourth quarter to put the game away.
Beavers first-year head coach Dave Bennett talked about the win.
Alex Beers paced DuBois, which was without big man Chase Husted (illness) with 24 points and 13 rebounds.
Beers talked about the victory.
Justin Manduley added 22 points for DuBOis with Jonathan Cruz also reaching double digits with 12 points.
Cal German paced Clarion with a game-high 29 points, all scored in the first three quarters including 12 in the first quarter. Nick Frederick added eight points.
FOREST AREA 70, CHRISTIAN LIFE ACADEMY 45
MARIENVILLE, Pa. – Behind a double-double from Seth Seidle Forest Area beat visiting Christian Life Academy, 70-45, on the opening day of the Forest Area Tip-off Tournament at East Forest.
Jarrett Kahle added 12 points and eight rebounds for the Fires with Luke Cussins scoring 11 points and Franklin Meals 10.
PORT ALLEGANY 53, SHEFFIELD 47
SHEFFIELD, Pa. – Sheffield's Tyler Hepinger nailed a trey at the end of the fourth quarter to force visiting Port Allegany into extra minutes knotted at 43-43. The Gators, however, outscored the homestanding Wolverines, 8-4, to escape with a 53-47 victory.
Hepinger's key three-point shot was just three of his game-high 22 points. Tony Richards (13), Mitchell McNeal (10), and Jakob Vinopal (2) were the only other Wolverines to tally points.
For the victors, Jordan Card tallied a team-high 19 points while also pulling down 19 boards. Howie Stuckey and Dominic Guerrero also registered double-doubles with 14 points, 14 rebounds and 10 points, 10 rebounds respectively.
MONITEAU 51, COMMODORE PERRY 32
RIMERSBURG, Pa. – Moniteau pulled away from Commodore Perry during the middle two quarters for a 51-32 win Friday night in Rimersburg at the Union Tip-Off Classic.
Moniteau held a 9-7 lead entering the second quarter but by the time the clock hit triple zeroes at the end of the third quarter, the two-point lead had swelled to a 20 point lead at 38-18.
Ethan McDeavitt paced the Warriors with 17 points while Greg Noal added 15 points and Jared Lominski added 10. Tyler McFadden pulled in 10 boards while McDeavitt added 7 steals to his team-high 17 points.
WARREN 44, BROCKWAY 42
BROOKVILLE, Pa. – Jake Kupchella and Caleb Ei were the only two Dragons to score more than four points as their 28 combined points helped pave the way for Warren's two-point, 44-42, victory over Brockway at the Brookville Tip-Off Tournament.
Kupchella steal and layup with 58 seconds left broke at a 42-all tie. Brockway then had a chance to tie or take the lead late, but Ei came away with a steal with just over four seconds to play to seal the win.
Alec Freemer led the Rovers with 14 points while Jon Wood tallied 20 points.
GENERAL MCLANE 87, CLARION-LIMESTONE 69
GROVE CITY, Pa. – Despite 31 points from Dion Deas, Clarion-Limestone fell to General McLane, 87-69, in the Grove City Tournament.
Seth Myers led General McLane with a game-high 28 points while Logan Donahue chipped in for 23 points.
Hayden Callen added 16 points for the Lions.
TITUSVILLE 69, VENANGO CATHOLIC 29
FRANKLIN, Pa. – Cade Skinner and Guy Anthony combined for 29 points to lead Titusville over Venango Catholic, 69-29, in the opening round of the Rocky Grove Tournament.
Skinner had a game-high 19 points and Anthony tallied 10.
Ben Gillispie paced Venango Catholic with 14 points.
CANTON 70, AUSTIN 61
GALETON, Pa. – Michael Smittens and Zach Kentzel each scored 17 points to help Canton defeat Austin, 70-61, in the Galeton Tournament.
Dempsey Glover paced Austin with 24 points and nine rebounds with Jackson Glover chipping in for 11 points.
BRADFORD 69, KANE 55
BRADFORD, Pa. – Thanks to 29 points from Tyler Gigliotti Bradford topped visiting Kane, 69-55.
Gavin Babcock added 14 points and Steve Knowlton 13 for the Owls.
Chad Greville led Kane with 19 points with Alex Rezzelle adding 14.
NORTH EAST 70, KARNS CITY 62
FOXBURG, Pa. – Colin Watts scored 21 points to lead North East to a 70-62 win over Karns City at the A-C Valley Hoops for Heroes Crossover.
Brock Conn added 19 points for the Grape Pickers with Garrett Hein chipping in 15.
Chase Beighley paced Karns City with 16 points with Ethan McElroy adding 12. Austin Fahlor and Erik Pfeifer each had eight tallies with Nathan Waltman adding four points and eight rebounds and Luke Garing six points and eight boards.
DUBOIS CENTRAL CATHOLIC 55, PUNXSUTAWNEY 42
DUBOIS, Pa. – Behind 14 points from Josh Solnosky, DuBois Central Catholic topped visiting Punxsutawney, 55-42, in the opening round of the DCC Tip-Off Tournament.
Justin Miknis added 12 points for the Cardinals with Nick Felix chipping in 11.
Ethan Blose paced Punxsutawney with nine points with Carter Newcome adding eight.
CLEARFIELD 77, CURWENSVILLE 32
HYDE, Pa. – Cade Walker scored 28 points, grabbed eight rebounds and came away with four steals to led Clearfield to a season-opening 77-32 win over visiting Curwensville.
Karson Rumsky added 16 points, seven steals and five rebounds for the Bison with Keagan Hess chipping in 10 points, six steals, five rebounds and five assists.
Ty Terry and Trevor Lansberry paced Curwensville with seven points each.
NORTH CLARION 66, JAMESTOWN 49
SHEFFIELD, Pa. – Kyle Mills had a double-double with 21 points and 10 rebounds to lead North Clarion to a 66-49 win over Jamestown in the opening round of the Sheffield Tournament.
Tyler McCord-Wolbert added 14 points and eight rebounds for the Wolves with Korey Mills chipping in nine points and five assists. Sam Minich had seven points and Matson Higgins four points and seven helpers.
RIDGWAY 54, CAMERON COUNTY 52, 2 OVERTIMES
RIDGWAY, Pa. – Daunte Allegretto netted 16 points to help Ridgway escape visiting Cameron County, 54-52 in double overtime.
Zack Zameroski added 14 points for the Elkers with Matt Dush scoring 12.
The game was tied at 46 at the end of regulation and at 48 at the end of the first overtime.
In the second overtime, Zameroski hit a big 3-pointer for Ridgway while adding a free throw and Allegretto was 2-for-2 from the line.
Jake Walters had 16 points to lead Cameron County with Caden Beldin adding 15.
JOHNSONBURG 61, MARION CENTER 40
DUBOIS, Pa. – Austin Green smoked the nets for a game-high 23 points to lead Johnsonburg to a 61-40 win over Marion Center in the opening round of the DCC Tip-off Tournament.
Issac Schloder added 17 points for the Rams.
MAPLEWOOD 51, UNION 40
RIMERSBURG, Pa. – Camden Mattocks netted 17 points to lead visiting Maplewood to a 51-40 win over Union on the opening day of the Union Tip-off Classic.
Caden Rainey paced Union with 12 points while Quintin Weaver added 11.
ALLEGANY-LIMESTONE 58, SMETHPORT 44
ALLEGANY, N.Y., – Allegany-Limestone defeated Smethport, 58-44, in the opening round of the Allegany-Limestone Tournament.
Connor Alfieri paced the Hubbers with 16 points, Caleb Lutz chipped in for 14 and Ian Woodruff netted nine.
ST. MARYS 54, KEYSTONE 39
KNOX, Pa. – Visiting St. Marys outscored Keystone by 16 points in the second half to erase as three-point halftime deficit and pick up a 54-39 win over the Panthers at the Keystone Tip-off Tournament.
Keystone led 20-17 at halftime before being outscored 37-19 in the second half.
Cahil Parrish led the Dutch with 19 points with Luke Lasko adding 13.
Isaak Jones and Andrew Lauer each scored 12 points for Keystone.
ROCKY GROVE 56, CRANBERRY 36
ROCKY GROVE, Pa. – Gabe Francic scored 22 points to lead Rocky Grove to a 56-36 win over visiting Cranberry on the opening day of the Roy Sanner Memorial Tournament at Rocky Grove.
Francic hit five 3-pointers on his way to the 22 tallies.
Eli Dickson chipped in 13 points for the Orioles.
JT Stahlman had 15 points to lead Cranberry.
BROOKVILLE 60, MERCER 24
BROOKVILLE, Pa. – Jack Krug and Aaron Park hit for double-figure scoring as Brookville rolled to a 60-24 win over Mercer in the opening-round matchup of the Brookville Tip-Off Tournament.
Krug scored 14 points on 6-of-9 shooting from the floor while Park scored 10 points. The Raiders led 24-9 by halftime, 47-17 after three quarters and by as many as 37 points in the fourth. Trenton Gilhousen scored seven points with six rebounds and David Cable came off the bench to score eight points.
Woody Nickel and Julian Lawrence each scored five points for Mercer.
A-C VALLEY 54, PORTERSVILLE CHRISTIAN 50
FOXBURG, Pa. – Eddie Stevanus and Levi Orton both had double-doubles to help A-C Valley to a 54-50 win over visiting Portersville Christian on the opening day of the A-C Valley Hoops for Heroes Crossover.
Stevanus scored 23 points and grabbed 10 rebounds with Orton adding 15 points and 10 boards.
GALETON 59, WILLIAMSON 51
GALETON, Pa. – Noah Shutt was one of five Galeton players in double digits with 15 points to help the Tigers to a 59-51 win over Williamson in the opening round of the Galeton Tip-off Tournament.
Isaiah Shuemaker added 14 points and Joel Griffen, Evan Brooks and Ty Stover had 10 points each.