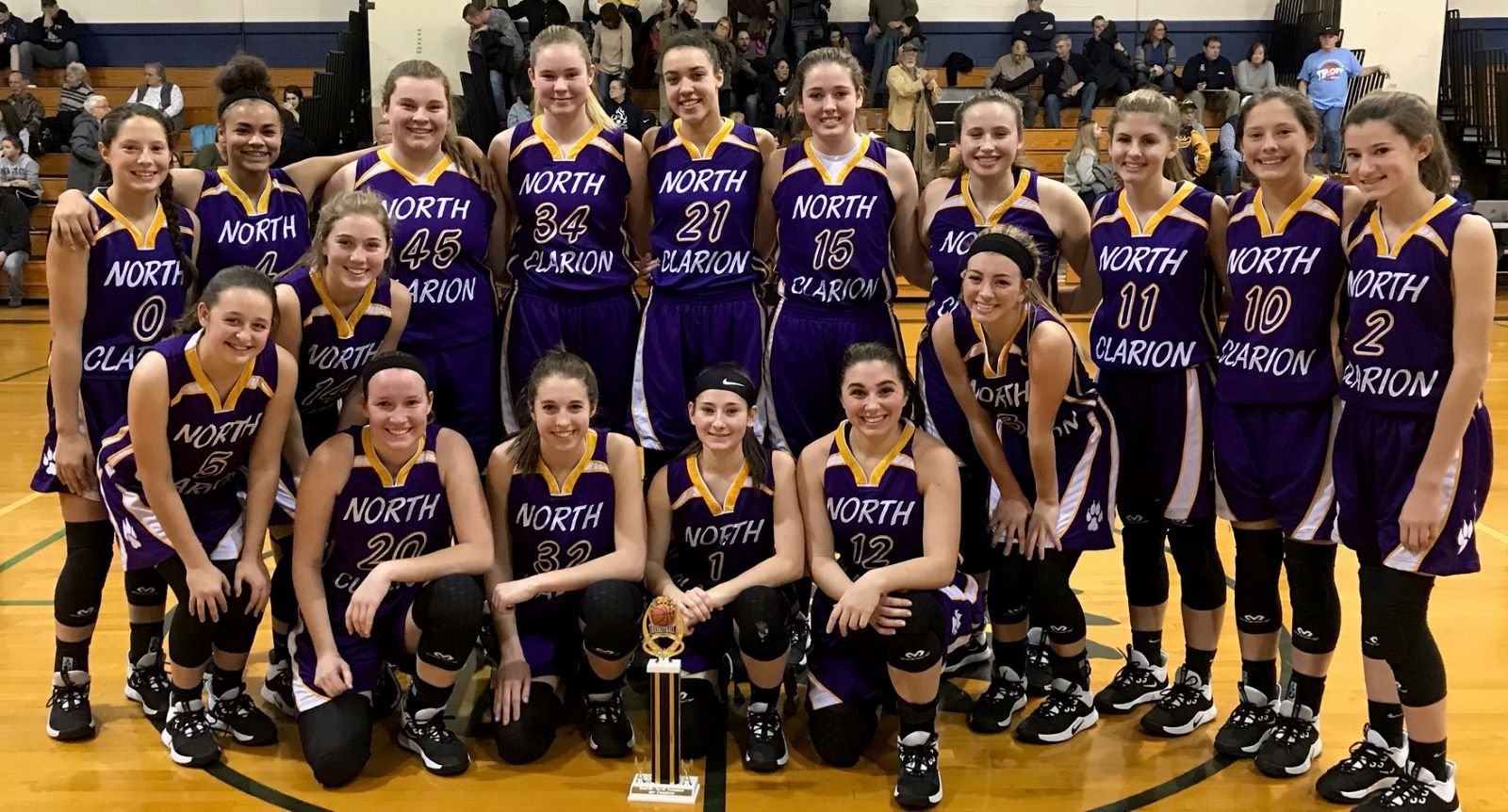 Dec. 7 girls' basketball recaps.
NORTH CLARION 54, BROOKVILLE 33
BROOKVILLE, Pa. – In a matchup between the two-time defending District 9 Class 3A champion Brookville Lady Raiders and the three-time defending District 9 Class 1A champion North Clarion She-Wolves, it was all North Clarion in a 54-33 win in the championship game of the Brookville Tip-off Tournament.
Relisten to the game:
After a slow start that saw North Clarion trail by as many as six (13-7) in the first quarter and by one, 13-12, after the first, the She-Wolves dominated play outscoring Brookville 42-20 the rest of the way including 14-2 in the second quarter when North Clarion didn't allow a Brookville field goal.
Abby Gatesman had a monster game for North Clarion with a game-high 20 points to go with 15 rebounds, nine assists and five steals. She was named the Hager Paving Player of the Game.
Mackenzie Bauer added 10 points for the She-Wolves with Haley Sherman scoring nine and Gabby Schmader seven.
Morgan Johnson had 12 points to lead Brookville while hitting a pair of 3-pointers with Marcy Schindler adding 10 points and 11 rebounds and Madison Johnson had seven points.
CLARION-LIMESTONE 40, CLEARFIELD 37
BROOKVILLE, Pa. – Clarion-Limestone claimed third place at the Brookville Tip-off Tournament with a 40-37 win over Clearfield Saturday afternoon.
Kendall Dunn came off the bench to score 13 points for the Lady Lions while all-tournament selection Janelle Pezzuti finished with 10 points. Frances Milliron had nine points and nine rebounds.
C-L trailed 30-21 with just under three minutes to go in the third quarter before climbing back into the game. Milliron gave the Lady Lions the lead for good at 37-35 with 2:26 left in the game.
Megan Durandetta scored 12 of her team-high 16 points in the first half for Clearfield. Emma Hipps scored 10 points while Tesa Miller added five points and 16 rebounds.
PUNXSUTAWNEY 57, INDIANA 53, OVERTIME
INDIANA, Pa. – Sarah Weaver scored seven of her career-high 36 points in overtime to lead Punxsutawney to a 57-53 win over Indiana in the championship game of the Indiana Tip-off Tournament.
Weaver scored 23 of her points in the second half to keep the Lady Chucks, who led 26-20 at halftime in the game.
Abby Gigliotti chipped in six points and nine rebounds for Punxsutawney with Kierstin Riley adding seven rebounds and three assists
Eve Fiala, a 6-foot-4 freshman who has already received a scholarship offer from Ohio State, led Indiana with 31 points but was held to a single free throw on two attempts in overtime.
AUSTIN 27, WILLIAMSON 25
GALETON, Pa. – Taylor Brewer and Kylie Welsh combined for 23 points, as Austin held off a late comeback from Williamson to beat the Lady Warriors, 27-25, for the Lady Panthers first win since February of 2014.
Brewer scored 13 points with Welsh adding 10, as Austin ended a 109-game losing streak. The Lady Panthers last win was a 56-51 triumph over Otto-Eldred Feb. 11, 2014.
On Saturday, Austin built a 23-11 lead after three quarters before having to hold off a strong push by Williamson in the consolation game of Galeton Tournament.
Latiesha Peterson paced Williamson with a game-high 16 points.
BUCKTAIL 32, GALETON 30
GALETON, Pa. – Myka Poorman scored 18 points to lead Bucktail to a 32-30 win over Galeton in the championship game of the Galeton Tip-off Tournament.
Alli Macensky led Galeton with 10 points, nine rebounds and four blocked shots with Cara Parsell scoring nine points – on 9 of 11 from the line – while collecting a team-best 13 rebounds. Lauren Sauley had three points and nine boards.
REDBANK VALLEY 68, IROQUOIS 57
FRANKLIN, Pa. – Tara Hinderliter exploded for 32 points to lead Redbank Valley to a 68-57 win over Iroquois in the championship game of the Franklin Elk's Tip-off Tournament.
Hinderliter hit five 3-pointers, including three in the fourth quarter on her way to team-high honors.
Alivia Huffman added 10 points for the Lady Bulldogs who also got eight from Lauren Smith.
Hinderliter's big game helped offset a strong performance from Iroquois Angeline Meola who nailed six 3-pointers on her way to a game-high 40 points.
DUBOIS 48, BROCKWAY 32
BROCKWAY, Pa. – Down three at halftime, DuBois exploded for 22 third-quarter points on its way to a 48-32 win over Brockway in the championship game of the Brockway Tip-off Tournament.
The Lady Beavers trailed 21-18 at the break but outscored the Lady Rovers 22-9 in the third quarter thanks to Olivia Johnson scoring 11 of her game-high 15 points in the quarter.
Sarah Henninger added nine points for DuBois with Abby Guiher scoring eight points.
Danielle Wood and Morgan Lindemuth paced Brockway with 10 points each with Selena Buttery adding nine. Buttery also had nine rebounds with Lindemuth adding six boards.
CLARION 44, MONITEAU 36
BROCKWAY, Pa. – Clarion used a balanced effort to beat Moniteau, 44-36, in the consolation game of the Brockway Tip-off Tournament.
Jordan Best led the Lady Cats with 11 points, Kait Constantino scored 10 points, Rebekah Ketner added eight points and Eva Lerch and Payton Simko each tallied five points.
Kristin Auvil had 17 points and 13 rebounds for Moniteau with Aslyn Pry adding 12 points, 17 rebounds and four steals.
UNION CITY 39, SMETHPORT 36
MARIENVILLE, Pa. – Elizza Reynolds' steal and layup with 45 seconds left broke a 36-all tie and helped Union City win the Forest Area Tip-off Tournament at East Forest with a 39-36 win over Smethport.
Smethport trailed by eight in the fourth quarter before rallying to tie the game only to watch Union City get the big play from Reynolds late to win the contest.
Sabrina Tanner led Smethport with 13 points and eight rebounds, while Abby Lutz and Danielle Nelson each scored eight points.
TIDIOUTE CHARTER 54, FOREST AREA 22
MARIENVILLE, Pa. – Nakiesha Krause and Angelina Sabella combined to score 38 points to lead Tidioute Charter to a 54-22 win over Forest Area in the consolation game of the Forest Area Tip-off Tournament at East Forest.
Krause led all scorers with 20 points with Sabella adding 18.
Jessica Wagner scored six points for Forest Area with Jen Lander and Megan Clow each adding five points.
MARION CENTER 54, DUBOIS CENTRAL CATHOLIC 52; BISHOP CARROLL 66, DCC 28
MARION CENTER, Pa. – DuBois Central Catholic lost a pair of games at the Marion Center Tip-off Tournament Saturday.
In the first game of the day for the Lady Cardinals, Marion Center picked up the 54-52 win behind 18 points from Jerzy Coble and 16 from Laney Monroe, who was 10-for-10 from the free-throw line.
Martina Swalligan paced DCC with 16 points with Shay Gulvas adding nine tallies.
In the nightcap, Bishop Carroll got 17 points from Mara Yahner and 13 from Savannah Smorto to pick up a 66-28 win over the Lady Cardinals.
Gulvas paced DCC with eight points with Swalligan adding seven.
MERCER 52, PORT ALLEGANY 33
SHEFFIELD, Pa. – Despite 11 points and four assists from Bre Garzel, Port Allegany fell to Mercer, 52-33, in the championship game of the Sheffield Sports Boosters Tip-off Classic.
Shannon Curfman added 10 points and seven boards for the Lady Gators. Cailey Barnett grabbed six boards, assisted three and had a pair of points. Evin Stauffer chipped in six tallies.
YOUNGSVILLE 34, SHEFFIELD 20
SHEFFIELD, Pa. – Sadie Hoffman scored 12 points to lead Youngsville to a 34-20 win over Sheffield in the consolation game of the Sheffield Boosters Tip-off Tournament.
Alyssa Dunham paced Sheffield with six points.
ST. MARYS 49, COUDERSPORT 27
KANE, Pa. – Behind 23 combined points from Lauren Eckert and Kyla Johnson, St. Marys won the Kane Tip-off Tournament with a 49-27 victory over Coudersport.
Eckert had a team-high 13 points including three 3-pointers for the Lady Dutch while Johnson added 10 points. Allison Schlimm netted nine points and Samantha Haynes chipped in six.
Rosalyn Page paced the Lady Falcons with nine points and Sarah Chambers had eight points while going 4-for-4 at the line.
KANE 55, JOHNSONBURG 24
KANE, Pa. – Emily Bucheit's 19 points helped Kane earn a 55-24 victory over Johnsonburg in the Kane Tip-off Tournament consolation game.
Sierra Hillman and Ainsley Sof each added eight points for the Lady Wolves. Hannah Brown chipped in six tallies.
The Ramettes were paced by Kaci Stelene, who had a team-high 12 points.
CENTRAL-MARTINSBURG 50, BRADFORD 35
HOLLIDAYSBURG, Pa. – Kylie Metzger netted 18 points to lead Central-Martinsburg over Bradford, 50-35, in the consolation game of the Hollidaysburg Tip-off Tournament.
Erin Brumbaugh added nine points for the Lady Dragons with Bailey Heusten and Jaida Oakes each chipping in six.
The Lady Owls were 11-for-13 from the line and were paced by Hannah Lary's 15 points (6-for-7 at the line) and Erica Marshalls' 13 points (5-for-6)
REYNOLDS 47, UNION 44
RIMERSBURG, Pa. – Halle Murcko scored 23 points to lead Reynolds past Union, 47-44, on the second day of the Union Tip-off Classic.
Mackenzie Herman added 12 points for the Lady Raiders, who led 41-24 after three quarters but had to hold off a strong fourth-quarter push by Union/
Dominika Logue paced the Golden Damsels with 15 points, including 11 in the fourth quarter, while Maggie Minick added 10 tallies.
RIDGWAY 39, COMMODORE PERRY 23
RIMERSBURG, Pa. – Thanks to 17 points from Christina Fullem, Ridgway topped Commodore Perry, 39-23, in the consolation game of the Union Tip-off Classic.
Gabby Rohr netted 10 points for the Lady Elkers with Carly Thomas adding six.
Brooke Shruck paced Commodore Perry with eight tallies.
WELLSVILLE (N.Y.) 38, NORTHERN POTTER 20
WESTFIELD, Pa. – Marley Adams tallied 16 points to help Wellsville defeat Northern Potter, 38-20, in the Jack Bush Tournament at Cowanesque Valley consolation game.
Courtney Martin paced the Lady Panthers with eight points.
HEMPFIELD 60, KEYSTONE 38
SLIPPERY ROCK, Pa. – Behind 22 Sarah Liberutore points, Hempfield took the consolation game of the Slippery Rock Tip-off Tournament with a 60-38 victory over Keystone.
Emma Hoffner netted 11 points for the Lady Spartans with Olivia Persin and Makayla Lander each adding six.
Danae Hurrelbrink paced the Lady Panthers with nine points. Natalie Bowser and Emily Lauer each netted eight tallies.