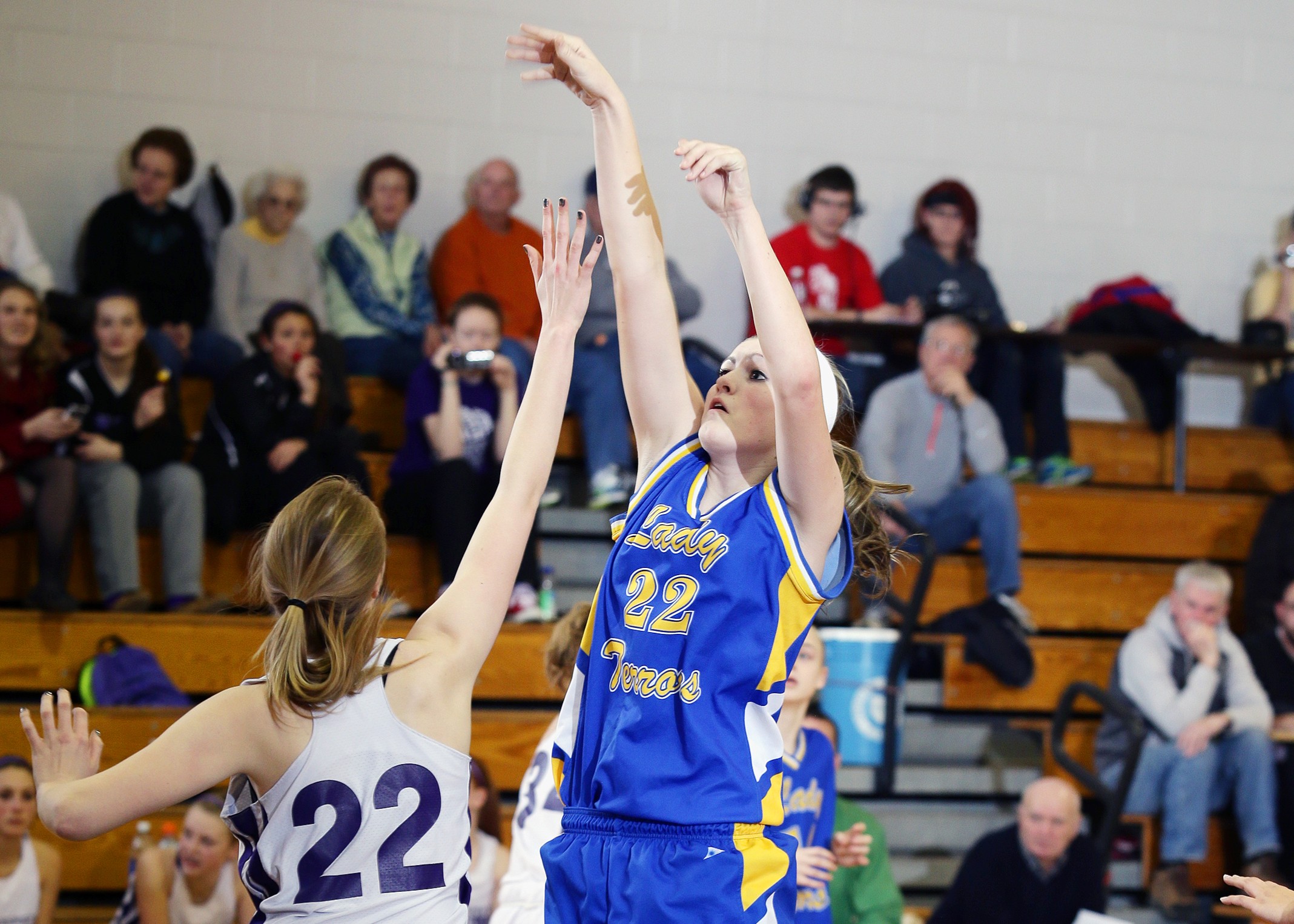 OTTO-ELDRED 43, EISENHOWER 38
EISENHOWER, Pa. – Camryn Thomas had 11 points and 14 rebounds to lead visiting Otto-Eldred to a 43-38 win at Eisenhower Wednesday night.
Kylie Stuck added nine for the Lady Terrors
Mallory Trumbull led all scorers with 16 points for Eisenhower, which tailed 34-20 going to the fourth quarter but outscored Otto 18-9 in the quarter.
The Lady Terrors started quickly and led 11-2 at the end of the first quarter and 21-12 at halftime thanks to six points from Thomas.
CLARION 48, VENANGO CATHOLIC 34
See full game story on ExploreClarion.com
CLARION, Pa. – Anna Reed scored a career-high 22 points to go with seven rebounds and five steals, as Clarion toppled Venango Catholic, 48-34, in the KSAC North opener for both teams Wednesday night at Clarion.
Sophie Wolf added 11 points and Kelly Beveridge 10 for the Lady Cats, who led 26-12 at halftime and held Venango Catholic to 4 of 22 shooting in the opening half.
Ava Homan paced the Lady Vikings with 22 points, 17 after the break, and 10 rebounds.
KANE 76, SHEFFIELD 9
KANE, Pa. – Trinity Clark and Sydney Dyne combined to score 43 points, as Kane rolled past visiting Sheffield 76-9 in AML play Wednesday.
Clark scored a game-high 23 points while adding 11 rebounds, and Dyne netted 20 points to go with eight steals and six assists. Ella Marconi chipped in 10 points and 10 rebounds, and Camryn Cummings had four points, seven steals and five assists.
Kane led 25-2 at the end of the first quarter and 51-5 at halftime.
REDBANK VALLEY 42, UNION 36
RIMERSBURG, Pa. – Brooke Hinderliter scored 13 points and Macy King added 12 points and nine rebounds to help Redbank Valley hold off Union, 42-36, in the KSAC South opener for both teams Wednesday.
"Union put a lot of pressure on Brooke and Becca (Dougherty)," Redbank Valley head coach Amy Twigg said. "The other girls stepped up with seven girls scoring tonight."
King scored six of her points in the third quarter helping the Lady Bulldogs outscore Union 15-11 in the quarter and break a 17-all halftime tie.
Lexey Shick had a big game for Union with 23 points, including five 3-pointers. Shaley Shick added seven tallies.
Redbank had control early and led 10-4 at the end of the first quarter only to see Union rally in the second quarter behind a pair of Lexey Shick 3-pointers to tie the game at 17 at the break.
ELK COUNTY CATHOLIC 49, JOHNSONBURG 33
ST. MARYS, Pa. – Reilly Herzing scored 17 points and hauled in 12 rebounds to lead Elk County Catholic to a 49-33 win over visiting Johnsonburg Wednesday.
Cassidy Cunningham added 10 points and seven steals for the Lady Crusaders, while Josie Smith also scored 10 points.
Nicole Myers led Johnsonburg with 12 points.
ECC led by five, 22-17, at halftime but outscored Johnsonburg 13-6 in the third quarter thanks to six points each from Cunningham and Herzing.
MONITEAU 57, A-C VALLEY 25
WEST SUNBURY, Pa. – Alazia Greaves and Kristina DeMatteis led Moniteau to a 57-25 win over A-C Valley in the KSAC South opener for both squads Wednesday night at Moniteau.
Greaves recorded a double-double with 18 points and 11 rebounds, while DeMatteis had a game-high 19 points. Sara Hull chipped in with seven points and nine rebounds.
The Lady Warriors outscored A-C Valley 18-2 in the first quarter thanks to nine points from DeMatteis and led 32-13 at halftime.
Ellie Thompson led A-C Valley with 18 points.  
CAMERON COUNTY 57, AUSTIN 17
AUSTIN, Pa. – Madison Harrier scored 19 points and Madi Guisto added 14, as visiting Cameron County rolled to a 57-17 win over Austin in North Tier League action Wednesday.
Harrier scored six of her points in the first quarter with Guisto adding five in the frame helping the Lady Raiders to a 13-4 lead at the end of one.
That lead grew to 32-7 at halftime.
Jordan Brewer and Rylee Hooftallen each scored four to lead Austin.  
NORTH CLARION 65, CRANBERRY 38
FRILLS CORNERS, Pa. – Tori Obenrader recorded her first triple-double of the season, and Abbie Schmader added a double-double to lead North Clarion to a 65-38 win over visiting Cranberry in KSAC North play Wednesday night.
Obenrader had 10 points, 14 rebounds and 10 assists, while Schmader added a game-high 18 points to go with 12 rebounds and five steals.
Cassie Wagner also reached double digits in scoring for North Clarion with 12 points, and Michaela Higgins added nine.
Morgan Powers led Cranberry with eight points with Hannah Duncan and Bree Swartzfager each adding seven.
North Clarion led 35-22 at halftime thanks to 10 points from Schmader and Wagner. Obenrader carried the load late with six of her tallies coming in the fourth quarter.  
FOREST AREA 34, CLARION-LIMESTONE 25
TIONESTA, Pa. – Morgan Silvis had 15 points and 12 rebounds to lead Forest Area to a 34-25 win over visiting Clarion-Limestone in KSAC North action Wednesday night at West Forest.
Silvis hit on 5 of 13 shots from the field and 5 of 11 free throws on her way to the game-high performance.
Bianca Hetrick added six points and seven boards for the Fires, while Taylor Johnson also scored six points.
Josie Stitt and Paige Aaron each scored seven to lead C-L.
WARREN 53, BRADFORD 35
BRADFORD, Pa. – D.J. Hahn had 13 points and 10 rebounds to lead visiting Warren to a 53-35 win at Bradford Wednesday night.
Bri Wells paced the Lady Owls with 11, while Kam Piscitelli added seven.
Paige Wilson also scored 13 for the Lady Dragons.