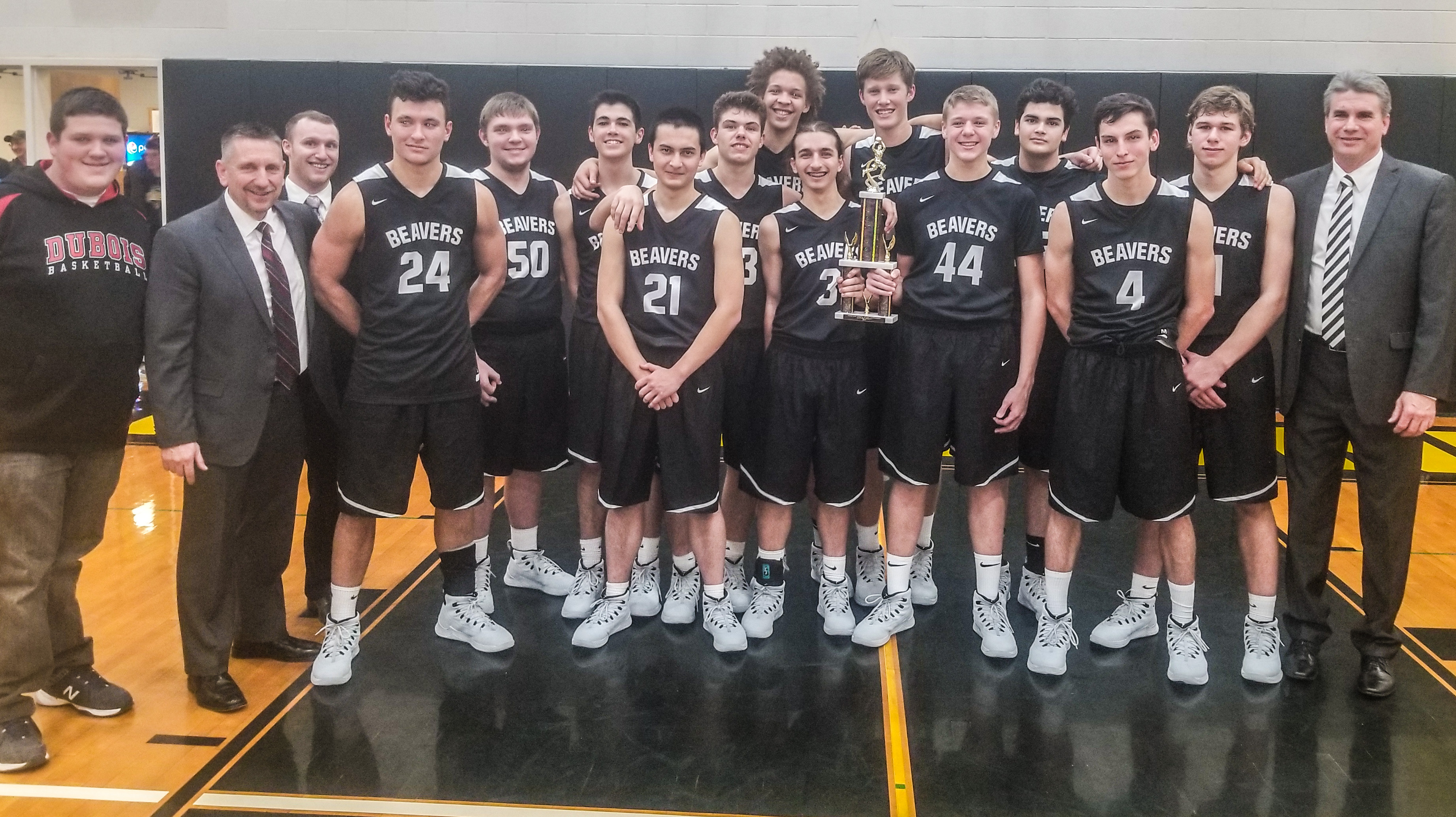 Dec. 9 boys' basketball recaps.
DUBOIS 51, ST. MARYS 47
KNOX, Pa. – Behind Justin Manduley and Chase Husted DuBois overcame a slow start to beat St. Marys, 51-47, in the championship game of the Keystone Tip-Off Tournament.
The Beavers trailed by nine on a couple of occasions in the first half and were down seven. 15-8, at the end of the first quarter before outscoring St. Marys 34-17 in the middle two quarters to take a 42-32 lead going to the fourth.
The Dutch fought back in the final eight minutes and had a chance to take the lead, down two, 49-47, when Nathan Schneider got an open look from the top of the 3-point circle. But his shot was too strong, and DuBois hit a pair of free throws to seal the win.
Manduley led the Beavers with 14 points with Husted, who was named tournament MVP, completing his second double-double in as many nights with 11 points and 10 rebounds.
Schneider led St. Marys with 16 points despite sitting out a large chunk of the first half in foul trouble. Austin Goodrow added eight tallies.
Kenny Garvey talks about DuBois' win
KEYSTONE 49, CLARION 48
KNOX, Pa. – Ian Henry's transition basket with 23 seconds left lifted Keystone to a 49-48 win over Clarion in the consolation game of the Keystone Tip-Off Tournament.
Henry talks about the win
The Bobcats, which lost a pair of one-point games in the tournament, had a pair of shots at the end of the game but couldn't get one to fall.
It was a balanced offensive effort for Keystone, which overcame an early 14-4 hole, with eight different Panthers scoring led by 12 points apiece from Brooks LaVan, who added six rebounds, and Dalton Jones. Corey Rapp chipped in 11 points and seven boards.
Cam Craig led Clarion with 18 points and four rebounds, while Austin Hummell had a double-double with 12 points and 11 boards.
A-C VALLEY 55, SAEGERTOWN 48
FOXBURG, Pa. – Behind 12 points, eight rebounds and three steals from Jeff Ginn, A-C Valley grabbed its first win of the season, 55-48 over Saegertown, in the A-C Valley's Hoops For Heroes Classic.
Dalton Callander and Russ Carr each added 11 points for the Falcons, while freshman Eli Penny came off the bench to provide a spark with eight points.
PURCHASE LINE 79, KARNS CITY 60
FOXBURG, Pa. – Melvin Sanchez scored 28 points and Shamar Campbell added 23 to lead Purchase Line to a 79-60 win over Karns City in the A-C Valley Hoops for Heroes Classic.
Jacob Friel had 14 points and eight rebounds for Karns City, while Chase Beighley scored 12 points and Nathan Waltman 11.
ALLEGANY-LIMESTONE (N.Y.) 50, SMETHPORT 38
ALLEGANY, N.Y. – Sam Flanders netted a game-high 20 points to lead host Allegany-Limestone (N.Y.) to a 50-38 win over Smethport in the Shootout at the Swamp.
Caleb Lutz paced Smethport with 11 points.
BROOKVILLE 48, BROCKWAY 46
BROOKVILLE, Pa. – Tournament MVP Aaron Park scored a career-high 26 points and grabbed 12 rebounds to lead the hosts to their first tip-off tournament title since 2011 with a hard-fought 48-46 win over Brockway Saturday night.
The Raiders trailed 42-39 with 4:50 left in the game, but a 6-2 run put them up for good with Trenton Gilhousen's putback giving them a 45-44 lead with 3:21 left.
The Raiders tacked on another point with Bryan Dworek's free throw with 15.7 seconds left, but the Rovers misfired twice on possessions that could've tied or won the game at the end, first a turnover and then Carter Adams' 30-foot 3-point attempt just before the final buzzer.
Adams scored 17 points and Noah Vokes finished with 12 points for the Rovers, both of them making the all-tournament team.
Gilhousen, the Raiders' other all-tourney player, scored nine points with six rebounds and Dworek added eight points.
UNION 45, MONITEAU 39
BROOKVILLE, Pa. – Lucas Bowser scored 26 points and collected 14 rebounds to lead Union to a 45-39 consolation game win over Moniteau at the Brookville Tip-Off Tournament Saturday afternoon.
The Knights jumped out to a 12-0 lead to start the game, but Moniteau climbed back into things and led as late as 39-37 with 2:40 left. That was the last points the Warriors scored as Union closed with a 8-0 run, started by a Bowser 3-pointer.
Bowser earned all-tournament honors while Reice Saylor reached double figures with 11 points and six rebounds. Hunter Johnston had six points and seven rebounds.
Jared Lominski scored 10 points and added 10 rebounds for a double-double effort. He was Moniteau's all-tourney selection.
COWANESQUE VALLEY 58, OSWAYO VALLEY 41
WESTFIELD, Pa. – Three Cowanesque Valley players reached double digits to help the Indians to a 58-41 win over Oswayo Valley in the championship game of the Jack Bush Tip-Off Tournament at Cowanesque Valley.
Tyler Vargeson led the home squad with 16 points, including 13 in the first quarter, while Seth Hulyer scored 14 and Christian Kemp 10.
Theo Henry led all scorers with 17 for Oswayo Valley with Gavin Babcock chipping in 10.
BUCKTAIL 56, NORTHERN POTTER 53
WESTFIELD, Pa. – Tony Pentz and Liam Dwyer each scored 15 points to help Bucktail rally past Northern Potter, 56-53, in the consolation game of the Jack Bush Tip-Off Tournament at Cowanesque Valley.
Bucktail trailed, 48-37, going to the fourth quarter but outscored Northern Potter, 21-8, in the final eight minutes to get the win with Dwyer scoring nine points in the quarter.
Holden Cowburn led all scorers with 18 points for the Panthers with Carter Anderson adding 15.
PUNXSUTAWNEY 58, JOHNSONBURG 51
DUBOIS, Pa. – Brandon Matthews earned tournament MVP honors with a 14-point, 14-rebound effort that lifted Punxsutawney to a 58-51 win over Johnsonburg in the championship game of the DuBois Central Catholic Tip-Off Tournament.
Isaac Stouffer added eight points and 15 rebounds for the Chucks, while Tyler Richardson had a team-high 15 points and Ethan Blose chipped in with 10.
Kacey Raubenstrauch paced Johnsonburg with 15 points with Austin Green adding 13.
DUBOIS CENTRAL CATHOLIC 64, MARION CENTER 59
DUBOIS, Pa. – Justin Miknis had 31 points and 14 rebounds to lift DuBois Central Catholic to its first win of the year thanks to a 64-59 victory over Marion Center in the consolation game of the DuBois Central Catholic Tip-Off Tournament.
Thomas Grecco added 12 points and Brandon Walker nine for the Cardinals.
AUSTIN 69, YOUNGSVILLE 56; AUSTIN 63, FOREST AREA 53; YOUNGSVILLE 61, FOREST AREA 36
MARIENVILLE, Pa. – Austin matched its win total from last year in one day winning a pair of games at the Forest Area Tip-Off Tournament at East Forest.
The Panthers beat Youngsville, 69-56, and then came back and topped the host Fires, 63-53. Youngsville then made it a split beating Forest Area, 61-36.
In the Austin/Youngsville game, Blake Burgett had 18 points and Jackson Glover 16 for Austin with Mason Valenti chipping in 13 points. Dasan McAvoy paced Youngsville with 12 points.
Turning right around to play Forest Area next, Dempsey Glover had 20 points and 15 rebounds with Jackson Glover adding 12 points and nine rebounds to give Austin the win. Garrett Rees (13 points) and Burgett (10 points) also reached double digits for the Panthers. Seth Berlin had 18 points and 12 rebounds for Forest Area with Jarrett Kahle adding four points and 11 rebounds.
In Youngsville's win over Forest Area, Timber Bower scored a game-high 16 points with Joe Mack adding 10. Berlin paced the Fires with 13 points and 15 rebounds.
GROVE CITY 69, CLARION-LIMESTONE 45
GROVE CITY, Pa. – Thanks to 23 points from Shawn Lutz, Grove City topped Clarion-Limestone, 69-45, in the Kiser Classic at Grove City.
Deon Deas led C-L with 14 points and Ian Callen and Christian Smith each scored 12.
MERCER 53, BRADFORD 39
NEW BETHLEHEM, Pa. – Bradford shot just 29 percent from the field in losing the title game of the Redbank Valley Tip-Off Tournament, 53-39, to Mercer.
James Amon led Mercer with 12 points with Brian Sheritz adding 11.
Deondre Terwilliger paced Bradford with 11 tallies and Tyler Gigliotti added 10.
WEST SHAMOKIN 64, REDBANK VALLEY 41
NEW BETHLEHEM, Pa. – Cavson Dewitt exploded for 26 points to lead West Shamokin to a 64-41 win over Redbank Valley in the consolation game of the Redbank Valley Tip-Off Tournament.
Drew Orlocky added 15 points for the Wolves.
Tanner Kerle paced Redbank Valley with 12 points.
CRANBERRY 62, VENANGO CATHOLIC 48
FRANKLIN, Pa. – Dan McQuaide poured in a game-high 21 points to lift Cranberry to a 62-48 win over Venango Catholic in the consolation game of the Roy Sanner Tip-Off Tournament at Rocky Grove.
Matt Meehan and Matt McQuaide each added 12 points for the Berries.
Josh Puleo paced Venango Catholic with 18 points, Ben Gillispie chipped in 14 and Parker Slagle 10.
NORTH CLARION 83, PORT ALLEGANY 35
SHEFFIELD, Pa. – Led by a career-high 19 points from Tyler McCord-Wolbert, North Clarion put all 12 players into the scoring column in running away with the Sheffield Sports Boosters Tip-Off Classic title, 83-35 over Port Allegany.
Nathan Banner added 18 points while being named to the All-Tournament team, and Korey Mills chipped in with 10. The Wolves also got all-around efforts from Keeven Weaver (6 points, 8 steals, 7 rebounds), Matson Higgins (5 points, 5 assists and 4 steals) and Noah Meyers (4 points and 8 rebounds).
Howie Stuckey led Port Allegany with 15 points and David Talkington added 10.
JAMESTOWN 52, SHEFFIELD 43
SHEFFIELD, Pa. – Austin Smith netted 16 points to help Jamestown to a 52-43 win over Sheffield in the consolation game of the Sheffield Sports Boosters Tip-Off Tournament.
Cale Albaugh had a double-double for Sheffield with 13 points and 10 rebounds while adding five steals and four assists. Matt Dunham chipped in 15 points and four steals, and Luke Davidson had 10 rebounds.