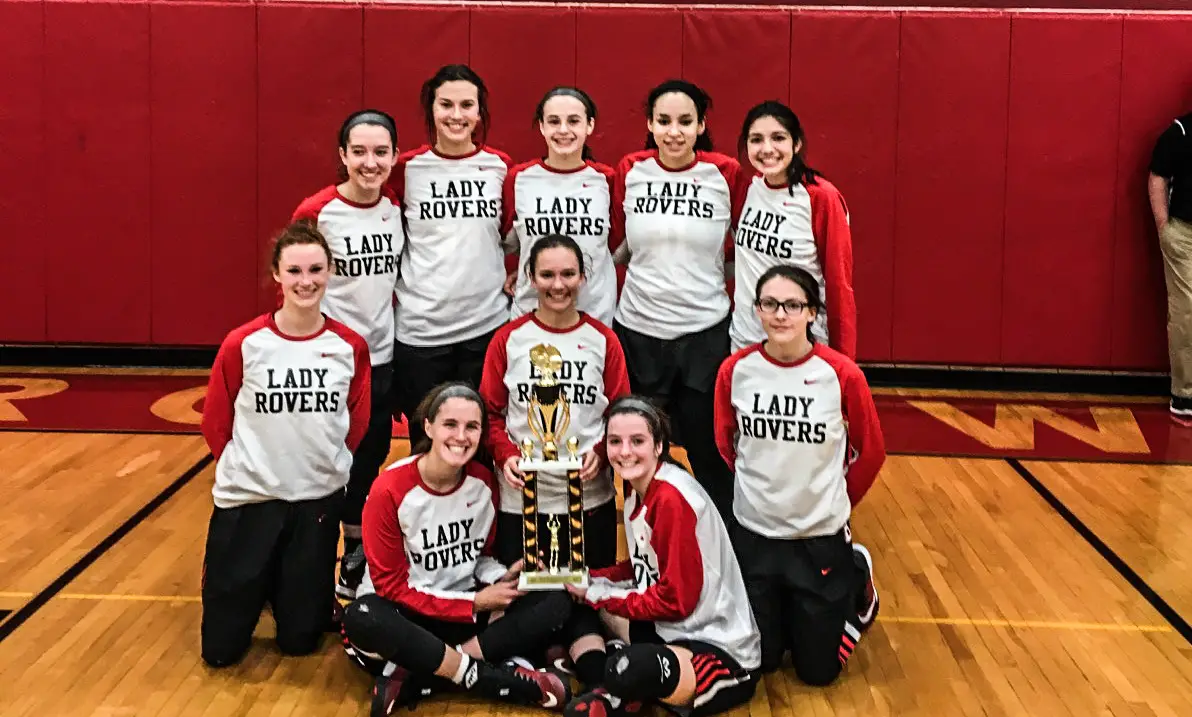 Dec. 9 girls' basketball recaps.
BROCKWAY 54, CLARION 44
BROCKWAY, Pa. – Kate Morelli had a double-double with 19 points and 10 rebounds as Brockway captured the Brockway Tip-Off Tournament title for the first time since the 1999-2000 season with a 54-44 win over Clarion.
Leah Lindemuth led the Lady Rovers in scoring with 22 points while adding six rebounds and five steals, and Shaughney added six points and nine rebounds.
Wendy Beveridge had 18 points to lead Clarion with Kate Constantino chipping in 14 tallies.
REDBANK VALLEY 48, DUBOIS CENTRAL CATHOLIC 47
BROCKWAY, Pa. – Tara Hinderliter scored 22 points, including four in overtime, as Redbank Valley outlasted DuBois Central Catholic, 48-47, to give first-year head coach Chris Edmonds his first win.
The game was tied at 37 at the end of regulation after the Lady Bulldogs rallied from a six-point deficit, 28-22, entering the fourth quarter and a nine-point, 19-10, halftime deficit.
Hinderliter played a big role in the comeback hitting three second-half 3-pointers and scoring all but four of her points after the break. Emma Huffman also nailed a key 3-pointer in overtime.
Shay Gulvas had a team-high 20 points for DCC.
NORTH CLARION 63, BROOKVILLE 48
BROOKVILLE, Pa. – Repeating a title from last year, North Clarion won the Brookville Tip-Off title and was led by the same tournament MVP in Tori Obenrader in a 63-48 win over the hosts Saturday night.
Obenrader blasted her way to an impressive 33 points, 23 rebounds and five assists as the She-Wolves erased Brookville's 15-14 first-quarter lead and pulled away for the win. She and teammate Abby Gatesman, who scored 15 points and grabbed 10 rebounds, were all-tournament selections.
Marcy Schindler led Brookville with 18 points and Morgan Johnson had 10 points. Both were all-tournament picks.
CLEARFIELD 60, CLARION-LIMESTONE 19
BROOKVILLE, Pa. – Putting three players in double-figure scoring, Clearfield routed C-L, 60-19, in the Brookville Tip-Off Tournament consolation game Saturday afternoon.
Alayna Ryan, Nicki Brossard and Brooke Cline scored 15, 12 and 10 points respectively. The Lady Bison led 35-3 at halftime and 50-15 after three quarters before enacting the PIAA Mercy Rule running clock in the fourth quarter.
Anna Kennemuth scored nine points to lead C-L.
KANE 45, COUDERSPORT 42
COUDERSPORT, Pa. – Ellam Marconi scored 17 points, grabbed eight rebounds and blocked three shots to help Kane to the championship of the Coudersport Tip-Off Tournament with a 45-42 win over the host Lady Falcons.
Rachael Morgan added 16 points and seven rebounds for the Lady Wolves, while Trinity Clark had seven points and 10 boards and Hanna Buhl five points and five assists.
Haley Keck, fresh off scoring her 1,000th career point Friday night, led all scorers with 20 points for Coudersport.
ST. MARYS 39, JOHNSONBURG 37
COUDERSPORT, Pa. – Behind 18 points from Becca Bauer, St. Marys topped Johnsonburg, 39-37, in the consolation game of the Coudersport Tip-Off Tournament.
Maria Jones had 12 points to lead Johnsonburg.
NORTHERN POTTER 41, WYALUSING 27
WESTFIELD, Pa. – Northern Potter used a balanced effort to top Wyalusing, 41-27, in the consolation game of the Jack Buck Tournament at Cowanesque Valley.
Jenna Hyde and Abbi Anderson tied for the team lead in scoring with 10 points each, while Kalie Cowburn had nine points and 12 rebounds, Mikayla Lewis eight points and 11 boards and Becca Morgan four points and eight assists.
FOREST HILLS 46, PUNXSUTAWNEY 34
SIDMAN, PA. – Carly Stigers netted 16 points to help Forest Hills to a 46-34 win over Punxsutawney in the consolation game of the Forest Hills Tip-Off Tournament.
Leah Miller paced Punxsutawney with 10 points and 19 rebounds.
CENTRAL-MARTINSBURG 66, BRADFORD 43
HOLLIDAYSBURG, Pa. – Cassie Mock and Kylie Metzger each scored 16 points to lead Central-Martinsburg to a 66-43 win over Bradford in the consolation game of the Hollidaysburg Tip-off Tournament.
Hannah Larry led Bradford with 17 points with Brinya Moffett adding eight tallies.
KARNS CITY 62, JOHNSTOWN 48
INDIANA, Pa. – Emily Hegedus and Livia Andreassi combined to score 41 points, as Karns City gave first-year head coach Steve Andreassi his first win as the girls' coach at the school, 62-48 over Johnstown, in the consolation game of the Indiana Tip-Off Tournament.
Hegedus led the way for Karns City with 22 points, while Livia Andreassi added 19 for her dad's squad. Alyssa Stitt chipped in 10 points and Sarah Knox nine for the Lady Gremlins.
DUBOIS 39, SALTSBURG 31
MARION CENTER, Pa. – Ashley Hallowell had 12 points and 14 rebounds to help DuBois to its first win of the season, 39-31 over Saltsburg, in the consolation game of the Marion Center Tip-Off Tournament.
The Lady Beavers trailed, 19-18, at halftime but outscored Saltsburg, 21-12, in the second half including 8-2 in the third quarter.
Chelsea DeSalve also scored 12 points for DuBois
CRANBERRY 56, ROCKY GROVE 21
FRANKLIN, Pa. – Malliah Schreck poured in 20 points to help Cranberry to a 56-21 win over Rocky Grove in the Roy Sanner Tip-Off Classic at Rocky Grove.
Erin Merryman added nine points for the Berries with Ava Ferringer chipping in seven.
Mariah Vincent led Rocky Grove with eight points.
COMMODORE PERRY 40, UNION 28
FRANKLIN, Pa. – Kate Wilkose paced a balanced effort with 12 points, as Commodore Perry topped Union, 40-28, in the Roy Sanner Tip-Off Classic at Rocky Grove.
Frankee Remmick led all scorers with 21 points for Union, who had scoring from just three players.
PORT ALLEGANY 49, YOUNGSVILLE 40
SHEFFIELD, Pa. – Cailey Barnett exploded for 27 points to lead Port Allegany to a 49-40 win over Youngsville in the Sheffield Sports Boosters Tip-Off Classic.
Jenna Sprankle chipped in with six points for the Lady Gators.
EISENHOWER 38, SHEFFIELD 32
SHEFFIELD, Pa. – Emiley Wheeler scored 19 points to lift Eisenhower to a 38-32 win over Sheffield in the Sheffield Sports Boosters Tip-Off Classic.
Lexi Lyon paced Sheffield with 16 points.
MARS 72, KEYSTONE 50
SLIPPERY ROCK, Pa. – Despite 27 points and nine rebounds from Taylor Geer, Keystone dropped a 72-50 decision to Mars in the consolation game of the Slippery Rock Tip-Off Tournament.
McKenzie Hovis added 12 tallies for the Lady Panthers, while Lauren Wasylson led Mars with 20 points.
PANAMA (N.Y.) 57, MONITEAU 40
WARREN, Pa. – Izzy Bair had nine points and 13 rebounds in a losing effort, as Moniteau dropped a 57-40 decision to Panama (N.Y.) at the Warren County Classic.
Emma Bair led the Lady Warriors with 13 points and five blocked shots, and Kristin Auvil chipped in 11 points.
A-C VALLEY 39, REYNOLDS 22
NEW WILMINGTON, Pa. – Ellie Thompson scored 24 of A-C Valley's 39 points, as the LAdy Falcons got win No. 1 on the season, 39-22, over Reynolds in the West Middlesex Kiwanis Tip-Off Classic.
Cami McNany added seven points for the Lady Falcons.
GALETON 44, WILLIAMSON 40
TIOGA, Pa. – Makaya Shadle had 21 points to lift Galeton to the championship of the Williamson Tip-Off Tournament with a 44-40 win over the hosts.
BUCKTAIL 58, AUSTIN 29
TIOGA, Pa. – Jordan Brewer scored 16 points but Austin lost a 58-29 decision to Bucktail in the consolation game of the Williamson Tip-Off Tournament.
Cerissa Glover and Angie Watson each chipped in six points for the Lady Panthers.