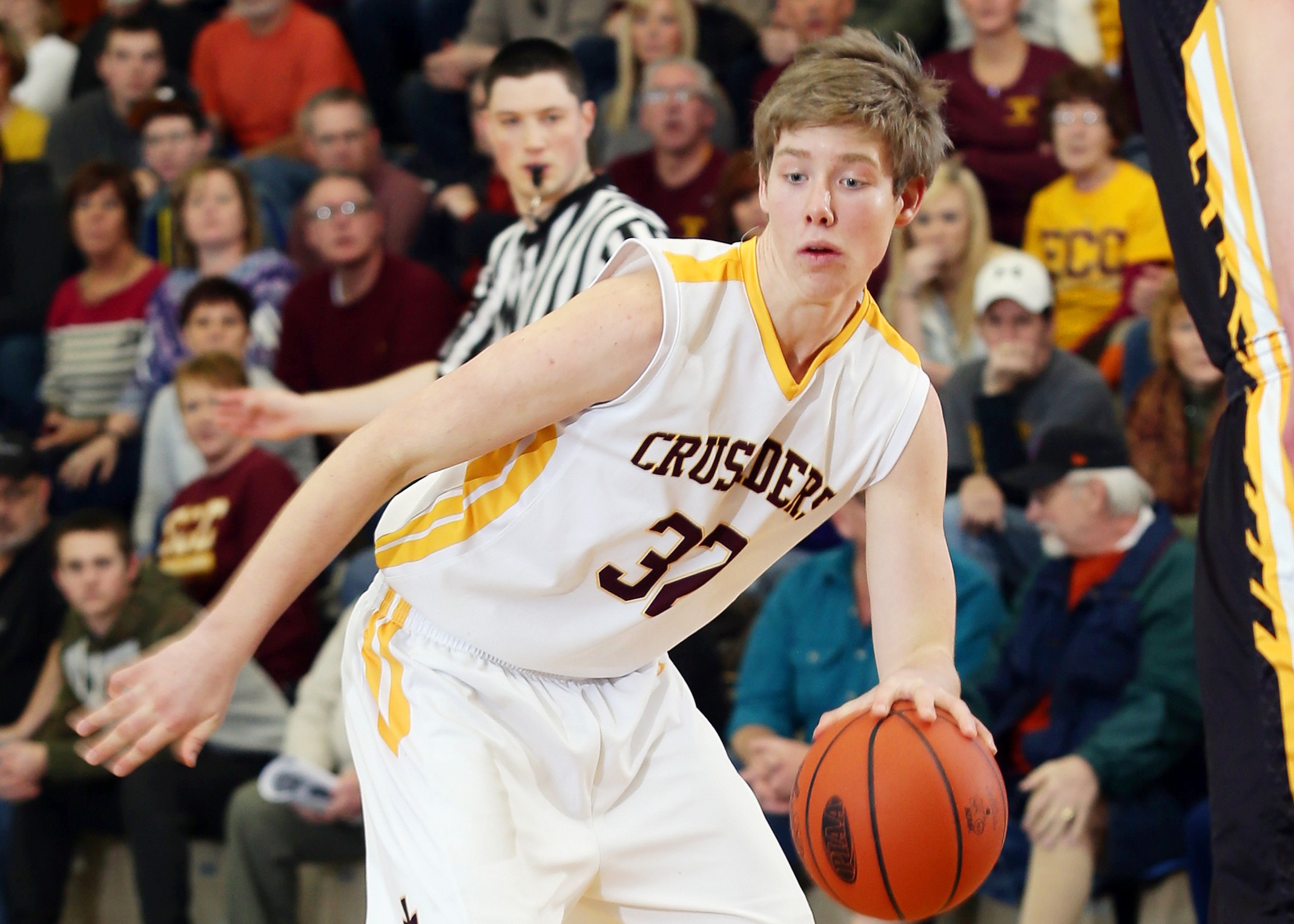 ELK COUNTY CATHOLIC 66, KANE 58
KANE, Pa. – Kyle Huff scored 23 points to lead Elk County Catholic to a hard-fought 66-58 win at Kane Friday night.
The Crusaders led by just six, 39-33, at halftime but scored the first 13 points of the second half to open up a 52-33 lead.
Nate DaCanal added 19 points for ECC.
Kane, however, just a week removed from most of its players playing football, answered back and ended the third quarter with a 9-2 spurt to get within 12, 54-42, at the end of the quarter.
Andrew Bucheit had a monster game for the Wolves with 25 points and 11 rebounds.
PUNXSUTAWNEY 66, BROOKVILLE 48
BROOKVILLE, Pa. – Dylan Huey's 14 points led a pack of five players in double figures as
the Punxsutawney Chucks improved to 4-0 with a D9 League road win, 66-48,
Friday night.
The Raiders (1-2) led the Chucks 24-20 with 5:04 left in the second quarter before
the Chucks finished the half on a 20-3 run for a 40-27 halftime lead. Ethan Riley
beat the first-half buzzer with a 3-pointer.
Ethan Riley and Jacob Horner each scored 11 points. Adding 10 rebounds off the
bench, Horner finished with a double-double. Brandon and John Matthews each scored
10 points. Devin Kelly had four points and nine rebounds.
Kurt Schindler and Ben Reitz scored 15 and 12 points respectively for the Raiders.
CLEARFIELD 77, HUNTINGDON 64
HYDE, Pa. – Will Myers, Tommy Hazel and Cody Spaid combined to score 62 points to lead Clearfield to a 77-64 Mountain League win over visiting Huntingdon Friday night.
Myers netted a game-high 26 points while connecting on four 3-pointers and hauling in eight rebounds, while Hazel had 20 points and nine rebounds and Spaid 16 points and 15 rebounds.
The game was tied at 39 at the half before the Bison outscored Huntingdon 24-10 in the third quarter thanks to 10 points from Myers.
CLARION-LIMESTONE 73, NORTH CLARION 48
Read full-game story at ExploreClarion.com
FRILLS CORNERS, Pa. – Dan Callen recorded a double-double with 20 points and 10 rebounds to lead visiting and unbeaten Clarion-Limestone to a 73-48 win at North Clarion Friday night.
The win, which ran C-L's win streak vs. District 9 opponents to 23 straight games, was fueled by a 33-3 first-half ending run that saw the Lions hold North Clarion without a basket for a stretch of just over 10 minutes.
"I was extremely pleased the way we played defensively," C-L head coach Joe Ferguson said. "That was actually one of the best quarters of defense I have seen, even with the teams I've had the last couple of years. As a team, and also with the rotation of players I put in, playing about 10 players during that run, I think they played some of the best defense I have seen for a while."
Callen added six assists and had three or four blocked shots as well, while Taylor Smith had 14 points and five boards for the Lions and Noah Rankin 10 points. Julian Laugand hauled down nine rebounds.
Zayn Hargenrader paced North Clarion with 17 points, including 12 in the second half.
DUBOIS CENTRAL CATHOLIC 48, BROCKWAY 37
DUBOIS, Pa. – Christian LaParne scored 16 points and Noah Pettenati 10 to lead DuBois Central Catholic to a 48-37 win over visiting Brockway in AML play Friday night.
DCC led by just two, 22-20, at halftime but outscored the Rovers 14-9 in the third quarter behind five points from LaParne and four from Joey Varischetti, who finished with eight points and 10 rebounds. LaParne picked up eight boards as did Thomas Grecco, while Justin Miknis had seven rebounds. Miknis also scored eight points hitting a pair of 3-pointers.
Corey Carr led Brockway with 15 points.
MONITEAU 45, KEYSTONE 34
WEST SUNBURY, Pa. – Derek Bobin, Jake Jewart and JJ Waid combined to score 30 of Moniteau's 45 points in a 45-34 win over visiting Keystone in KSAC South action Friday night.
Boben netted a game-high 11 points with Jewart adding 10 and Waid nine.
Austin Ion paced Keystone with 10.
UNION 62, KARNS CITY 49
KARNS CITY, Pa. – Cole Morris had 22 points, six rebounds, six assists and six steals to lead visiting Union to a 62-49 win at Karns City Friday night.
Lucas Bowser chipped in 15 points and seven boards for the Golden Knights, while Hank Murphy had 14 points.
Chandler Turner led Karns City, which was playing its season opener a week after finishing off its football season, with 17 points. Noah Pollock added 14.
The Gremlins actually started strong and led 17-11 at the end of the first quarter thanks to six points from Turner and five from Pollock.
But Union answered in the second quarter outscoring Karns City 19-9 behind eight points each from Murphy and Morris to take a 30-26 halftime lead then pulled away in the second half.
CLARION 47, CRANBERRY 43
CLARION, Pa. – Jonathan Smith netted a game-high 26 points to lead Clarion to a 47-43 win over visiting Cranberry in KSAC North action Friday night.
Ty Burford added nine points and Bo Miller six for the Bobcats.
Brendan Zerbe paced Cranberry with 16 points, eight in the fourth quarter, and Evan Lutz had 10.
REDBANK VALLEY 54, A-C VALLEY 41
NEW BETHLEHEM, Pa. – Sam Heeter led a foursome of Redbank Valley players in double figures with 21 points, as the Bulldogs dispatched of visiting A-C Valley, 54-41, in KSAC South action Friday night.
Heeter netted 17 second-half points helping Redbank Valley outscored the Falcons 32-21 after halftime.
Dalton Dougherty added 11 points for the Bulldogs with Greg Nolf and Kaleb Reed each scoring 10.
Austin Heeter paced A-C Valley with 12 points, 12 rebounds and four steals. John Anderson added eight steals and two points with Kody Wolf and Joe Manculich each scoring eight points.
BRADFORD 60, SMETHPORT 16
BRADFORD, Pa. – Andy Pantuso had 12 points, seven steals and four assists to lead Bradford to a 60-16 non-league victory over Smethport Friday night.
Eight different Owls scored in all with John Eakin adding nine points and Nate Higbie, Andrew Bacha and Tyler Nuzzo eight apiece.
Bradford led 32-6 at halftime.
Austin Crooks paced Smethport with seven points and Caleb O'Neal added five.
RIDGWAY 70, CURWENSVILLE 25
RIDGWAY, Pa. – Behind 36 combined points from Jeremy Breier and Johnny Mitchell, Ridgway rolled past visiting Curwensville 70-25 Friday night.
Breier netted a game-high 20 points, with 16 coming in the first half, while Mitchell scored 16 points, 10 after halftime.
Ridgway led 24-2 at the end of the first quarter and 44-8 at the half.
Noah Strickland led Curwensville with eight points with Jake Terry and RJ Olson each scoring four.
JOHNSONBURG 58, SHEFFIELD 41
SHEFFIELD, Pa. – Kevin Benson had 23 points and nine rebounds to pace visiting Johnsonburg to a 58-41 win at Sheffield.
Ryan Kilhoffer added 16 points for the Rams, while Logan Connolly had 15 points and seven boards.