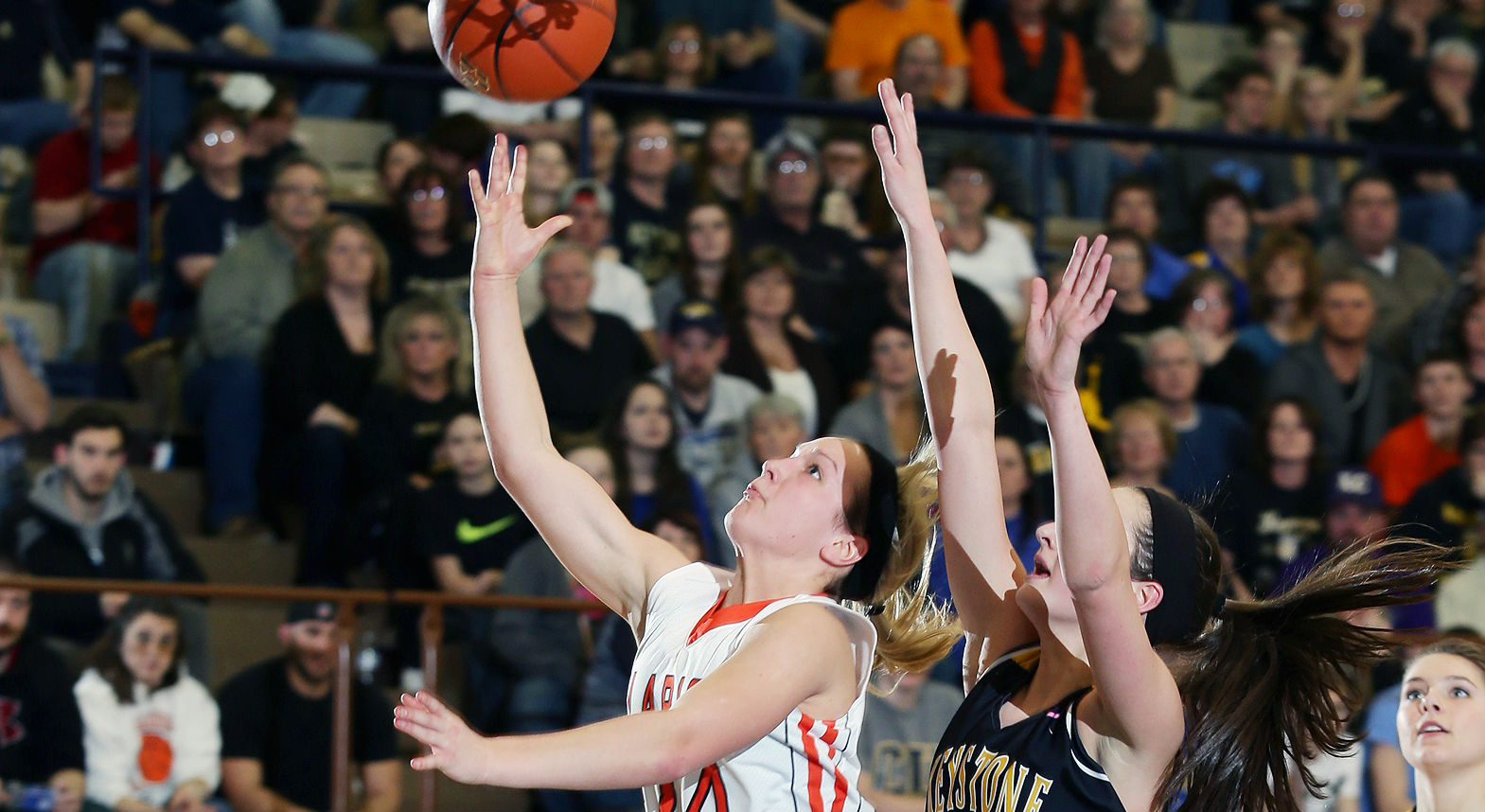 By Chris Rossetti
BROOKVILLE, Pa. – The defending champions are still alive.
Eleventh seeded but defending District 9 Class A champion Clarion knocked off third-seeded Keystone, 58-47, in the D9 Class A quarterfinals Friday night at Brookville High School.
In a rematch of 2014 championship game, Clarion (14-10) broke a 38-all tie with 8:15 to play with a 10-2 run and never led by less than six the rest of the play.
Maci Thornton, who scored a team-high 24 points, was fouled taking a 3-pointer at the horn at the end of the third quarter with the game tied at 38. Thornton calmly sank all three charity shots to give the Lady Cats a 41-38 lead. Thornton was then fouled 11 seconds into the fourth quarter and hit two more free throws to put Clarion ahead 43-38.
After Madison Johnson, who also scored 24 points, got Keystone back within three, 43-40, with a basket with 5:30 to play, Lauren Wiser hit her second 3-pointer of the game 20 seconds later to put Clarion up six, 46-40, and the lead grew to eight, 48-40, when Thornton, who was 15 of 17 from the free-throw line, hit two more charity shots with 3:53 left.
Johnson tried to keep Keystone alive connecting on a basket with 3:44 to play to cut the lead to 48-42 with 3:44 left.
But Clarion scored the next eight points by hitting 5 of 5 free throws to put the game away taking a 56-42 lead with 1:03 left.
Clarion also got a big game from Nicki Glenn, who scored 16 points including 12 in the first half. Glenn's 12 first-half tallies helped the Lady Cats stay in the game after Keystone jumped out to an early 11-4 lead.
After the initial surge by the Lady Panthers, Clarion righted the ship and trailed by four, 15-11, at the end of the first quarter and then scored 11 of the first 15 points of the second quarter thanks to five points from Glenn to go up 22-19 with 3:56 to play before halftime.
Keystone answered back thanks to four points each from Johnson and Amber Hess, who finished with 11, to take a 25-24 halftime lead.
Hess then scored the first five points of the second half for Keystone to push the lead to 30-26 before a Taylor Geer offensive putback made it 32-26 with 4:29 left in the quarter.
But 3-pointers by Thornton and Wiser helped stabilize things for Clarion cutting the Keystone lead back to two, 34-32, with 2:48 left in the third quarter, and a Glenn bucket off a Maddy Weaver pass with 51.5 seconds left in the quarter tied the game ta 36.
Johnson gave Keystone its last lead of the game with a bucket with 35.1 to go in the third quarter, but two Kelly Beveridge free throws with 15.6 seconds to play in the quarter retied the contest at 38.
Clarion then got the ball back, and Thornton heaved up a desperation three but was fouled by Josselin Geer at the horn starting the Lady Cats run.
The highest seed to reach the District 9 semifinals in the D9Sports.com era (boys or girls) since the 11th-seeded Austin girls made the semifinals in 2008, Clarion will take on seventh-seeded Cameron County in the semis at a site, time and date to be announced.
NOTES – It marked the fourth time in the last five years that Clarion and Keystone have met in the District 9 playoffs and the third time Clarion has won. The Lady Cats also knocked off the Lady Panthers in the 2011 quarterfinals, while Keystone beat Clarion in the 2012 title game … Clarion shot 17 of 36 for the game while Keystone was 19 of 52 … Clarion will try to become the first double-digit seed to make a District 9 title game since the 1999 Elk County Christian boys won the Class A title out of the 10th seed.
CLARION 58, KEYSTONE 47
Score by Quarters
Clarion 11 13 17 17 – 58
Keystone 15 10 13 9 – 47
Clarion – 58
Julie Kenneson 0 0-0 0, Gloria Kroh 1 0-0 2, Kelly Beveridge 0 2-2 2, Maddy Weaver 1 0-1 2, Anna Reed 1 2-5 4, Lauren Wiser 3 0-0 8, Nicki Glenn 7 0-0 16, Maci Thornton 4 15-17 24. Totals 17 19-25 58.
Keystone – 47
Kaci Weaver 1 0-1 2, Taylor Geer 2 0-0 4, Amber Hess 3 3-4 11, Josselin Geer 0 0-0 0, Shayla Chapman 1 1-2 4, Alyssa Beichner 1 0-0 2, Madison Johnson 11 2-2 24. Totals 19 6-9 43.
Three-pointers – Clarion 5 (Wiser 2, Glenn 2, Thornton). Keystone 3 (Hess 2, Chapman).