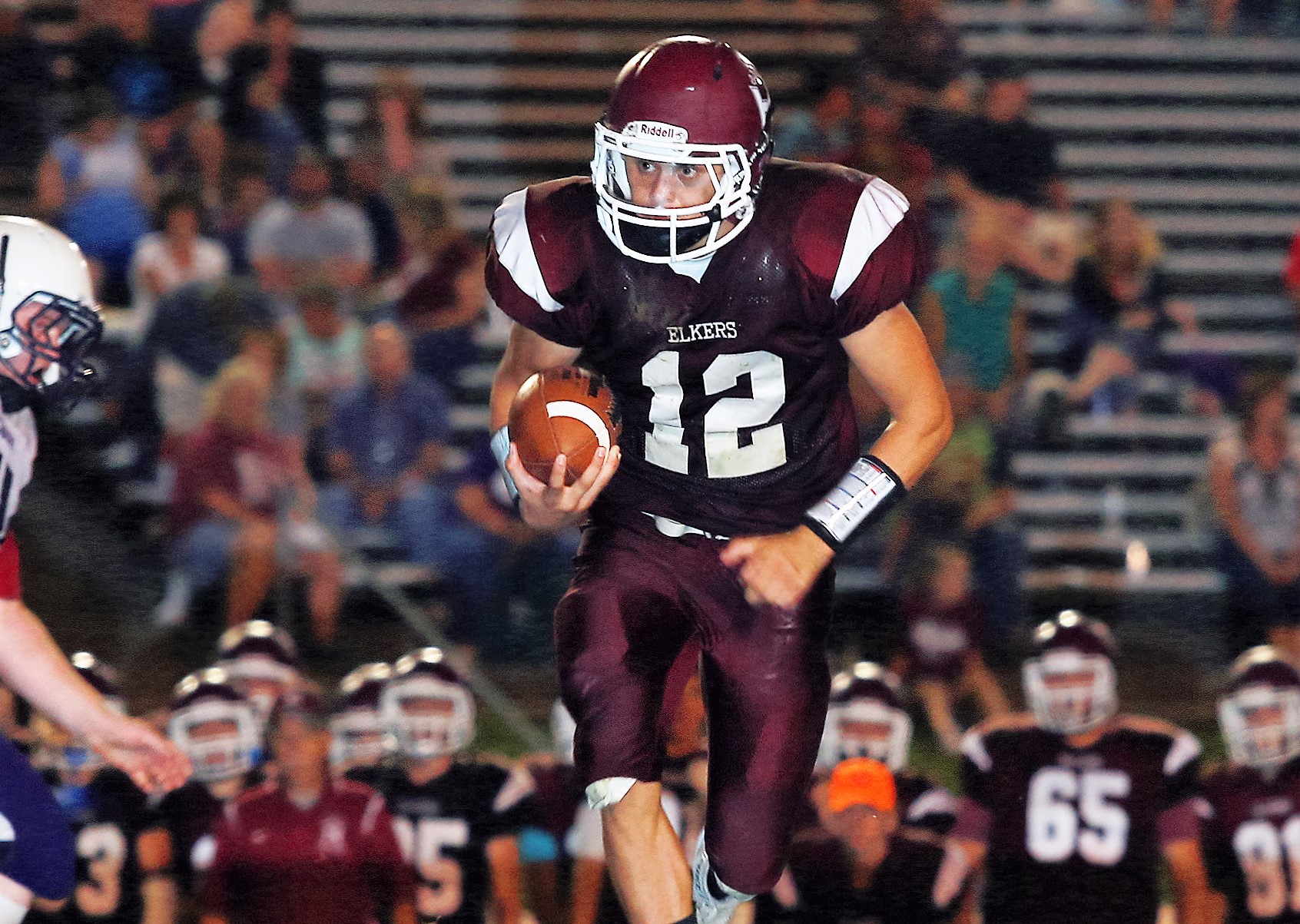 By Chris Rossetti
DUBOIS, Pa. – Defense has been the name of the game all season for the Ridgway Elkers, and Saturday was no exception.
(Cover photo of Ridgway's Johnny Mitchell. Photo by Paul Burdick. Check out more of Burdick's work here)
For the second time this season, top-seeded Ridgway (9-2) completely bottled up third-seeded Curwensville's rushing attack and limited the Golden Tide (6-5) to 112 total yards including 60 yards rushing on 29 carries in a 33-0 shutout win.
"One word, they trust each other," Ridgway head coach Mark Heindl said when asked how he got his team to buy into defensive first. "One guy has to know has to know what the other guy is doing. They do their jobs. You can see tonight, they do it well. All 11 guys have to be in sync."
To stop Curwensville, Ridgway knew it had to stop Nick Stewart, the Golden Tide's great junior running back who came into the game third in District 9 history with 5,488 career yards.
And stop them they did limiting Stewart to 48 yards on 20 carries, the second-fewest yards in a game in his career – the fewest was 44 earlier this season against Ridgway.
"We know he is the greatest back and how fast he can be and quick," Ridgway junior Neil MacDonald said. "So we try to force him in and try to get our 'd' in there as quick as possible."
Watch a full interview with MacDonald.
Stewart did go over 2,000 yards on the season, and unofficially ends with 2,032 yards, which is the sixth-most yards in a season in the D9Sports.com-era (2000 to present) and the fifth-most by a Curwensville running back in that span (see full list below).
While Curwensville's offense was struggling, Ridgway's got going late in the first quarter and never really slowed down the rest of the half out gaining the Tide 199 to 14 in the half and 367 to 112 in the game.
Johnny Mitchell had a nice game throwing three touchdowns passes while going 6 of 7 for 109 yards – he completed his last six passes – while also rushing for 58 yards.
MacDonald scored twice, once on the ground and once through the air, and had 11 carries for a game-high 84 yards while catching two passes for 45 yards. Jacob Zimmerman also scored twice for the Elkers.
With the win, Ridgway moves into the District 9 Class 1A title game where it will play rival Elk County Catholic at 7 p.m. Friday at Brockway's Varischetti Field. It's just the third title-game appearance for the Elkers and the first since 1993 – Johnsonburg's last appearance in a title game came in 1996.
"It's not only been a journey this year," Heindl said. "The co-op itself has just turned us into a different element. We've been saying year-in-and-year-out, we needed Johnsonburg as bad as Johnsonburg needed us. All levels are successful now, we are competitive. It's just a great feeling to see these kids, how far they've come here in these last couple of weeks. There is nothing better than going to a District 9 championship against your county rivals."
Watch all of Heindl's comments here.
EXTRA POINTS
2,000-yard rushers in a season since 2000
1. Alex Holland (Curwensville) – 2,600 in 2010
2. Nate Sipes (Curwensville) – 2,511 in 2004
3. Dave Richard (Clearfield) – 2,506 in 2002
4. Zach Tibbens (Curwensville) – 2,345 in 2013
5. Alex Holland (Curwensville) – 2,334 in 2011
6. Nick Stewart (Curwensville) – 2,032 in 2016
7. Ian Corbett (Clarion) – 2,000 in 2014
RIDGWAY 33, CURWENSVILLE 0
Score by Quarters
Curwensville 0 0 0 0 – 0
Ridgway 7 19 7 0 – 33
Scoring Summary
First Quarter
R – Neil MacDonald 4 run (Daunte Allegretto kick), 1:59
Second Quarter
R – Jacob Zimmerman 9 pass from Johnny Mitchell (Allegretto kick missed), 6:27
R – MacDonald 27 pass from Mitchell (Mitchell pass failed), 1:06
R – Josh Raubenstrauch 34 pass from Mitchell (Allegretto kick), 55.2
Third Quarter
R – Zimmerman 3 run (Allegretto kick), 1:53
TEAM STATISTICS
Curwensville-Stat-Ridgway
7 First Downs 19
29-60 Rushes-Yards 47-258
52 Passing Yards 109
4-10-1 Comp-Att-Int 6-7-0
39-112 Plays-Yards 54-367
2-1 Fumbles-Lost 4-1
8-59 Penalties-Yards 3-30
4-27 Punts-Avg 2-35
INDIVIDUAL STATISTICS
RUSHING – Curwensville: Nick Stewart: 20-48, Kaleb Witherite 5-29, Bryce Timko 3-negative 17, Team 1-0. Ridgway: Neil MacDonald 11-84, Johnny Mitchell 13-58, Joey Elinski 8-67, Jacob Zimmerman 7-23, James Winslow 6-29, Jacob Myers 1-negative 1, Bryce Barclay 1-negative 2.
PASSING – Curwensville: Bryce Timko 4-for-10, 52 yards, 1 interception. Ridgway: Johnny Mitchell 6-for-7, 109 yards, 3 touchdowns.
RECEIVING – Curwensville: Zach Marshall 3-58, Nick Stewart 1-negative 6. Ridgway: Neil MacDonald 2-45, Josh Raubenstrauch 1-34, Joey Elinski 1-13, Jacob Zimmerman 1-9, Kyle Jordan 1-8.
INTERCEPTIONS – Ridgway: Josh Raubenstrauch