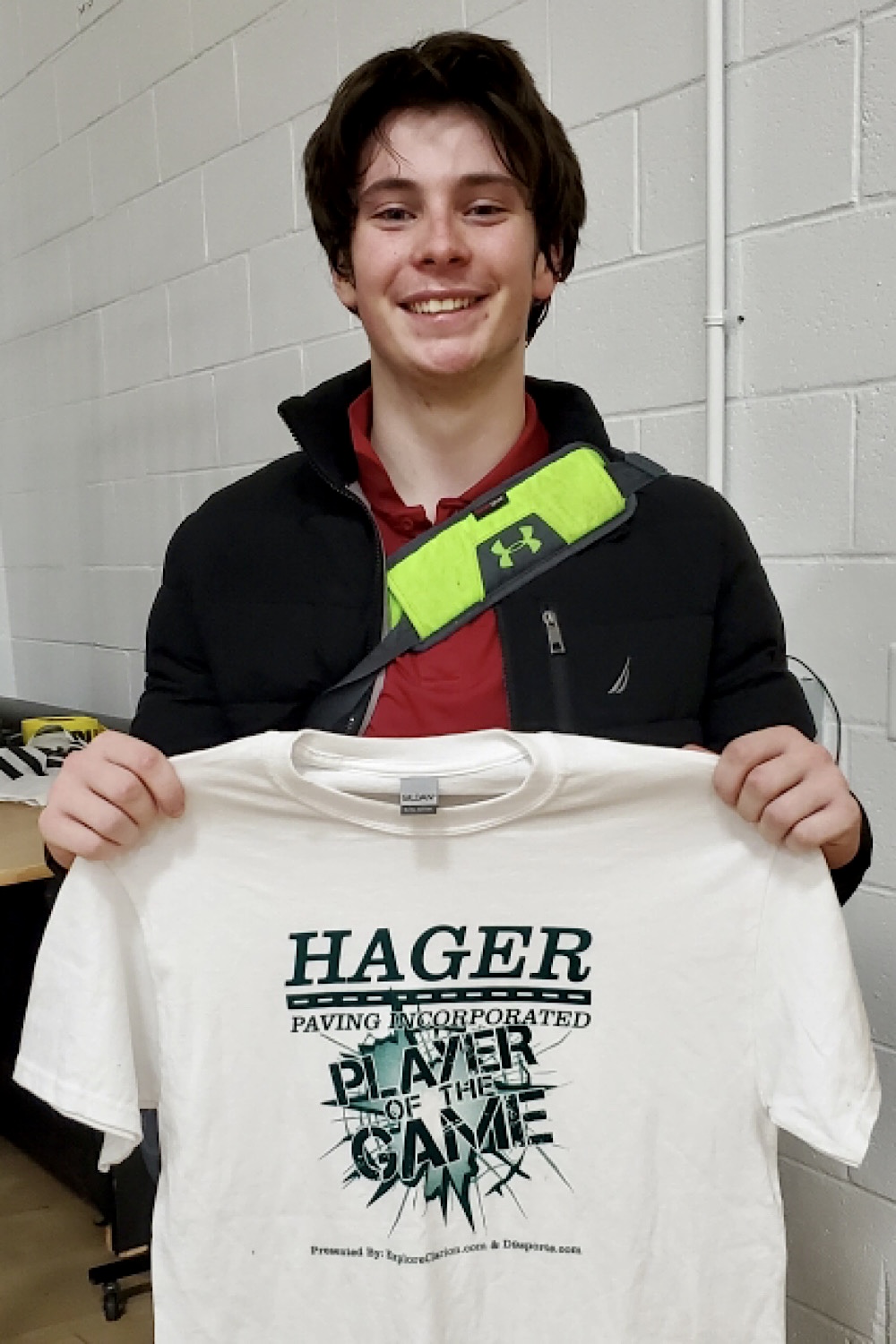 CLARION, Pa.(EYT/D9) — Defense has been the name of the game for the Clarion-Limestone boys basketball team during its current 10 game winning streak.
In the second half on Friday evening in a packed Clarion Area High School gym, the Lions used that aggressive defense to turn a 39-32 deficit late in the third into a 57-47 victory over rival Clarion.
(Pictured above, Clarion-Limestone's Jordan Hesdon was the Hager Paving Incorporated Player of the Game.)
"I told our guys during a timeout when we were down seven that we could tie the game in a matter of 30 seconds or so," said C-L coach Joe Ferguson. "We came out and picked up our defensive pressure and it was around 30-45 seconds and we either tied it or took the lead."
Clarion-Limestone (12-1) trailed 39-32 with 3:19 to play in the third quarter after Devon Lauer made 1-of-2 free throws for the Bobcats. The Lions scored the next seven points to end the quarter tied 39-all.
The run continued into the fourth when Jordan Hesdon scored the first four points of the quarter to give C-L a 43-39 lead.
Clarion fought back to tie the game 43-43 at the 6:38 mark. From that point on, though, it was all C-L and Hesdon as the Lions closed the game on a 14-4 run with Hesdon scoring 10 of those 14 points.
Clarion Area and Clarion-Limestone Area High School sports coverage on Explore and D9Sports.com is brought to you by Redbank Chevrolet and DuBrook.
"Jordy can jump those passes, which leads to some easy buckets," Ferguson said. "It's hard to give credit to just one or two guys because it takes the whole team doing their jobs to help make those plays happen."
Hesdon and Riley Klingensmith each scored 17 points to lead C-L. Hesdon also grabbed eight rebounds. Jack Callen chipped in seven points and 11 boards off the bench.
Gabe Simko collected a double-double of 16 points and 11 rebounds for Clarion. Devon Lauer added 11 points while Bryce Brinkley added seven.
"We have eight guys I can comfortably bring off the bench and not feel the team loses anything," said Ferguson. "Tonight, we needed someone to try and take away Simko inside and Jack Callen came in and did a pretty nice job after Simko was really hurting us in the first half."
Both teams seemed to be feeling each other out in the first quarter as points were at a premium with Clarion leading 13-9 after one quarter.
Clarion led by as many as seven points in the second at 21-14. With 17 seconds to play in the half, Jase Ferguson connected on a 3-pointer to cut the lead from six down to three at 26-23 by halftime.
Clarion started fast in the third, scoring the six points of the quarter to push its lead back to nine at 32-23. The Lions slashed the lead to four at 34-30 before the Bobcats once again pushed the advantage back to seven at 39-32 before C-L's quarter-ending run.
"We preached all week you need to limit their transition buckets and not turn the ball over," said Clarion coach Scott Fox. "We failed to do that in the latter stages of the third quarter and into the fourth quarter. C-L is a good team, and they pressure you and it worked to their advantage tonight."
Clarion Area and Clarion-Limestone Area High School sports coverage on Explore and D9Sports.com is brought to you by Redbank Chevrolet and DuBrook.