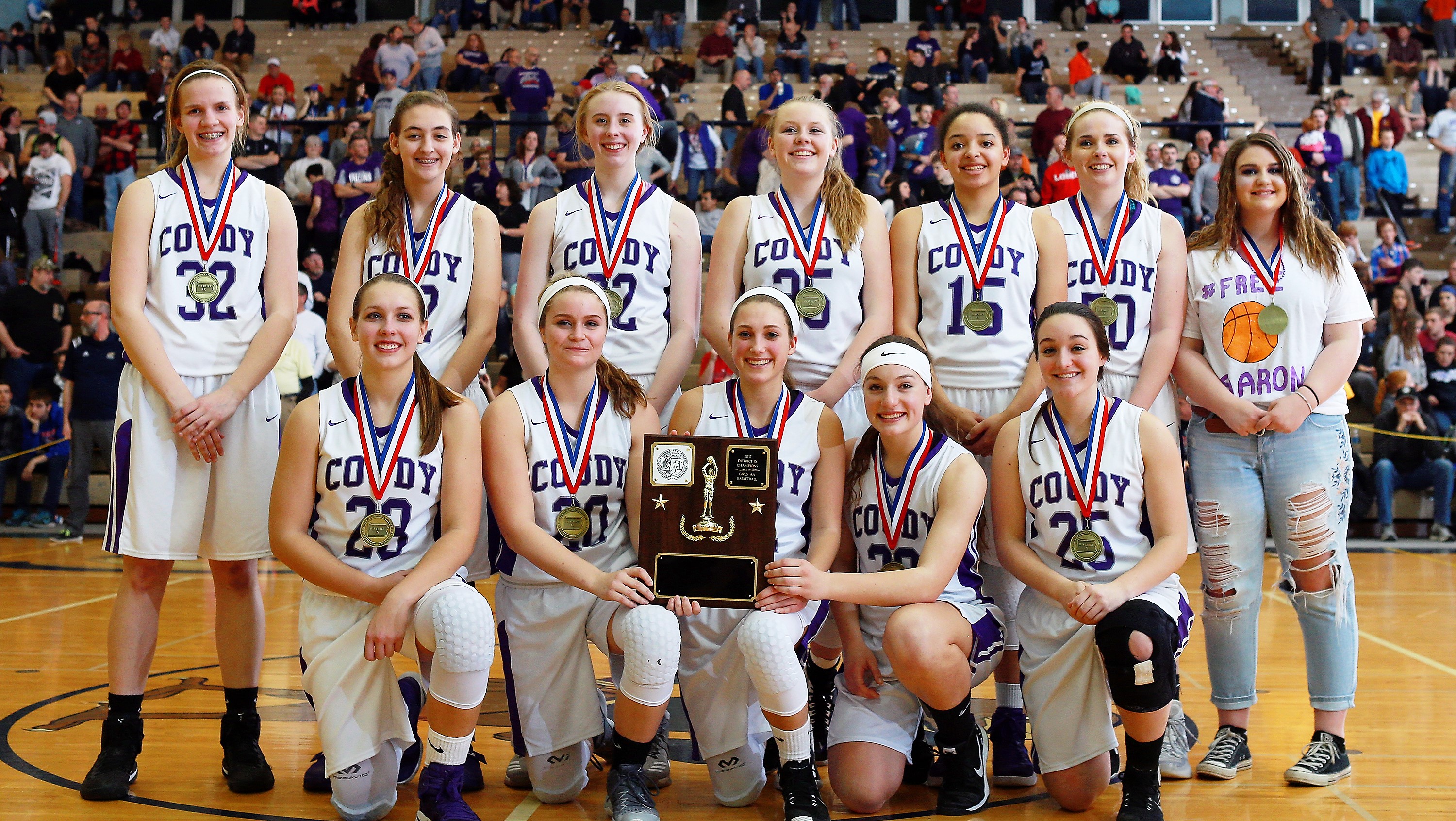 Listen to the game
CLARION, Pa. – A change in defense, well a change back to a defense, helped spearhead a 10-0 run for Coudersport that bridged the third and fourth quarters and helped the Lady Falcons claim their first District 9 title since 2011 with a 47-38 win over Kane in the D9 2A championship game at Clarion University's Tippin Gym.
(Cover Photo by Paul Burdick. Check out more of Burdick's work here)
Coudersport led 25-18 at halftime but found itself in a 27-all tie following a Rachael Morgan offensive putback with 2:54 to play in the third quarter.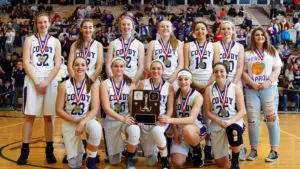 But Ally Easton answered with a bucket followed by another one from Haley Keck in a span of 30 seconds to put the Lady Falcons back in front, and my the end of the quarter the lead had grown to 35-27.
"We switched defenses at halftime," Coudersport head coach Chris Fink said. "That may not have been a good decision by the idiot coach. When we went back to the defense that we had played, we got the lead back. Those were two evenly matched teams."
Coudy got the lead to 10, 37-27, on another basket by Keck, who finished with a game-high 22 points.
Keck talked about the victory.
Down 10, Kane didn't give up without a fight.
The Lady Wolves went on 10-2 that included four points from Ella Marconi, who had 12 points and 12 rebounds, and were within two, 39-37, following Morgan hitting the second of a two-shot foul with 1:20 to go.
But Tory Crosby answered on the other end taking a pass from Keck and finishing with 1:02 left to make it a four-point game. Crosby did yeoman's work inside with Ally Easton in foul trouble. She finished with four points and three rebounds.
"She is a senior who has been very patient and who has accepted her role and gets the job done in whatever role we ask her to play," Fink said. "That can change game to game. She does a good job on the boards and can put it in the hole too."
Keck then finished off the victory by hitting six free throws in the final 45.4 seconds
"It's been a while," Fink said about winning the district title. "It came against a well coached, physical, big team. It means a lot to these girls, to the school, to the town. We had a lot of people come over two hours to watch us play. I couldn't be happier for the girls. They could end up winning three District 9 titles in the same year having won volleyball and basketball already."
Coudersport, which led 8-7 after a quarter, was down 10-8 two minutes into the second quarter before going on a 10-2 run that saw Easton, who had 11 points and six rebounds, scored five points, to get the lead back for the Lady Falcons.
"We did a great job of gutting things out," Fink said. "We didn't play well at times. I told them to think about the whole season. Everybody contributed in many ways."
COUDERSPORT 47, KANE 38Score by Quarters
Kane 7 10 10 11 – 38
Coudersport 8 17 10 12 – 47
KANE – 38
Ella Marconi 2 8-12 12, Rachael Morgan 2 1-5 5, Emily Bucheit 0 0-0 0, Hannah Buhl 1 1-3 3, Trinity Clark 4 2-6 12, Camryn Cummings 2 0-1 4, Caitlyn O'Hara 0 0-0 0, Alexis Lopez 1 0-0 2, Sierra Hillman 0 0-0 0, McKenna Ennis 0 0-0 0, Ainsley Saf 0 0-0 0. Totals 12 12-27 38.
COUDERSPORT – 47
Macy Gleason 1 0-2 2, Skyler VanWagenen 0 0-0 0, Kiara Perkins 0 0-0 0, Ally Easton 5 1-5 11, Haley Keck 6 9-10 22, Shae Black 1 4-4 6, EmmaRae Easton 1 0-3 2, Alyssa Wood 0 0-0 0, Adrian Page 0 0-0 0, Tori Crosby 2 0-0 4. Totals 16 14-24 47.
Three-pointers: Kane 2 (Clark 2). Coudersport 1 (Keck)