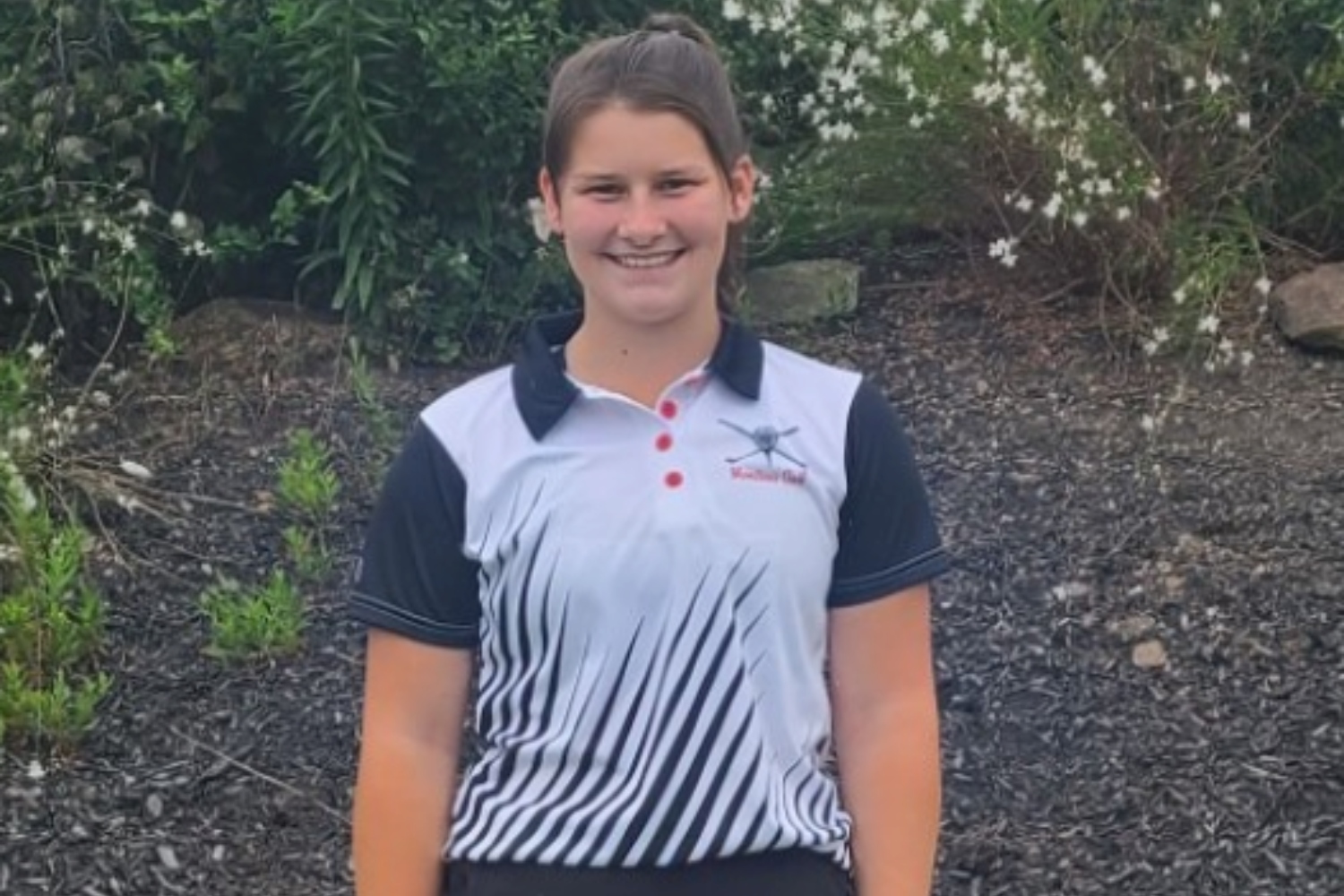 RENO, Pa. (EYT/D9) — Clarion senior Devon Lauer finished atop the leaderboard for the third time in as many starts – shooting a 1-under-par 35 on the 3,181-yard front-nine at Wanango Country Club in Mega Match No. 6 of the season on Sept. 12.
(Pictured above, Moniteau's Mariska Shunk)
Sean Karg, a freshman at Keystone, was runner-up for the second time this season, his even-par 36 one stroke off Lauer's pace.
North Clarion's Ethan Carll (37), a senior, had his highest placing of 2023, coming home in third. He was followed by fellow senior Cayden Baker of Cranberry (39).
Kam Kerle (40), a Clarion senior, tied for fifth with Cranberry's Dalton Wenner (40), a sophomore. It was Kerle's lowest placing of the season, while Wenner matched his best.
A trio of Clarion Bobcats followed in the next three positions, separated by a single stroke each – junior Lucas Mitrosky (41) in seventh, senior Avery Kline (42) eighth, and senior Tanner Miller (43) ninth.
Clarion-Limestone's Jack Callen (44), a senior, took tenth.
Clarion (201), with five golfers in the top-10, out-performed runner-up Cranberry (226) by 25 strokes to remain undefeated this season.
Cranberry counted the scores of Cayden Baker, Dalton Wenner, Dane Wenner (46), Landon Baker (49), and Ethan Merryman (52) in its five-person team total. It was the fourth time the Berries have been runner-up to Clarion in 2023.
Moniteau (237) was third, 11 strokes in back of Cranberry. The Warriors counted the cards of Chason Delarosa-Rugg (45), Corbin Fallen (46), Carson Minear (47), Dawson Wallace (48), and Keegan Book (51).
Two strokes out of third was C-L (239), the Lions taking fourth for the fourth consecutive match. Rounds by Callen, Nick Aaron (45), Jack Craig (46), Aiden Coulson (48), and Jack Monnoyer (56) were tallied to get the squad's total.
North Clarion (242) was fifth – the Wolves' Carll, Mason Shaftic (47), Conner Sliker (51), Kelton Stitt (52), and Gavin Howarth (55) counting in the team competition.
Thursday, September 14: Clarion Oaks Golf Course (Mega Match #7)
Clarion's Devon Lauer made it four wins in a row, carding a 1-under-par 35 on the 3,196-yard front-nine to claim medalist honors.
Lauer's round was three strokes better than the pair of runner-ups – Clarion's Kam Kerle (38) and Keystone's Sean Karg (38). It was Karg's second straight runner-up finish.
Clarion's Lucas Mitrosky (39) was third, followed by Cranberry's Cayden Baker (40) in fourth.
Three golfers tied for sixth – Avery Kline of Clarion; Karns City junior Chloe Fritch; and Keystone's Braden Baylor, a sophomore, all shooting matching 41s.
Tanner Miller (43) of Clarion senior was alone in ninth.
There was a three-way tie for 10th between A-C Valley/Union freshman Joe Rapp (44); Forest Area's Keyon Custer (41), a senior; and Dalton Wenner (44) of Cranberry.
The Bobcats five in the top-10 combined to post a winning team score of 196, keeping Clarion perfect for the season.
Cranberry (224) was 28 strokes behind Clarion, finishing as the runner-up for the second match in a row.
The Berries, who were led by Baker and Dalton Wenner, also used the scores of Dane Wenner (45), Ethan Merryman (46), and Braydon Shaffer (49).
Keystone (226) was third, trailing Cranberry by two. Karg, Baylor, Talon Wilson (41), Jerod Schruers (49), and Eli Nellis (50) contributed to the Panthers total.
Moniteau (241) took fourth behind the efforts of Chason Delarosa-Rugg (45), Landon Kelly (46), KeeganBook (48), Dawson Wallace (51), and Corbin Fallen (51).
Taking the fifth spot was A-C Valley/Union (244), trailing Moniteau by three strokes. The Falcon Knights counted the cards of Rapp, Koen Strausser (49), Jake Fisher (49), Hudson Bliss (50), and Mikael Bulisco (52).
The KSAC boys' regular season concludes this week with matches at Foxburg Country Club on Tuesday and Hunter's Station Golf Course Thursday.
A victory at Foxburg would lock up the 2023 KSAC title for Clarion.
Top-5 Teams (points after 7 Mega Matches)
1. Clarion – 63.00
2. Cranberry – 53.00
3. Keystone – 39.00
4. North Clarion – 38.5
5. Moniteau – 37.5
Girls
Monday, September 11: Foxburg Country Club (Mega Match #6)
Mariska Shunk, a senior at Moniteau, collected her fourth win of 2023 with an 8-over-par 43 on the 2,218-yard course. She bested teammate and runner-up Kendall Sankey (48), also a senior, by five strokes.
Shunk's score was seven strokes better than when the KSAC girls played at Foxburg in mid-August.
Said Shunk, who has yet to finish outside the top-5, "The beginning of last week I dented my driver and I
came back with a brand new one today and it hit perfect, that's where I got most of my yardage.
"(Overall my round) was pretty good, everything seemed to be working. The ground being a little wet made me chunk a couple, but I came back and it was okay."
Like Shunk, Sankey has finished in the top-5 at every match, including a win and four second places.
Another Moniteau senior, Samantha Smith (50), was third. Her round was 10 strokes better than what she shot during the August event. Smith has placed in the top-10 three times, including a pair of top-5s.
A-C Valley freshman Ruby Watson (51) was fourth – her fifth top-5 of the season. Watson's round was a two-stroke improvement from earlier this year.
Moniteau's Juliette Brown (55), a freshman, was fifth, her highest placing this campaign and second top-10. Brown came home with a score 12-under from what she posted in August.
A-C Valley/Union freshman Laurel Regester (59) also had the best finish of her brief high school career, a tie for sixth. In earning her first top-10, Regester put up a score 21-strokes fewer than when she first played the course competitively a month ago.
Also tying for sixth were Moniteau's Taylor Voloch (59), a senior, and Cranberry's Kelsey Hanna (59), a junior. Like her teammates Shunk and Sankey, Voloch has not finished outside the top-10 this season.
Hanna's placing was her second top-10 of the year.
Jessie Stocks (62), a senior at Moniteau, and Reagan Best (63), an A-C Valley/Union freshman, were ninth and 10th respectively. Stocks now has five top-10s and Best three.
Moniteau (141) handily won the event, beating A-C Valley/Union's score (173) by 32 strokes. As a team, the Warriors total was 12 strokes better than in August, whereas the Falcon Knights demonstrated a two-stroke improvement.
The Warriors counted the scores of Shunk, Sankey, and Smith in their 3-person total, while the Falcon Knights used the cards of Watson, Regester, and Best.
Observed Moniteau coach Sue Scialabba, whose team counted six top-10 placers, "We're in good shape as far as where we were hoping to be at this point. We have two more matches, so we're hoping to finish out the season strong and have some good scores going into districts (Oct. 3 at Bavarian Hills in St. Marys)."
Moniteau has won all six matches in 2023.
Cranberry took third – Kelsey Hanna, Mallory McMasters (64), and Kayla Hanna (65) combining for 188.
The KSAC girls' regular season ends this week – they play matches at Clarion Oaks Golf Club on Monday and return to Hi-Level Golf Course for the fourth time this year on Wednesday (Sept. 20).
Top-10 Individual Nine-Hole Averages (played in at least 5 of the 6 Mega Matches)
1. Mariska Shunk (Moniteau) – 43.50
2. Kendall Sankey (Moniteau) – 46.17
3. Ruby Watson (A-C Valley/Union) – 52.33
4. Taylor Voloch (Moniteau) – 53.33
5. Jessie Stocks (Moniteau) – 54.00
6. Reagan Best (A-C Valley/Union) – 54.20
7. Samantha Smith (Moniteau) – 55.20
8. Kennedy Sullivan (Moniteau) – 57.40
9. Juliette Brown (Moniteau) – 57.60
10. Hayden Hilliard (Moniteau) – 58.00