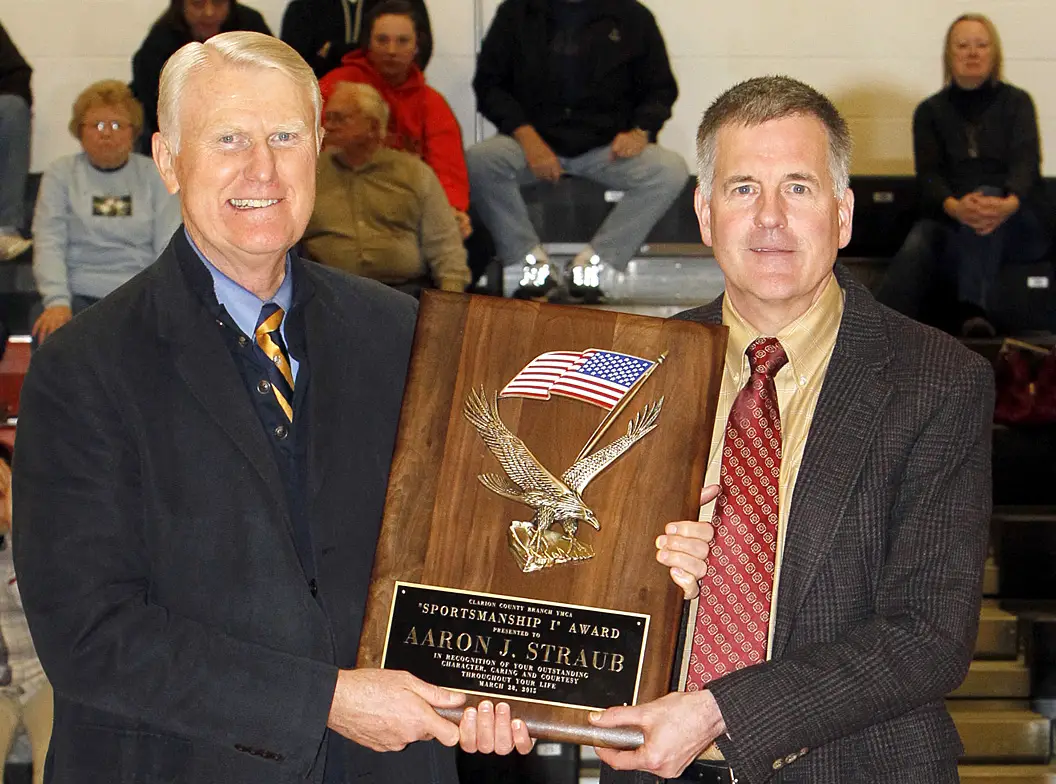 CLARION, Pa. – The Sportsmanship 1 Clarion YMCA District 9 boys' and girls' basketball All-Star basketball games will be played Saturday, April 1, at Keystone High School in Knox.
(Cover photo: Elk County Catholic's Aaron Straub (right) as the 2015 Sportsperson of the Year. He was presented the award by game chairman Norb Baschnagel. Straub will join 2014 Sportsperson of the Year Greg Heath of Keystone in coaching one of the two boys' team in the 2017 game April 1 at Keystone High School)
The girls' game is set for 2 p.m. followed by the boys' game at 4 p.m. At halftime of each game, teams third- and fourth-grade teams from the Clarion YMCA will play a 10-minute running clock contest.
The girls' teams will be coached by North Clarion's Terry Dreihaup, Otto-Eldred's Barb Close, Cameron County's Dave Sullivan and Karns City's Dave Kerschbaumer. Dreihaup and Close will pilot one team with Sullivan and Kerschbaumer teaming up to coach the other squad.
The Dreihaup/Close group includes Moniteau's Alazia Greaves and Kristina DeMatteis, Port Allegany's Autumn Buchsenschutz, Otto-Eldred's Tiffany Bair, Elk County' Catholic's Reilly Herzing and Cassidy Cunningham, Johnsonburg's Nicole Myers, North Clarion's Michaela Higgins and Cassie Wagner and Northern Potter's Gracie Hamilton.
The Sullivan/Kerschbaumer squad includes Bradford's Bri Wells, Curwensville's Hannah Dixon, Karns City's Mackenzie Craig, DuBois Central Catholic's Riley Assalone, Cameron County's Madison Harrier and Madi Guisto, Kane's Camryn Cummings, St. Marys' Rachelle Armanini and Union's Lexey Shick.
The boys' teams will be coached by Keystone's Greg Heath, Elk County Catholic's Aaron Straub, Clearfield's Nate Glunt and Coudersport's Brian Furman. Heath and Straub are paired together on one team creating a coaching staff with 1,365 career boys' basketball victories with Glunt and Furman on the other.
The Heath/Straub pairing includes Karns City's Chandler Turner and Ian McElroy, DuBois' Nick LaBrasca, Kane's Andrew Bucheit, Moniteau's Lake Pry, ECC's Nate DaCanal and Gabe Kraus, Keystone's Austin Ion and Tanner Wilson and Oswayo Valley's Garret Babcock.
The Glunt/Furman team includes Brockway's Jarrett Esposito, Clarion-Limestone's Dan Callen, Ridgway's Justin Kasmierski, Clearfield's Evan Brown, Tommy Hazel and Will Myers, Coudersport's Aaron Wolfinger, St. Marys' Matt Marconi, Punxsutawney's Devin Kelly and Port Allegany's Brandon McCaslin.
In addition to the game, a 32-shooting contest will also be held for both the boys' and girls' squads with the preliminaries happening prior to the girls' game and the finals at halftime of each game with the boys' finals held during the girls' halftime and vice-versa.
There will be an MVP and a Sportsmanship Award given out for each game as well, and the annual Sportsperson of the Year will be named.
Both games will be broadcast exclusively on ExploreClarion.com and via the ExploreRadio app. The broadcasts will be accessible via D9Sports.com as well.