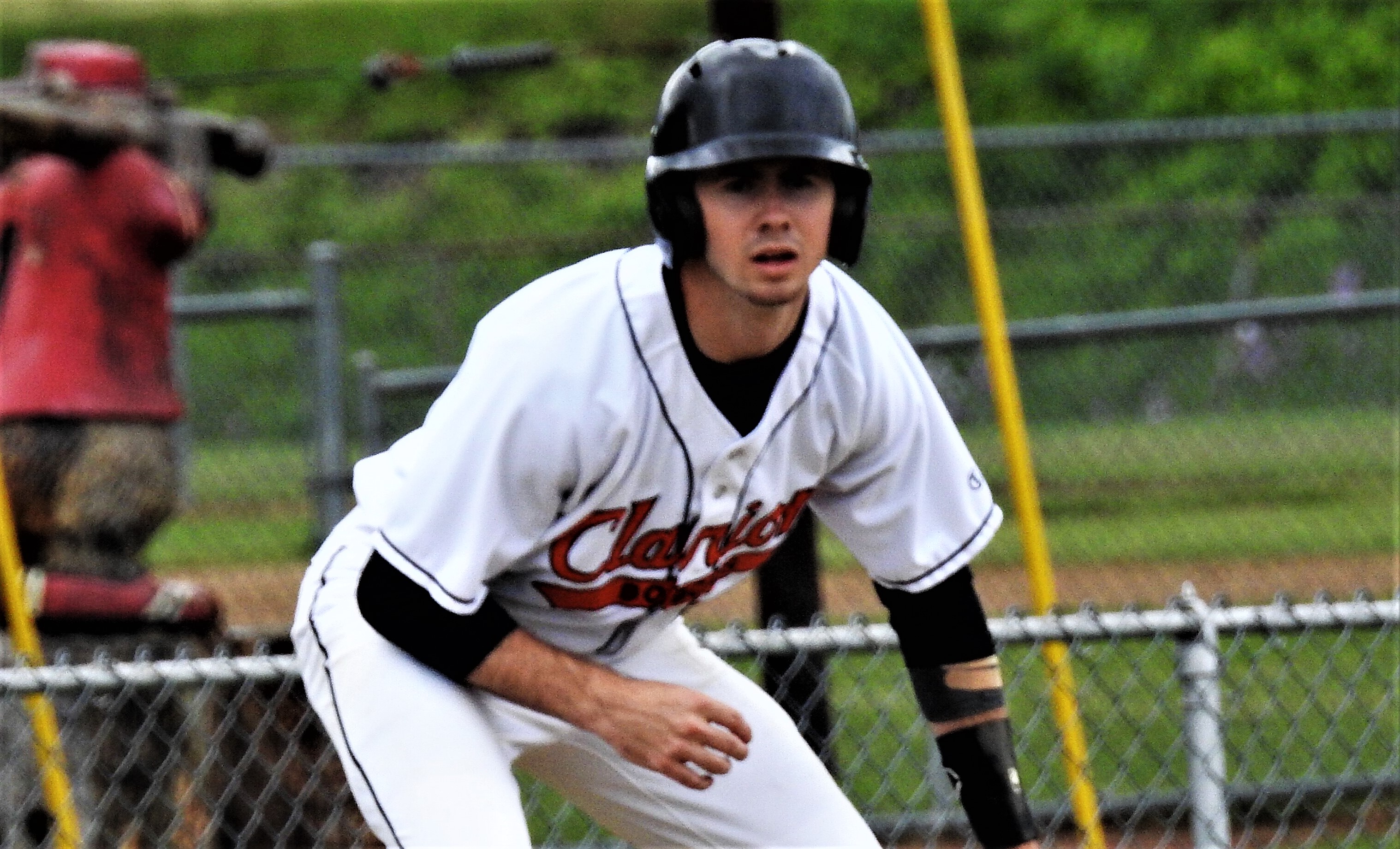 May 26 District 9 Class 1A quarterfinals and District 6-9-10 Class 5A Subregional recaps.
(Cover photo: Spencer Miller, Clarion. Photo by Cory Geer)
CLARION 6, NORTH CLARION 2
PUNXSUTAWNEY, Pa. – Behind a one-hitter from Reed Anthony, top-seeded Clarion advanced to the District 9/10 Class 1A semifinals with a 6-2 win over sixth-seeded North Clarion in Punxsutawney.
Anthony, who allowed just his second earned run of the season in North Clarion's two-run third inning thanks in part to back-to-back walks, walked three and struck out six in tossing the gem.
The two runs scored by the Wolves got them within a run, 3-2, but Spencer Miller's two-run single in the fourth opened the gap back up to three.
Miller was 3-for-3 on the afternoon with a walk, three runs scored and three RBIs. Ryan Anthony also added three hits for Clarion while adding an RBI, and Nate Datko was 2-for-3. Kyle Paterson scored twice.
Tyler McCord-Wolbert had the lone hit for North Clarion, which split the regular-season series with the Bobcats.
Zander Hargenrader took the loss allowing five runs, four earned, on six hits and five walks while striking out four in four innings of work. Matson Higgins, the hero of Monday's first-round win over North Clarion, allowed an unearned run on three hits while striking out one in two innings of relief.
Clarion will meet the District 10 champion, either Kennedy Catholic or Jamestown, in the semifinals at 4:30 p.m. Tuesday at Cranberry High School. The game between three-win Kennedy Catholic and three-win Jamestown was postponed until Saturday.
ELK COUNTY CATHOLIC 12, OTTO-ELDRED 2, FIVE INNINGS
DUBOIS, Pa. – Brad Dippold had a strong evening with both his bat and arm in leading second-seeded Elk County Catholic to 12-2, five-inning victory over fifth-seeded Otto-Eldred at Showers Field in DuBois.
Dippold was 3-for-3 at the plate with a walk, three runs scored and four RBIs. He also got the win on the mound going five innings allowing two runs on three hits and three walks while striking out five.
Dan Stauffer and Eric Gerber each added two RBIs for the Crusaders with Stauffer going 2-for-3 with a walk and a run scored and Gerber finishing 1-for-3 with a walk and a run scored. Frank Singer walked three times, drove in a run and scored three runs as well for ECC.
Sawyer Drummond, Seth Drummond and Chase Sebastian all had doubles for Otto-Eldred with Sawyer Drummond and Sebastian both scoring. Seth Drummond had the Terrors lone RBI.
Sawyer Drummond suffered the loss lasting just two innings and allowing six runs, five earned, on two hits and seven walks while striking out one. Sebastian went 2 ⅔ innings giving up six runs on five hits and six walks while striking out five.
After taking a 3-0 lead after two, ECC used a five-run third to put the game away and then ended it with a four-run fifth.
ECC will play Oswayo Valley in the semifinals Tuesday at a site, time and place to be determined.
OSWAYO VALLEY 2, DUBOIS CENTRAL CATHOLIC 1
SHINGLEHOUSE, Pa. – In a rematch of last year's District 9 Class 1A championship game, third-seeded Oswayo Valley turned the tables on visiting and fourth-seeded DuBois Central Catholic knocking the champion it's throne with a 2-1 victory.
That was the exact same score that DCC used in last year's championship game to beat the 2015 champion Green Wave.
But while the 2016 title game was won on a double in the double of the seventh, the 2017 quarterfinal contest was decided by a two-run third by the home team.
The runs scored on an error on a ball hit by Jacob Karr and a passed ball.
DCC got its run in the fifth when Brandon Walker reached on an error with two outs. But Walker was stranded at second, and all the Cardinals could muster the rest of the way was a one-out single in the seventh by Austen Cogley, who didn't advance past first.
It was a classic pitchers' duel between Garren Black and Thomas Grecco.
Oswayo Valley's Black needed 95 pitches to throw a complete-game allowing one unearned run on six hits and a walk while striking out eight.
DCC's Grecco threw 98 pitches in six innings allowing the two unearned runs on four hits and a walk while striking out eight.
Cogley and Jack Frank had two hits each for DCC. Four different Oswayo Valley players got hits.
Oswayo Valley will play Elk County Catholic in the semifinals Tuesday at a site, time and place to be determined.
CLASS 5A WITH DISTRICT 6 AND 10
ERIE CATHEDRAL PREP 7, DUBOIS 1
ERIE, Pa. – Erie Cathedral Prep built a 3-0 lead after an inning on its way to a 7-1 win over DuBois in a District 6-9-10 subregional game at Ainsworth Field in Erie.
Colin Williams, Tyler Oedekoven, Rockne Seidel and Hunter Orlando each had two hits apiece for Prep with Orlando going 2-for-4 with a double, a run scored and three RBIs.
Williams and Oedekoven also each doubled with Williams going 2-for-2 with an RBI and two runs scored and Oedekoven going 2-for-4 with an RBI. Seidel was 2-for-4 with a run scored.
Meanwhile, two Ramblers pitchers shut down the Beavers offense.
Chris Smith got the win going six innings allowing one run on two hits and three walks while striking out six. Alex Douds pitched a scoreless seventh.
Ryan Radaker scored DuBois' lone run being driven in by Ryan Pasternak, who was 1-for-3 with the RBI. Nick LaBrasca had the other Beavers hit.
Noah Schneider took the loss going 4 ⅔ innings allowing seven runs on 10 hits and two walks. Matt Agosti pitched 1 ⅓ scoreless giving up a hit and a walk.