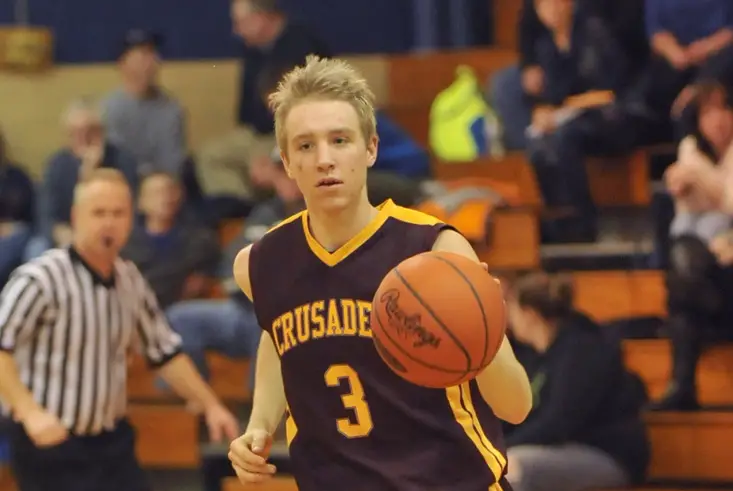 CLARION, Pa. – For the first time since 2001, the AML isn't dominating the District 9 Class A boys' semifinals.
That was the last time before this year that the conference sent only one team to the semifinals. But after Ridgway and DuBois Central Catholic both fell in the quarterfinals Friday, the conference's only representative is top-seeded Elk County Catholic.
The Crusaders (24-1), who are looking for their first title since 2011 but there 10th in 17 years, are seeking a return trip to the title game after falling to Ridgway in last year's championship matchup. They will take on fourth-seeded Clarion-Limestone (21-3) at 7:30 p.m. Wednesday at Clarion University's Tippin Gym. C-L, which lost in last year's semifinals to Ridgway, is seekings its first District 9 title since 1961 and its first trip to the title game since losing to ECC in 2001.
Prior to that matchup, a pair of newbies will battle it out at 6 p.m. on the Tippin hardwood when seventh-seeded Venango Catholic (16-7) takes on third-seeded Cameron County (22-2). Venango Catholic has never been to a District 9 title game or even semifinal contest since joining D9 in 2005. The Vikings last district title came in District 10 in 1984, which was the last time VC has made a district-championship game. The Vikings also won D10 titles in 1976 and 1978. Cameron County is seeking its first District 9 title-game appearance since 1995 when they lost the Class A championship to ECC. The Red Raiders haven't won a title since they won their fourth straight Class B (now Class AA) title in 1973. They actually made five straight Class B title-game appearances from 1970-74 winning four of them.
(7) Venango Catholic (16-7) vs. (3) Cameron County (22-2)
Venango Catholic Stats Cameron County Stats
When: 6 p.m. Wednesday, Feb. 25
Where: Clarion University's Tippin Gym
Game Notes: The game features two of District 9's premier big men in Cameron County's 6-foot-9 Nate Sestina and Venango Catholic's 6-foot-11 Devin Zagar. Sestina is D9's leading scorer at 21.6 points per game, while Zagar is the fifth-leading scorer at 18.3 ppg. Both players average a double-double, and both are coming off solid quarterfinal contests. Sestina had 15 points in a win over DuBois Central Catholic, while Zagar had 17 points, nine rebounds and six blocked shots in helping the Vikings knock out defending champion Ridgway … While the big men are the focus, don't overlook the team's underrated guards. Keith Spehalski and Trae Smith combine to score 24.3 ppg for the Red Raiders, who have won 10 straight, with Spehalski netting 12.3 ppg and Smith 12.0. They had 18 in the quarterfinal win with Spehalski scoring 10 and Smith eight. The Vikings feature Scott Toy and Brady Kingston who combine on 28.8 ppg. Toy is the 14th-leading scorer in District 9 at 15.0 ppg, while Kingston chips in with 13.8 … The teams have two common opponents, Ridgway and Union. Cameron County suffered one of its two losses on the year to Ridgway, 44-40, Dec. 8 while beating Union 63-60 Dec. 27. Venango Catholic just beat Ridgway, 52-45, in the quarterfinals and dispatched of Union 92-65 Jan. 23.
(4) Clarion-Limestone (21-3) vs. (1) Elk County Catholic (24-1)
Clarion-Limestone stats Elk County Catholic stats
When: 7:30 p.m. Wednesday Feb. 25
Where: Clarion University's Tippin Gym
Game Notes: The game pits the two highest-scoring teams in District 9 against each other. C-L leads D9 in points per game with 73.7, while ECC is second with 62.4. The Lions have topped 70 in all but eight games this year while scoring 80 or more six time including topping 90 twice. The Crusaders have netted at least 70 nine times on the year … The teams approach scoring differently though. C-L has three players averaging in double digits and six scoring at least 6.3 ppg led by senior guard RJ Laugand, who is tied with Venango Catholic's Devin Zagar for fifth in D9 in scoring at 18.3 ppg. The twin towers of 6-foot-5 Kolton Stiglitz and 6-foot-6 Dan Callen combine to added 26.1 ppg with Stiglitz scoring 13.6 ppg and Callen 12.5. Josh Kahle chips in with 9.9, Jesse Pezzuti with 7.1 and Noah Rankin with 6.3. ECC has only two players in double digits led by sophomore Nate DaCanal's 12.7 ppg. Mitchell Struble adds 10.8 ppg. But the Crusaders do have five players between 5.5 ppg and 7.0 with Ryan Seelye scoring 7.0, Kyle Huff 6.8, Jeff Wehler 6.2, Ben Hoffman 5.8 and Dan Singer 5.5 … ECC needs to win to keep the AML from being shutout of the District 9 Class A or Class AA championship game for the first time since 1996. The last time an AML team wasn't in the Class A championship game was 1998 when Keystone defeated Coudersport.