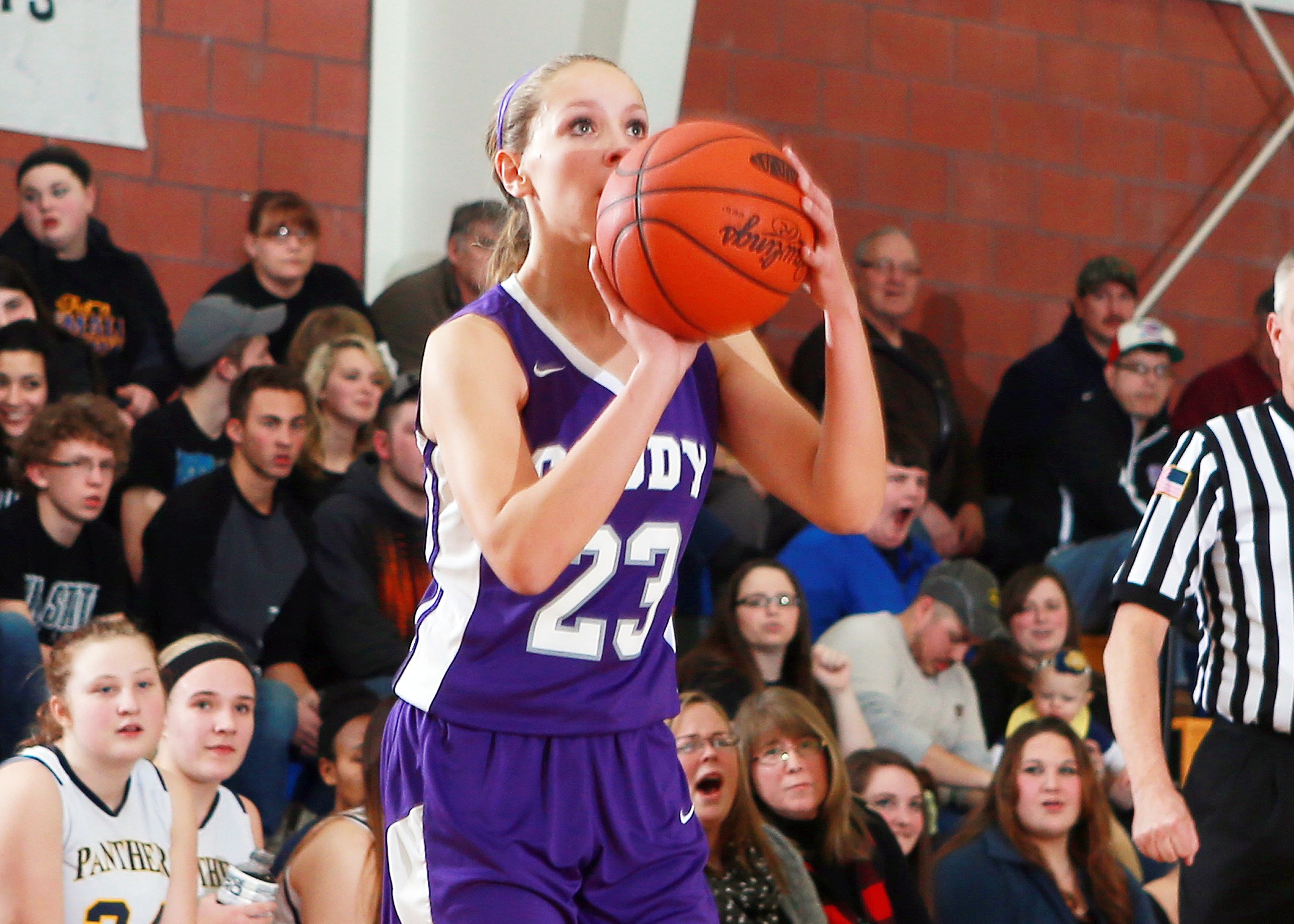 By Chris Rossetti
It's north vs. south in the District 9 Class A girls' semifinals, which will take place Wednesday in both Clarion and St. Marys.
Representing the northern part of the district will be top-seeded Coudersport (22-1) and upstart Elk County Catholic (12-12), the 11th seed.
Carrying the banner for the southern part of the district will be second-seeded North Clarion (21-3) and fourth seeded Keystone (16-7).
Coudersport will take on Keystone at 6 p.m. at St. Marys High School with ECC facing North Clarion at 6 p.m. at Clarion University's Tippin Gym.
(4) KEYSTONE (16-7) vs. (1) COUDERSPORT (22-1)
When and where: 6 p.m. Wednesday, Feb. 24, at St. Marys High School
Stats: Keystone • Coudersport
Game Preview: After missing out on the semifinals last year, Keystone is back in the final four for the fourth time in five years and is looking for its fourth title-game appearance in that span – the Lady Panthers won the championship in 2012 … Coudersport, which was a regular in the semifinals from the 1990s through 2011, is back to the semifinals for the first time since winning the 2011 title. That year marked the sixth title for the Lady Falcons since 2001 … Keystone's 16-7 record is a bit misleading. Two of the Lady Panthers losses came to Karns City, the top seed in the AA playoffs, another game to AAA champion Punxsutawney and a fourth came in double overtime to second-seeded North Clarion … Coudersport's lone loss was a 48-45 defeat to AAA runner-up Bradford way back on Dec. 18. The Lady Falcons have won 18 straight since then including a 41-32 win over Clarion in the quarterfinals Friday night behind 12 points from Haley Keck and 10 from Emily Morey … Keystone reached the semifinals thanks to a 56-47 win over DuBois Central Catholic that saw Taylor Geer, who is no relation to teammate Josselin Geer, finish with 21 points and 19 rebounds … Both teams are young with Coudersport featuring only three seniors and Keystone one.
Top players: Keystone – Taylor Geer (13.7 ppg), Amber Hess (13.3 ppg), Josselin Geer (11.8 ppg). Coudersport – Haley Keck (12.8 ppg), Ally Easton (9.8 ppg), Emily Morey (7.1 ppg).
(11) ELK COUNTY CATHOLIC (12-12) vs. (2) NORTH CLARION (21-3)
When and where: 6 p.m. Wednesday, Feb. 24, at Clarion University's Tippin Gym
Stats: ECC • North Clarion
Game Preview: In a rebuilding year, ECC is a surprise entrant in the semifinals having pulled a pair of upsets against North Tier League teams Otto-Eldred and Northern Potter to not only reach the semifinals but also qualify for the PIAA playoffs in a year when the Lady Crusaders didn't even make it into the AML postseason … But being in the semifinals is nothing new for ECC with this trip making the sixth time the Lady Crusaders, who won back-to-back titles in 2009 and 2010, have reached the semifinals in the past eight years … North Clarion, on the other hand, is the semifinals for the first time since making its only title game appearance in 1986, the She-Wolves lost in overtime to Union that season … Two of North Clarion's three losses have come to AA top-seed Karns City with the other coming in the second game of the season to Brookville … The She-Wolves are an inside dominated team with both Abbie Schmader (18.6 ppg, 10.2 rpg) and Tori Obenrader (16.6 ppg, 16.8 rpg) averaging double-doubles … ECC, which has just one player taller than 5-9, the 5-11 Reilly Herzing, has a bit of a deceptive .500 record with eight of the 12 losses coming by seven points or less including four by four points or less. Two of the close losses were to AAA champion Punxsutawney, once by seven and once by four … ECC reached the semifinals with a 47-41 win over third-seeded Northern Potter thanks to 16 points and 15 rebounds from Herzing … North Clarion beat Union, 51-45, behind 20 points and 19 rebounds from Obenrader.  
Top players: ECC – Reilly Herzing (11.7 ppg), Cassidy Cunningham (8.6 ppg), Josie Smith (8.0 ppg). North Clarion – Abbie Schmader (18.6 ppg, 1,029 career points, 7th in school history), Tori Obenrader (16.6 ppg), Cassie Wagner (5.9 ppg).