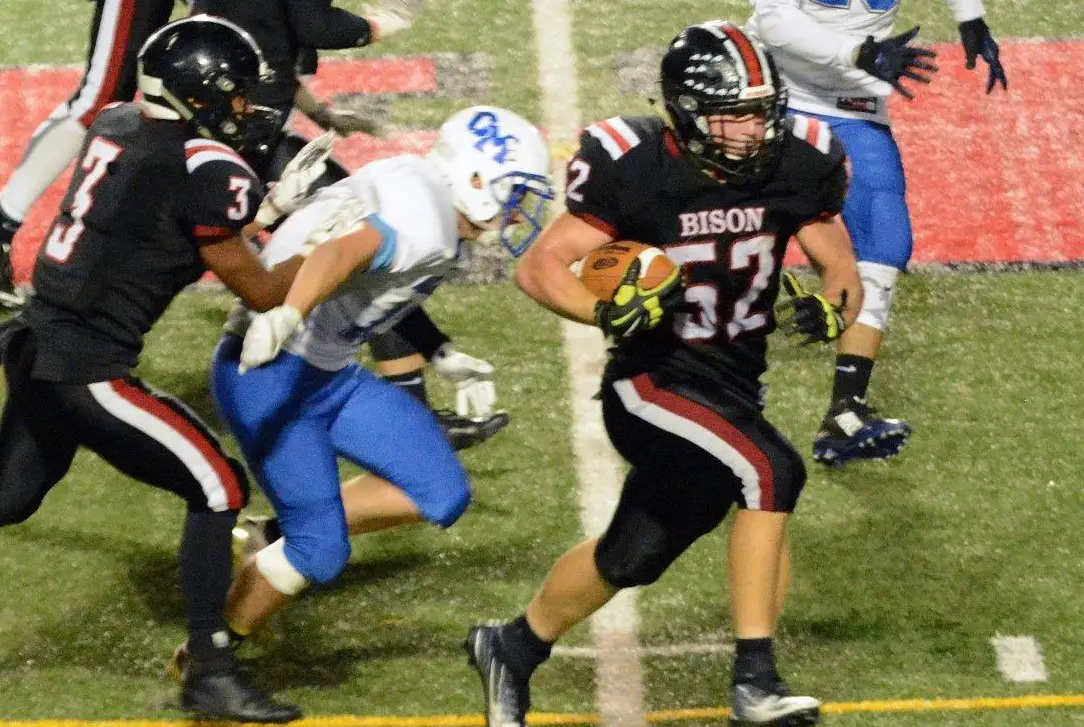 SHIPPENVILLE, Pa. – The final 2016 District 9 football stats leaderboards for offense, defense and special teams were announced Sunday.
Offensive Leaderboard • Defensive Leaderboard • Special Teams Leaderboard
(Cover photo of Clearfield's Matt Collins, the District 9 tackles leader. Photo by Logan Cramer III)
On offense, DuBois' finished with a pair of leaders with quarterback Matt Miller leading District 9 in passing yards with 2,506 despite playing just eight games and wide receiver Kyle Hopson leading in receiving yards with a District 9-record 1,665 yards. Curwensville's Nick Stewart is the District 9 rushing leader with 2,030 yards. For Miller and Stewart, it's the second straight year they've led D9 in their respective categories.
The defensive leaderboard shows Matt Collins of Clearfield leading the district in tackles per game for the second straight year with 14.8 per contest. Clarion-Limestone's River Young and St. Marys' Parker Smith tied for the D9 lead in sacks with 12, and Redbank Valley's Brock Barrett was the District 9 interception king with nine. led D9 in sacks with
It was a strong year for kickers in District 9 with Moniteau's Steven Fawcett pacing the way with seven field goals (7 of 8 with a long of 38), Kane's Joseph Johnson leading the way in PATs with 61 (61 of 69) and Karns City's Kaiden Powers scoring a D9 leading 72 kicking points with 54 PATs (54 of 62) and six field goals (6 of 8, long of 40).
Redbank Valley's Clint Thurston was the top punter averaging 38.8 yards per kick on 41 punts.