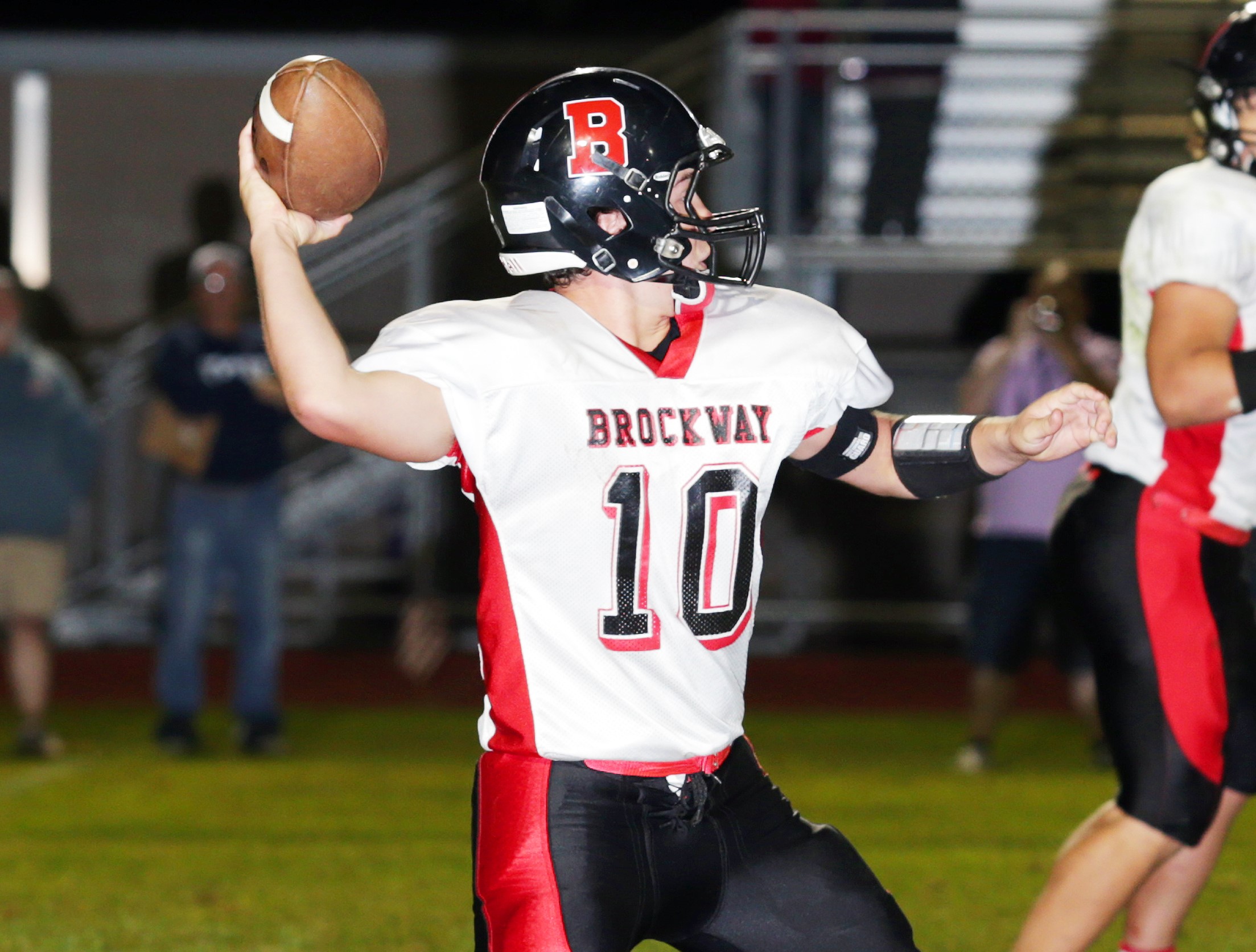 Offensive Stat leaders in District 9 through Week 5 (Sept. 29-Oct. 1).
The following teams aren't represented in the stat leaderboard because their head coaches have not posted stats to MaxPreps: Brookville, Sheffield, Smethport. If someone from one of these teams belongs in the leaderboard, e-mail us at sports@d9sports.com.
If viewing the leaderboard on a mobile device, please view in landscape mode, otherwise, some stats will be cut off.
Passing (By Yardage)
RK
PLAYER
TEAM
G
COMP
ATT
PER
YDS
TDs
INTs
QB Rating
YDS/G
1
Hunter Miller
Brockway
6
62
89
0.697
1367
17
4
252.73
227.8
2
Isaac Rummery
Clearfield
6
47
93
0.505
910
7
6
144.67
151.7
3
Reed Williams
Kane
6
38
69
0.551
904
11
2
211.94
150.7
4
Matt Miller
DuBois
3
52
75
0.693
857
10
2
203.98
285.7
5
Jacob King
Karns City
6
52
99
0.525
804
7
4
136.00
134.0
6
Brenden Makray
Clarion-Limestone
5
50
100
0.500
794
7
10
119.80
158.8
7
Kyle Kirk
Bradford
6
35
76
0.461
751
8
2
158.53
125.2
8
Nate Wingard
Keystone
6
50
106
0.472
684
5
6
105.62
114.0
9
Aaron Wolfinger
Coudersport
6
38
83
0.458
629
7
7
120.40
104.8
10
Lucas Bowser
Union/A-C Valley
5
41
82
0.500
619
8
7
128.53
123.8
Rushing (By Yardage)
 
RK
PLAYER
TEAM
G
ATT
YARDS
AVG.
TD
YD/G
1
Nick Stewart
Curwensville
6
141
1226
8.7
19
204.3
2
Erik DeLong
Kane
6
105
954
9.1
13
159.0
3
Colton Rapp
Clarion
5
91
721
7.9
6
144.2
4
Seth Caldwell
Clearfield
6
135
688
5.1
9
114.7
5
Mike Macefe
Clarion-Limestone
5
107
665
6.2
9
133.0
6
Chandler Turner
Karns City
6
48
513
10.7
7
85.5
7
Mark Latuska
Brockway
6
60
492
8.2
9
82.0
8
Donny Pattison
Bradford
6
43
491
11.4
5
81.8
9
Neil MacDonald
Ridgway
6
71
460
6.5
5
76.7
10
John Eakin
Bradford
6
51
452
8.9
4
75.3
Receiving (By Yardage)
 
RK
PLAYER
TEAM
G
CAT
YARDS
AVG.
TD
YD/G
1
Kyle Hopson
DuBois
6
44
795
18.1
9
132.5
2
Micah Heichel
Clearfield
6
20
513
25.7
4
85.5
3
Andrew Trunzo
Brockway
6
19
419
22.1
3
69.8
4
Ray Maze
Kane
6
14
390
27.9
5
65.0
5
Corey Rapp
Keystone
6
23
351
15.3
2
58.5
6
Sam Leadbetter
Clarion-Limestone
5
16
343
21.4
3
68.6
7
Dalton Anderson
Moniteau
5
12
338
28.2
3
67.6
8
Dylan LeCates
Brockway
6
14
296
21.1
5
49.3
9
Ty Burford
Clarion
5
11
289
26.3
6
57.8
10
Ryan Lezzer
Clearfield
6
13
267
20.5
1
44.5