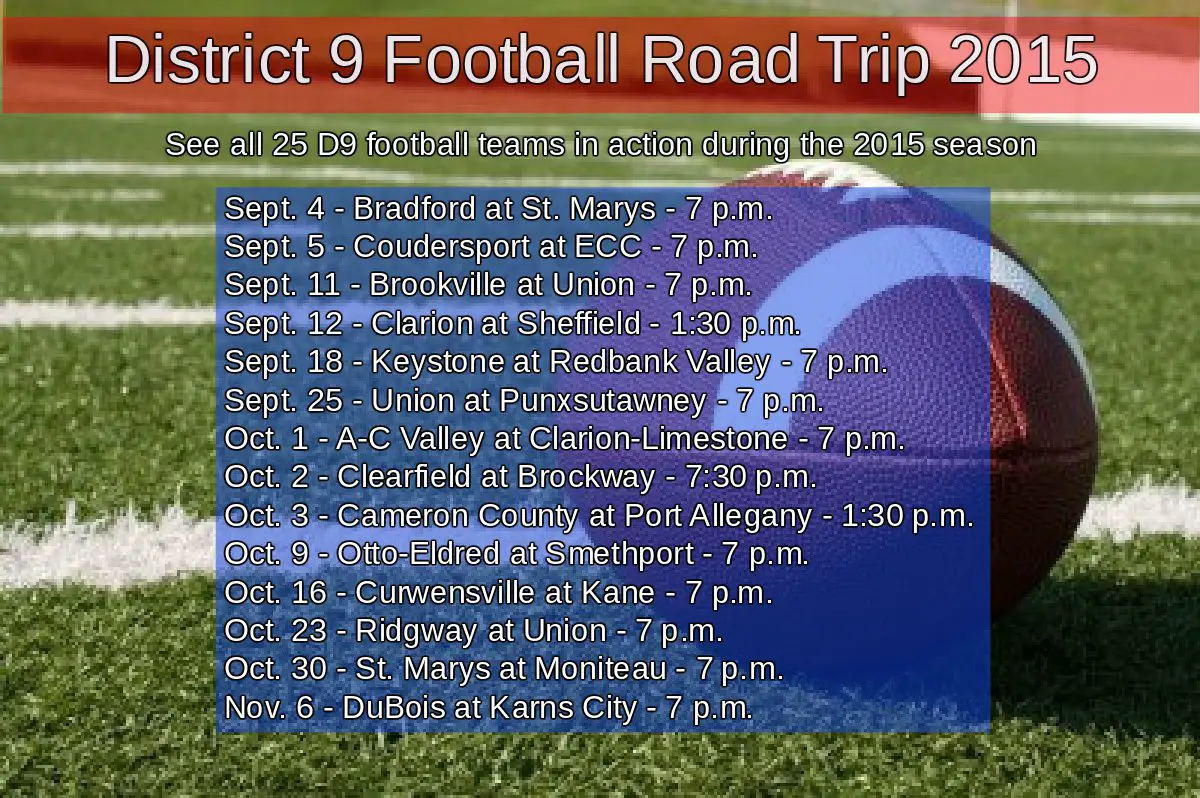 By Chris Rossetti
A cool goal for any diehard District 9 football fan would possibly be getting to see all 25 District 9 teams in action in a single season.
And that is a goal that could be a reality if you follow this simple District 9 road trip we've planned out.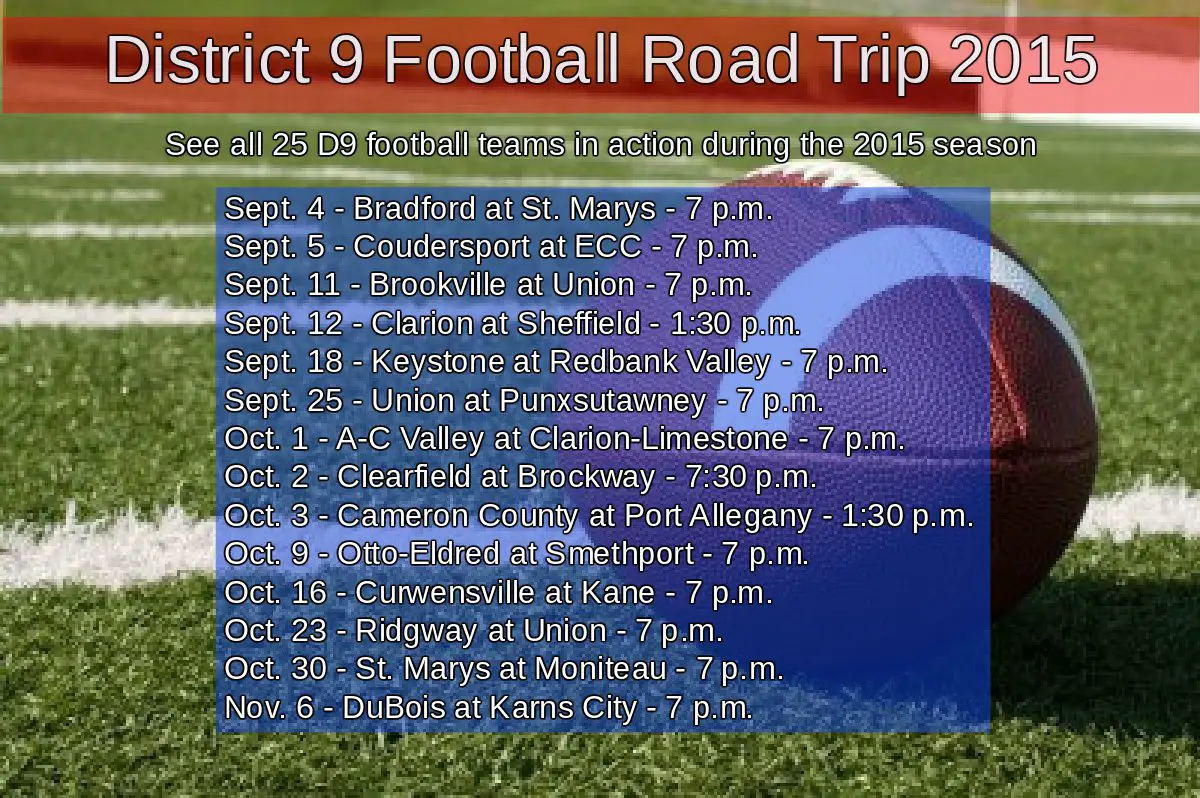 It's a road trip that will take you to see all 25 teams in 14 days (10 Friday nights, two Saturday afternoons, one Saturday night and one Thursday night) while letting you visit 12 different District 9 towns (you would make two trips to St. Marys – one each for St. Marys and Elk County Catholic – and two to Rimersburg, home of the Union Golden Knights, and you would also only see two teams more than once viewing Union three times and St. Marys twice.
The trip will begin with a foray into the middle of District 9 and Dutch Country Stadium in St. Marys at 7 p.m. Friday Sept. 4 for a non-conference matchup between two former D9 League foes as Bradford visits St. Marys.
Find a good hotel room, there are a few to choose from, because 24 hours later you will be right back at Dutch Country Stadium, but only this time it will be serving as the home field of the Elk County Catholic Crusaders who open their season at 7 p.m. Sept. 5 against the Falcons of Coudersport.
Week Two will also be a two-game weekend starting with a trip to Rimersburg for a battle for D9Sports.com bragging rights as Brookville, the alma mater of D9Sports.com's Rich Rhoades, visits Union, the alma mater of D9Sports.com's Dustin Kifer, for a 7 p.m. showdown Friday Sept. 11.
The next afternoon, travel up to Sheffield for a 1:30 p.m. game at the only stadium in District 9 without lights, as the hometown Wolverines entertain the Bobcats of Clarion.
After a couple of long weekends, the next two games are solo Friday-night affairs.
At 7 p.m. Sept. 18 head on down to New Bethlehem and Redbank Valley High School for a KSAC Small School matchup featuring a pair of teams who should be fighting for a playoff spot when the Bulldogs host the Keystone Panthers.
A week later, it's onto the Groundhog Capital of the World, Punxsutawney, Pa., as the homestanding Chucks host Union in a battle of 2014 playoff teams at 7 p.m. Sept. 25. Make sure to check out Phil's home when you are in town.
The first week of October means Autumn Leaf Festival in Clarion and a high-school football fans dream week with games on Thursday, Friday AND Saturday.
Start your weekend a little early at 7 p.m. Thursday, Oct. 1, just outside of Strattanville when the Clarion-Limestone Lions host the Falcons of A-C Valley.
The next night is a trip to Brockway – there are a couple of really good pizza places in this town so get there early – where a great non-conference/cross-classification matchup is on tap at Varischetti Field between the Brockway Rovers and the Clearfield Bison, two of the more storied programs in District 9. Game time is 7:30 p.m. giving you an extra half hour to enjoy a pie.
Your weekend will come to a close along picturesque Route 6 – and just maybe the leaves will be in full bloom by this point – as Port Allegany goes back to its roots for homecoming hosting a 1:30 p.m. game against the Red Raiders of Cameron County, the defending AML North champions.
If the leaves weren't quite ready in Week Five, they should be in Week 6, and its other trip along Route 6 this time just down the road in Smethport where the Hubbers host the Terrors of Otto-Eldred at 7 p.m. Oct. 9. Make sure to check out the Corner Bistro & Pizza Company in the hub city while you are there. It's a slice of the big city smack dab in a small town.
Route 6 seems to be a popular place on this trip, as Week 7 brings us right back up there, this time in Kane, when the defending D9 Class A champion Wolves host Curwensville in a big-time AML South matchup at 7 p.m. Oct. 16.
In Week Eight  it's back to Rimersburg for a 7 p.m. Friday Oct. 23 AML South/KSAC Small School showdown between Union and Ridgway, the third matchup of these teams in the last year. The Golden Knights won twice at Ridgway last year including in the opening round of the D9 Class A playoffs, so you can be sure the Elkers have a little payback in mind when they visit Vidunas Stadium.
The final two weeks take you into Butler County starting with a 7 p.m. Oct. 30 KSAC Large School Division matchup in West Sunbury when St. Marys visits Moniteau.
Then, in the final regular-season week of the year, a solid non-conference showdown is set for 7 p.m. Friday Nov. 6 when Karns City hosts DuBois on the turf.
WHEN CAN I SEE EACH TEAM?
A-C Valley – 7 p.m. Thursday Oct. 1 at Clarion-Limestone
Bradford – 7 p.m. Friday Sept. 4 at St. Marys
Brockway – 7:30 p.m. Friday Oct. 2 vs. Clearfield
Brookville – 7 p.m. Friday Sept. 11 at Union
Cameron County – 1:30 p.m. Saturday Oct. 3 at Port Allegany
Clarion – 1:30 p.m. Saturday Sept. 12 at Sheffield
Clarion-Limestone – 7 p.m. Thursday Oct. 1 vs. A-C Valley
Clearfield – 7:30 p.m. Friday Oct. 2 at Brockway
Coudersport – 7 p.m. Saturday Sept. 5 at Elk County Catholic (at St. Marys High School)
Curwensville – 7 p.m. Friday Oct. 16 at Kane
DuBois – 7 p.m. Friday Nov. 6 at Karns City
Elk County Catholic – 7 p.m. Saturday Sept. 5 vs. Coudersport (at St. Marys High School)
Kane – 7 p.m. Friday Oct. 16 vs. Curwensville
Karns City – 7 p.m. Friday Nov. 6 vs. DuBois
Keystone – 7 p.m. Friday Sept. 18 at Redbank Valley
Moniteau – 7 p.m. Friday Oct. 30 vs. St. Marys
Otto-Eldred – 7 p.m. Friday Oct. 9 at Smethport
Port Allegany – 1:30 p.m. Saturday Oct. 3 vs. Cameron County
Punxsutawney – 7 p.m. Friday Sept. 25 vs. Union
Redbank Valley – 7 p.m. Friday Sept. 18 vs. Keystone
Ridgway – 7 p.m. Friday Oct. 23 at Union
Sheffield – 1:30 p.m. Saturday Sept. 12 vs. Clarion
Smethport – 7 p.m. Friday Oct. 9 vs. Otto-Eldred
St. Marys – 7 p.m. Friday Sept. 4 vs. Bradford and 7 p.m. Friday Oct. 30 at Moniteau
Union – 7 p.m. Friday Sept. 11 vs. Brookville, 7 p.m. Friday Sept. 25 at Punxsutawney and 7 p.m. Friday Oct. 23 vs. Ridgway