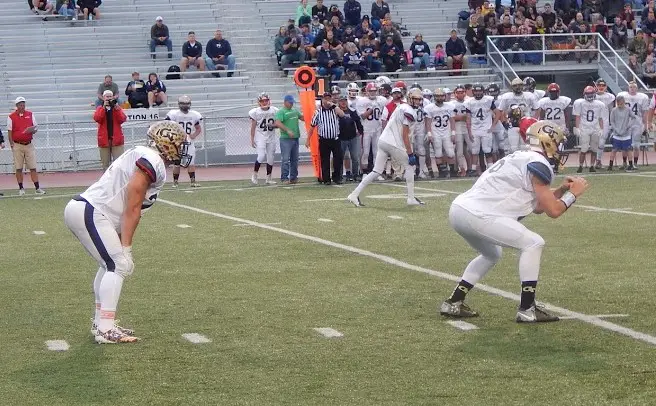 ALTOONA, Pa. – Three District 9 football players stole the show Friday night for the North squad in a 22-21 win by the North over the South at the 34th Annual Lezzer Lumber Classic at Altoona's Mansion Park.
(Photo: Curwensville's Nick Stewart (left) and Bryce Timko before a play Friday night. Photo courtesy of Shane Lux)
Curwensville's Nick Stewart and Bryce Timko and Clarion's Spencer Miller all put up significant numbers in the victory.
Watch game highlights.
The Golden Tide duo of Stewart and Timko helped erase a 6-0 halftime deficit with a pair of third-quarter touchdowns.
"We played pretty well, our offensive line blocked pretty well, and it was an all-around big win," said Stewart.
Stewart rushed for a game-high 120 yards on 14 carries while scoring on a 20-yard run to open the second half. He easily took home the offensive MVP award for the North.
"They just told me to hit the hole, and I hit the hole hard. It opened up, and I scored," Stewart said. "It was a great game to play in and get back into the flow of things. It was really enjoyable, especially the fact that we got two touchdowns for Curwensville."
That other Tide touchdown was scored by quarterback Bryce Timko on a 3-yard keeper in the third quarter to open up a 14-6 lead.
"It felt great for both of us to be from Curwensville and score touchdowns like that," Timko said. "That really puts our town on the map."
Timko threw for 51 yards on 3-of-5 passing while being held to negative two yards rushing, but did convert a 4th-and-2 with his legs before scoring a few plays later.
"It felt great being able to get a win one last time," Timko said. "Being able to play with all teammates and these other great players out here, it was a great experience."
The North was an All-D9 quarterbacked team as Clarion's Spencer Miller split time with Timko.
Miller threw for 101 yards and touchdown while being intercepted twice. He also ran for 47 yards on 12 carries.
Bishop Guilfoyle's Mark Conrad had both interceptions.
"It was a lot of fun getting to meet guys from our area as well as Central PA," Miller said. "Those are guys we don't get a chance to play against so it was a really cool experience."
Miller found State College's Ian Miller wide open for a 34-yard touchdown that gave the North a 22-6 lead.
"We knew they'd be keying on Brandon Clark (Penn State recruit) so we faked a screen to him, both defensive backs bit, and I just didn't want to overthrow him," Miller said. "I wanted to get back into playing football and good competition. It was great to prepare for the upcoming college season against a lot of players going on to play college ball.".
Miller is going to play college football at Gannon while Stewart will join him in the PSAC at nearby Mercyhurst.
A few others from District 9 chipped in as well.
From Clarion, Colt Stimmell had a sack, Sterling Conner recovered a fumble and Colton Rapp, who played all game at linebacker did get one carry for eight yards.
Curwensville's Matt Carter added one catch for eight yards. Brockway's Dylan LeCates took home defensive MVP honors for the North.
The South scored the game's only first-half touchdown as Huntingdon's Ian Border scored on an 11-yard run.
Following the three consecutive scores from the North, the South tried to rally as Altoona's Braeden Burtchfield threw touchdown passes of 31 yards to teammate Cam Fasick and 30 yards to Conrad.