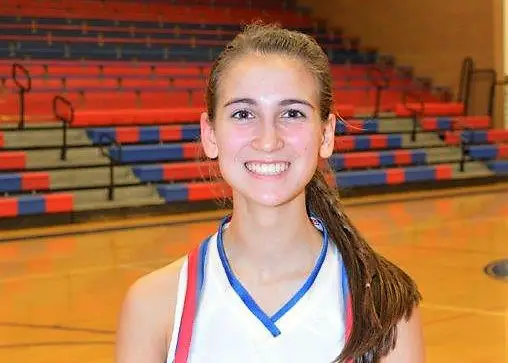 ST. MARYS, Pa. – Megan Quesenberry scored 16 points to lead St. Marys back to the District 9 Class 4A girls' basketball title game with a 46-38 win over visiting Clearfield Friday night.
(Photo of Megan Quesenberry of St. Marys)
It was a tale of two halves for the Lady Dutch, who built a 27-11 halftime lead only to watch Clearfield claw back in the third quarter reducing the deficit to seven, 35-28.
Quesenberry was on fire in the first half scoring nine points before halftime to help St. Marys to the 16-point lead.
Alyna Ryan, who had a game-high 22 points, tried to rally the Lady Bison in the second half. She scored 13 of Clearfield's 17 third-quarter points and 17 points after halftime.
But after the hot third quarter, the Lady Bison ended up getting outscored 11-10 in the fourth with St. Marys going 5 of 7 from the free-throw line.
Kaylee Muccio added 10 points for St. Marys with Bekka Bauer scoring seven.
Ryan added six rebounds and six assists to her 22 points for Clearfield with Tesa Miller grabbing 15 rebounds to go with four points. Brooke Cline chipped in seven tallies.
St. Marys will play Punxsutawney in the title game next week at a site, date and time to be determined.