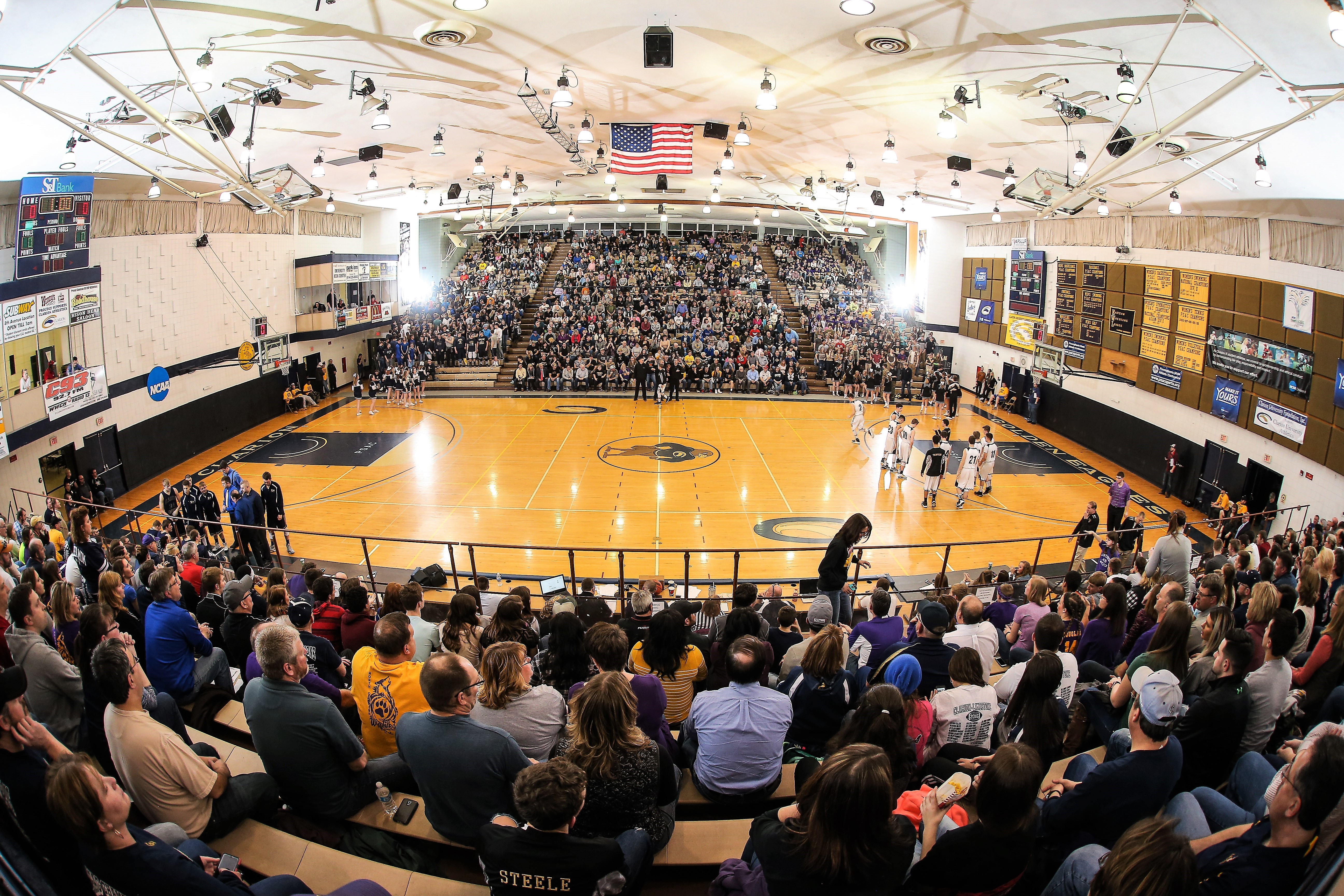 CLARION, Pa. – It's affectionately known as Super Saturday in District 9.
(Photo of a packed Tippin Gym during the Distrit 9 playoffs. Photo by Mike Schnelle)
It's the first Saturday in March when District 9 plays four championship games – and usually a fifth consolation game – at Clarion University's Tippin Gym. Heck, in some years there have been six games with a morning affair.
It is one of the most highly anticipated days on the District 9 sporting calendar. It is in some ways to District 9 hoops fans what Heinz Field is to WPIAL football fans (A Twitter poll we posted Friday night has an overwhelming 82 percent of the respondents saying they want a Super Saturday as of 4 a.m. Saturday). It's a chance to watch high school athletics in something other than a high school gym. It's a special occasion for players and coaches. One that a lot of them actually set as a goal going into the season – to play on Super Saturday.
And yet I was privy to a discussion Friday night in which I almost couldn't believe what I was hearing.
At Clarion High School during the North Clarion/DuBois Central Catholic girls' game, District 9 chairman and basketball chairman Jim Manners was telling me he is seriously considering not playing a "Super Saturday."
It's insane. It's ludicrous. It's disappointing. It's frustrating. It's dumb. It's shortsighted.
I could go on and on.
Look, we all know that there is going to have to be a hiatus from Super Saturday for a year while Clarion University renovates the gym. That year very well might have been this year, but the project was delayed to the point where Clarion University told District 9 the gym would be available for the District playoffs in January.
And the District has used it already this year using it Thursday night for a pair of Class 2A boys' quarterfinal games.
The thought of the gym being open next Saturday and the District not using it completely blows my mind. I have often thought the district handles its basketball championships poorly. The delay on brackets, dates, locations, etc drives media, fans, players, coaches and administrators up a wall and then back down the other side.
But this thought process, the thought process not to have a Super Saturday when one could be had is the icing on the cake of dumb.
Hopefully, smarter minds come to the rescue and convince Manners that it is in the best interest of the district to have the games at Tippin.
The reasons I was given Friday night for the consideration of not having games at Tippin are flimsy at best.
The first was that there are a lot of northern teams and maybe the fans won't travel.
What? Hello? Is anyone home? What an insult to places and the good people of schools like Elk County Catholic, Ridgway, Johnsonburg, Coudersport, Otto-Eldred, etc who have always helped pack Tippin Gym time and again. It's not like this is the first time that a lot of the favorites to get to Super Saturday are from the middle to northern end of District 9.
The Elk County teams (not just ECC but the entire county) has dominated in boys' basketball for over a decade and that has never stopped its fans from making the trip to Tippin and having the place full. Coudersport fans have made the trip year in and year out as well.
This idea that you can't have a Super Saturday because there are a lot of northern schools just doesn't hold water based on history.
The second reason was the cost of Tippin. It's not cheap. But it never has been. The games Thursday night cost the district $2,000 to play I was told, which was no more or less than in the past few years. But before anyone thinks that is a lot of money for the district, think about this. Ticket prices for adults to attend the games is $6. That means you have to get 333 paying adults to break even. That's laughable. That number of adults is known to show up an hour-and-half before the game.
Last year, which was one of the LEAST attended Super Saturday's – the gym was ¾ full instead of completely full mainly because the matchups weren't all that attractive – something I believe isn't going to be the case this year – still drew a crow of 2,266 SOLD tickets that day. Of those, 1,320 were adult tickets at $6 per adult and 946 were student tickets at $3 per student.
Do the math, that is $10,758 before fees JUST on the gate. That doesn't count the money the district charges radio stations to broadcast – $75 per game. Any given game usually has at least two if not three stations broadcasting and the district – which does nothing more than collect the money from those stations for the right to air the game that is usually pretty close to a sell out anyhow – just pockets that cash. That is another $600 to the pot on a conservative estimate. Oh yeah, and the District charges each team that enters the playoffs another $75 just for the privilege of being in the playoffs – that's just to go to the postseason.
There were 45 teams – boys' and girls' that entered this year's playoffs. I know that at least 44 of them had to pay – not sure about the DuBois' girls because that tournament is run by District 6. So 44 teams at $75 a team that is another $3,300 to the district coffers.
So, please, please, please don't tell us it is about the money. We weren't born yesterday.
Yes, there are expenses involved including paying some expenses for at least some of the district committee people who have to work the game. And referees need to be paid as well.
But also at Tippin, unlike at a high school venue, the district I don't believe is paying for the table workers. That is being taken care of by the university – or at least it was during the 15 years that I worked at the university and worked the table (and it was like $25 a game, not something anyone was getting rich on). So part of the rental fee goes to paying for something that District 9 pays in other venues.
The money brought in over the last three years on that day alone is staggering.
Two years ago, Super Saturday had 2,699 tickets sold including 1,539 adult tickets and 1,160 student tickets. At the current $6/$3 pricing structure that would be a haul of $12,714.
In 2015, Super Saturday brought in 3,248 including 1,870 adults and 1,378 students. That would be worth $15,354 this year.
That leads to another obvious question.
Where else are you putting crowds like that?
Not DuBois High School. That was a disaster in the PIAA quarterfinals last year with the North Clarion girls' game not starting for a good ½ hour after the originally planned time because of getting people off the court and out of the gym.
Not St. Marys High School. The gym there holds, I believe, less than 1,500. And not in Bradford where the high school and college gyms are both around that 1,000 to 1,200 range.
And D9 doesn't have an appetite to go to Pitt-Bradford anyhow because the school would require that everyone on the benches and staff and officials have clearances – something they have anyhow – but they want paper copies of those clearances supposedly, which shouldn't really be an issue in 2018 but somehow is.
You aren't going to Clarion High School. Forget the fact it's not big enough. Frankly, it became dangerous for the players Friday night when the floor turned into an ice rink in the second game because of the combination of a packed gym and the right temperature mix outside causing a ton of moisture on the court.
And all of these arguments don't even get into the sentimental value of playing Super Saturday at Tippin this year.
With the gym about to be completely redone, it won't look anything like it does now. This is a great way for District 9 hoop fans to say goodbye to the old building.
There just aren't enough solid reasons not to have a Super Saturday and many, many, many great reasons to have one.