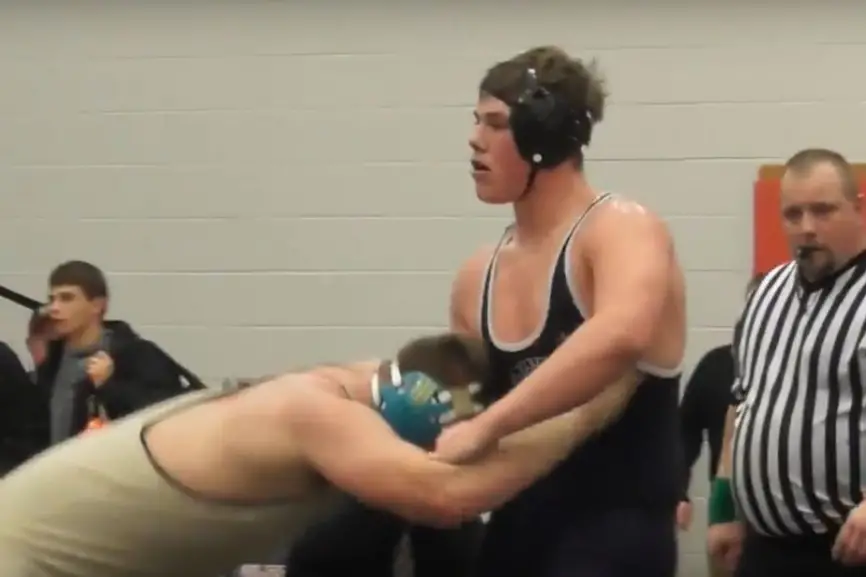 District 9 wrestling is off to a strong start, and as we approach mid-January District is but six short weeks away.
(Photo of Brookville's Colby Whitehill wrestling at last year's District 9 championships. Whitehill is ranked No. 4 at heavyweight in Class 2A in Pennsylvania)
That is the point in the season when the march to Hershey being in earnest for area grapplers.

District 9 wrestling coverage on D9Sports.com is brought to you by Luton's Plumbing, Heating, and Air Conditioning.
Many duals and tournaments remain to be wrestled, a chance for individuals to fine-tune their skills in anticipation of making a championship run.
Now seems as good a time as any, just shy of the season's halfway point, to get an idea of those who might be primed to make a postseason impact. Rankings are far from a perfect metric for this purpose, however, they can shed light on who has made a state-wide impression to date. There are many quality wrestlers practicing their craft on District 9 mats, but what follows is a summary of those upon whom PA Power Wrestling, "a Pennsylvania media company providing coverage of amateur wrestling," has bestowed a state ranking, believing they have begun rising to the fore after five weeks of competition.
Class 2A
Seven of the 13 Class 2A teams in District 9 have at least one ranked wrestler on their rosters, with five featuring more than one in the line-up.
Dave Klepfer's Brookville Raiders, currently the 8th-ranked dual meet team in the state, are one of three squads which have four-ranked wrestlers in the line-up.
Junior Colby Whitehill is positioned at No. 4 among the state's heavyweights. A regional qualifier as a freshman, the nationally acclaimed Whitehill will be looking to improve upon his eighth-place finish at states a year ago. At the opposite end of the weight spectrum, Brookville features the 13th ranked 106-pounder in the state, freshman Owen Reinsel. Sandwiched between Whitehill and Reinsel are Elliot Park and Cabe Park. Sophomore Elliot Park is ranked 21st at 170 pounds, while senior Cabe Park is currently 23rd at 132-pounds. Both were regional qualifiers last season.
Brockway also features four-ranked wrestlers on its squad.
Junior Anthony Glasl, a state qualifier the previous two seasons, is the highest ranked among them, coming in at No. 8 among the field of 132-pounders. Rover senior Garrett McClintick is ranked 10th at 195 pounds and will be looking to make his second consecutive trip to states. McClintick was a regional qualifier his first two years on varsity. Eric Johnson, a regional qualifier last season as a sophomore, is currently ranked 17th at 182 pounds. Sophomore Dominic Inzana is one of three ranked 120-pounders in the district, holding down the 20th spot in the state.
The Port Allegany Gators have four state-ranked wrestlers interspersed among the six weight class that span 113 to 145 pounds.
Highest ranked is junior Bryent Johnson, 11th at 113 pounds. Senior Issac Smoker, a regional qualifier in 2018, is presently positioned at 13th among 145 pounders. Reese Volmer is another of the ranked 120 pounders in District 9. A regional qualifier last season, Volmer, a senior, is at No. 19. Rounding out the Gator quartet is sophomore Braedon Johnson, one of three ranked 126 pounders calling District 9 home. Johnson, who qualified for regionals as a freshman, comes in at No. 20 in his weight class.
Redbank Valley can put three ranked wrestlers on the mat.
Senior Mason Songer is the highest rated of the Bulldog trio, No. 16 at 120 pounds. Songer is looking to cap off his final year in high school with a second consecutive trip to states. He was a regional qualifier as a sophomore. Aiden Gardner, a regional qualifier a year ago as a freshman, is ranked 18th at 220 pounds. Another regional qualifier last season, senior Braydon Altobelli is 21st among 126 pounders.
The Kane Wolves have two ranked wrestlers in their line-up, both former state qualifiers.
Senior Alec English was a regional qualifier as a sophomore and made it to states as a junior. He is the highest ranked AA District 9 wrestler, currently rated as the fourth-best grappler at 160 pounds. Fellow senior Aiden Hulings is also ranked in the top 10, positioned at No. 9 in the 152-pound class. Hulings qualified for regionals a season ago after wrestling at states as a sophomore.
Curwensville and Coudersport both feature a wrestler ranked sixth in his respective weight class.
Golden Tide senior Blake Passarelli, a three-time state qualifier, at 126 pounds and Falcon senior Elijah Ayers, a regional qualifier as a sophomore and state qualifier as a junior, at 182 pounds. Passarelli is the highest rated of the three ranked 126-pounders in the district.
Class 3A
Three of the six District 9 Class 3A teams have at least one state-ranked wrestler in the line-up, with two featuring a pair or better.
The Dubois Beavers sport the most ranked wrestlers of the 3A teams with three. Foremost among them is junior Ed Scott. The two-time state qualifier has the distinction of being the highest ranked wrestler in District 9, regardless of classification, holding down second at 138 pounds.
The Beavers have a duo of wrestlers ranked 19th, 126-pounder Trenton Donahue and 145-pounder Dalton Woodrow. Donahue, a junior, was a state qualifier as a freshman, while Woodrow, a senior, qualified for states as a freshman and sophomore (he was a regional qualifier in 2018). Dubois is currently ranked 20th in Class 3A.
St. Marys has two grapplers who have earned state rankings, both at No. 8. Dutchman Tyler Dilley, a senior who missed last season due to injury, holds down the eighth position at 132 pounds and senior Alec Bittler at 152 pounds. Dilley qualified for regionals as a freshman and states as a sophomore. Bittler was a regional qualifier as a junior and state qualifier during his sophomore season.
The Bradford Owls feature 22nd ranked 160-pounder Dillon Keane.
Keane, a senior, is a three-time regional qualifier. In a display of empathy and sportsmanship, Keane recently helped make another wrestler's dream come true, squaring off in an exhibition against teammate Jacob Meister. Keane allowed Meister, who has cerebral palsy and autism, to win the bout via pin. A video of the exhibition has gone viral and been featured by, among others, USA Today, Bleacher Report, and Sports Illustrated.  View the video here.
Like Brookville, the Cranberry Berries have a freshman who is garnering attention. Braydon Crocker is the 14th-ranked 220 pounder in the state.
Editor's Note – (Individual rankings are as of January 3, 2019, team rankings are from January 6, 2019…you can subscribe and access the complete rankings at http://www.papowerwrestling.com/)