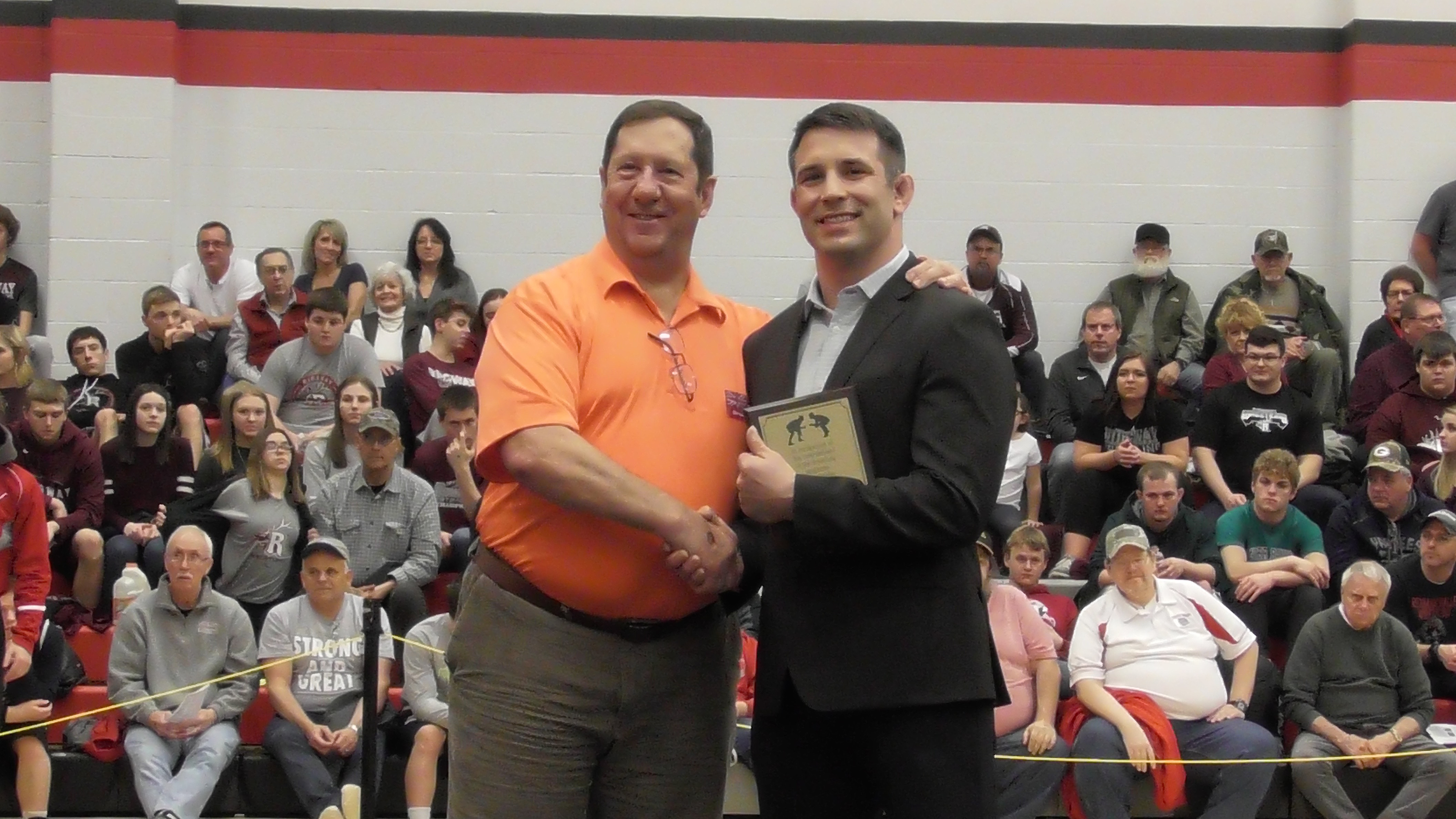 HYDE, Pa. – The District 9 chapter of the Pennsylvania Wrestling Coaches Association inducted its 18th class into the District 9 Hall of Fame Saturday at Clearfield Area High School.
(Photo of Port Allegany grad Isaac Greeley. Photo by Scott Shindledecker)
The class includes Clearfield's Sean Owen, a state champion in 2008, Port Allegany's Isaac Greeley, a bronze medalist in 1992, Kane's Jake Bell, a bronze medalist in 1985, and Oswayo Valley's Tony Clark, a D-9 champ and the Joe Kata Outstanding Wrestler in 1995.
Here's a closer look at the class of 2018:
Isaac Greeley – Port Allegany
One of the Gator's more decorated wrestlers, Greeley has built a life around the sport of wrestling.
A 1994 graduate of Port Allegany, Greeley finished 114-25-1 with three D-9 titles, a Regional title and two state medals – third in 1992 and fifth in 1991.
In college, Greeley attended Pitt-Johnstown where he was a three-time conference champion (1997-99) and a two-time Division II medalist with silver and bronze medals.
Greeley also was a First Team Academic All-American in 1998-99. He finished his college career at 108-22.
Greeley is currently an assistant coach at WPIAL powerhouse Burrell, which has won 14 straight section titles and 11 straight district team titles, including two state team crowns – in 2008 and 2011. Greeley has helped coach six state champions.
Greeley is the owner of the Mat Factory Wrestling Club in Lower Burrell.
Sean Owen – Clearfield
A 2009 graduate, the Bison grappler won three state medals at 285 pounds, including gold in 2008. He also placed third in 2009 and fifth in 2007.
Owen was 135-27 in a career that included three D-9 championships and two Northwest Regional titles.
Owen also earned the Wade Schalles PA Pinner Award.
Owen joined the U.S. Army and wrestled for 7 1/2 years before being named to the All-Army Wrestling Team in 2015.
He is married with a young daughter and lives in Grampian.
Jack Bell – Kane
A 1986 graduate, Bell won two D-9 championships and was a four-time finalist. Bell won two regional titles and placed third at states in 1985 and compiled a career record of 120-14.
Bell wrestled at Slippery Rock University, starting all four years. He won four PSAC titles, two East Regional crowns and a four-time NCAA qualifier.
Bell lives in Kane with his wife, Tricia, and sons, Jack Jr., and Johnny.
He owns and operates Bell's Meat Market in Kane.
Tony Clark – Oswayo Valley
A 1995 graduate, Clark was 96-14 for the Green Wave, won a D-9 title in 1995 before heading to Pitt-Johnstown, where he was a was a two-time East Regional champion.
Clark placed fifth at the Division II nationals in 1999 and was part of three national champion teams from 1996-99. Clark finished his college career with a record of 98-29.
Clark then coached at UPJ and had 13 Division II All-Americans, including two national champs.
He currently lives in Westminster, Md.