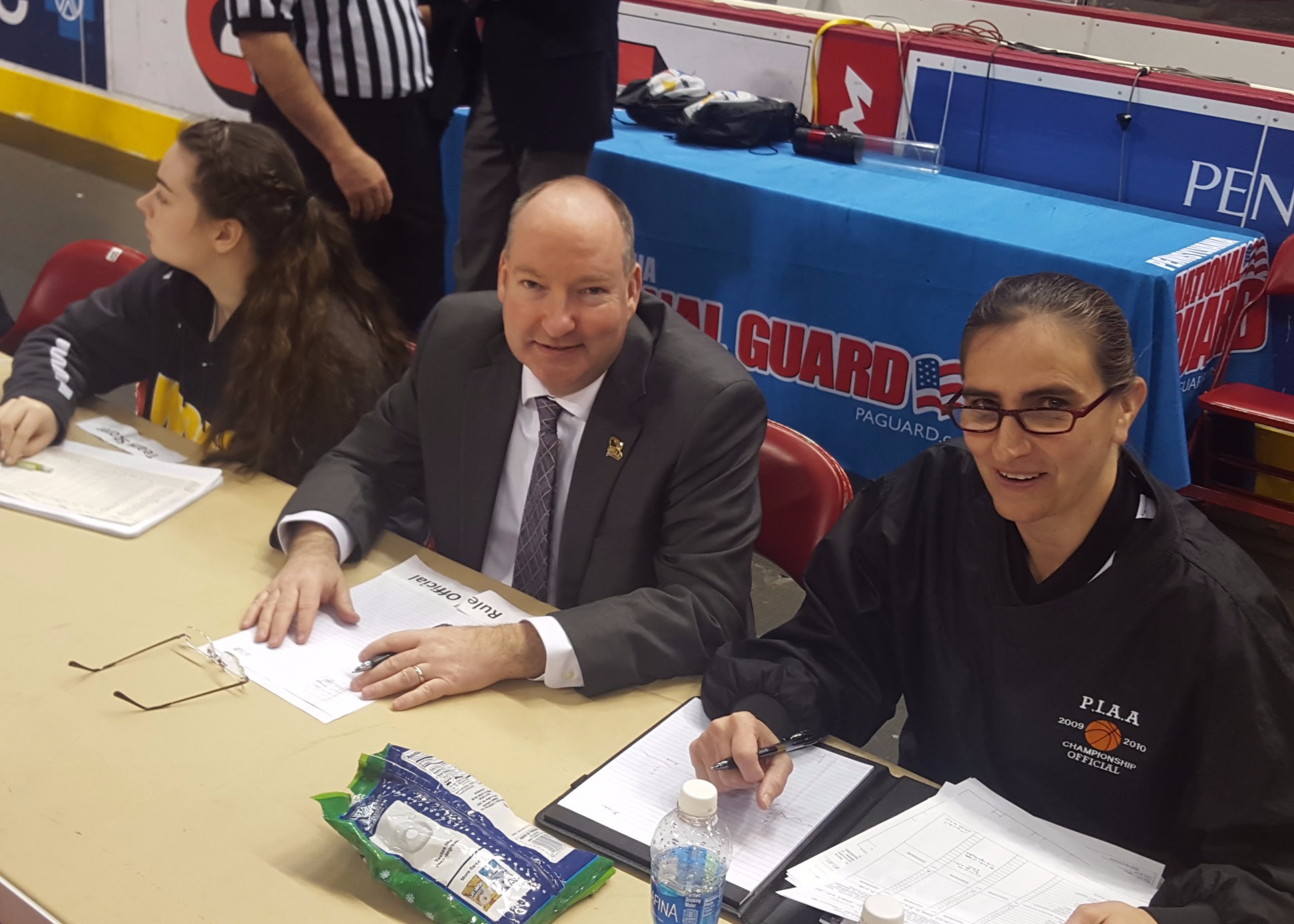 By Chris Rossetti
HERSHEY, Pa. – Whether he's sitting at courtside with a notebook in front of him, on the court with a whistle around his neck or in the classroom back home in Clearfield teaching, it's all about education for Dave Wright.
Wright, a special education teacher at Clearfield High School, is the statewide basketball rules interpreter in Pennsylvania for high school basketball.
"It's all education," Wright said in between sessions Saturday at the PIAA basketball championships at the Giant Center in Hershey, Pa. "Education of officials is a passion of mine just like education of my students. I really enjoy it, and it's just a passion I have.
"Every e-mail I answer is a new challenge, and I enjoy it. It's a lot of fun. You look at the venue we are in today, it's just an extension of the classroom. I really enjoy what I do."
Wright's job entails answering questions or concerns about the high-school basketball rules book.
"It involves answering lots of e-mails from member schools with questions," Wright said "We have 12 district rules interpreters. If they have questions they can't answer for the chapters in their district, then the questions would go to me. If I don't have a good handle on what the interpretation should be, I can contact either the executive of the PIAA or the national federation to get an interpretation of the rule or to answer a question."
Wright said a great deal of the questions he gets involve things that don't necessarily have to do with the ingame rules themselves.
"We spend a great deal of time with uniform questions and things like that," Wright said. "It involves a lot of time to answer questions and concerns about equipment, apparel and things of that nature."
According to Wright, the most challenging aspect of his job is getting officials statewide to call a consistent game.
"Without a doubt, the most challenging part is to maintain consistency statewide for 6,000 officials, to try to get them on the same page," Wright said. "We do a lot of educational efforts."
Wright realizes that getting all 6,000 officials to call the game of basketball exactly the same is quite a challenge.
"It's not that it will never happen, that's our goal (to have it happen)," Wright said. "It's something we continually work toward. Our officials spend a lot of time in education and training to try to maintain that consistency statewide. We try to use different types of technology now. We have webinars, etc. There is certainly a lot of effort to get everyone on the same page. Will we get there? I don't know. But that's continually the effort of what we are trying to do."
Wright said his bosses at Clearfield have always been supportive of his officiating and the things that go with it – prior to becoming the statewide rules interpreter he was the District 9 rules interpreter and before that the rules interpreter for his local chapter, the Clear-Centre Chapter. He also officiated college basketball for a long time before giving that up voluntarily when he got the statewide position.
"I think they are very supportive of what I do," Wright said. "It certainly doesn't take anything away from my school day. I take a lot of time in the evenings and weekends and summers doing what I do. But the school district has always been very supportive.
"The thing is, that e-mail (about a rules question) can sit and wait for me to be ready to answer it. I have that luxury of making my own schedule and the ability to work evenings, weekends and summertimes. So it doesn't really distract from what I do at school."
Wright started officiating in 1991 and has officiated a pair of state-championship basketball games, including Friday night's Class AAA title game. He believes officiating is a lifelong way to stay involved in a sport he loves.
"There is no better way to stay a part of the game once your playing days are over than to become an official," Wright said. "It's a terrific fraternity. It's a great way to stay a part of the game, and it's a lot of fun. It's also an opportunity to make a couple of bucks at something you enjoy."
Wright said anyone interested in getting involved in officiating can check out the PIAA website.
"You can download an application there," Wright said. "There is a test that is 100 questions long, and we give it four times a year. We are always looking for new officials."