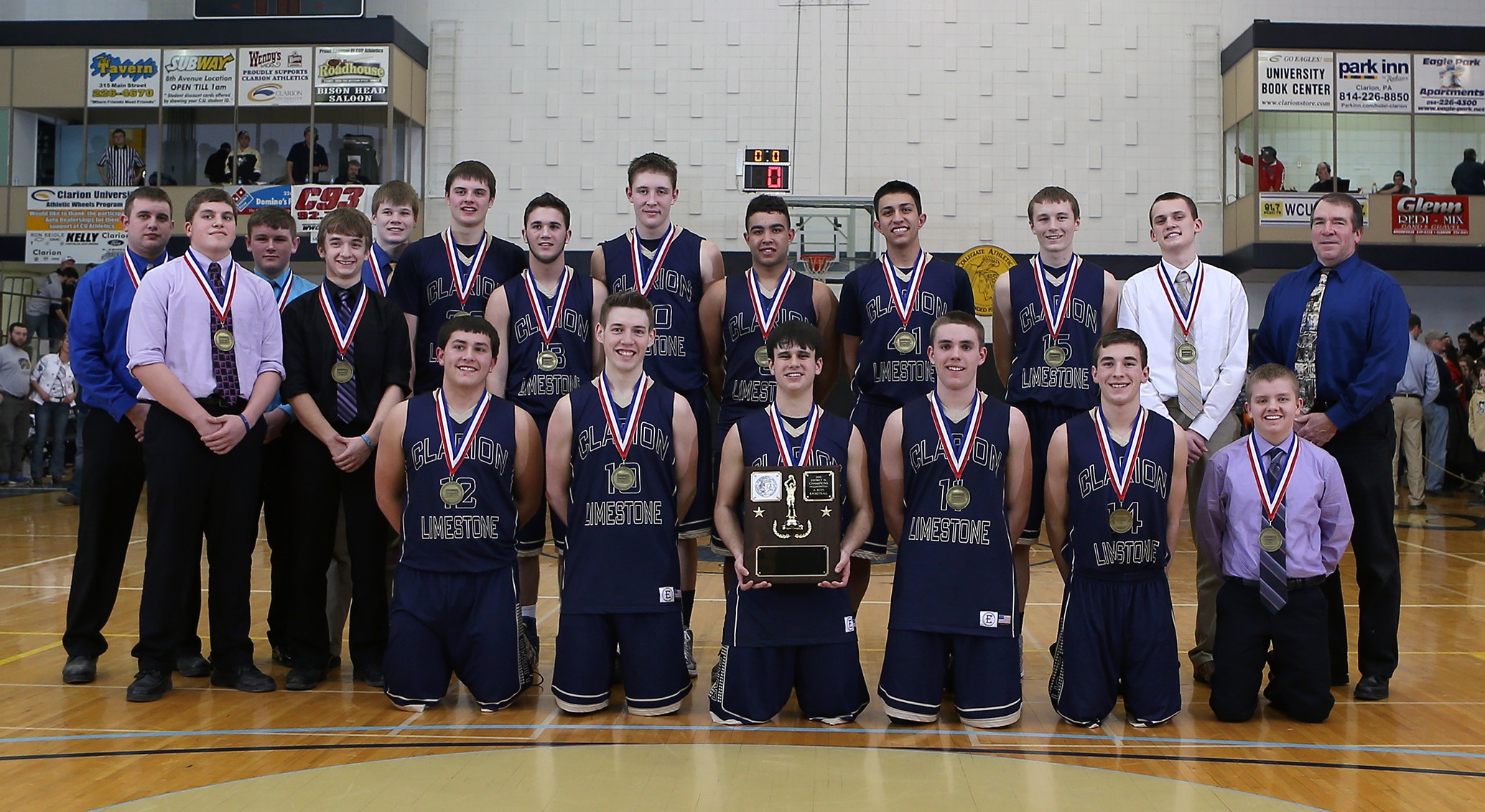 By Rich Rhoades
CLARION — Blazing their way to their first District 9 title in 54 years, the Clarion-Limestone Lions took a big sigh of relief and then celebrated … like a team that hasn't won a title in over 50 years.
That was clearly the scene on the floor of Clarion University's Tippin Gymnasium following the Lions' 72-53 win over Cameron County in the District 9 Class A Championship game.
"It feels really good," said senior guard R.J. Laugand, who scored a team-high 18 points. "I've been to the semifinals two times and lost both times and to get past that the other night means a lot. And to win here means a lot, especially for our school. We have so much school pride going on right now and that means a lot to me."
Lions head coach Joe Ferguson was in first grade the last time the Lions won a title back in 1961 when they beat Sheffield in overtime.
"It's like a dump truck taken off our backs. Fifty-four years is a long time for the school to get a district championship and it's a really good feeling," Ferguson said. "It's about as good as it gets as far as the game of basketball to go that long and not get that victory in that championship game (and get it) is a really good feeling."
The 23-3 Lions now face WPIAL fifth seed Cardinal Wuerl North Catholic this Friday at a District 9 site, most likely Clarion University again. Cameron County, also 23-3, meets District 6 third-place finisher Saltsburg at a D9 site to be announced as well.
With the exception of the 10-4 deficit to start the game, the Lions played on pretty much all cylinders as four players reached double figures with two others coming close.
Along with Laugand's 18 points came nine assists and three steals. All four of his 3-pointers, most coming from way beyond the line, came in the first half as the Lions erased the early deficit. Two of his bombs came in the second quarter that erased Cameron County's last lead at 18-17 and put the Lions up for good at 27-18 with 4:45 left in the second quarter.
"R.J. opened the game up with his shooting tonight. He's a big-time player," Ferguson said.
From there, the lead only got bigger as the Lions led 37-24 at halftime, 54-41 after three quarters and then their largest lead at the end.
Noah Rankin scored 14 points and 6-of-7 shooting, Kolton Stiglitz scored 12 points on 6-of-9 shooting, and Dan Callen finished with 11 points, and nine rebounds.
Jesse Pezzuti and Josh Kahle scored nine and eight points respectively, helping cap a 52.5 percent shooting performance (31-of-59), which stood out even more during a weekend of games at Tippin where few teams, win or lose, shot it well.
"We knew we weren't going to come out and shoot like that two straight games, so we came out ready to shoot and knocked them down," said Kahle, referring to the Lions' poor shooting in the win over Elk County Catholic in the semifinals.
The Lions assisted on 19 of their 31 field goals.
"That's when we're at our best, when we're playing and passing the ball and moving it," Laugand said. "It's hard to guard us because we have a lot of good shooters. Ball movement is definitely key to our offense."
Cameron County's Nate Sestina put up huge numbers with 27 points on 10-of-21 shooting with 19 rebounds and four blocked shots. The Red Raiders also put two other players in double-figure scoring with Trae Smith and Keith Spehalski finishing with 11 and 10 points respectively.
Despite Sestina's dominance, it wasn't enough to combat against the Lions' balance. After Sestina, the Red Raiders were 10-for-34 from the floor.
"We knew Nate was going to get his points and weren't as concerned as much with that as their off guards," Ferguson said. "They have some decent shooters and it played out like we were hoping it would. The only thing that didn't play out as we planned was the way they started out. They were on fire and that was a concern that we would come out flat."
But the Lions, who appeared much looser than their game against Elk County Catholic, climbed back into the game after the Cameron County surge out of the game and got rolling.
"It's just loosening up," Stiglitz said. "With the big crowd, it's hard. After awhile, you just forget about the big crowd. Coach said they'd come out firing and they did, but we knew they'd slow down after awhile. We're used to that."
"We preached that we wanted to have fun this game, to enjoy this moment and stage and the fans we have," Laugand said. "We were just out there having fun."
CLARION-LIMESTONE 72, CAMERON COUNTY 53
Score By Quarters
C-L                         15        22        17        18        –           72
Cameron Co.      13        11        17        12        –           53
C-L – 72
R.J. Laugand 7-15 0-0 18, Josh Kahle 4-10 0-0 8, Jesse Pezzuti 4-6 0-9 9, Kolton Stiglitz 6-9 0-0 12, Dan Callen 4-11 2-4 11, Noah Rankin 6-7 2-4 14, Devin Beers 0-0 0-0 0, Bailey Wrhen 0-0 0-0 0, Nate Forrest 0-0 0-0 0, Travis Aites 0-0 0-0 0, Cesar Lopez 0-1 0-0 0. Totals: 31-59 4-8 72.
Cameron Co. – 53
James Guisto 1-4 0-0 2, Trae Smith 4-12 0-0 11, Michael Slusarick 0-3 1-2 1, Keith Spehalski 4-13 0-0 10, Nate Sestina 10-21 6-11 27, Vinny Olivett 0-0 0-0 0, Adam Shaffer 0-0 0-0 0, Austin Doud 0-0 0-0 0, Dominic Nellis 1-2 0-0 2, Bryce Bauer 0-0 0-0 0, Derrick Rieder 0-0 0-0 0. Totals: 20-55 7-13 53.
3-pointers: C-L 6-18 (Laugand 4-8, Pezzuti 1-3, Callen 1-4, Kahle 0-1, Stiglitz 0-2), Cameron County 6-22 (Smith 3-9, Spehalski 2-9, Sestina 1-4). Rebounds: C-L 36 (Callen 9), Cameron County 35 (Sestina 19). Turnovers: Cameron County 19, C-L 11.